Printer-friendly version
This passion fruit punch cocktail is the perfect pink Valentine's day drink, of course, but its fresh, fruity, tropical taste is great for sipping all year long.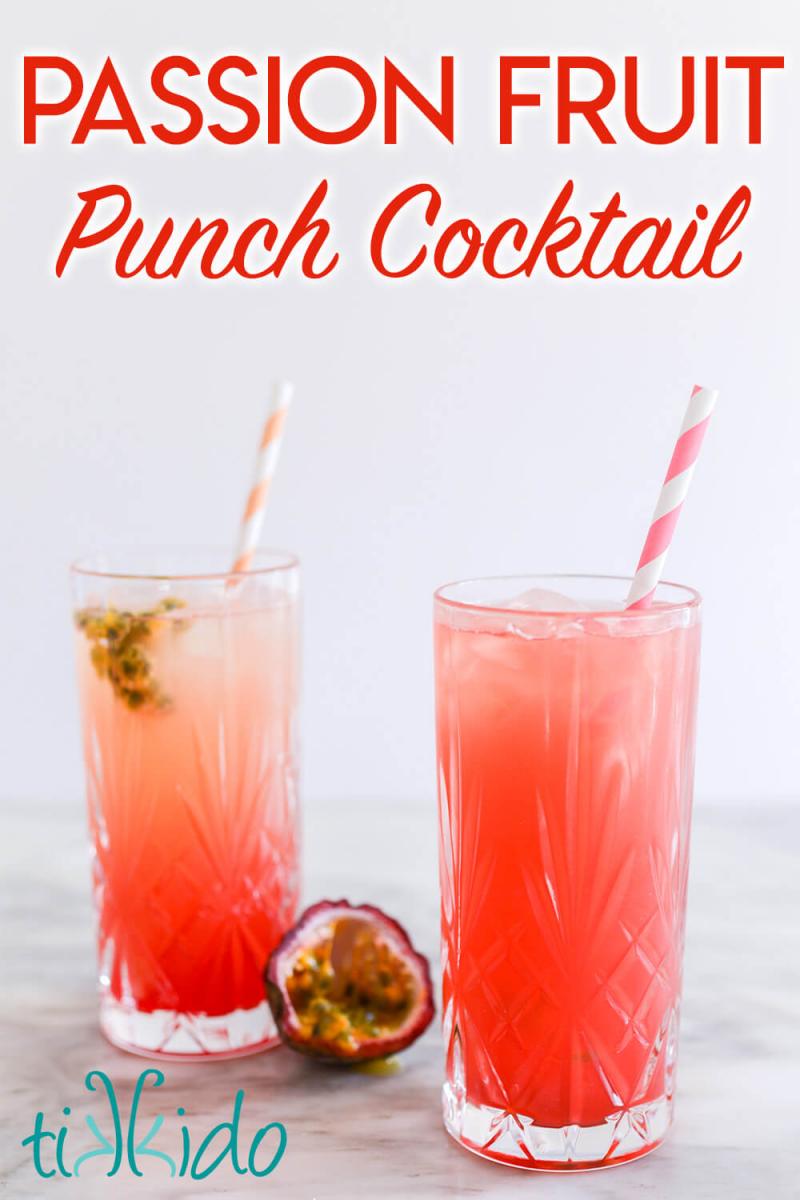 It's the first Monday of the month, and that means it's time for the Taste Creations Blog Hop!  Our theme this month is cocktails, so in honor of Valentine's day, I decided to make a gorgeous pink cocktail with one of my favorite flavors in the world: passionfruit.
What is Passionfruit?
Passionfruit is a juicy and flavorful fruit that is commonly used in desserts and drinks. It is typically round or oval in shape, and has a tough, leathery skin that is usually yellow or dark purple in color. The flesh of the fruit is soft and tart, with a seed-filled center.  You can eat the seeds, or just use the juice.  Passionfruit is native to South America, but is now grown in many warm climates around the world.
Is Passion Fruit or Passionfruit Correct?
Both "passionfruit" and "passion fruit" are correct spellings for the sweet, juicy fruit.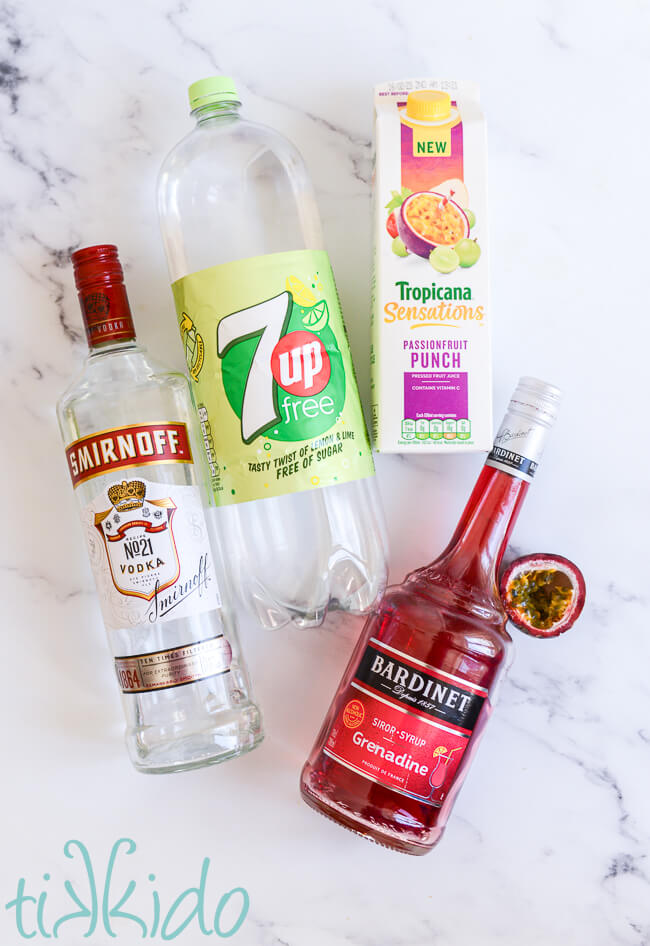 Passion Fruit Punch Cocktail Ingredients:
1.5 ounces vodka
2 ounces passionfruit juice
4-6 ounces lemon-lime soda or club soda
a splash of grenadine
seeds from half of a passion fruit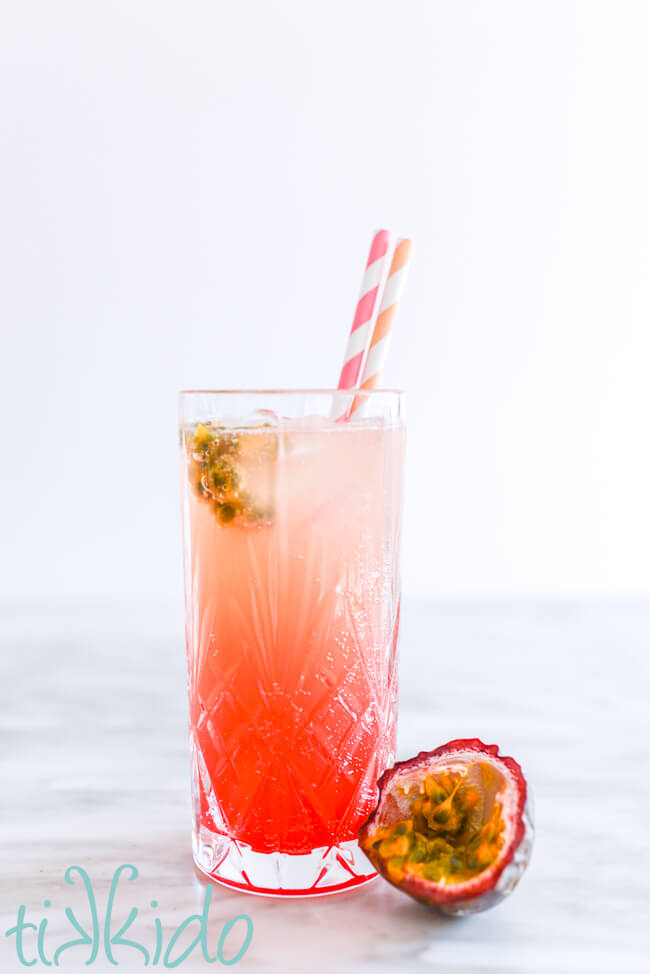 Pour vodka and passionfruit juice over ice and mix to combine the liquids.  I used Tropicana brand Passionfruit Punch (not a sponsored post, I just think it's absolutely delicious!), but you can certainly use other passion fruit juice.  Goya is a brand widely available in grocery stores that carry Latin American items, and is consistently delicious.  You can also buy passionfruit puree designed for cocktails, though you may want to be a little more sparing with pure fruit puree than a juice blend.
Fill the rest of the glass with lemon-lime soda or sparkling water, and add a splash of grenadine.  I used commercial grenadine (always delicious) in this recipe, but I do have a recipe for homemade grenadine syrup, too.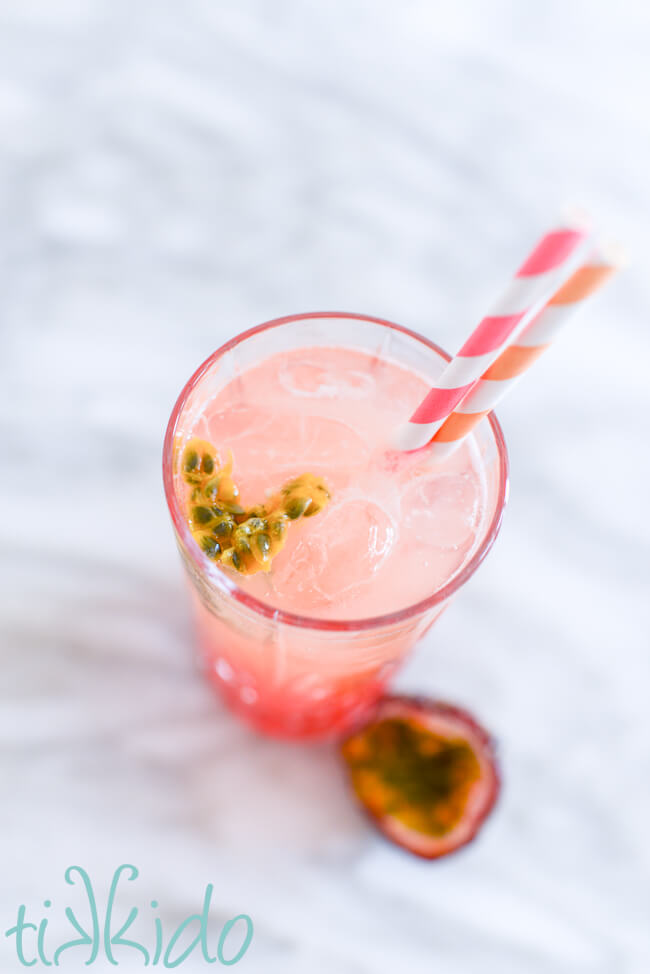 Add the juice and seeds of half a ripe passion fruit to the top of the drink as garnish.
How to Tell if a Passion Fruit is Ripe
To tell if passionfruit is ripe, look for the following signs:
Softness: The fruit should feel slightly soft to the touch, but not mushy.
Wrinkling: The skin should be slightly wrinkled and the fruit should give slightly when pressed.
Exterior appearance: A ripe passionfruit typically has a slightly dull surface.
Scent: A ripe passionfruit will have a strong, sweet aroma.
If the fruit is hard and lacks these characteristics, it is likely unripe. Ripe passionfruit can be stored in the refrigerator for up to one week.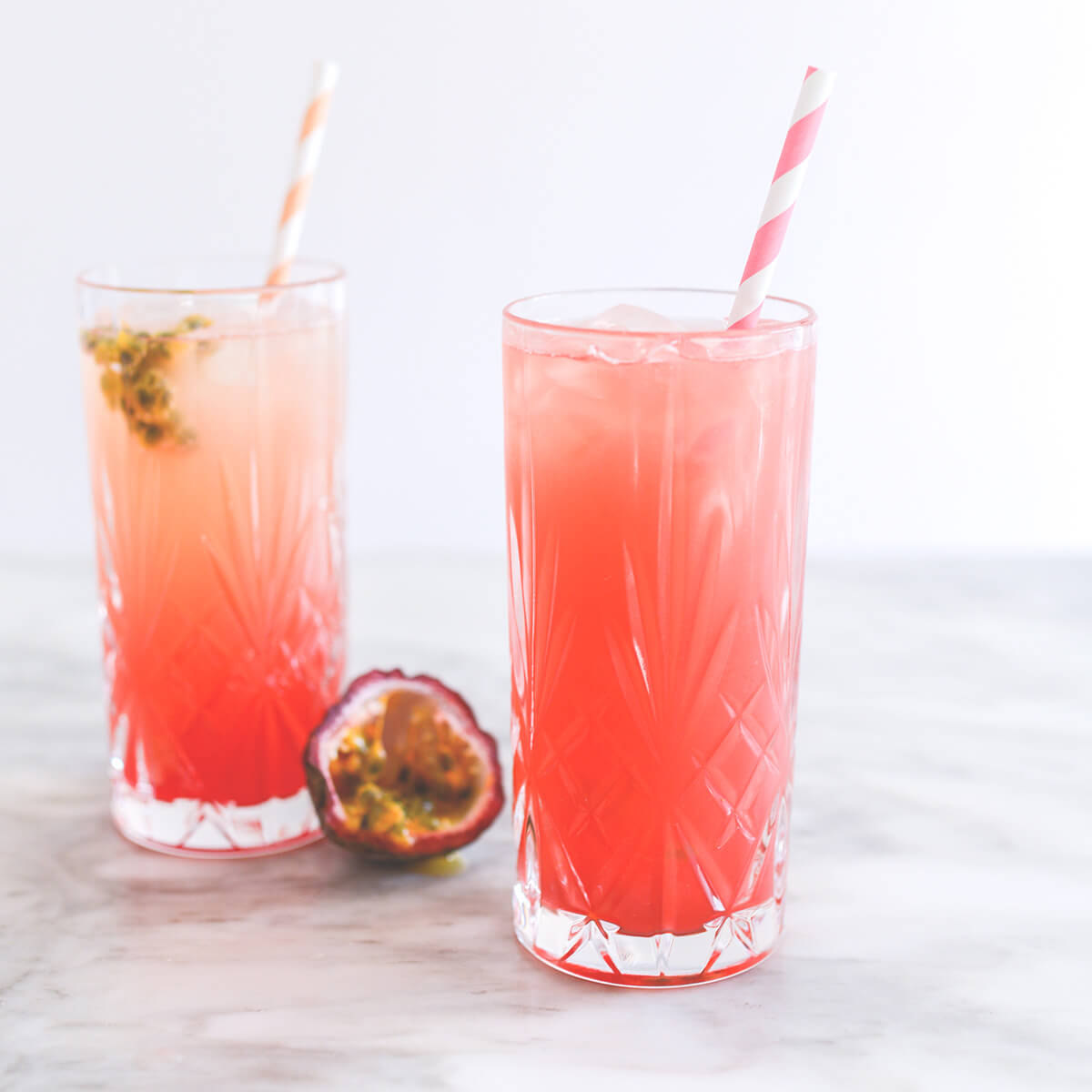 If you don't stir the cocktail after adding the grenadine syrup, you end up with an absolutely gorgeous layered drink--dark pink on the bottom, changing to peach at the top of the drink.  If you'd like a distinctly pink cocktail, give the whole thing a stir and you end up with a stunning coral pink color.
Printable Passionfruit Punch Cocktail Recipe
Want a one page, printable version of this passion fruit cocktail recipe?  Click on the image below to print the PDF directly or save it to your device.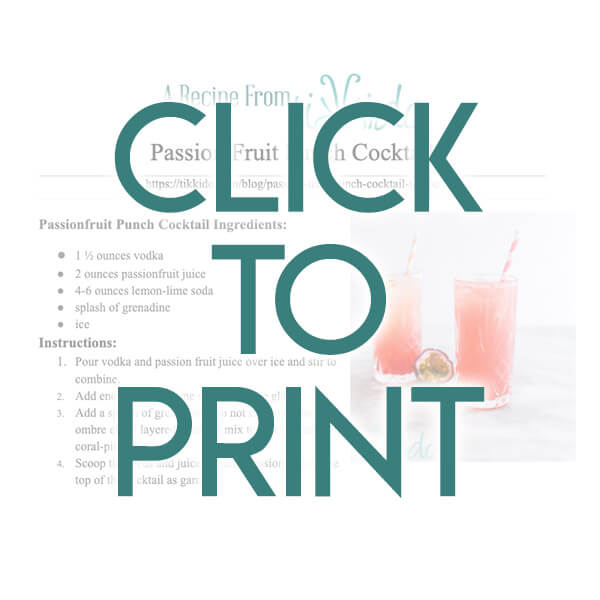 Other Cocktail Recipes from the Taste Creations Blog Hop: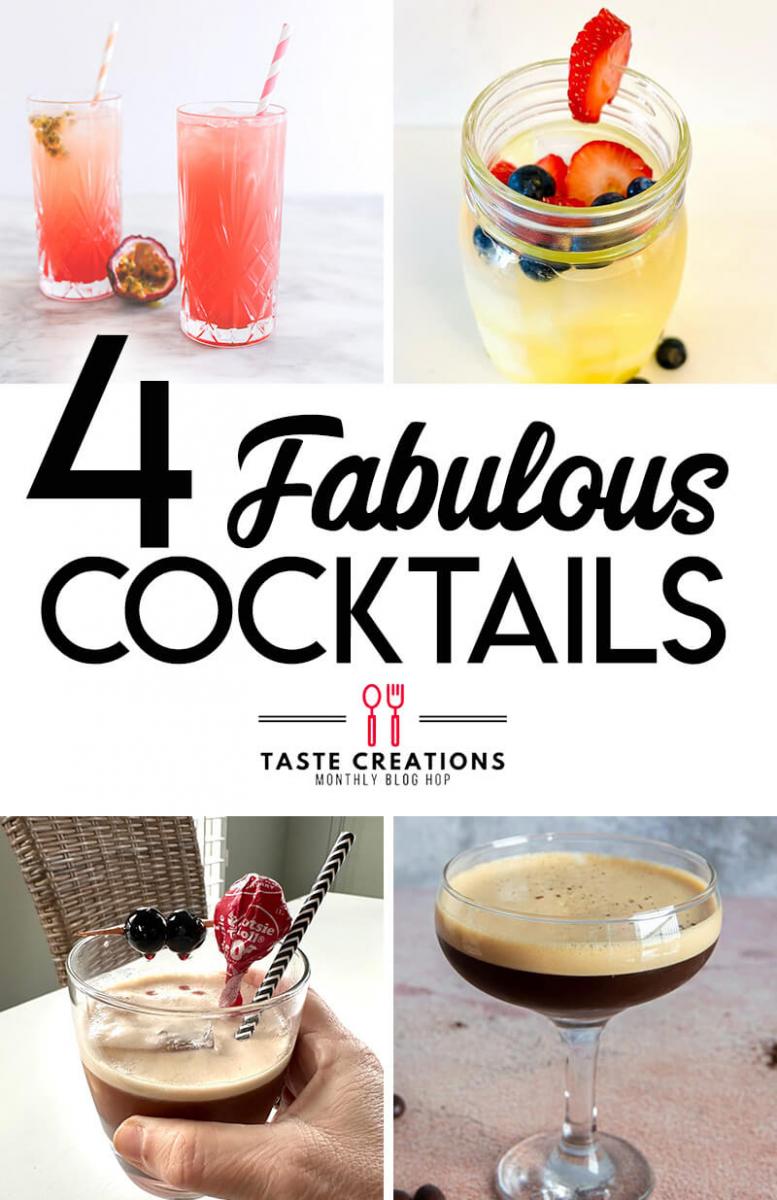 Be sure to check out the other lucious cocktail recipes from my fellow bloggers in the Taste Creations Blog Hop:
Our Good Life: Cherry Tootsie Pop Cocktail
Mom Home Guide: Tequila Winter Chaser
Breads and Sweets: Simple Espresso Martini
Other Cocktail Recipes You Might Like: