Printer-friendly version
Mix up an exotic margarita this Cinco de Mayo with this tropical tamarind margarita recipe. Also called tamarindo margaritas (tamarindo is the Spanish word for tamarind), this recipe offers a unique twist on a classic cocktail recipe.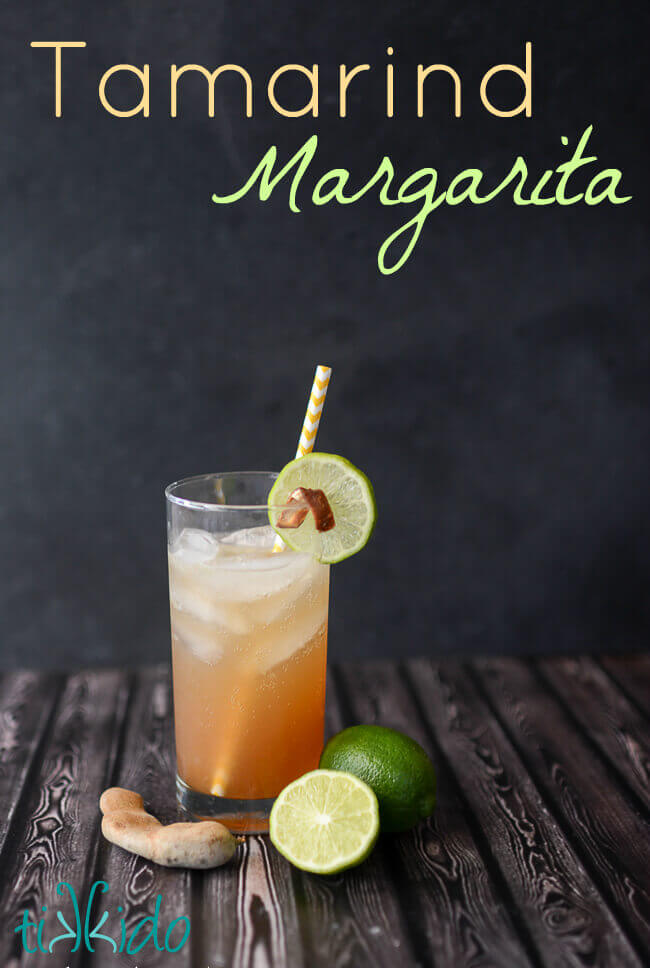 After yesterday's fun roundup of a rainbow of margarita flavors, I couldn't resist figuring out a recipe for one of my all time favorite exotic margaritas, the tamarind margarita.  I love tamarind in any form, and any time I see a tamarind drink on the menu at a Mexican restaraunt, that's what I order.
Tamarind is the pod thing in the above picture in its original form, but you can buy tamarind concentrate, which makes this recipe incredibly easy to whip up.  Tamarind paste is widely available in Asian markets, or you can get it online. 
What is Tamarind?
But what is tamarind, you ask?  It's the bean-pod shaped sticky fruit of the tamarind tree, a fruit-bearing tree indigenous to Africa, that has been grown and used in tropical and subtropical regions all over the globe for centuries. Tamarind is very popular in south Asian, African, Latin American, and Indian cuisine.  And the taste?  Sweet and sour.  It's tangy, it's sweet, it's fruity--but it's its own thing, and is very difficult to describe.  Tamarind pulp is a dark brown color when concentrated, but lightens to a reddish orange when used in a drink.  It's incredibly delicious, and is especially amazing in a tamarind margarita.  If you like sweet and sour flavors (and if you like margaritas you probably do) you'll love the flavor of tamarind.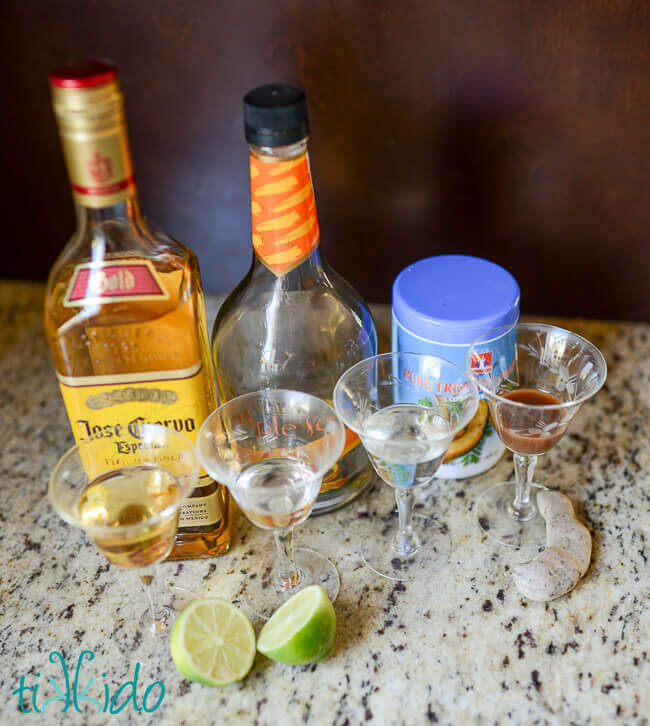 Tamarind Margarita Recipe:
1.5 ounces tequila
.5 ounces triple sec (Cointreau is a common brand, or you can also use Grand Marnier)
1-1.5 ounces (I prefer less sweet, and use 1oz) simple syrup (equal parts water and sugar, dissolved)
.5 ounces tamarind concentrate (approximately 1 Tablespoon)
1 ounce fresh lime juice (about 2 Tablespoons lime juice)
sparkling water (optional)
ice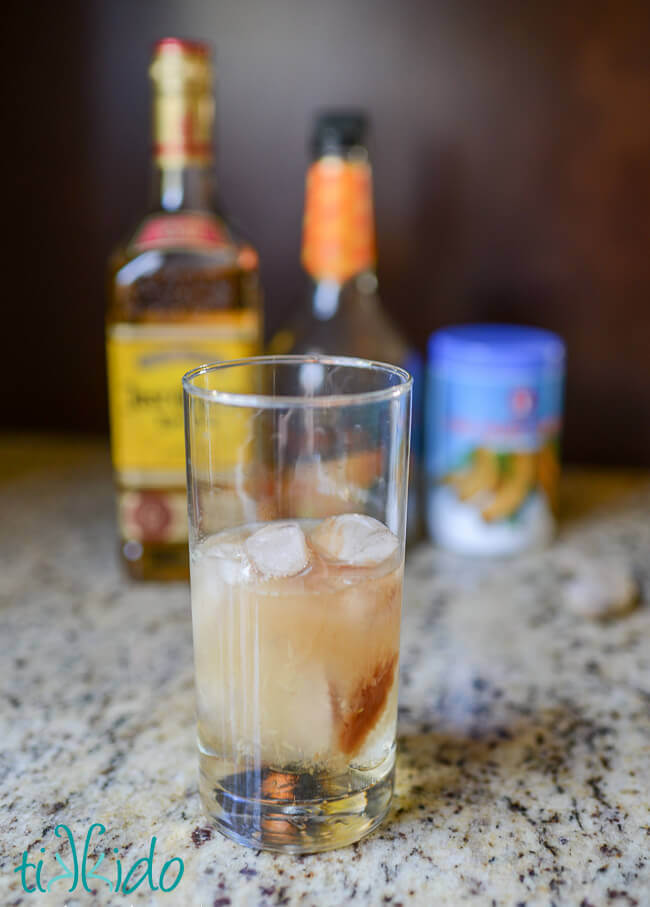 How to Make Tamarindo Margaritas
Combine the tequila, triple sec orange liqueur, tamarind concentrate, lime juice, and simple syrup.  Mix, and pour over ice.  You can use a cocktail shaker if you want to, but I just used a spoon and mixed my cocktail in my glass.
If you don't have fresh limes, you can substitute 2 ounces of sour mix for the simple syrup and lime juice.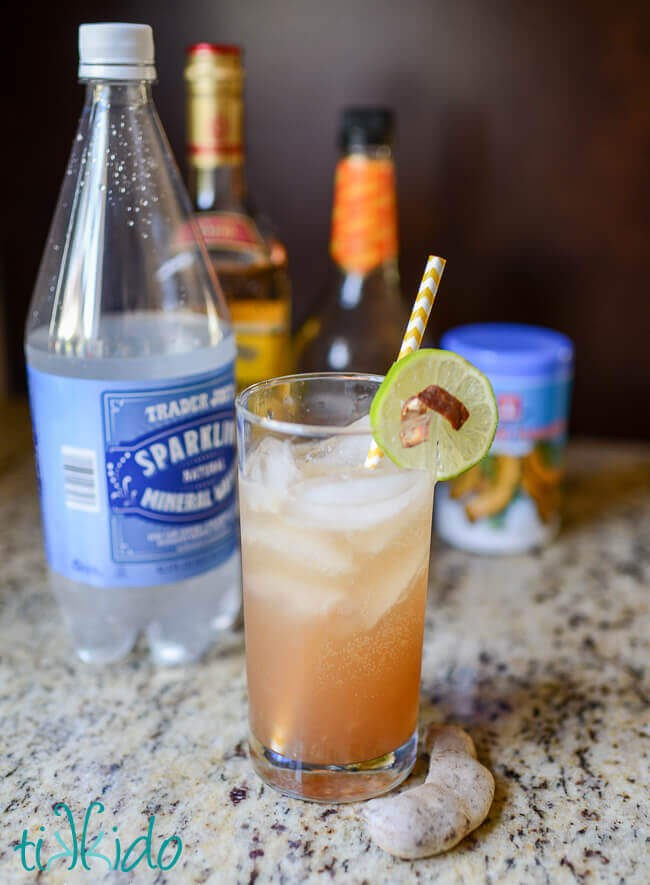 This would be sufficient to fill a lowball glass or margarita glass, and it's quite delicious at this stage.  But I prefer to lighten it up by adding enough sparkling water to fill a highball glass.  It adds a bit of effervescence, and, for me, makes the flavor perfectly light and refreshing.  Garnish with a lime slice and enjoy the first sip of this yummy cocktail!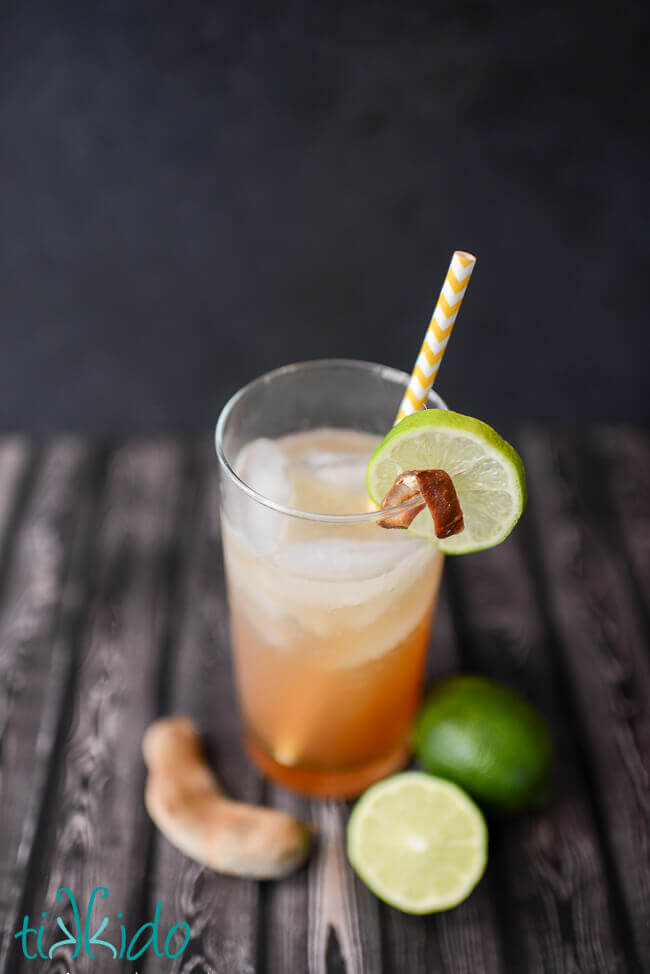 Spicy Tamarind Margarita Variation
Spicy tamarind and chili candies are popular in Mexico, so a fun twist on this recipe would be to add some chili powder spice to this cocktail.  I love Pulparindo spicy tamarind candy (You can also get extra spicy!), so of course a cocktail inspired by my favorite Mexican candies is amazing!
To make a spicy margarita version of this recipe, use chili-infused tequila, and rim the edge of the glass with a spicy salt mixture.  The savory flavors of the chili powders pair perfectly with the tangy flavors of the tamarind and lime.
Chili Salt Rim for Spicy Margaritas
Slice a lime, coat the rim of the glass with the lime juice, and coat with one of these Chili salt blends.
Mix tajin seasoning (a lime and chile spice mix) with sea salt.  I like a 50/50 blend, but you can adjust the levels to your tastes.
Or you can mix 2 Tablespoons of sea salt, 1 teaspoon of chili powder, and one teaspoon of ancho chili powder.  Add a half teaspoon of cayenne pepper or some crushed red pepper flakes if you want to boost the spice level.  Again, this is a basic suggestion for proportions, but feel free to customize your salt blend to your taste preferences.
Other Drink Recipes You Might Like: