Printer-friendly version
Looking for a quick and easy patriotic dessert for upcoming Memorial Day or 4th of July cookouts?  These DIY red, white, and blue ice cream cones are perfect for your patriotic parties.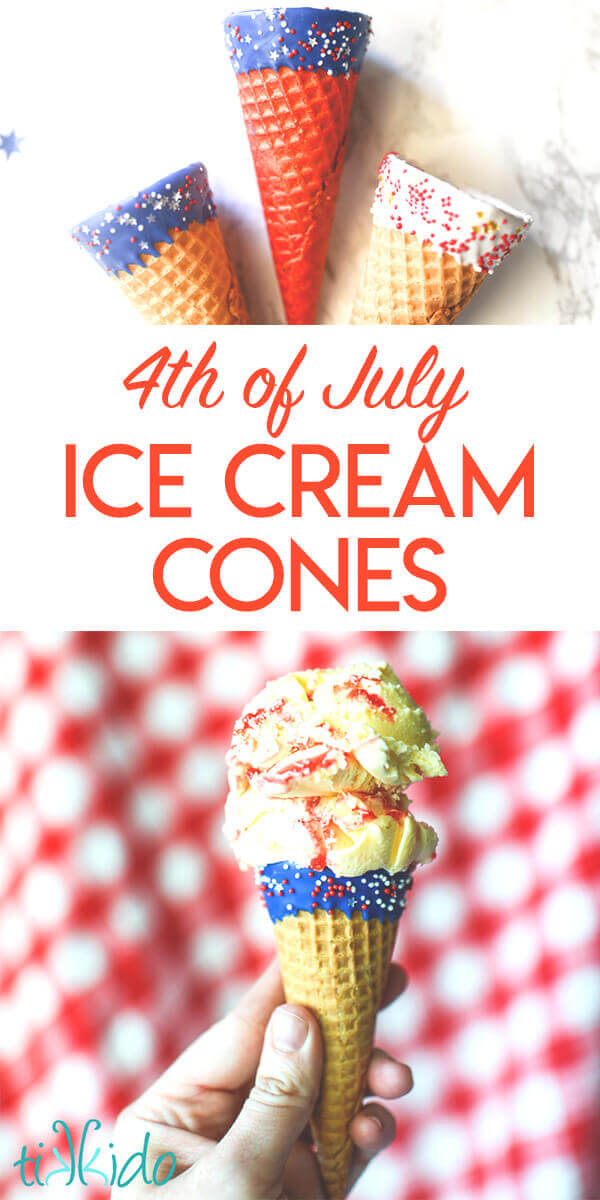 You can make these red, white, and blue, chocolate dipped ice cream cones in just a few minutes.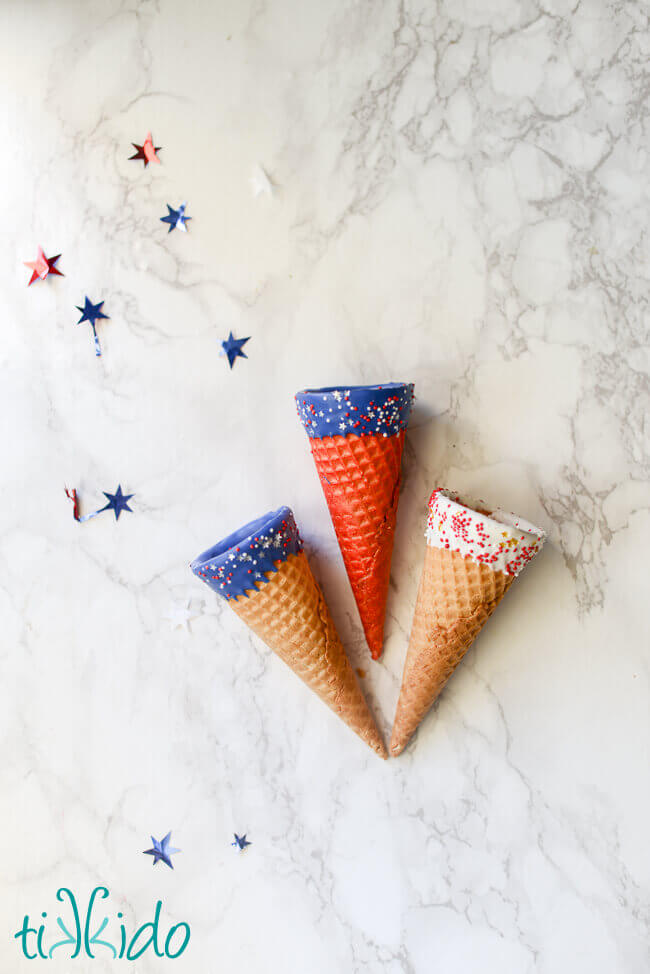 The fun star and red, white, and blue sprinkles add the perfect finishing touch to these 4th of July ice cream cones.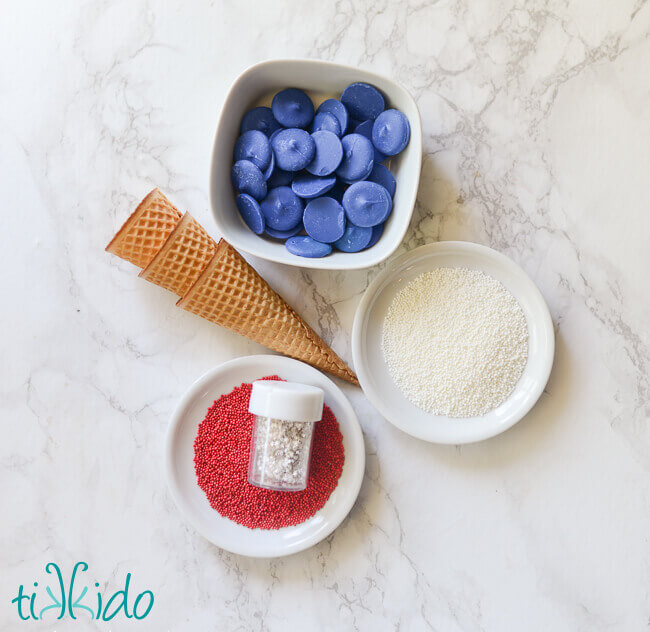 Materials for Patriotic Chocolate Dipped Ice Cream Cones: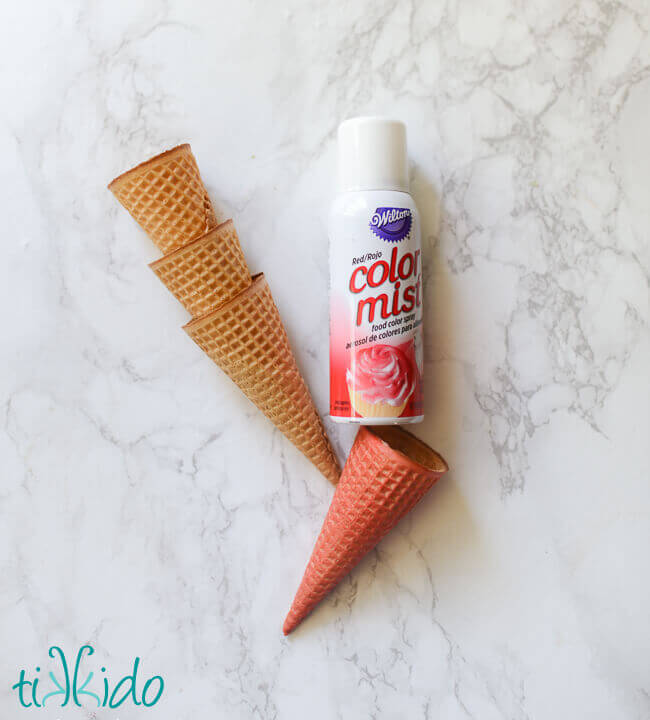 I used Wilton red Color Mist food color spray to color some of my ice cream cones red.  Once dry, the food coloring doesn't seem to rub off on your fingers, but you do need to be sure to give the food coloring time to truly dry if you decide to do this step.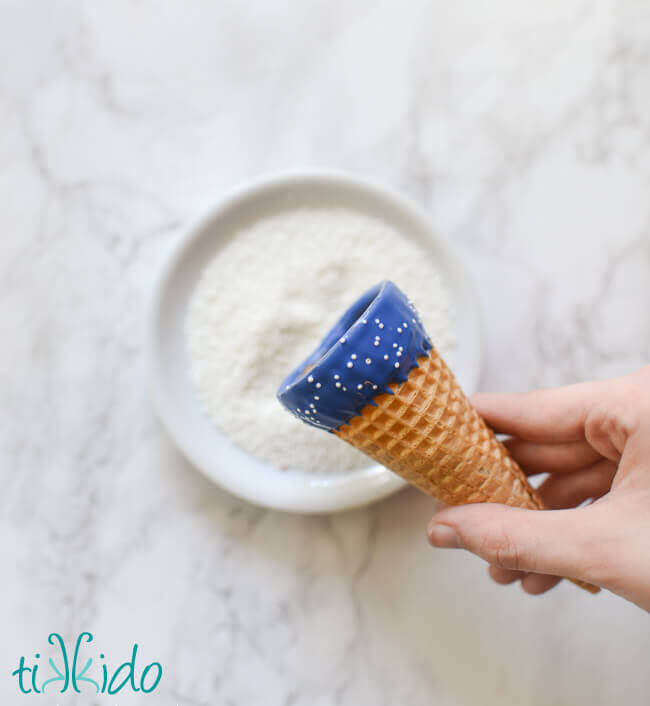 Melt a small bowl of the chocolate melting disks in the microwave.  Dip the ice cream cone in the melted chocolate, and let excess chocolate drip off before adding sprinkles.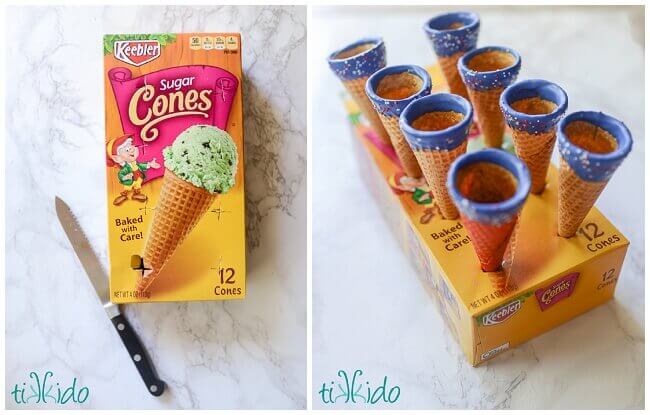 You could immediately turn the cones upside down on a piece of parchment paper or waxed paper, but the chocolate tends to puddle a bit and create a kind of chocolate collar.  Not all bad--it does catch drips nicely.  ;-)  But I liked the look of the chocolate better when I let the cones dry upright.
My solution was quick and easy.  I used a sharp knife to cut X-shaped holes in the empty cardboard box in which the ice cream cones came.  This turned the empty packaging into a perfect quick-and-easy cone stand.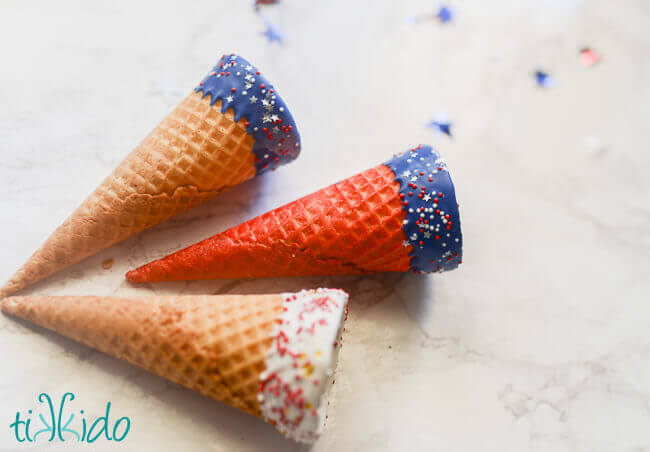 My favorite cones were the ones with the blue chocolate.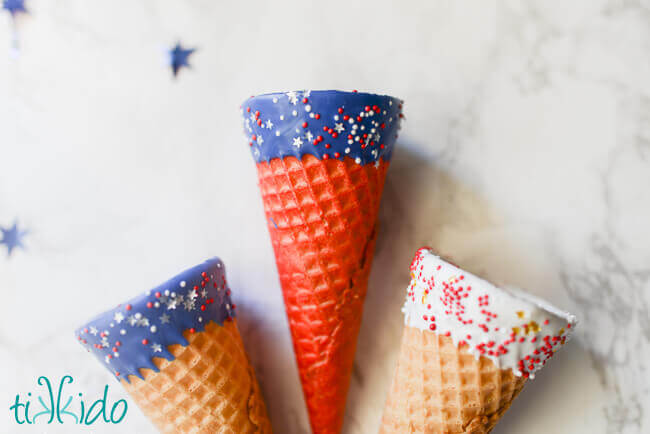 But, hey, anything with chocolate and sprinkles is pretty good!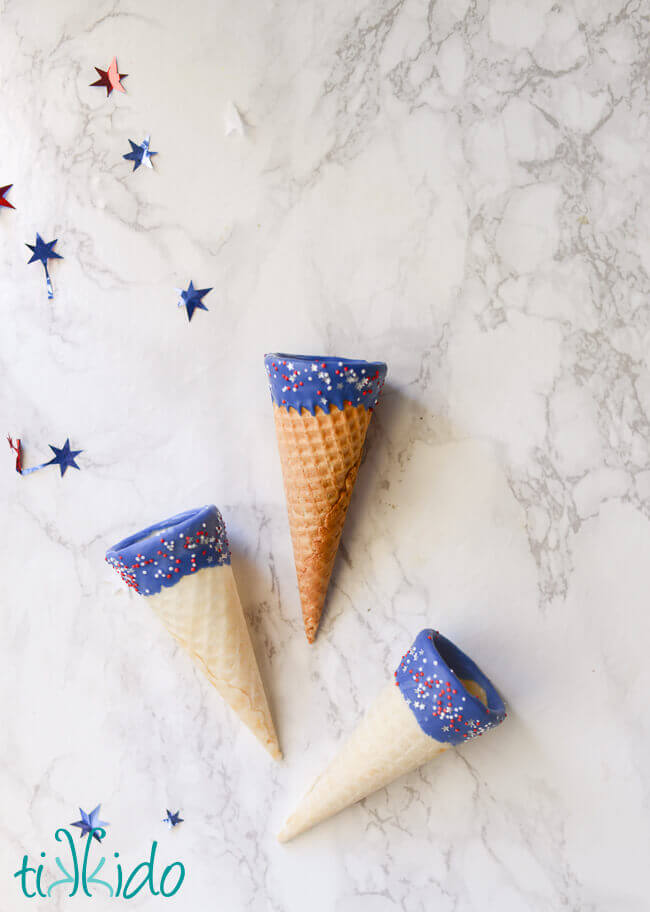 I also picked up a package of gluten free ice cream cones (I knew I was going to be serving at least one gluten free person), and they turned out to be a really pretty white color.  How perfect for this project!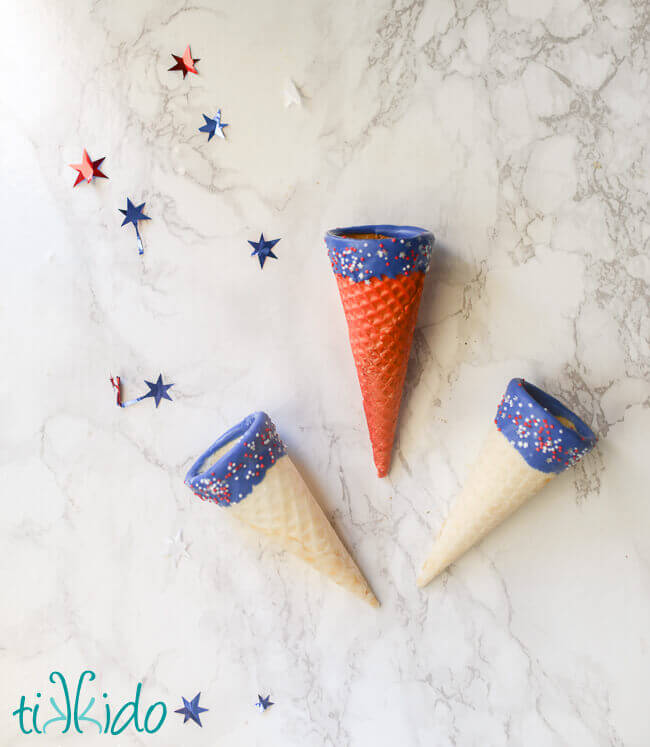 I didn't try the red food coloring spray on the gluten free cones, but I'll bet they'd show the color even better than the standard cones I used.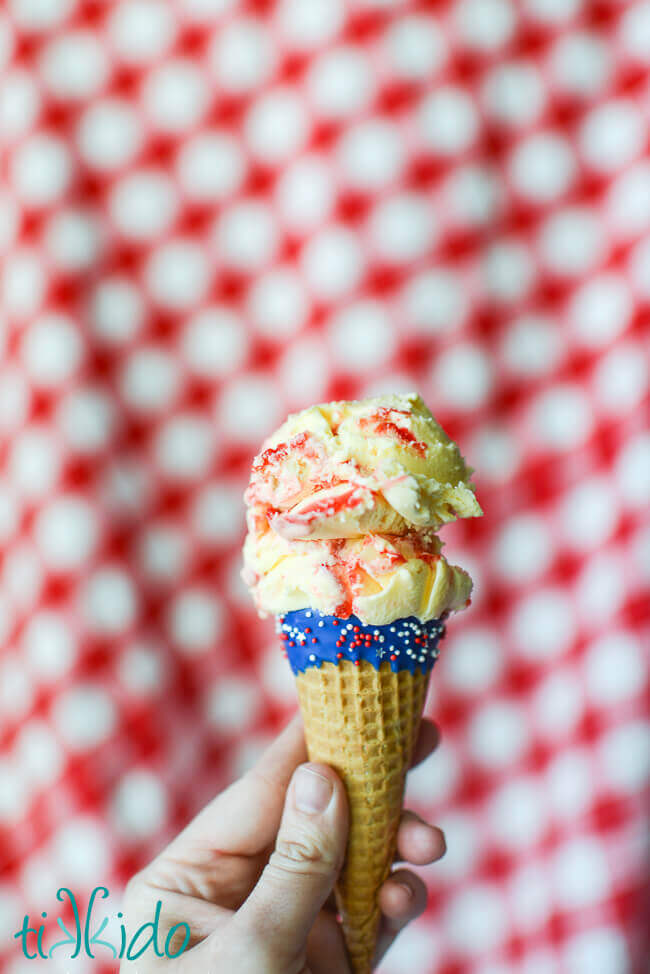 Filled with ice cream:  the true test.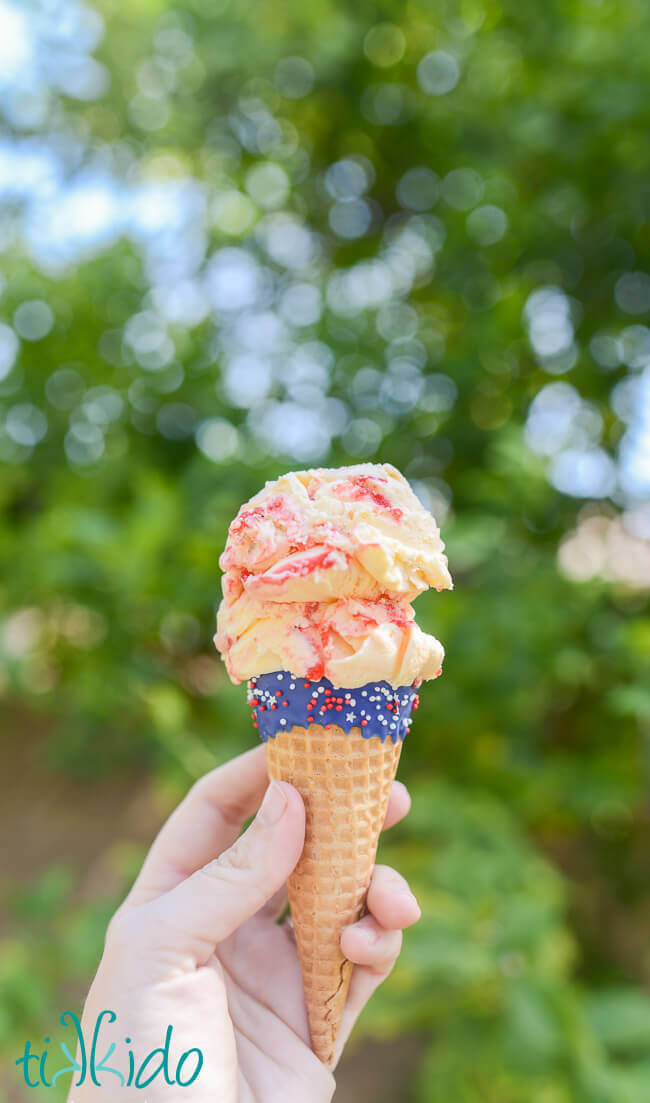 Ah, yes.  Bring on the summer!