Printer-friendly version
I don't quilt.  My friend Liz, who is an amazing quilter, has tried to teach me, but I seem to have some trouble with cutting straight lines, which is kind of important in quilting.  But even I can make these lovely faux quilted Christmas ornaments.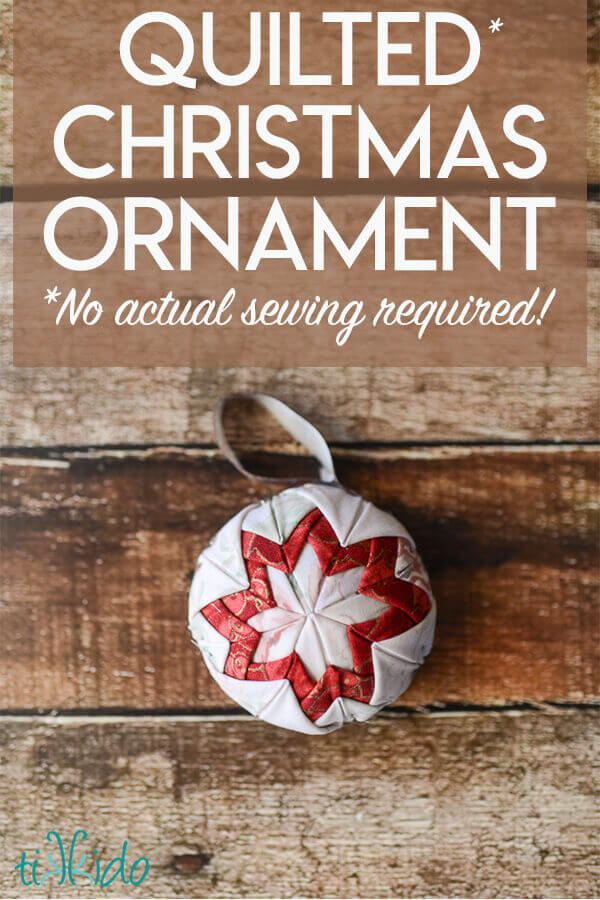 My mom taught me (and the rest of my girl scout troop) how to make these when I was a kid, and I taught my girls how to make them when I renovated their playhouse for Christmas and turned it into The Christmas Cottage.
How to Make Faux Quilted Christmas Ornaments:
2" squares of fabric
styrofoam spheres, cut in half
ribbon
circle of fabric (size of the flat size of your half-shpere)
Cut the fabric into roughly two inch squares.  Unlike real quilting, you don't have to be very precise.  Cut the styrofoam ball in half as well (I used my bread knife to cut mine).
Place a pin in the center of the wrong side of a square of fabric.
Push the pin into the center of the styrofoam ball, and fold the square of fabric in half (now you'll see the right side of the fabric).
Fold the upper right corner in to the center line and pin down.  Do the same on the left side to create a triangle of fabric.
Repeat three more times, so that the center of the Styrofoam is entirely covered by four triangles of folded fabric.
Using the same technique, add triangles of fabric in a contrasting color.  Add eight of these triangles. 
Once the entire dome has been covered by the fabric triangles, glue a circle of fabric to the back side of the ornament.  Trim with ribbon around the edge to cover up any visible pins and rough edges, and add a ribbon loop for hanging the Christmas ornament.  You can use either pins or glue to attach the ribbon, but I like using a low temperature hot glue gun, myself.
Nothing left to do but trim the tree or give as a gift!