Printer-friendly version
Rainbow rock candy may be the prettiest candy I've ever seen!  This tutorial will show you how to make rainbow rock candy using plain white rock candy and food coloring.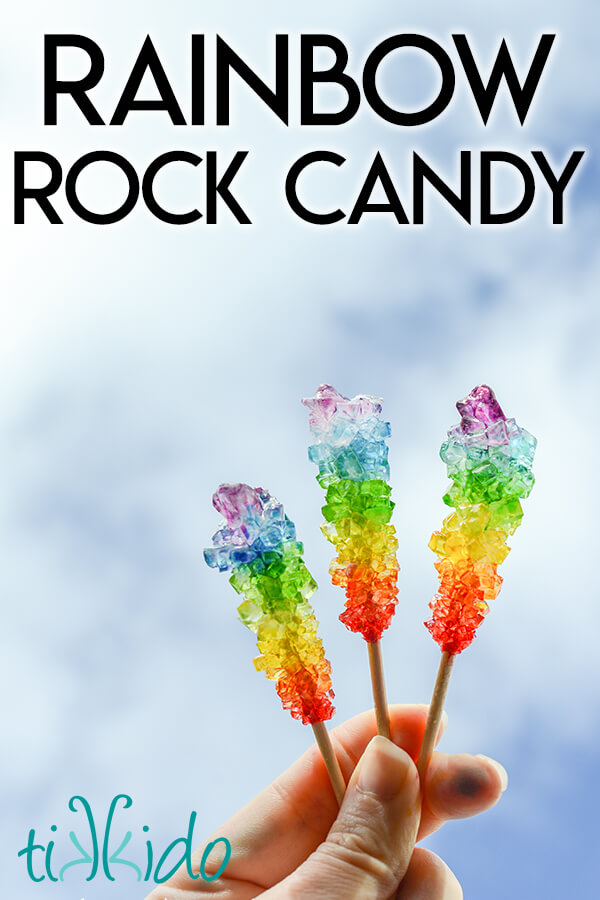 This tutorial for rainbow rock candy sticks is SO easy and fast!  And you can use the technique to make custom rock candy to match any party scheme or color theme.  
I made this St. Patrick's day treat as my contribution to this month's Taste Creations Blog Hop.  Be sure to check out the other delicious St. Patrick's Day recipes from my fellow bloggers at the end of the post!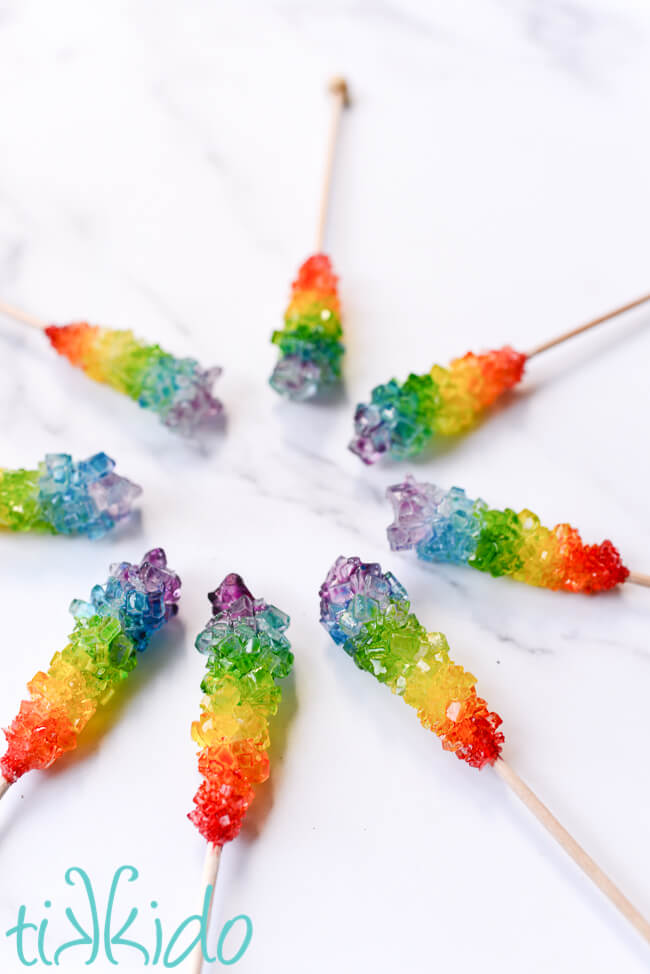 I wish I'd thought of this idea years ago when I was planning my daughter's rainbow unicorn birthday party!    That opportunity has passed, but I'm going to make these for my daughters to give their fellow Irish dancer friends on St. Patrick's day.
How to Make Rainbow Rock Candy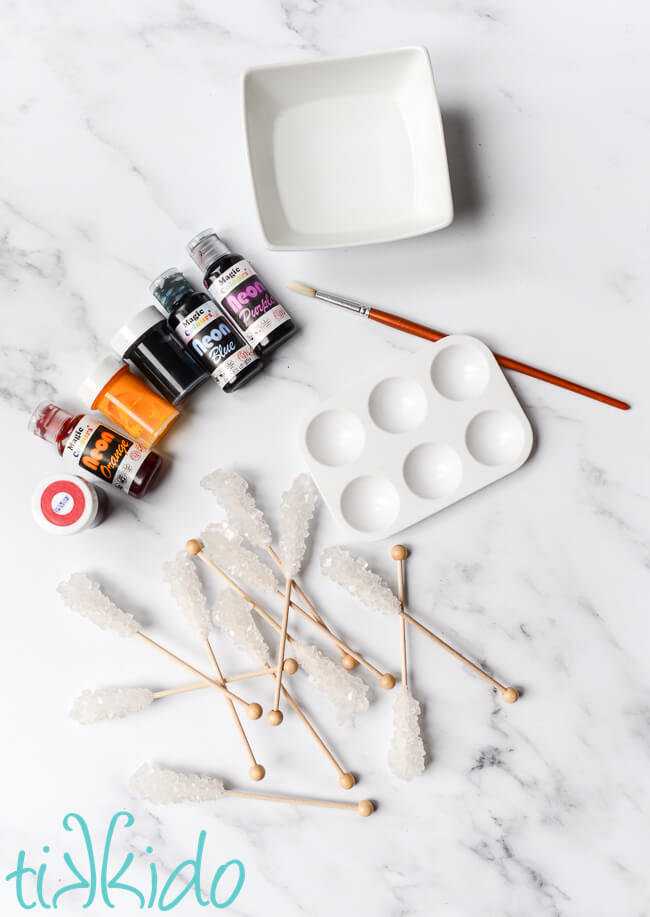 Rainbow Rock Candy Materials: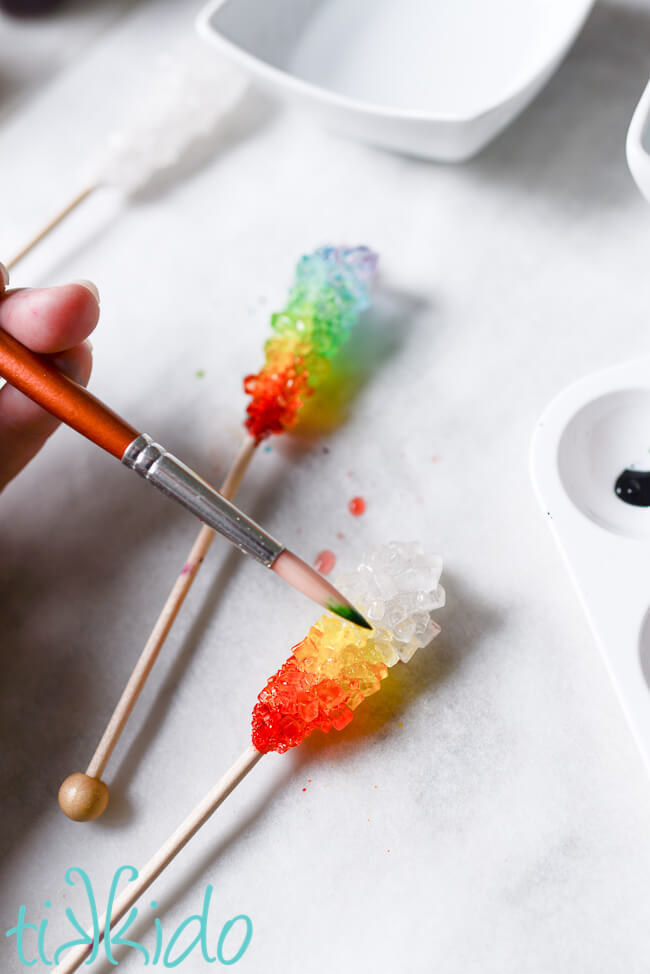 Use a clear, flavorless alcohol like vodka or Everclear to thin the food coloring and paint it on the sugar crystals.  It's just like painting with watercolors.  
The alcohol evaporates more quickly than water, which is good when painting sugar, so it doesn't melt the sugar crystals and make it more sticky.   Once it's dry, no alcohol and no flavor remains behind.  But if you're working with small kids--especially if you think they might eat the rock candy before it's completely dry--it's definitely possible to do this project with water instead of the alcohol.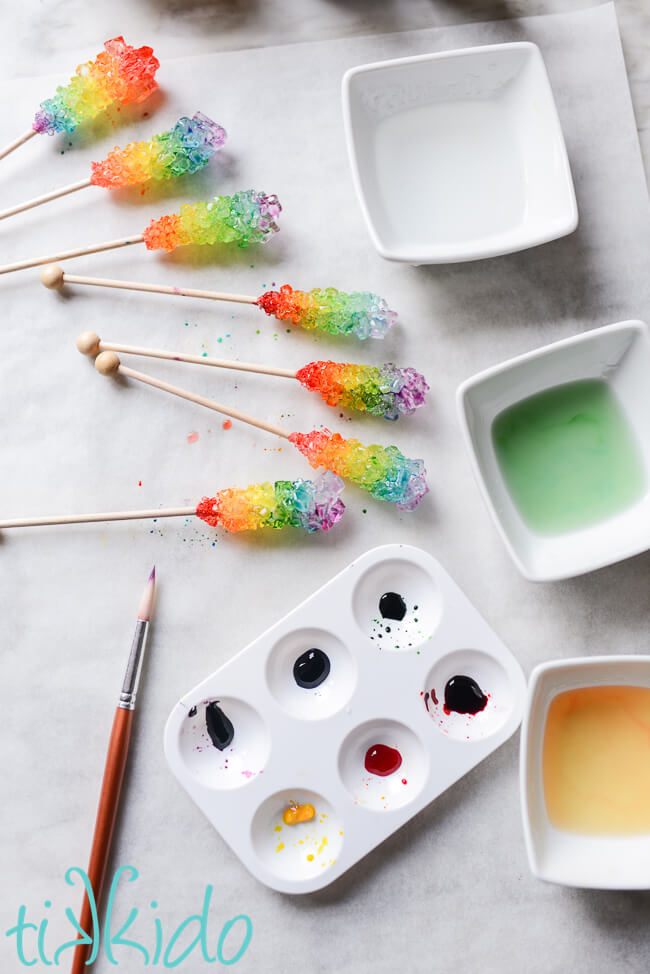 I used several small dishes of vodka for this project, since I was using all the colors of the rainbow.  I found that I could get away with using one dish for the warm colors (red, orange, yellow) and one for the cool colors (green, blue, purple).  Just that seperation helped keep my brush and the colors from getting mixed up and muddy looking.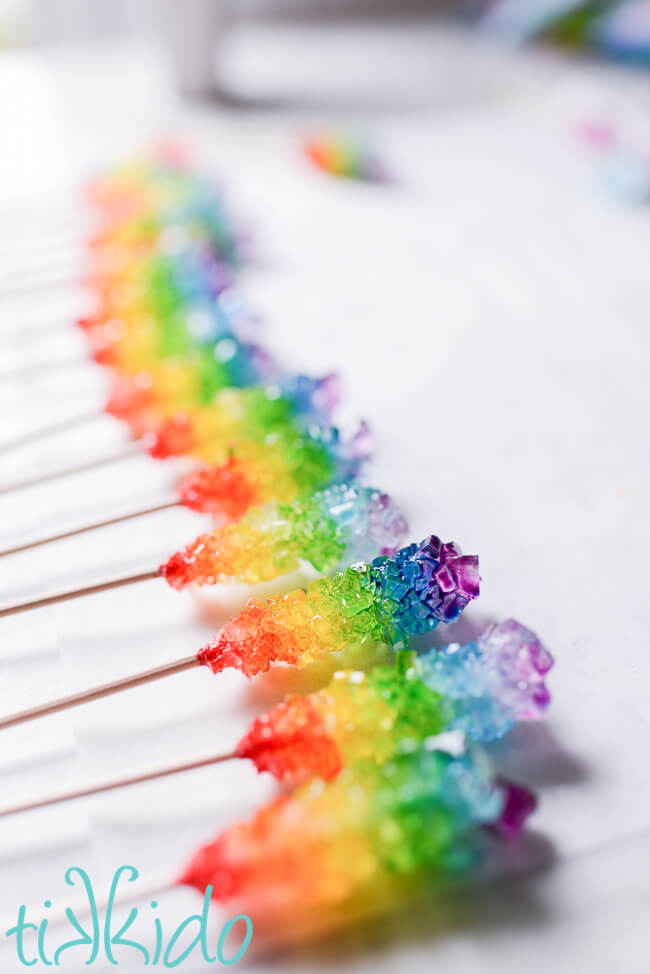 Set the painted rock candy sticks dry on a piece of parchment paper.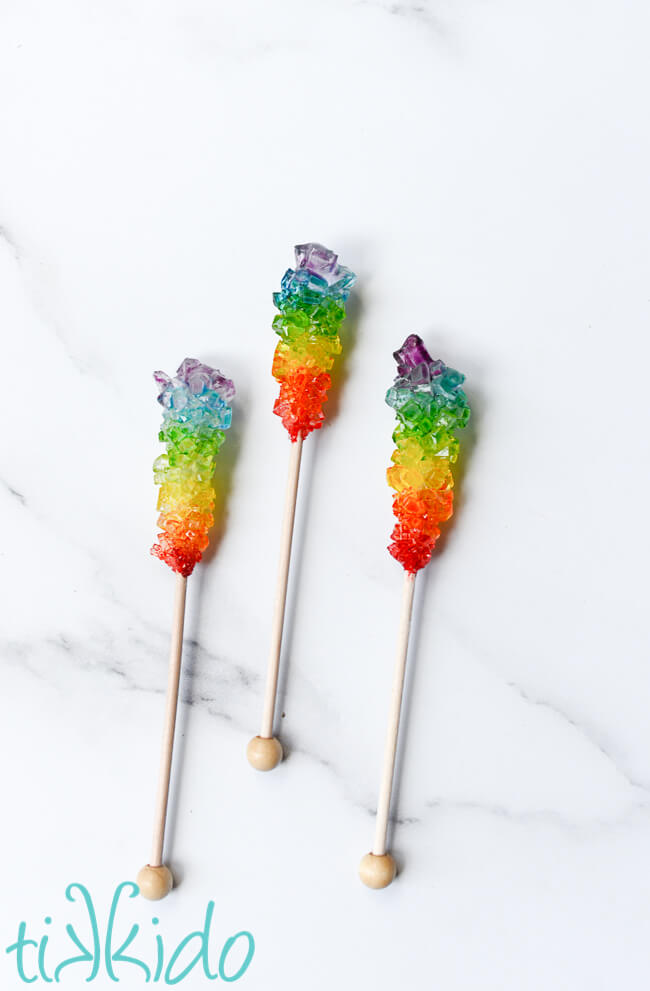 It doesn't take long for the candy to dry, especially if you used alcohol to paint.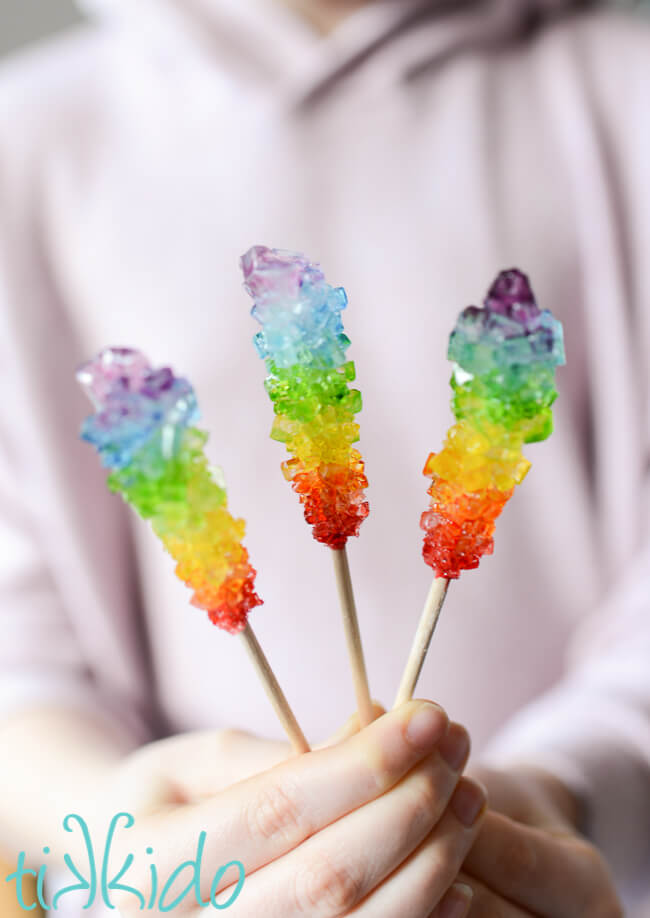 The rock candy sparkled prettily all on its own in the light, but you could sprinkle on some edible glitter while it was still wet if you wanted to add even more dramatic sparkle.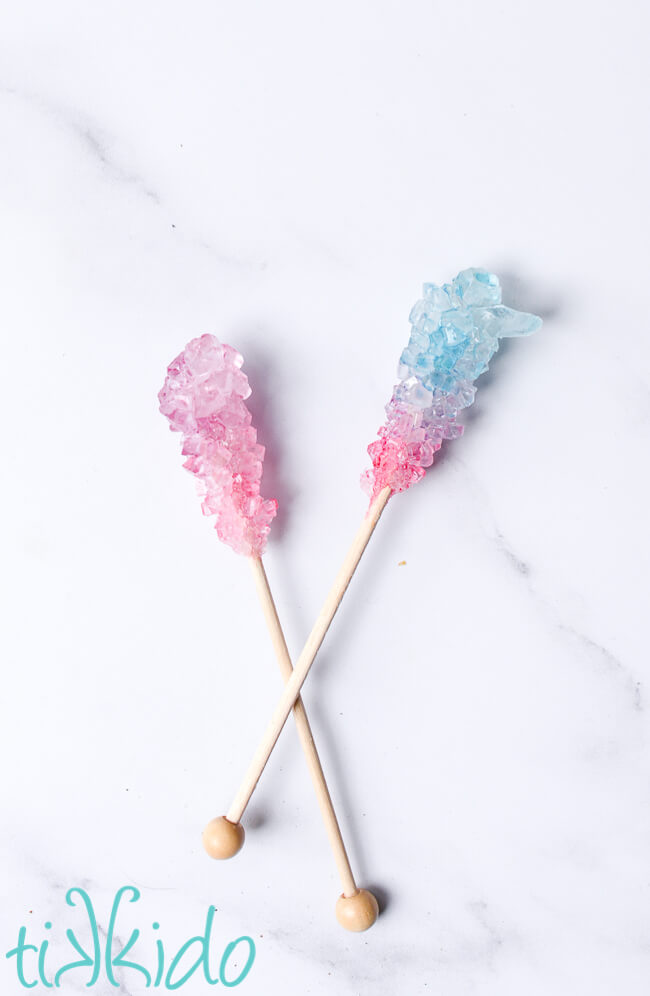 I played around with other colors too, like these pastel, cotton candy colors.  These would be fun for a unicorn party with a more pastel color palette, wouldn't they?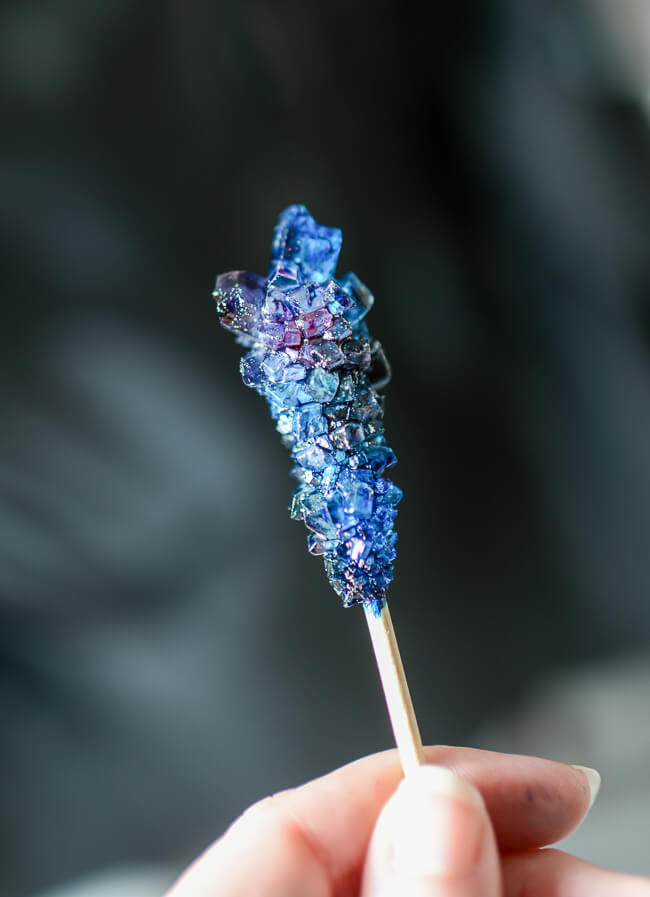 My youngest daughter asked if she could make some space themed rock candy sticks, and painted some absolutely GORGEOUS ones!  We're trying to figure out what her next birthday party theme will be, and I hope it's something where we can use these beautiful galaxy candies!
More St. Patrick's Day Treats from the Taste Creations Blog Hop: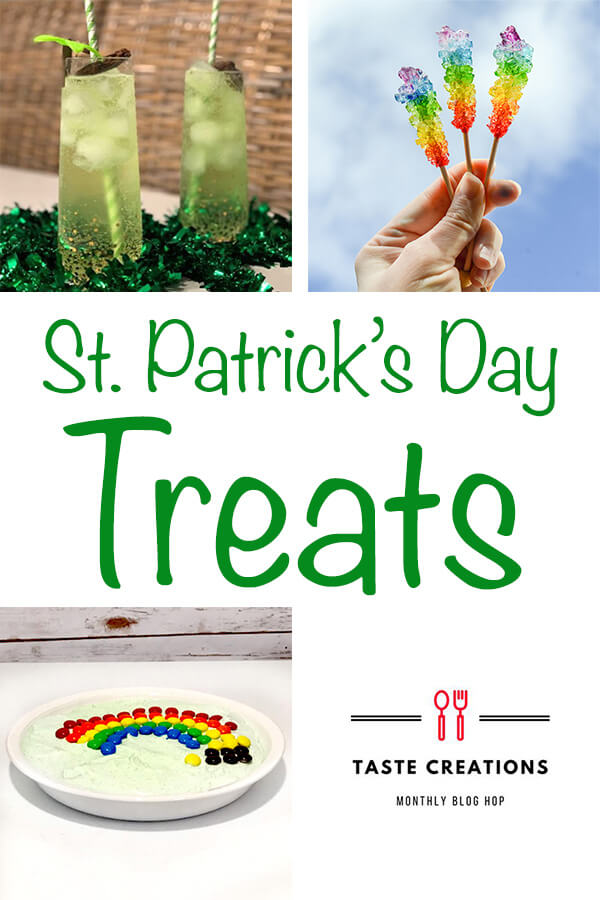 Be sure to check out the other delicious St. Patrick's day treats created by my blogger friends in the Taste Creations Blog Hop this month:
Our Good Life:  Key Lime Leprechaun Cocktail
Mom Home Guide: St. Patrick's Day Key Lime Pie
Other Rainbow Foods You Might Like: