Printer-friendly version
What's better than a unicorn cupcake?  A rainbow unicorn cupcake with a unicorn horn made from a cookie!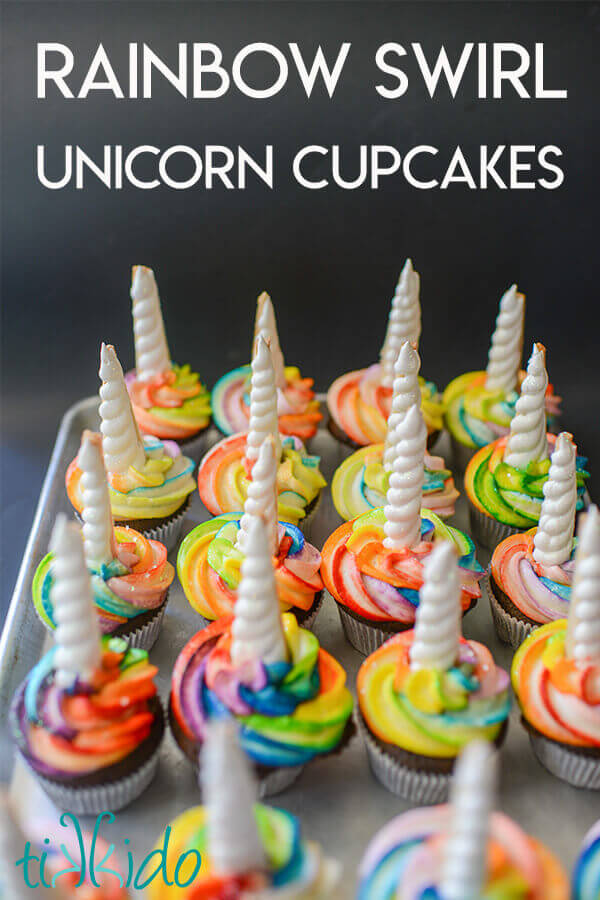 My daughter's friend requested unicorn cupcakes for her birthday this week.  I've made unicorn cupcakes before, but never rainbow unicorn cupcakes.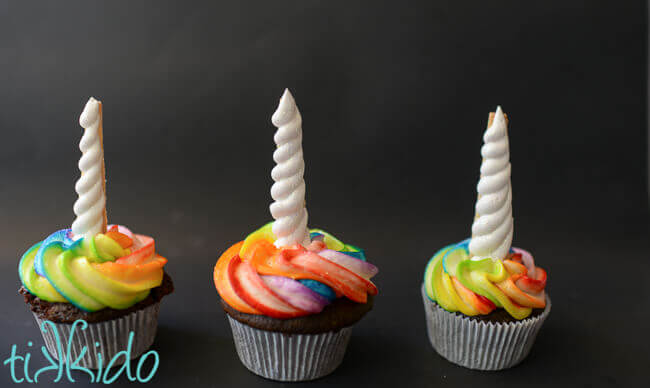 Isn't that rainbow swirled buttercream icing just fabulous?  And it's almost magically easy.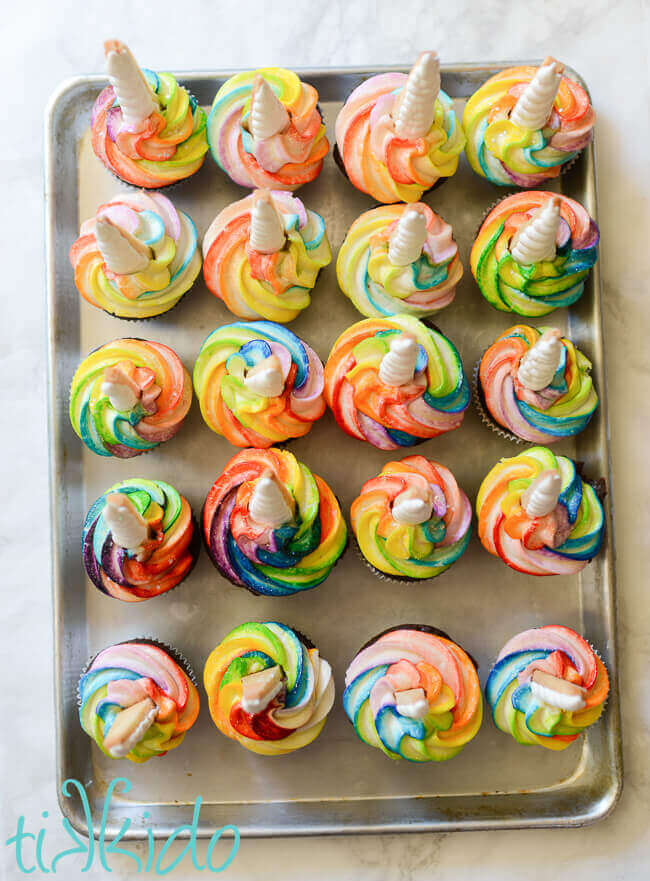 I'm very fond of entirely edible cupcake toppers.  That usually means gum paste or fondant, but for these cupcakes, I decided to make small unicorn horn sugar cookies to use as cupcake toppers.  Delicious and adorable--win win!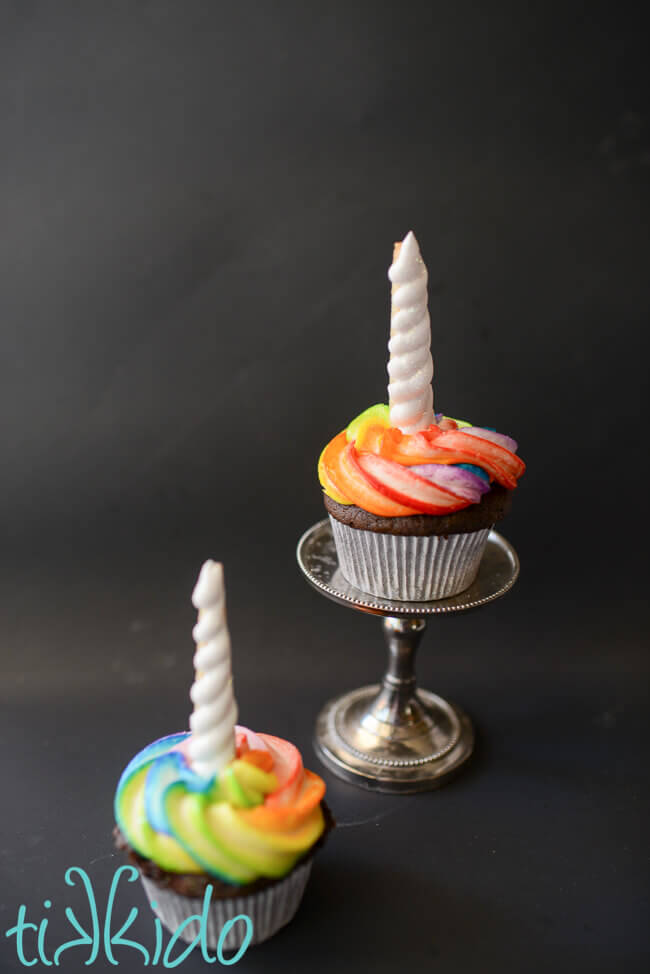 I love how these rainbow unicorn cupcakes turned out!  And the birthday girl loved them, too.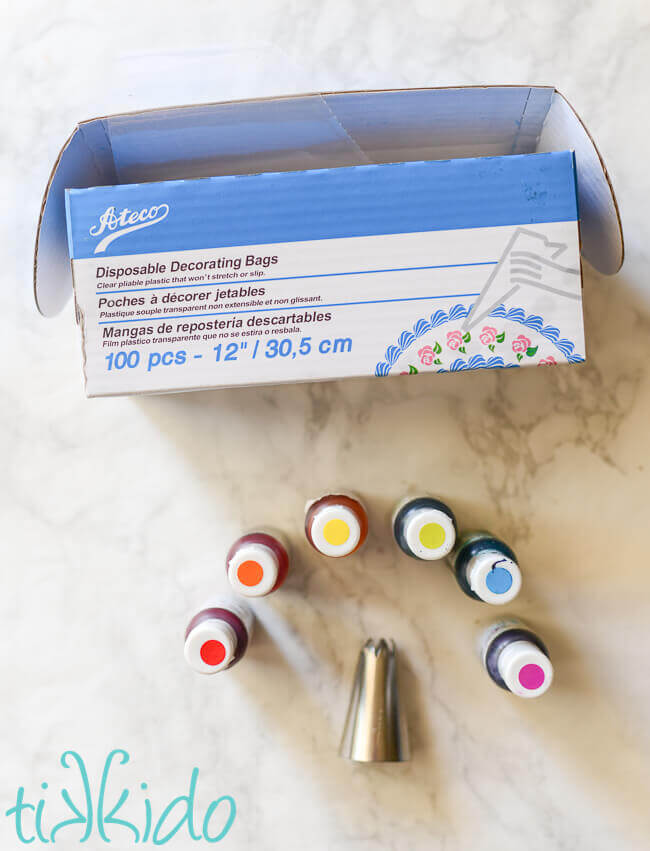 Materials for making Rainbow Swirl Buttercream Icing for Rainbow Unicorn Cupcakes: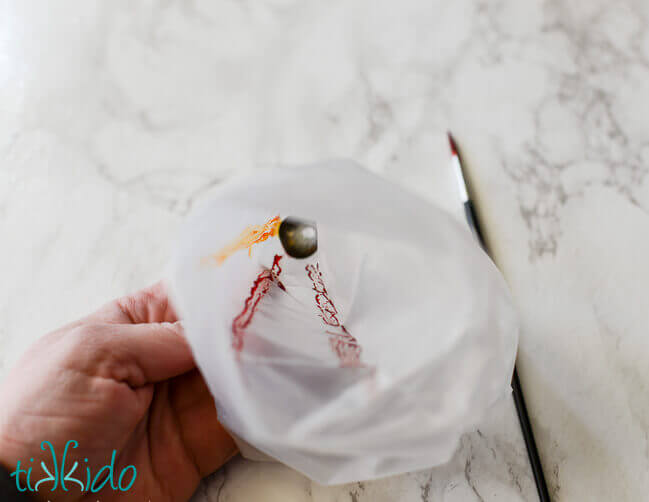 Simply paint stripes of each color of food coloring on the inside of your piping bag.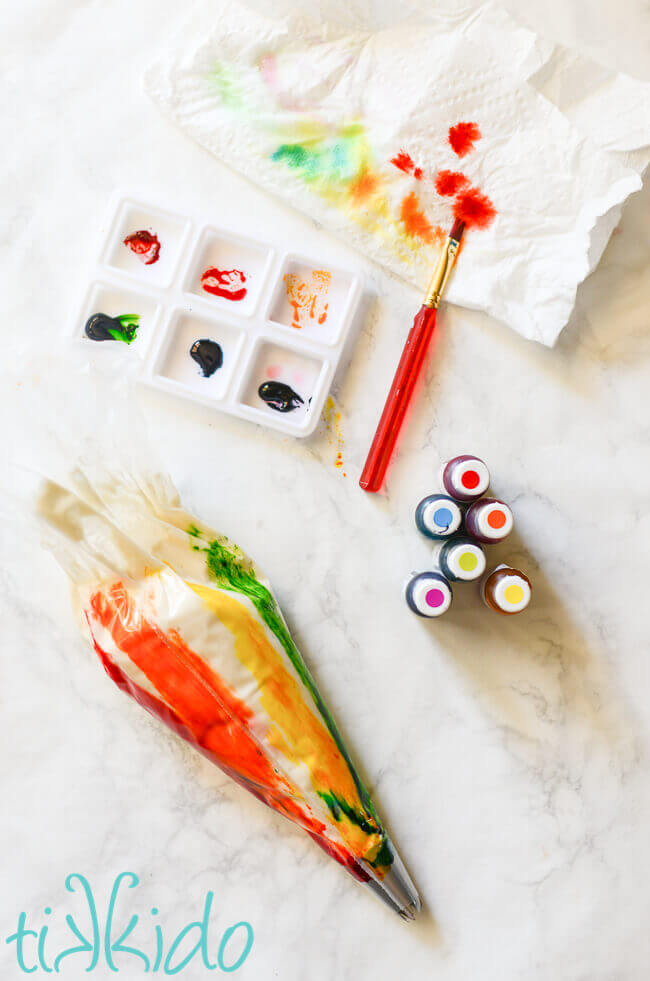 I like to start by painting the yellow stripe first, then moving to orange and red.  Then I clean my brush VERY well, and do the green, blue, and purple colors (cleaning between each color, but not quite so aggresively).  This keeps the colors from getting muddied.
Fill the piping bag with plain white buttercream icing.  This technique is SO much easier and quicker than making six different colors of icing.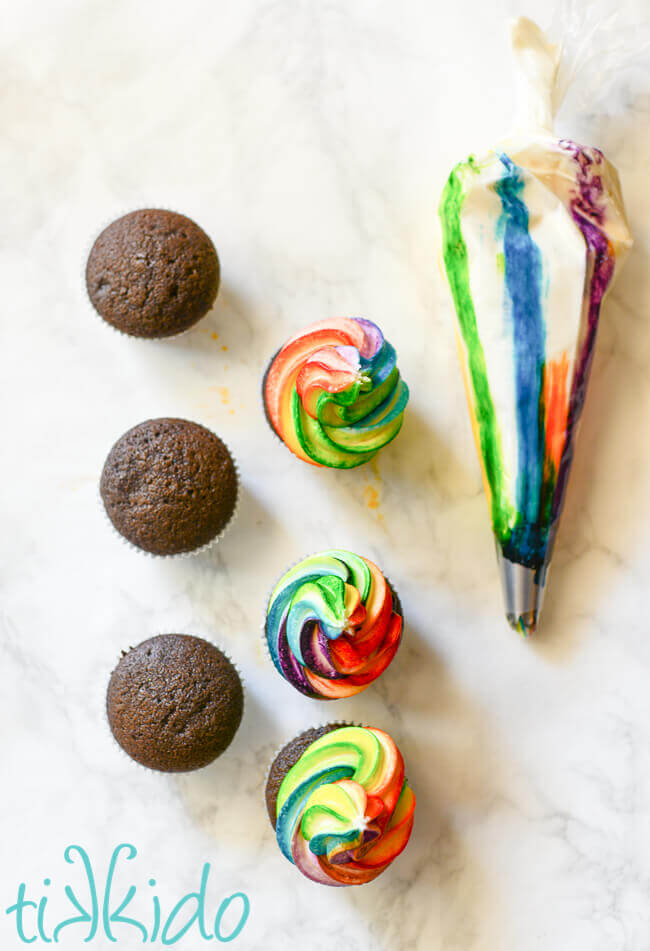 Just swirl the icing on top of the cupcake, and it comes out looking like these rainbow swirled beauties.  It really is as easy as that.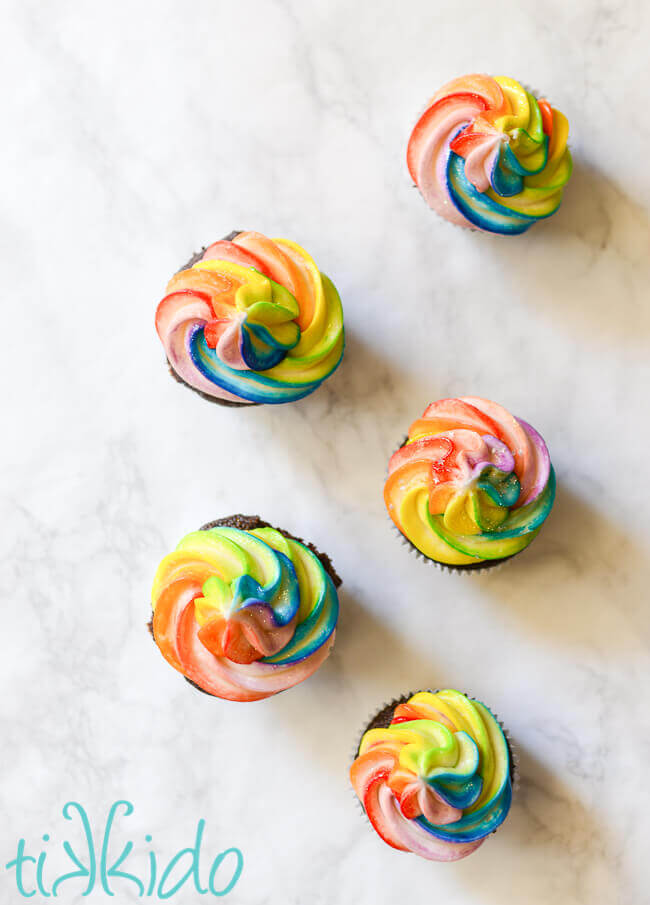 The colors start more intense, and get lighter as you go along, but every variation on the spectrum is absolutely gorgeous.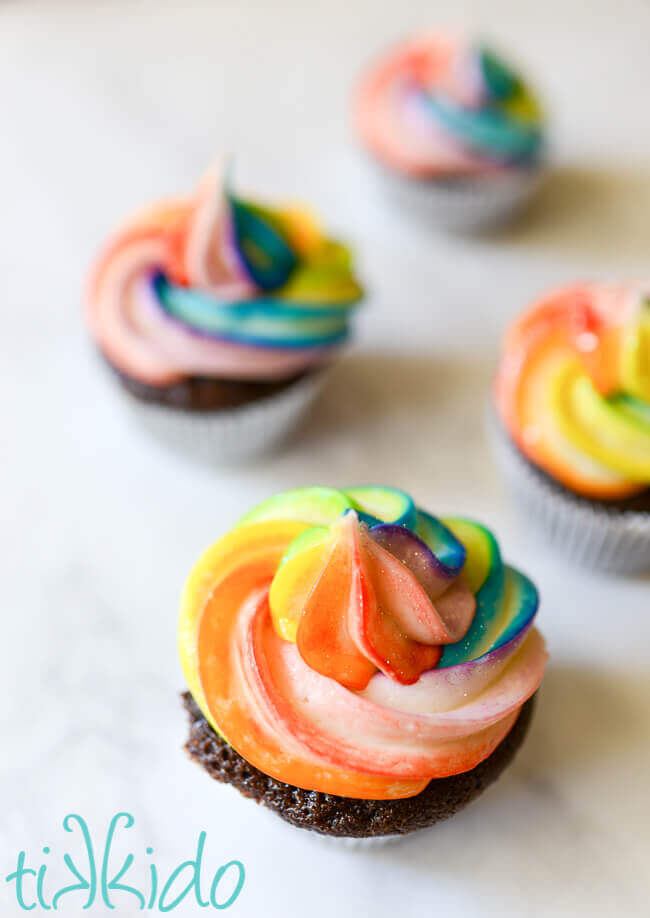 I've used this technique before to make fabulous red and white striped peppermint swirl cupcakes.  Perfect for Christmastime!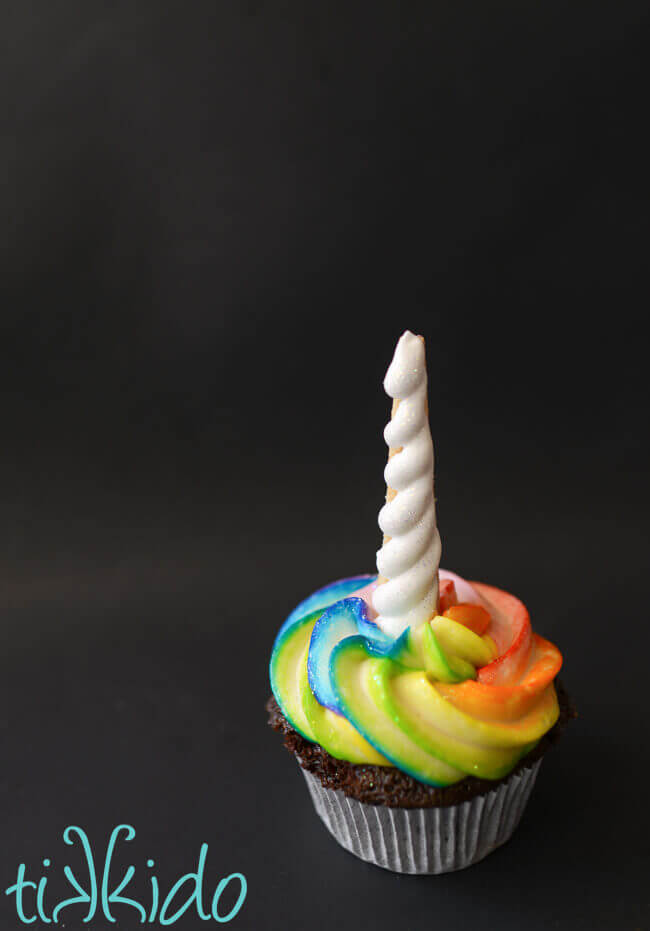 The edible unicorn horn cupcake toppers are made out of my favorite sugar cookies and are decorated with royal icing.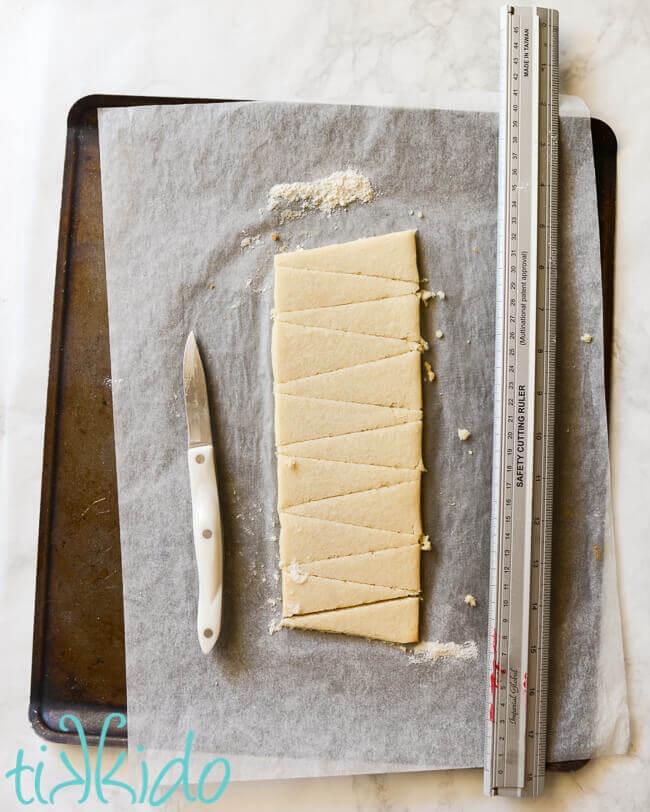 I don't have a unicorn horn cookie cutter, but I just needed some slender triangle shaped cookies.  That was easy enough to make using the same technique I use to make a bunch of gingerbread house pieces at one time.  Rather than cutting out the shapes and then baking them, I just baked one long rectangle shaped cookie.  When it came out of the oven, and was still hot and soft, I used a paring knife and my favorite ruler to cut the single large cookie into a bunch of small triangle shaped cookies.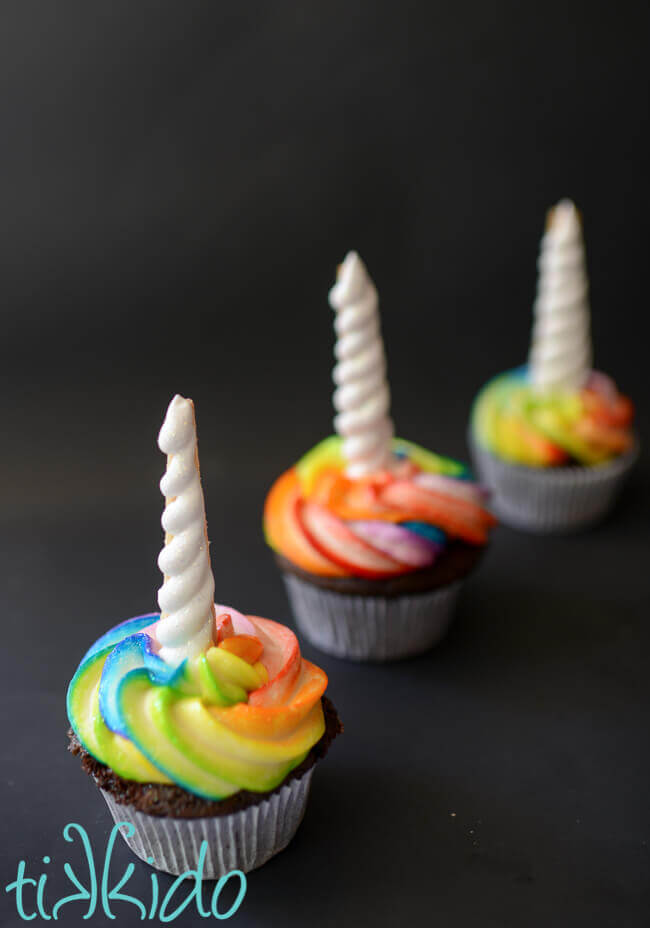 Add a little bit of royal icing (see the video above for the technique) and some disco dust, and you have yourself some delicious and delightful edible cupcake toppers for your unicorn cupcakes.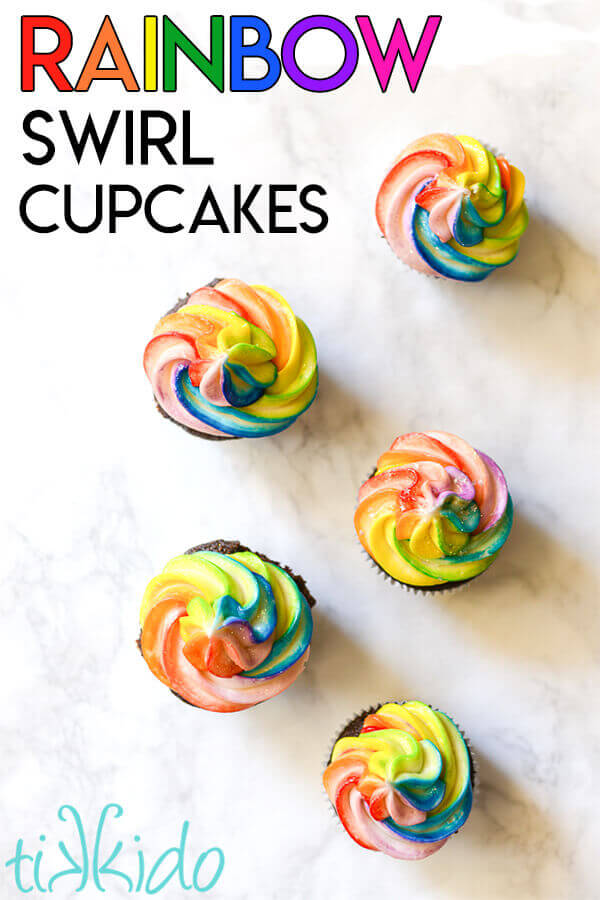 Of course, they looked amazing just as rainbow cupcakes, too!  
Other Rainbow and Unicorn Tutorials You Might Like: