Printer-friendly version
These rhubarb bar cookies are perfectly soft, but not cakey, with a delicious crumb topping and a fabulously intense and tart layer of rhubarb. If you love rhubarb, you'll adore these rhubarb crumb cookies.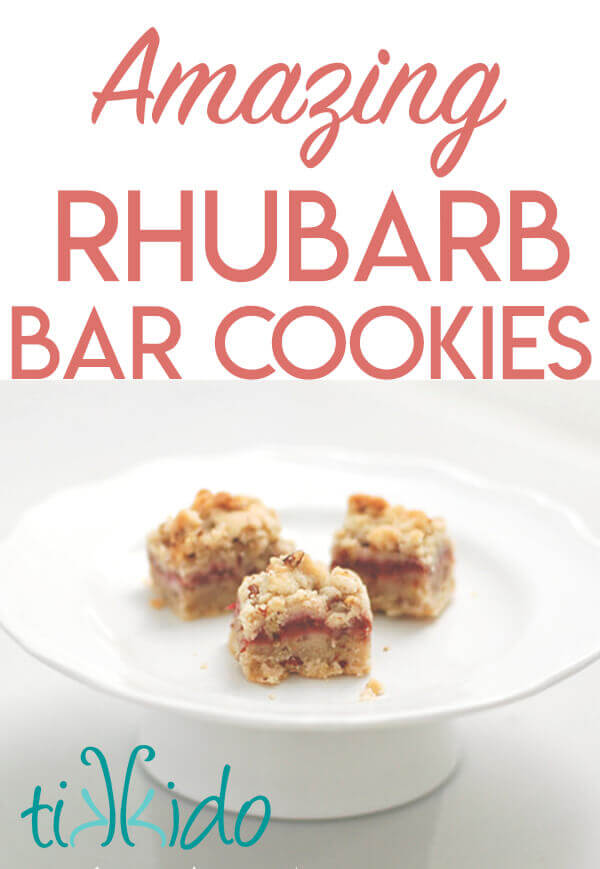 The Old World Raspberry Bars I made for the butterfly birthday party are exceptional, without question. They've been a family favorite for years. But I had a bag of rhubarb lurking in my freezer, begging me to do something with its fabulous tart flavor. I love rhubarb. LOVE. Rhubarb pie, rhubarb crisp, rhubarb shortcake--yes, please! Yes yes yes! I'll eat it for breakfast, stirred in cream of wheat. Or as leftover pie. Pie for breakfast is the best thing in the world, after all. In short, I love rhubarb in all its incarnations. It was only a matter of time before I thought about combining oh-so-fabulous rhubarb with my favorite cookie recipe. And thus was born the most amazing Rhubarb Bar Cookies you've ever tasted.
Rhubarb Bar Cookie Ingredients:
2 1/4 cups AP flour
1 cup sugar
1 cup butter
1 egg
1 cup chopped nuts (pecans or walnuts)
1/2 t ginger
1/4 t cardamom
1 cup stewed rhubarb for the filling
First, make the stewed rhubarb filling.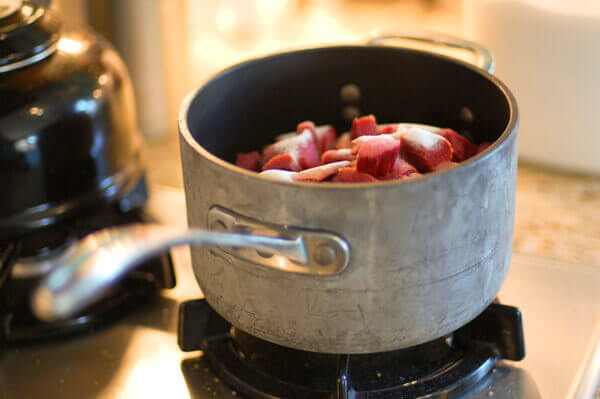 Stewed Rhubarb Sauce Recipe:
Throw your rhubarb in a saucepan with a enough water just to cover the bottom of the pan and sugar to taste. I like my rhubarb on the tart side, so I used about 3/4 cup sugar for a large pot of rhubarb. Cook over medium heat, stirring frequently, and the rhubarb will cook down into a not-so-attractive-but-oh-so-delicious stringy pink mush. It's good, I swear! Taste it and add more sugar if you want to at this point. Remove from heat and let cool while you assemble the rest of the cookies.
Preheat oven to 350 Fahrenheit.
Grind your nuts. I love this little gadget I've had for years. My mom has one just like it, too. It may be a uni-tasker in the kitchen, but it does what it does so well that I make room for it. Plus my girls adore helping me grind the nuts and I don't have to pull out the Cuisinart.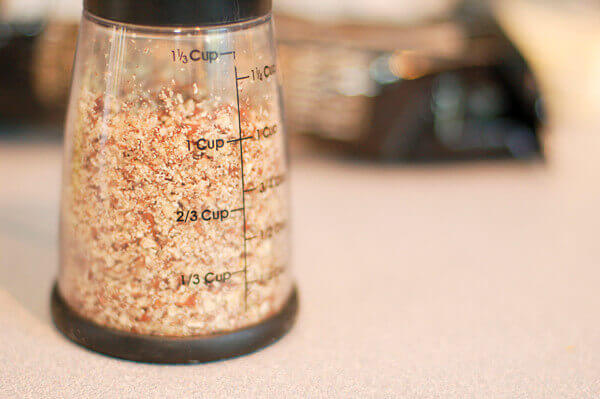 Cream butter and sugar in your mixing bowl. Add the egg and beat until fluffy.
Add spices, nuts, and flour, and stir until incorporated. It will make a soft, moldable dough.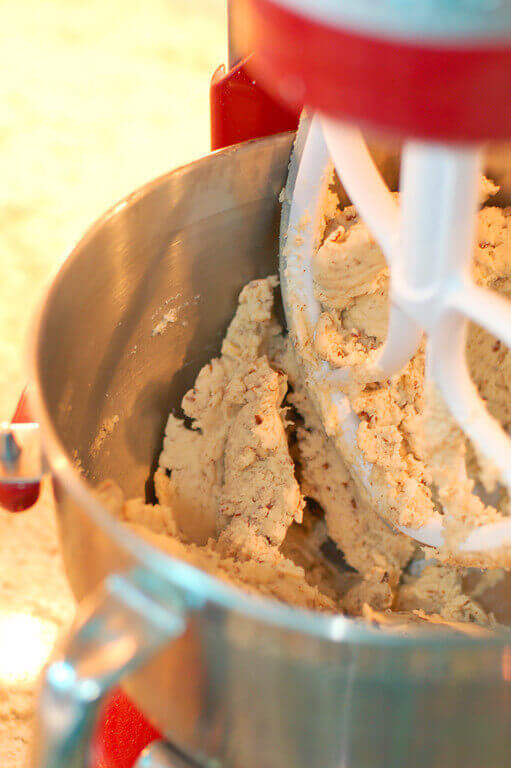 Reserve two cups of the dough, and pat the rest into a 9x9 baking pan (silicone if you have it, see yesterday's post!).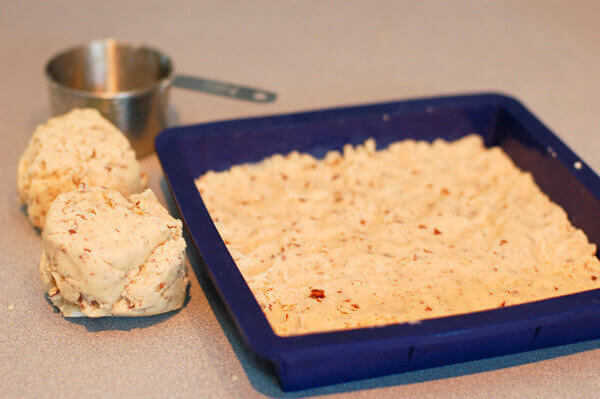 Spread the stewed rhubarb filling over the cookie base.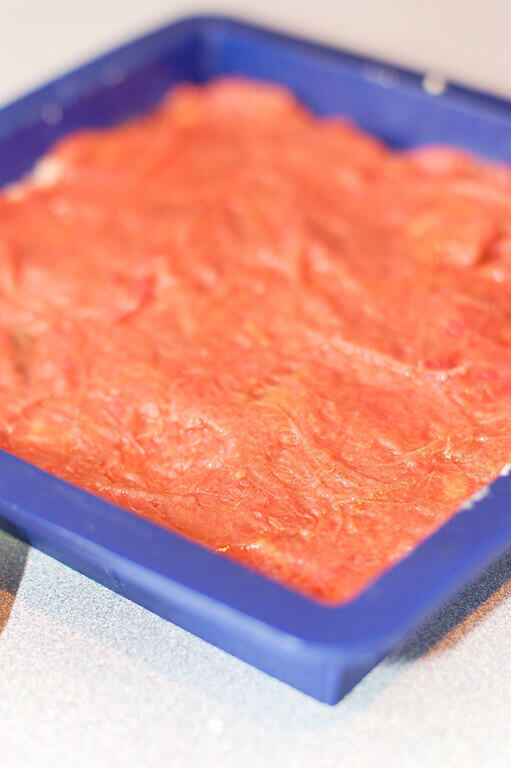 Then pinch off bits of the remaining dough and drop on top of the rhubarb layer. Don't press down, just drop them over the entire top.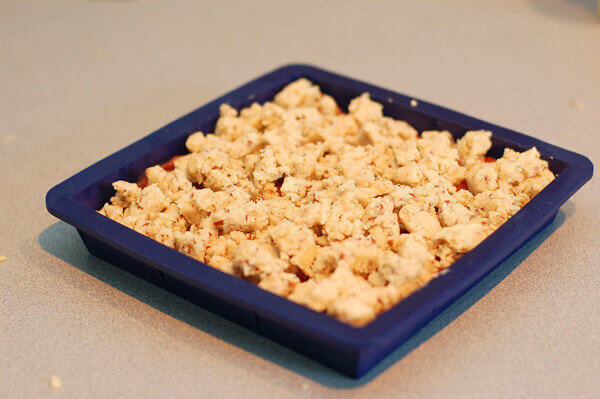 Bake at 350 for 45 minutes, until the crumbs on the top have started to turn golden brown.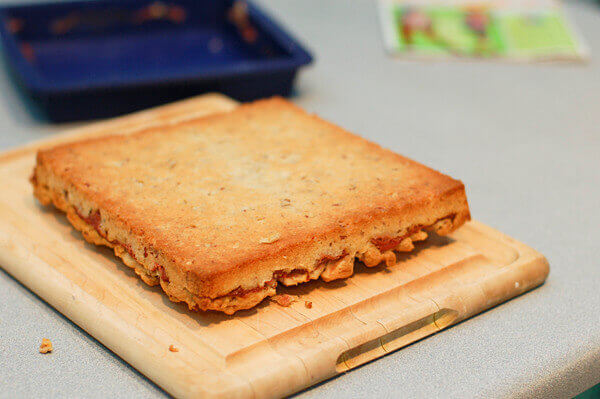 Look how gorgeously the bars pop right out of that silicone pan! This is why I keep that thing in the kitchen!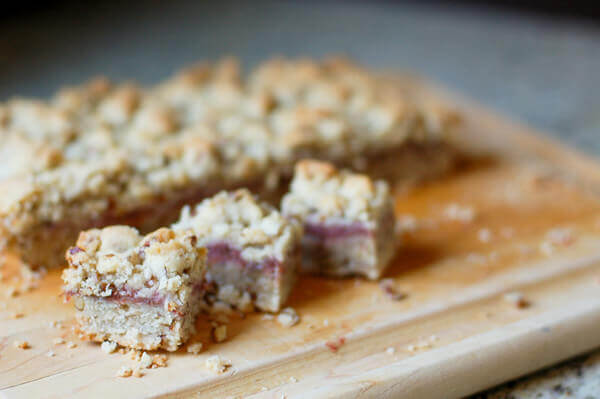 Cut into bars and die of bliss! The cookie is soft, but firm enough to hold its shape. Perfectly buttery and rich. And the tart layer of bright pink rhubarb is the absolutely perfect balance to the pastry. I do believe I have a new favorite cookie.
Other Rhubarb Recipes You Might Like: