Printer-friendly version
Rhubarb Custard Bars are a delicious dessert to make with bountiful spring rhubarb.  This rhubarb custard bars recipe features a shortbread crust, a creamy, sweet custard layer, and just the right amount of tart rhubarb on the top layer.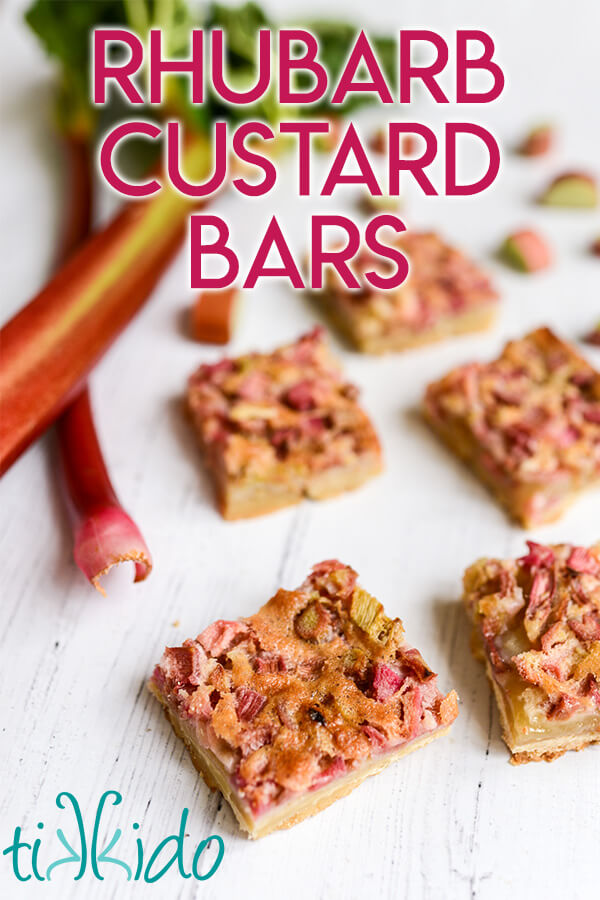 These taste a lot like rhubarb custard pie (which I also love), but without all of the fuss that comes with making pie crust.  And if you're a person who doesn't like pie crust, this cookie crust is for you!
This rhubarb bars recipe is made in a 9x13 pan, but you can easily cut the recipe in half and make it in a square 8x8 pan as well.  I have both versions of the recipe available as a one page, printable PDF at the bottom of this post.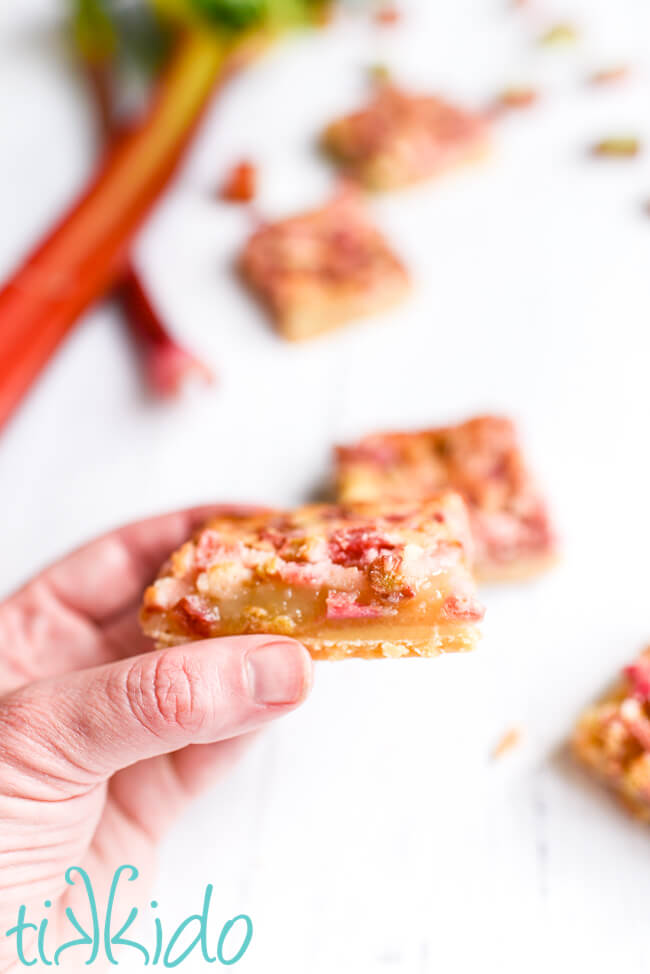 Rhubarb custard bars are basically a rhubarb version of lemon bars (another one of my favorite desserts).  I love tart fruit desserts!  But since we're using small chunks of the sour rhubarb instead of juice, the bars  in this delicious recipe seperate into three distinct layers.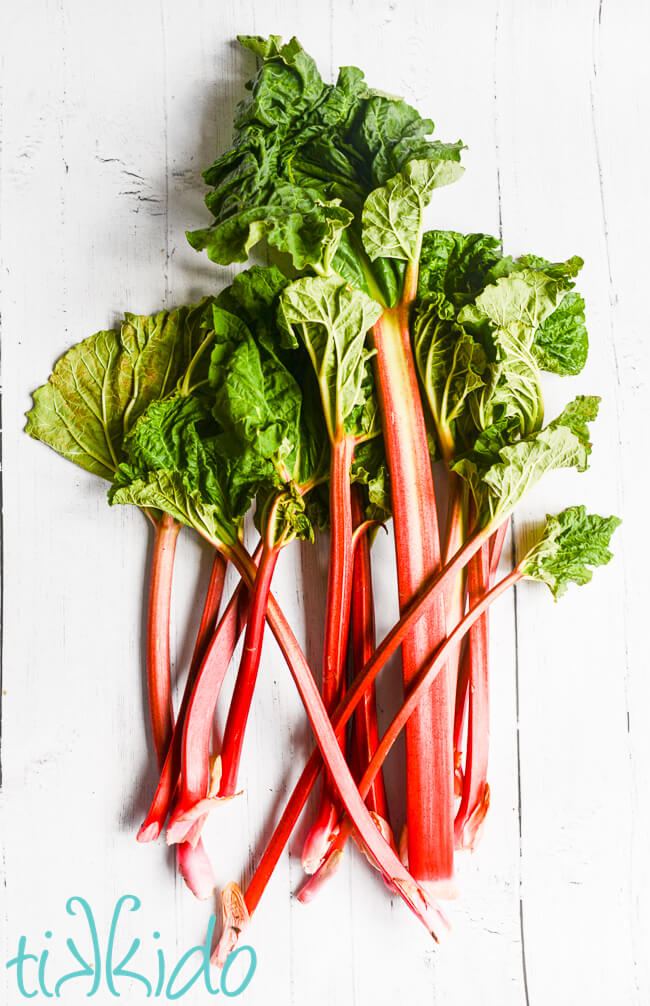 I love rhubarb season! I was lucky enough to be gifted some of the first spring rhubarb from my friend Heidi's allotment garden.  Be sure to check out all of the amazing recipes she makes from her bountiful allotment on Kitchen Talk and Travels!
How to Prepare Fresh Rhubarb for Rhubarb Custard Bars: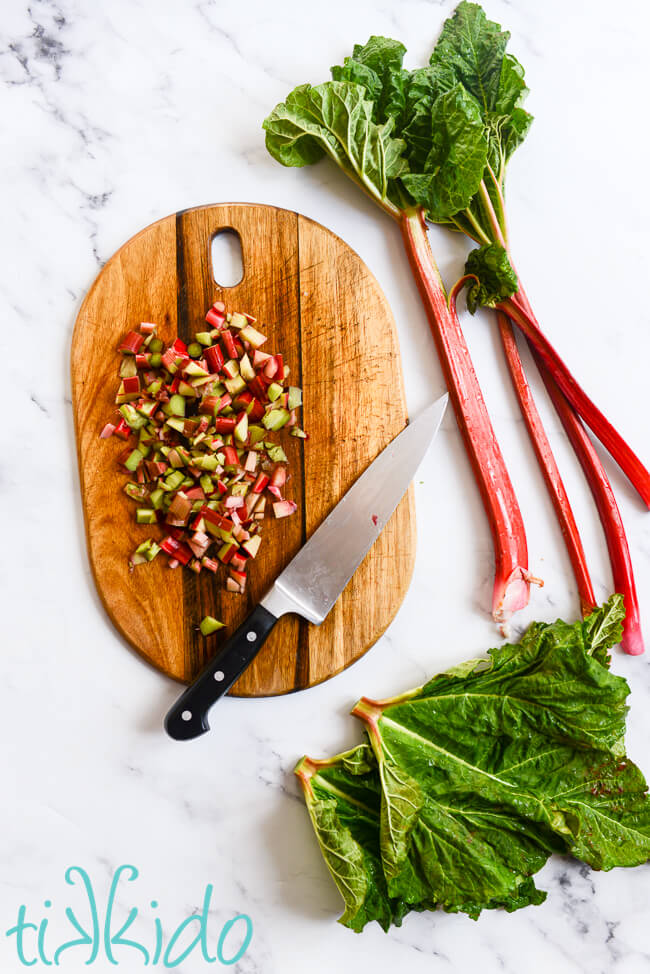 If you're lucky enough to have fresh rhubarb from the garden, you need to take care when preparing it.  Rhubarb leaves contain high amounts of oxalic acid and are toxic if eaten.  So chop the leaves off and discard.  We only want to eat the rhubarb stalks.
For this recipe, I diced the rhubarb stems into very small pieces, no bigger than 1cm.
How to Make Rhubarb Custard Bars: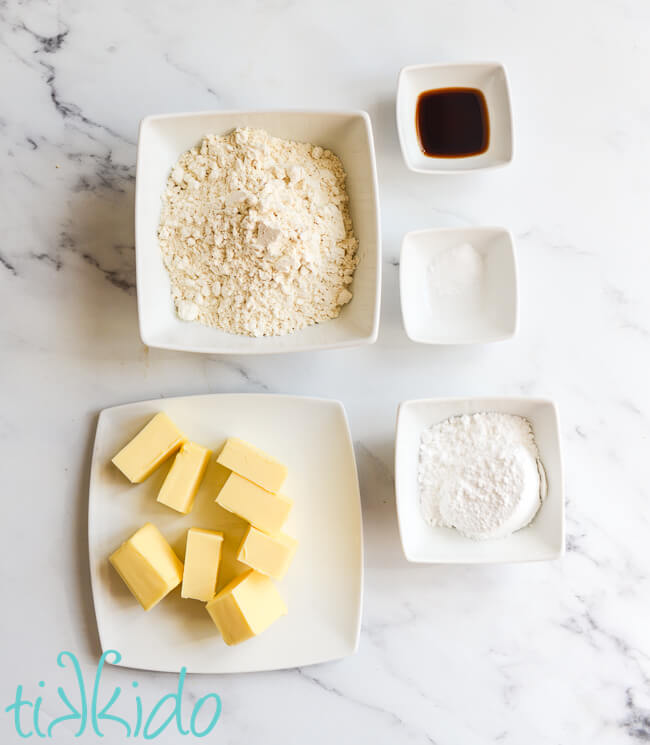 Rhubarb Custard Bars Recipe:  The Shortbread Base Layer
Rhubarb custard bars start off with a simple shortbread cookie base layer.
8 ounces (2 sticks) butter, softened
1/2 cup powdered sugar
1/2 teaspoon salt
1 teaspoon vanilla extract
2 cups all purpose flour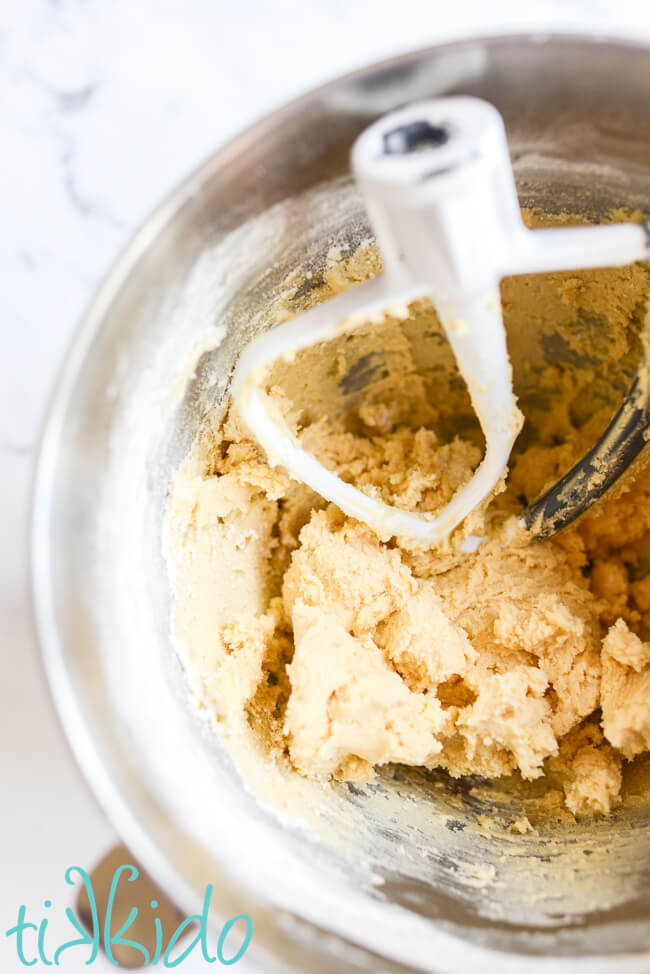 Combine sugar and softened butter and beat well.  Add the salt and vanilla and mix well.  Combine flour and the butter mixture and mix just until nicely incorporated.  It will make a nice shortbread cookie dough that is soft and easy to manipulate.  I used my Kitchenaid mixer, but you could also use a food processor, or even a pastry blender and a large bowl to make the dough by hand.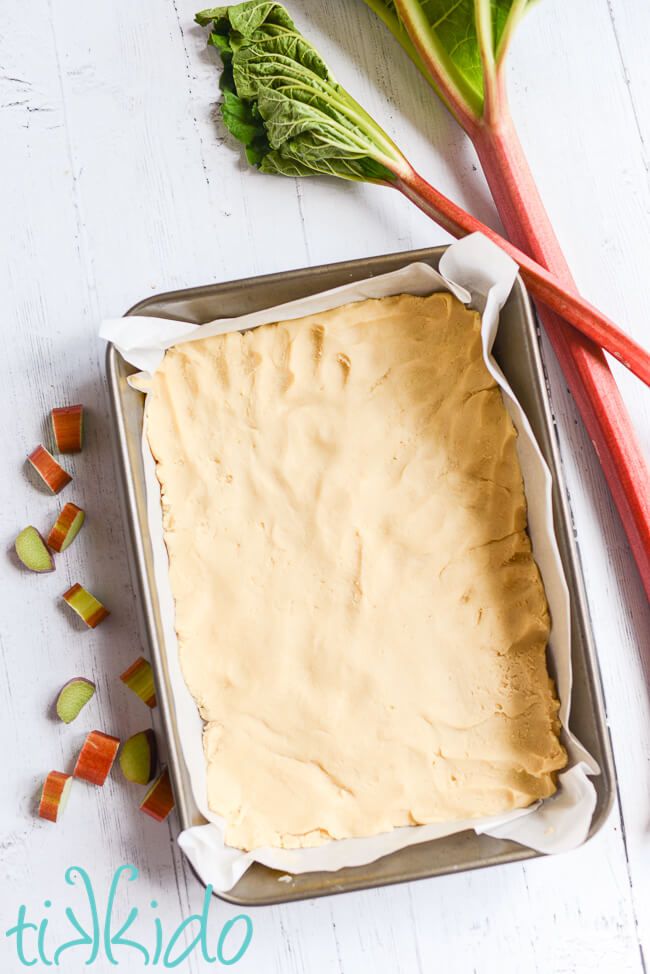 Line a pan with parchment paper (this is optional, but it makes it easy to lift the entire thing out and cut after it has baked) and press the shortbread dough into the bottom of the pan.  Bake at 350 degrees Fahrenheit for 15 minutes.  The bottom crust will still be very light and not browned when you take it out of the oven.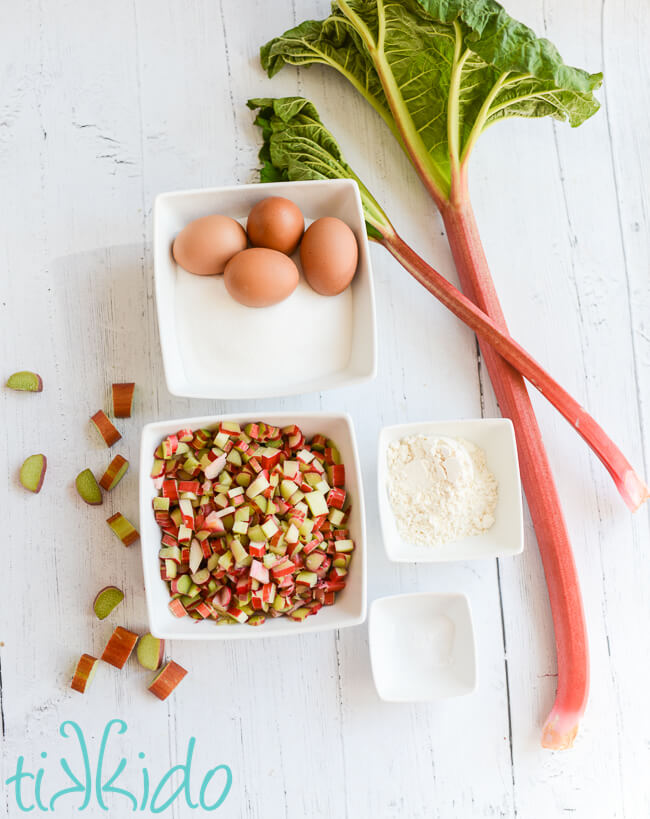 Rhubarb Bars Filling:
While the buttery crust shortbread layer is baking, make the simple rhubarb custard filling.
4 large eggs
2 cup sugar
1/2 cup flour
1/2 teaspoon salt
4 cups finely chopped rhubarb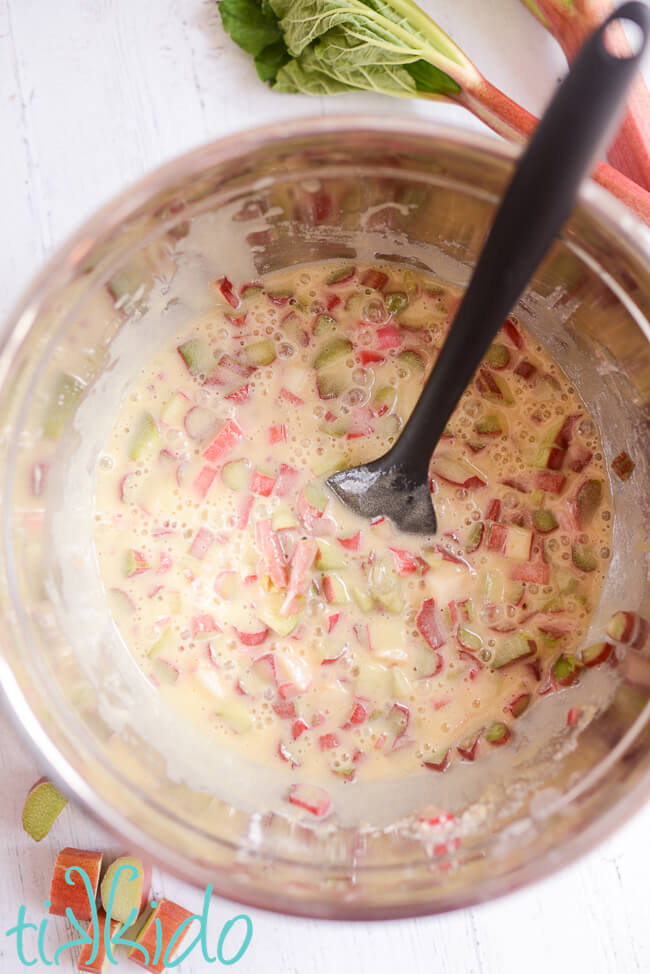 Beat the eggs, then add the granulated sugar, salt, and diced rhubarb in a large mixing bowl and stir to combine.  
When the shortbread layer has baked for 15 minutes, take the pan out of the oven, pour in the rhubarb filling, and return to the oven to bake for another 40-45 minutes.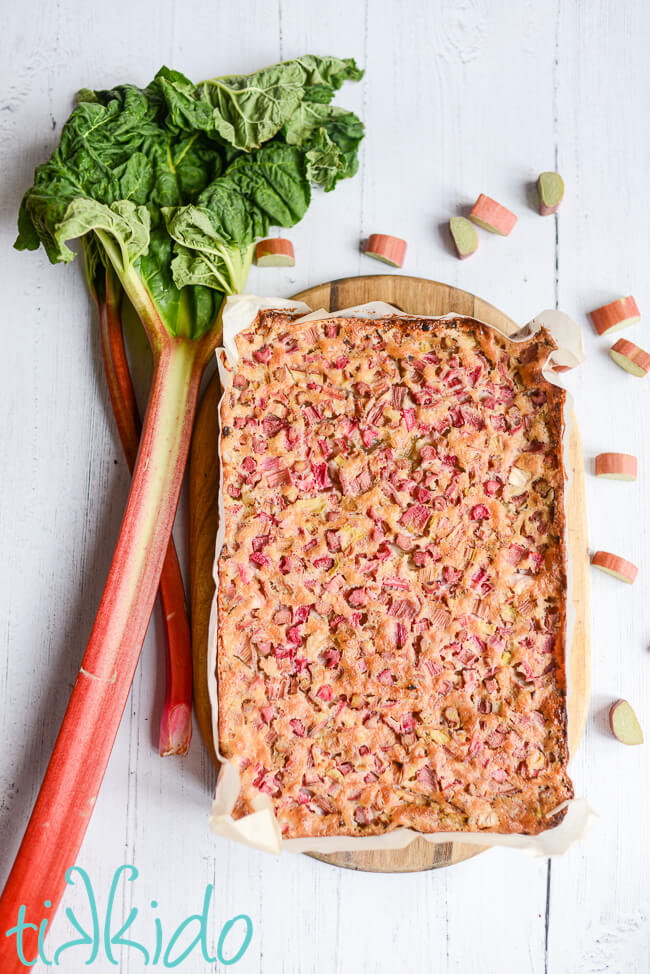 Let the rhubarb custard bars cool completely before lifting out of the baking pan and cutting into squares.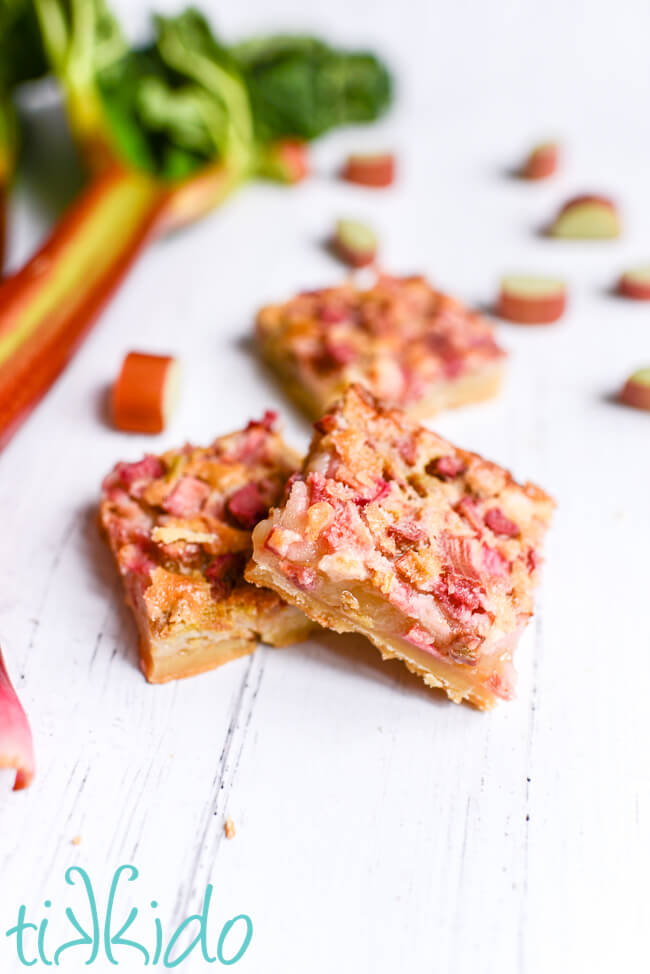 These are such a perfect balance of sweet and tart, and full of fresh spring flavor!  I think this is one of the best rhubarb desserts around--and I've tried a lot of them!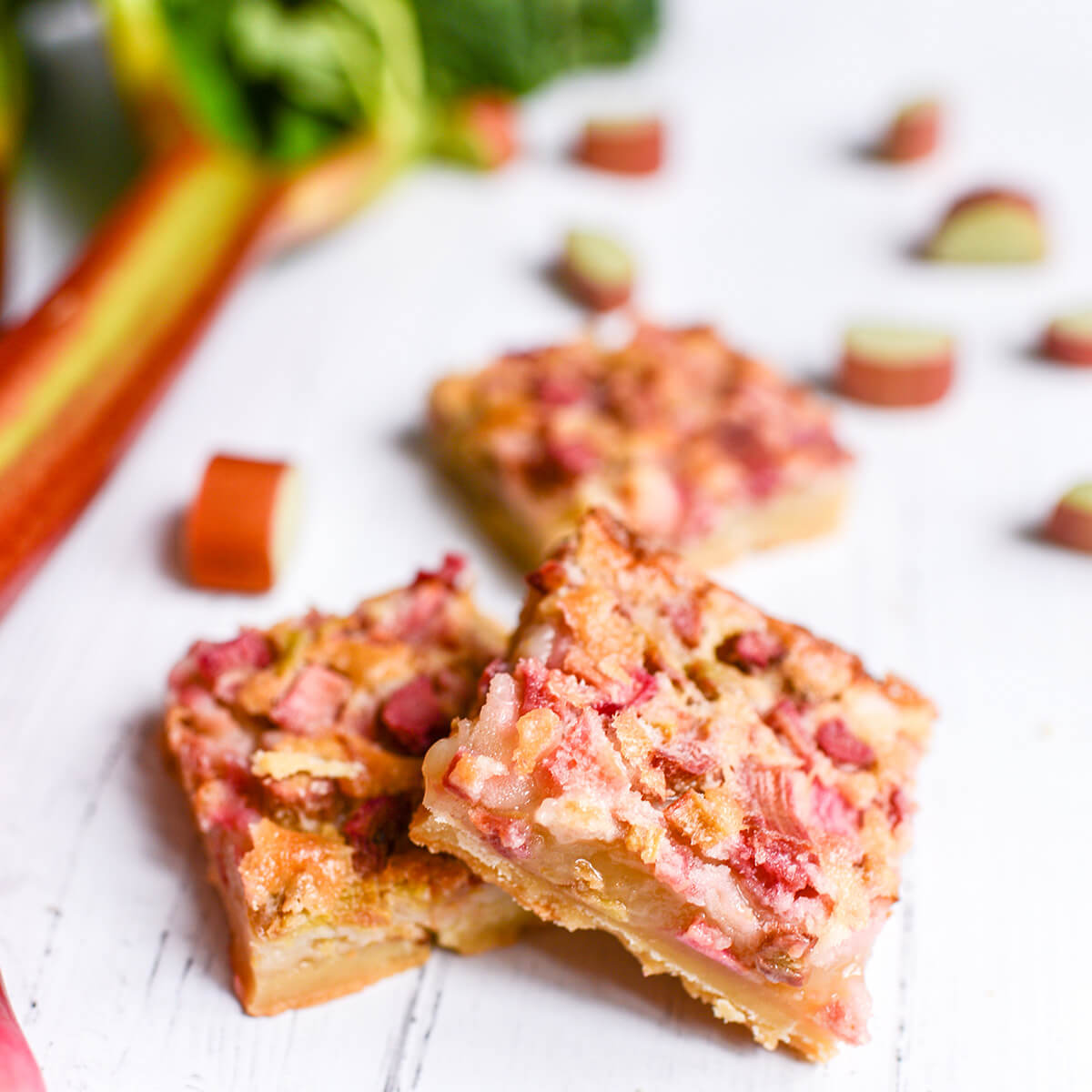 What's your favorite rhubarb recipe?
Printable Rhubarb Custard Bars Recipe:
Want a printable, one page, PDF version of this recipe?  Click either image below (for a 9x13 or 8x8 version of the recipe) to print directly or download the PDF to your device.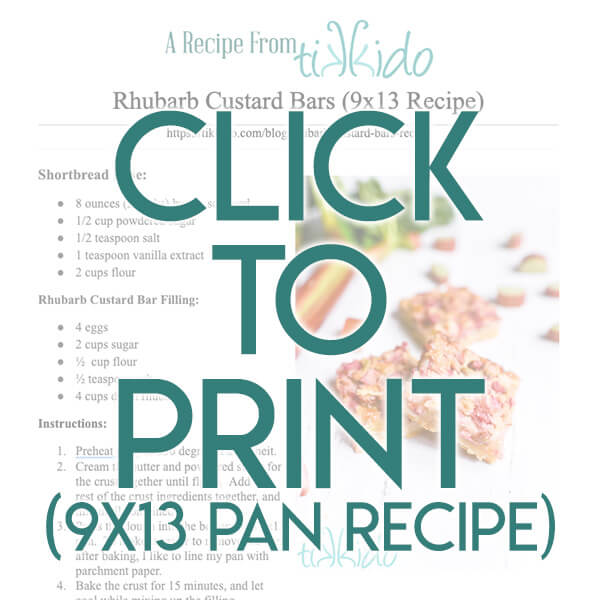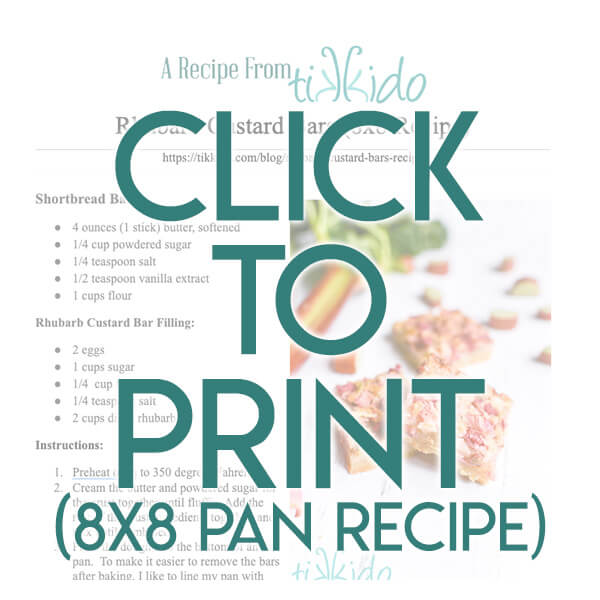 Other Easter and Spring Dessert Recipes from the Taste Creations Blog Hop: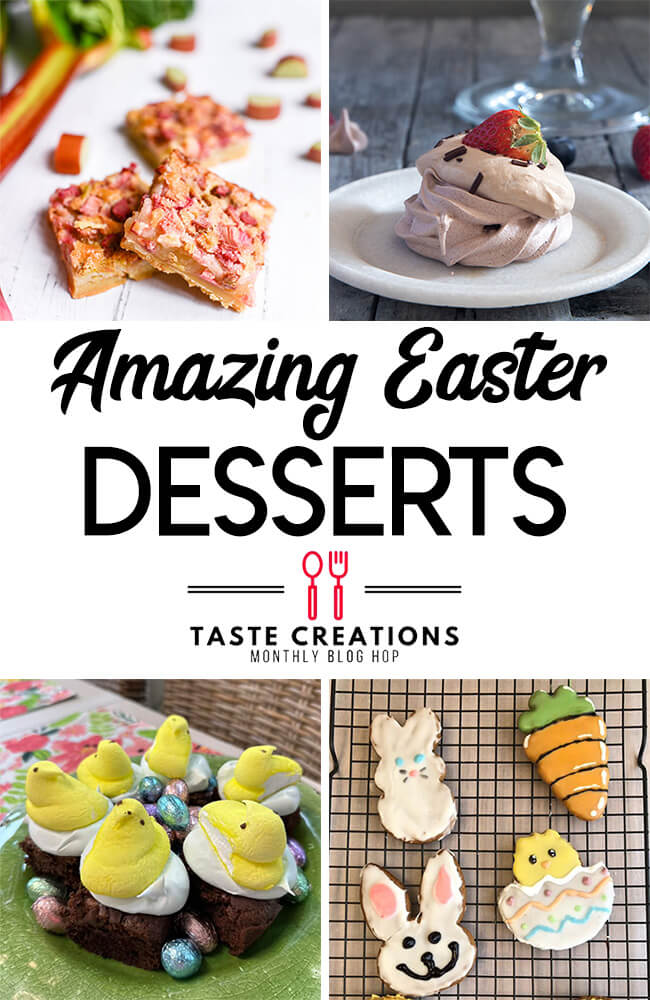 Our Good Life: Chewy Peeps Brownies
Mom Home Guide: Frosted Easter Cookies
An Italian in my Kitchen: Chocolate Meringue Clouds
Other Rhubarb Recipes You Might Like: