Printer-friendly version
I love rhubarb so much!  So when it's rhubarb season and I finally see it in the stores, I buy a LOT, and make ALL the rhubarb things.  But I've never had a rhubarb cookie recipe, so I decided I needed to make one for myself.  This tangy, soft rhubarb cookie is everything I was hoping it would be.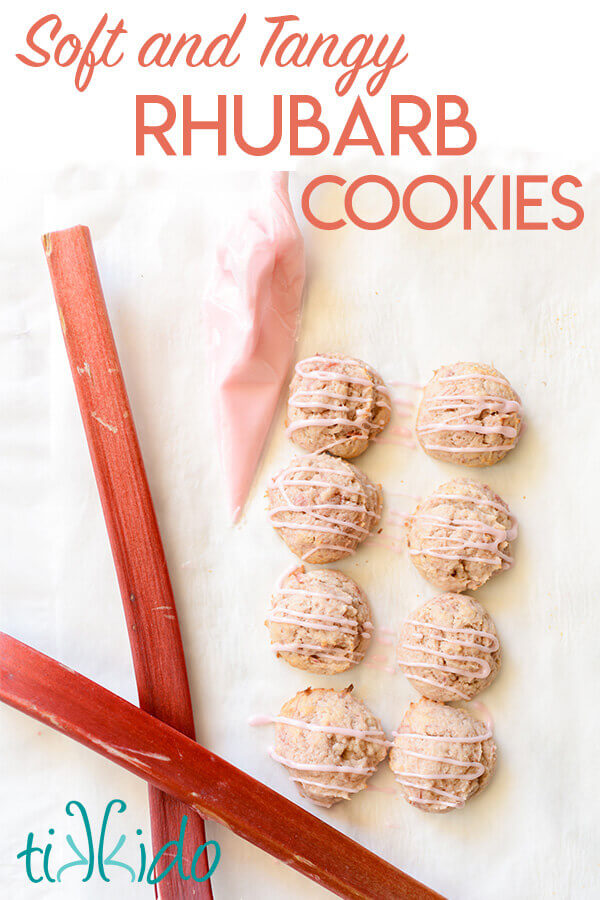 I decided I wanted to make a soft rhubarb cookie, so I drew my inspiration from my favorite pumpkin cookie recipe and zucchini cookie recipe.  Both of those cookie recipes are amazing, and both use vegetables with quite a bit of water content.  Any rhubarb recipe needs to take into consideration how much moisture rhubarb contains.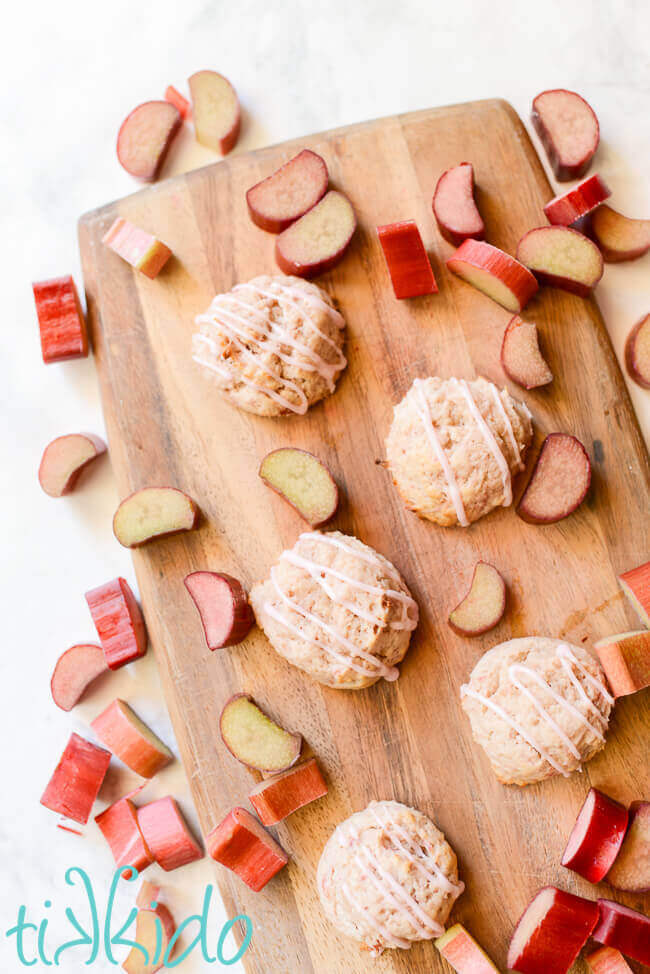 Cookies are so small that I decided to use roasted rhubarb compote (you could also make a simple stewed rhubarb, too) rather than the chopped rhubarb stalks.  One batch of my roasted rhubarb compote made about a cup and a half of compote, and this recipe uses one cup of it.
Tip for Making Rhubarb Icing Glaze:
Rhubarb releases a lot of liquid when it's cooked, especially if you stew it with a bit of water on the stovetop.  Before making the cookies, use a fine strainer to drain a bit of that glorious pink liquid (about a Tablespoon) to use to make a rhubarb glaze to drizzle on top of the cookies after they're baked.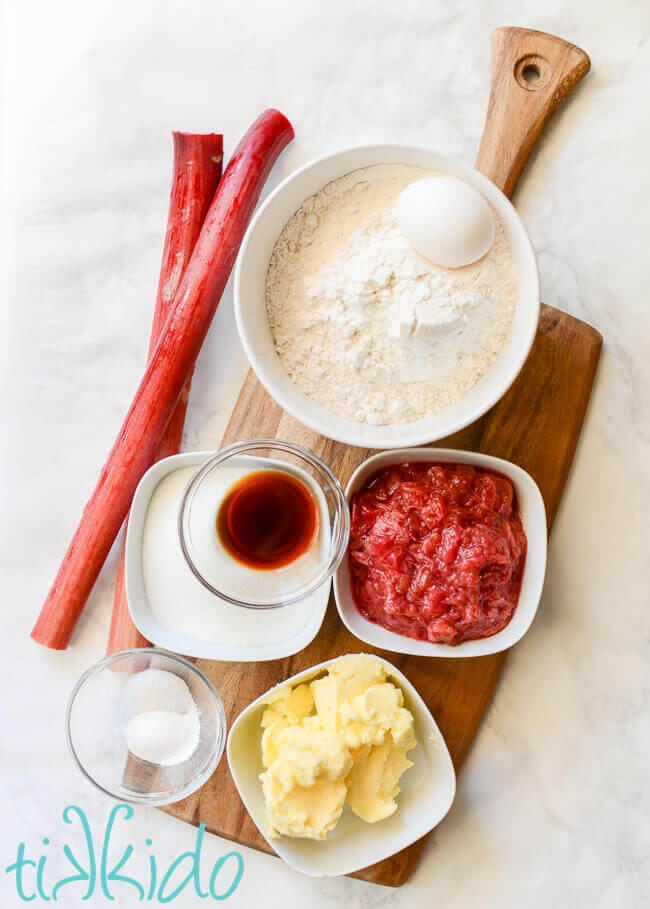 Soft Rhubarb Cookie Recipe:
2 cups all purpose flour
1 teaspoon baking powder
1/2 teaspoon salt
3/4 cup shortening
1 egg
1 teaspoon vanilla extract
3/4 cup sugar
1 cup roasted rhubarb compote or stewed rhubarb (or substitute rhubarb jam)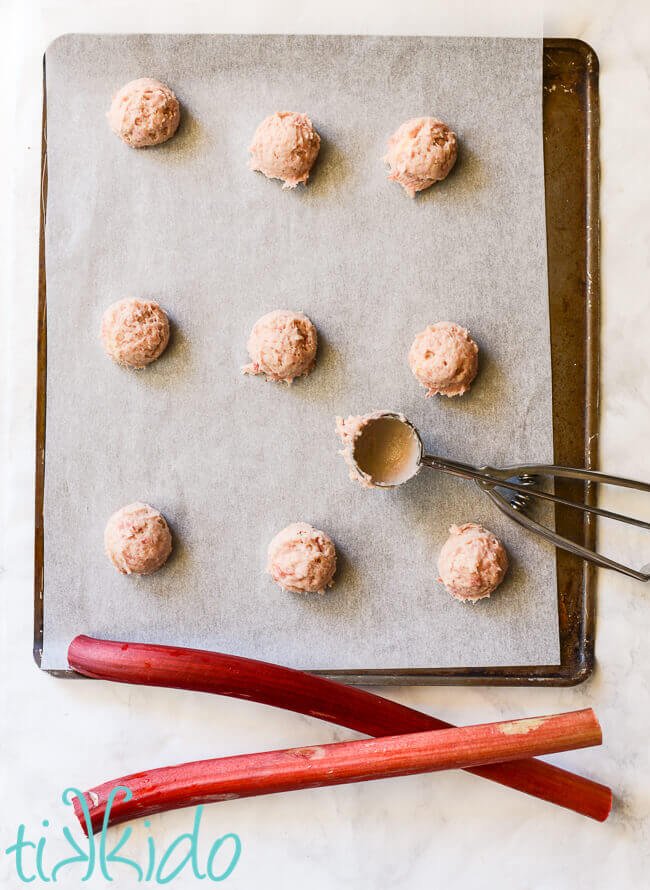 How to Make Soft Rhubarb Cookies (head to the bottom of the page for printable, one page, step by step instructions.)
Cream shortening and sugar together using an electric mixer.  
Add the egg and beat again until well incorporated.
Add the rhubarb compote and mix to combine.
Combine dry ingredients in a separate bowl.
Add the dry ingredients to the rhubarb mixture and mix until incorporated and the cookie batter forms.
Scoop the rhubarb cookie dough with a medium cookie scoop onto prepared baking sheets (lined with parchment paper) 
Bake at 375 degrees Fahrenheit for approximately 15 minutes, until the edges of the cookies just start to turn golden.  You only want the edges to turn golden brown; if you wait until the whole cookies turn golden, the cookie will be dry and overbaked.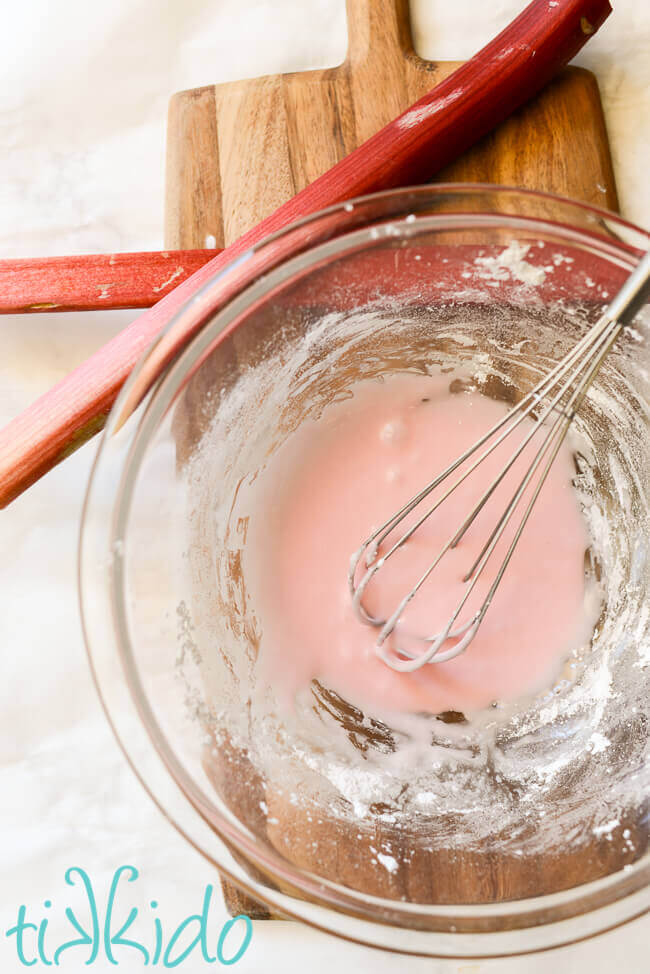 Rhubarb Icing Drizzle for the Rhubarb Cookies Recipe:
1 cup powdered sugar (confectioners' sugar)
1 Tablespoon reserved rhubarb juice from the roasted rhubarb compote
Combine the reserved liquid rhubarb juice and powdered sugar  in a small bowl and whisk together to make a brightly flavored rhubarb glaze.  The rhubarb juice gives the glaze a little color, so it's a beautiful, pale pink.
If you don't have any rhubarb juice to make this glaze, a good substitute is to use lemon juice and a little bit of pink food coloring.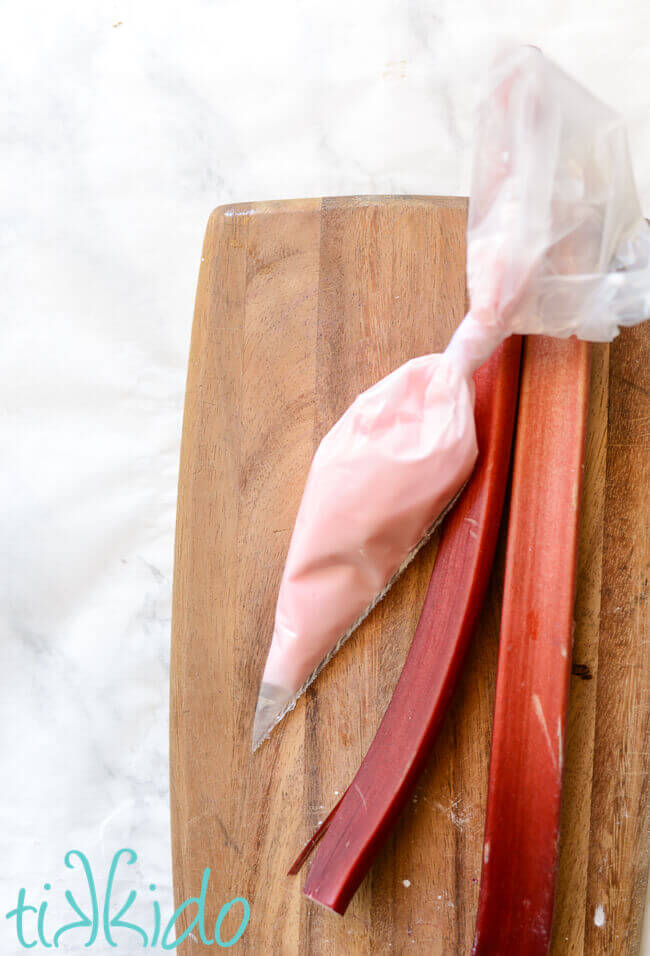 I used a disposable piping bag to drizzle the rhubarb glaze on the tops of the cookies, but you could easily cut off the corner of a ziploc sandwich bag or even just drizzle the glaze on with a spoon.  Just be sure to wait until the cookies have cooled completely before adding the drizzle if you want to be able to see the pink lines.  These are such pretty cookies!  Not all easy drop cookies are especially attractive, but these rhubarb cookies are really lovely with their bright pink bits of rhubarb from the rhubarb compote and the pink rhubarb glaze.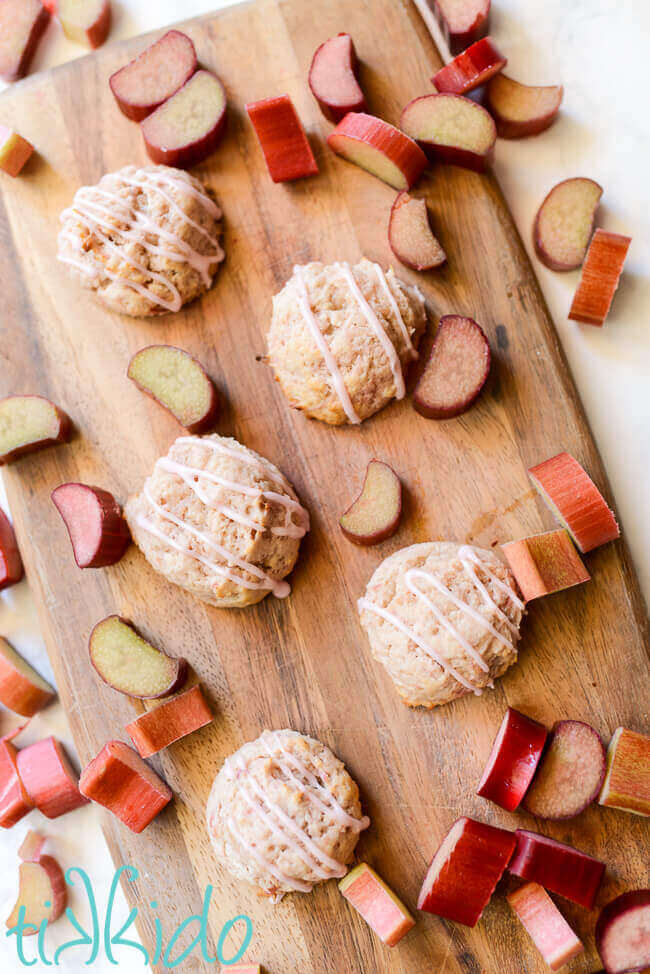 These delicious cookies have the most wonderful, soft texture and fabulous, intense rhubarb flavor.
Do you love rhubarb, too?  It tends to be a polarizing, love it or hate it thing, but I am solidly on the side of rhubarb love.  If you love it too, we can be best friends.  If you hate it, I'll still be your best friend AND eat all your rhubarb for you.  
Free, Printable, One Page Version of the Soft Rhubarb Cookie Recipe:
Other Rhubarb Recipes You Might Like: