Printer-friendly version
Blackberry crisp is a delicious way to use up some of those bountiful summer berries.  This blackberry crisp recipe is based on an old family favorite, but I had SO MANY blackberries, I modified the recipe to make a blackberry crisp for a crowd, baked in a 9x13 pan.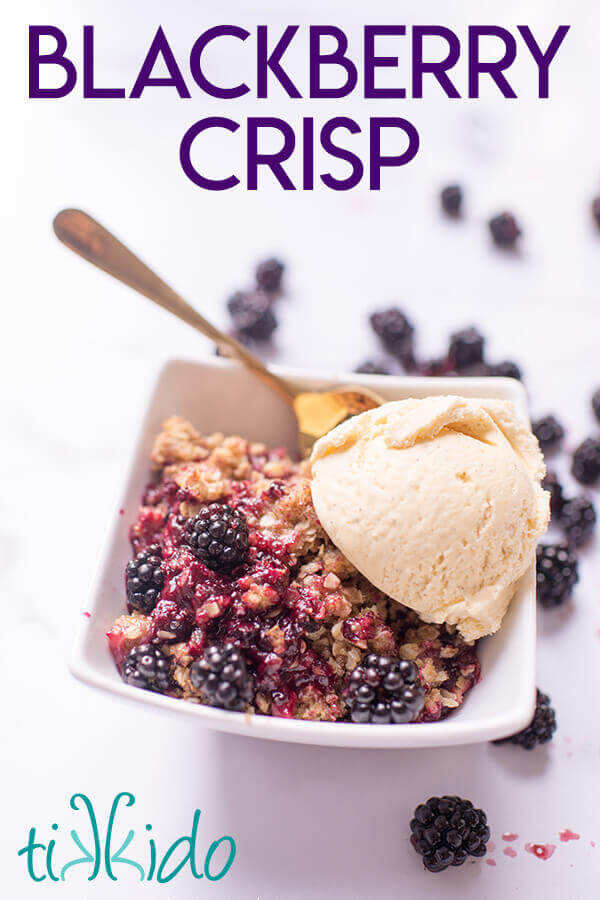 I love any and all berries, and I absolutely love that I now live in a place where they grow, and I can go pick them when they're in season.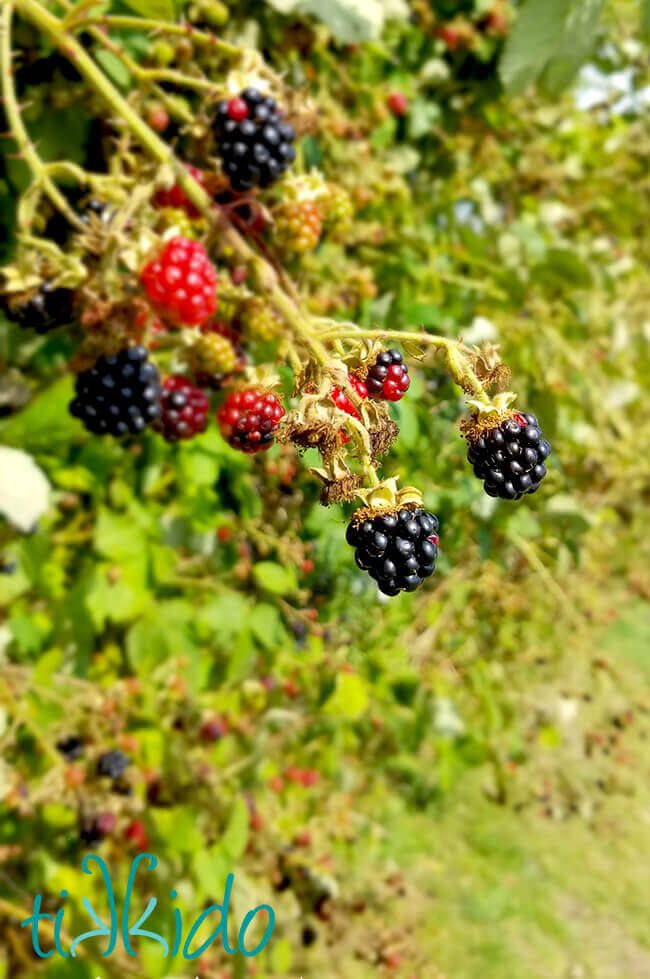 In fact, blackberries seem to be absolutely everywhere here in southern England!  There's a huge patch with a seemingly endless supply of blackberries just a few steps from my front door.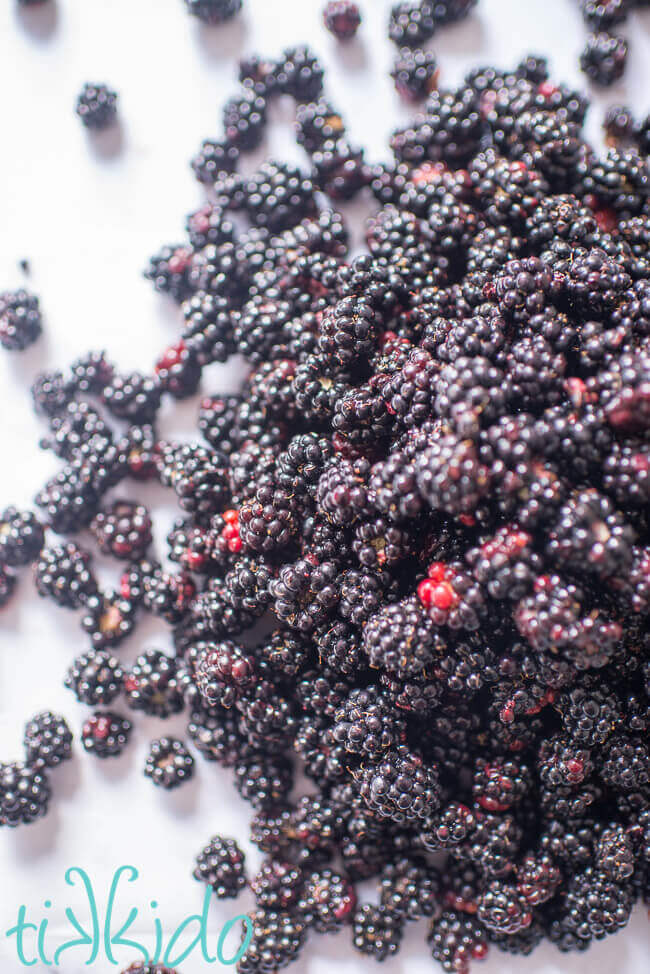 I picked a LOT of the wild blackberries, and didn't even make a dent in the supply.  Expect a lot of blackberry recipes coming up soon on the blog!  I want to take advantage of these flavorful, bountiful berries.  And to kick it all off, I made an amazing blackberry crisp.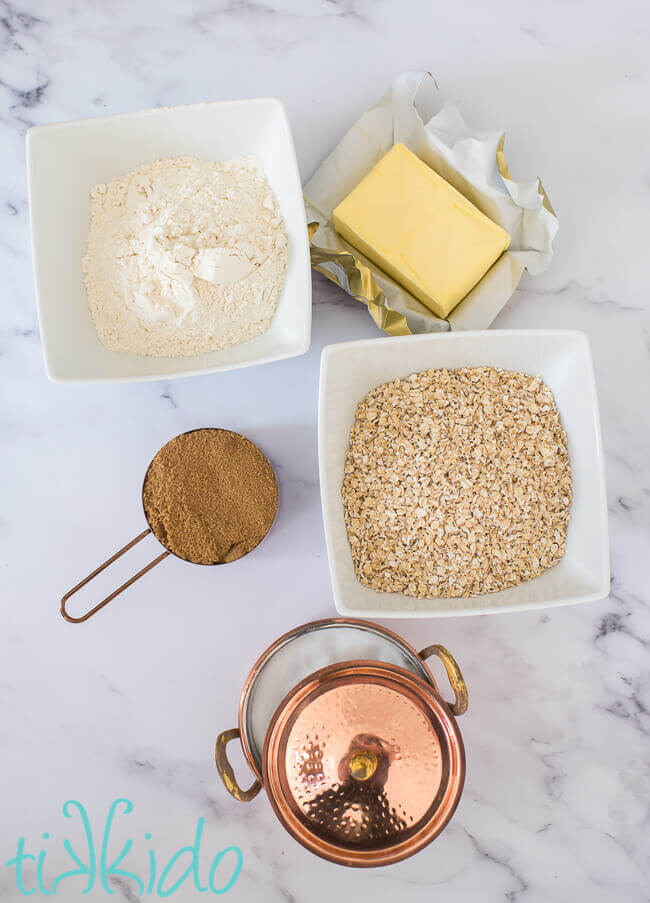 Blackberry Crisp Topping:
1 cup brown sugar, packed
1/2 teaspoon salt
2 cups oats
1 1/2 cups flour
250 grams butter, chilled (approximately two sticks (8 Tablespoons each) of butter, plus an extra 2 Tablespoons)
1/8 teaspoon ground nutmeg (optional, but delicious!)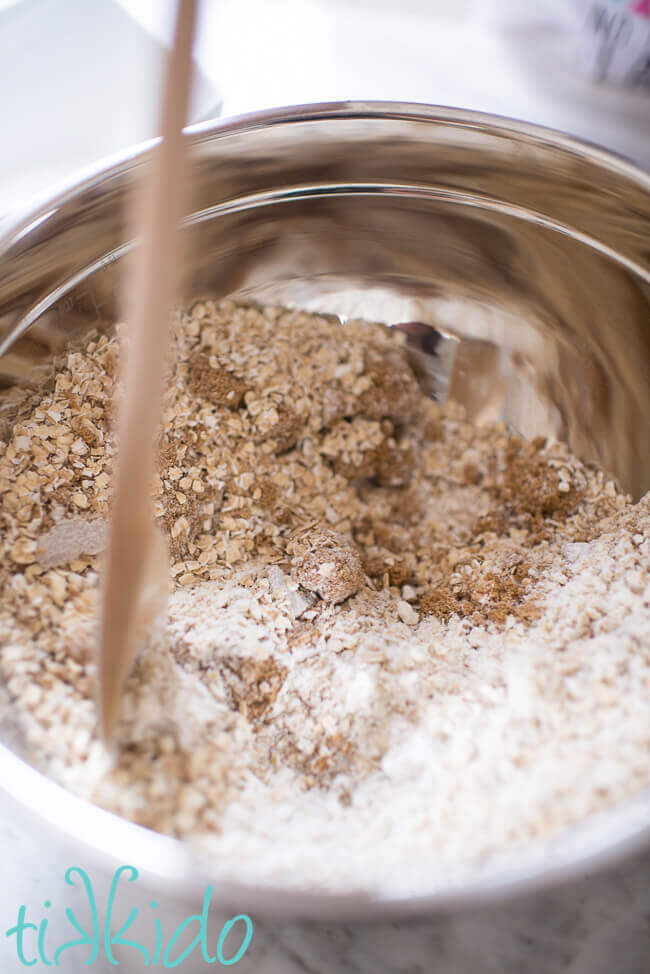 Stir all dry ingredients for the crisp topping together.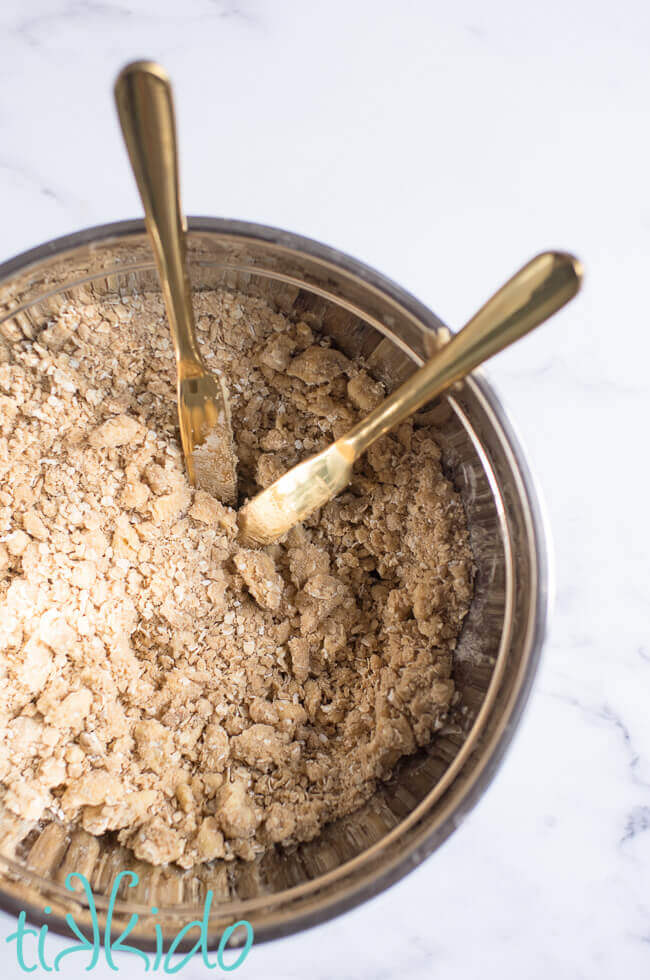 Cut cold butter in to the dry mixture, until the butter is in pea-sized chunks.
My beloved pastry cutter is still in a box in a container on a container ship in the middle of the Atlantic ocean, so I resorted to the old method of using two knives to cut the butter.  It works perfectly well, but I have to say I will be happy to get my pastry cutter back.  Having the right tool for the job makes baking so much easier and enjoyable.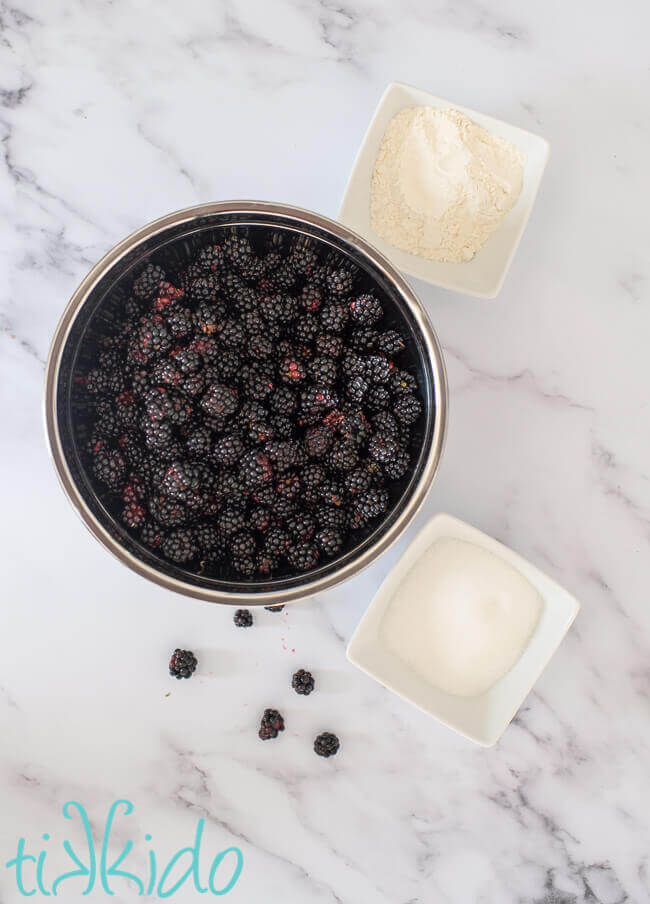 Blackberry Crisp Filling:
approximately eight cups of fresh blackberries.
1/2 cup flour
1/2 cup sugar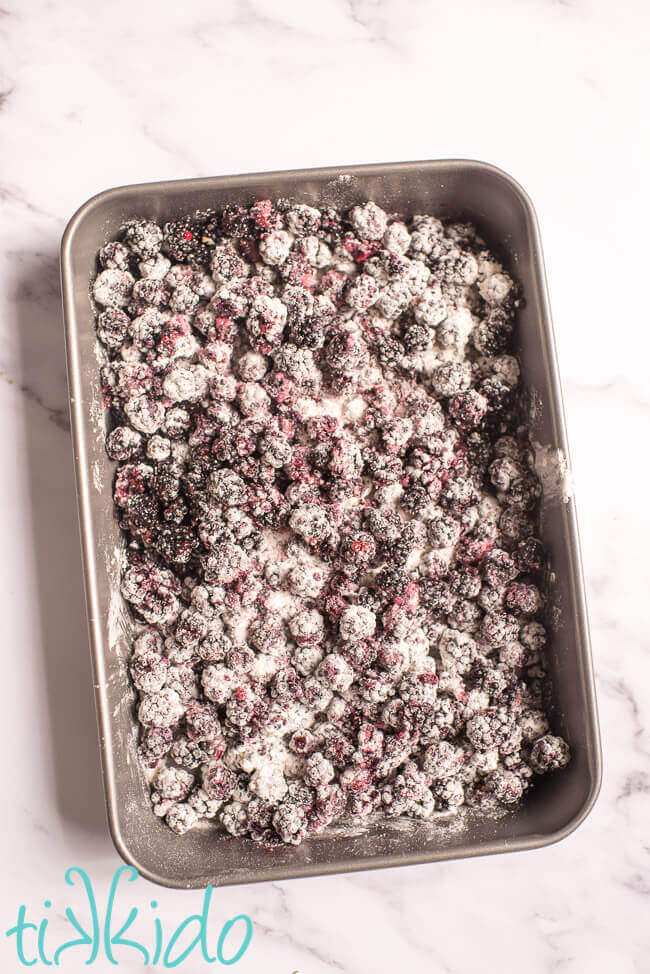 Mix the berries with the flour and sugar and place in a 9x13 pan.  I actually mix my crisp filling right in the pan itself.  No need to dirty an extra bowl.  I also just eyeball how much fruit I want to use, too.  I was more generous with my layer of blackberries in this crisp because I had so many on hand.  You could definitely get away with fewer berries if you had to, or if you like your crisp to be all about the crust with less fruit content.
Can You Use Frozen Blackberries for Blackberry Crisp?
Absolutely!  Freeze those berries while they're in season and enjoy blackberry goodies all year round.  No need to defrost the berries before baking, either--just bake the blackberry crisp with the frozen berries.  No need to adjust the baking time, either; the baking time is mostly for the topping, not the fruit part of the crisp.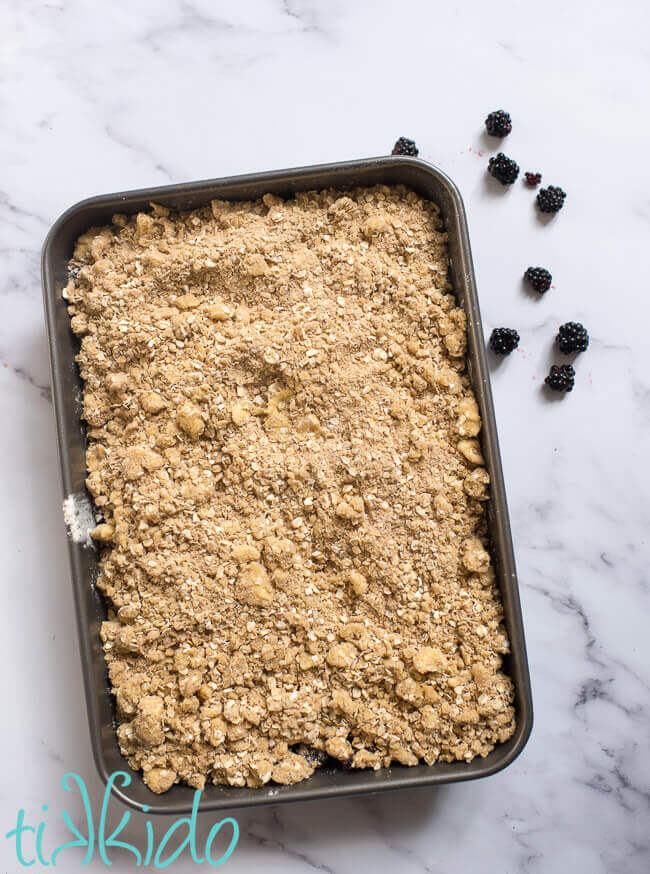 Spread the crisp topping over the top of the berry filling mixture.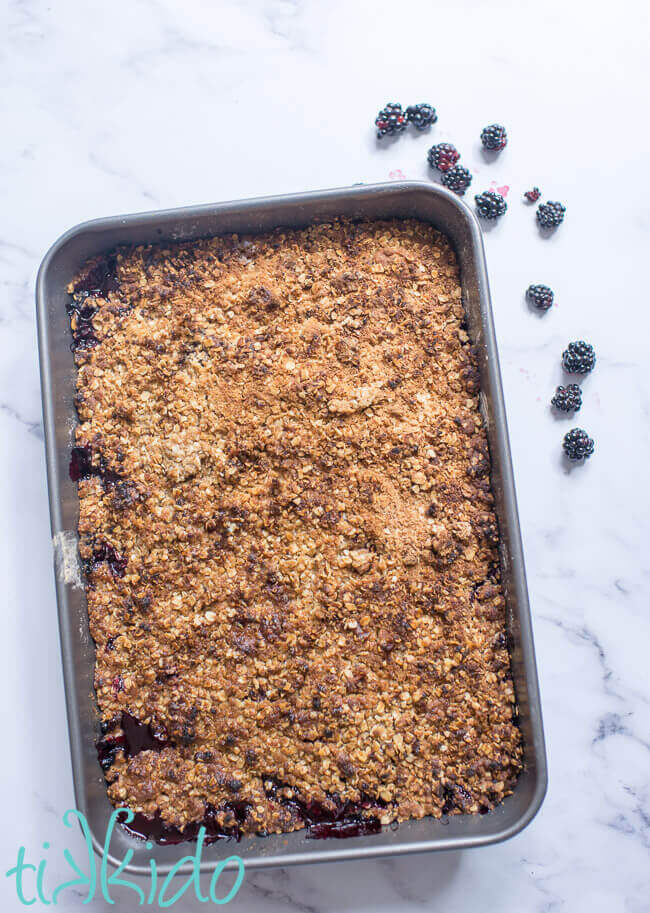 Bake at 350 degrees Fahrenheit (about 175 Celcius) for 40-45 minutes, until the crisp topping is golden.  I'm still learning how to use the ovens here in the UK, so mine got a little more browned than I intended it to, but it still tasted delicious.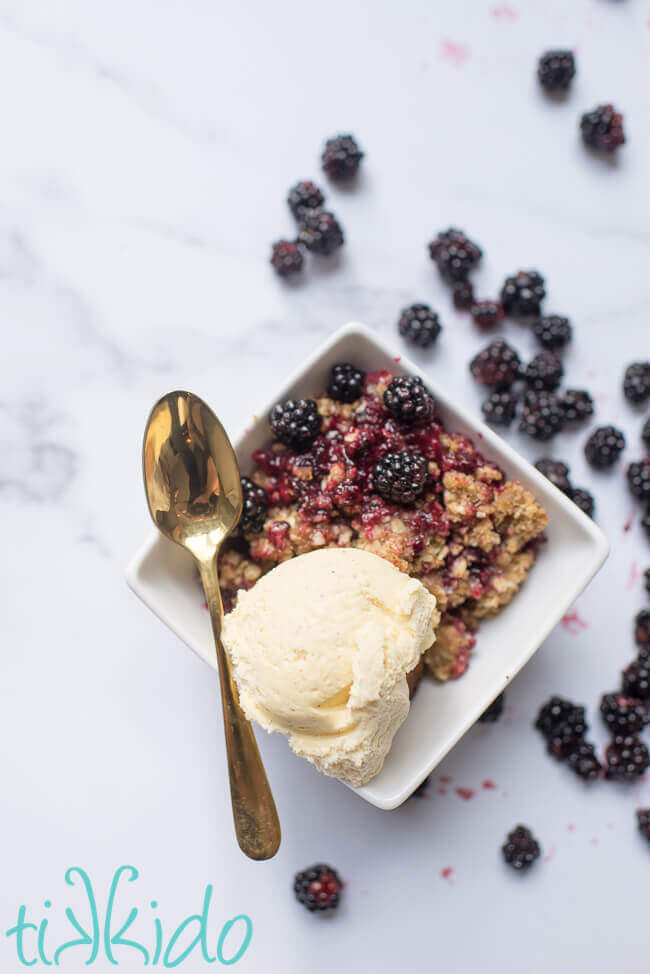 Blackberry crisp is absolutely divine served warm, with a scoop of vanilla ice cream.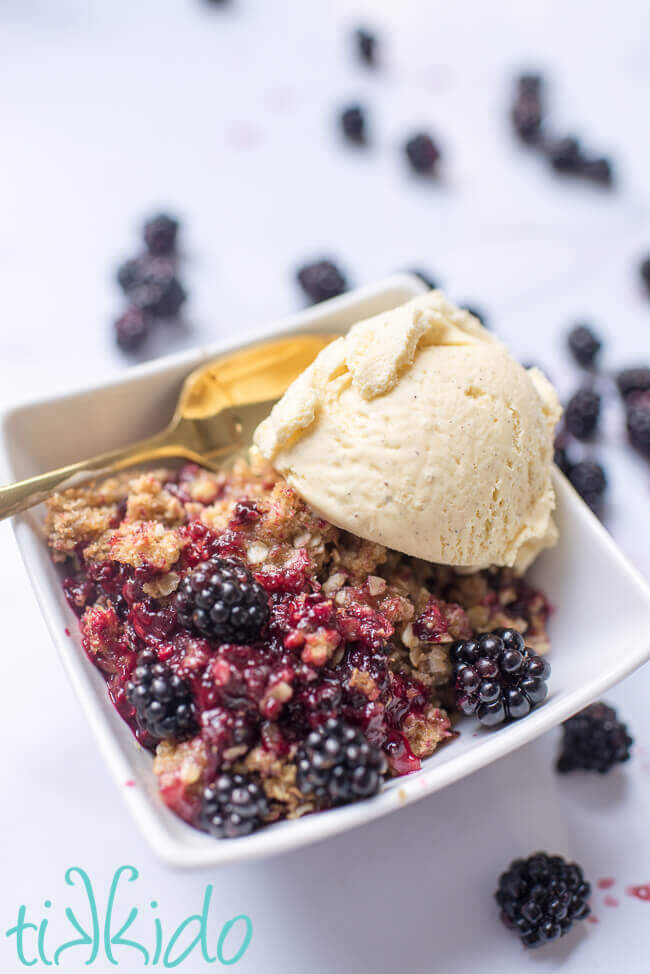 Blackberry ice cream... blackberry cookies... blackberry pie...  blackberry jam...  I can't decide what I want to do next with all these amazing berries!'
Other Crisp and Cobbler Recipes You Might Like:
Other Blackberry Recipes You Might Like: