Printer-friendly version
Let's start the new year off with some sparkle!  These DIY mermaid sequin fabric gift bags would make anyone's January feel more bright and festive.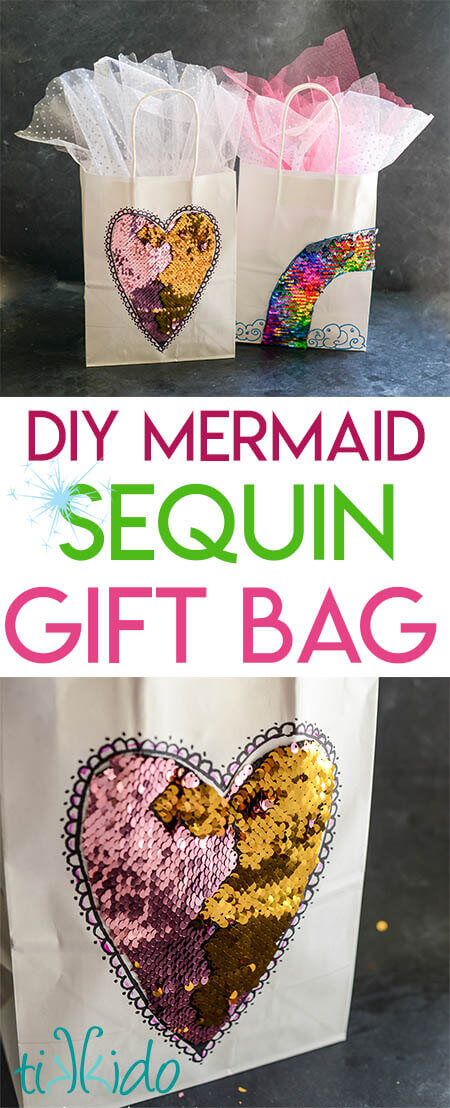 Have you seen this mermaid fabric stuff?  It's sequin fabric, and it changes color when you brush the sequins in the opposite direction.  It's mesmerizing and magical and oh so fun!  I knew I had to get some of the fabric and make some fabulous, sparkly crafts with it.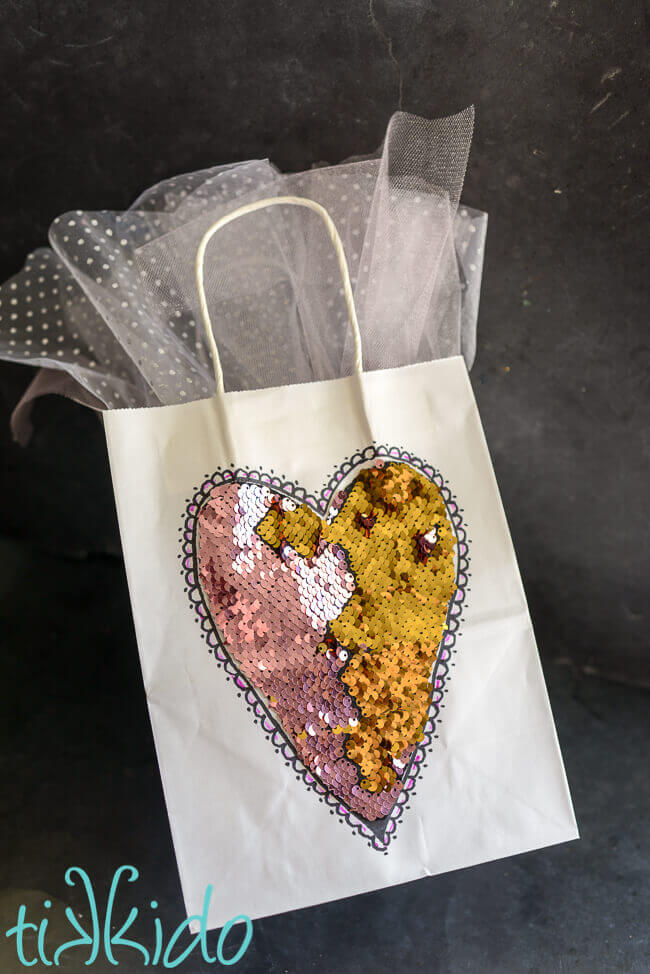 I'm aslo a huge sucker for creative gift wrapping, so this reversible sequin gift bag was a natural craft to create.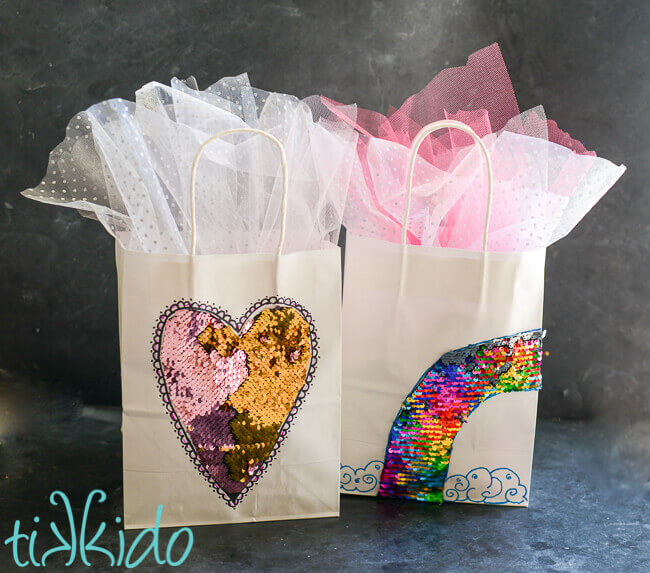 I love it when the gift wrapping is almost as fun and special as the gift inside!  Check out the video tutorial I made, and when you're ready for the full tutorial, head over to page two.

[pagebreak]
Reversible Sequin Fabric Gift Bag Tutorial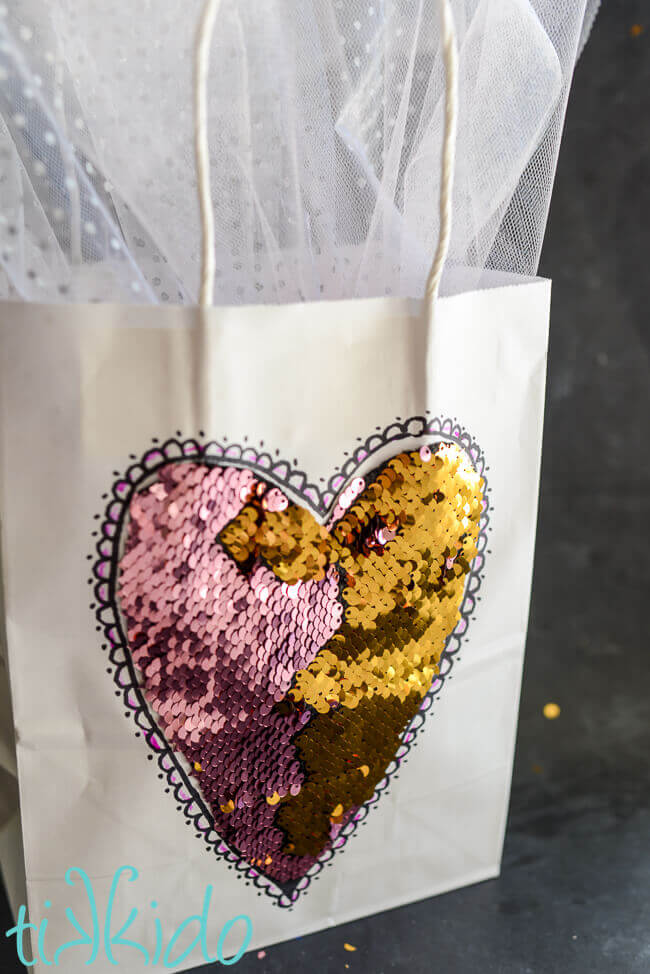 The smiles will start even before your thoughtful gift is opened when you give it in a sparkly, fun mermaid sequin gift bag!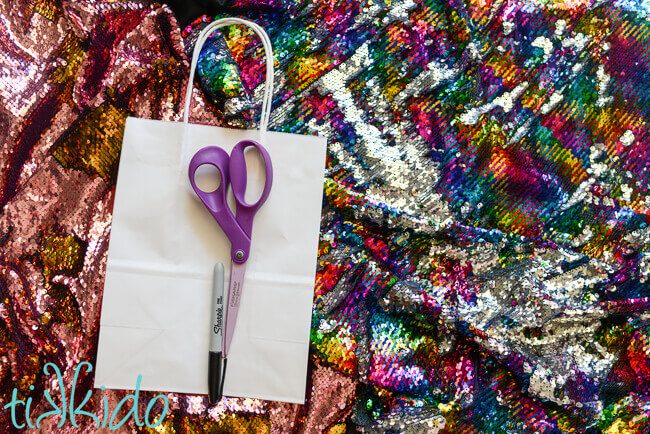 Materials for Reversible Sequin Gift Bag Project:
Sequin Mermaid Fabric (I bought mine here)
scissors
low temperature hot glue gun
markers to embellish (optional)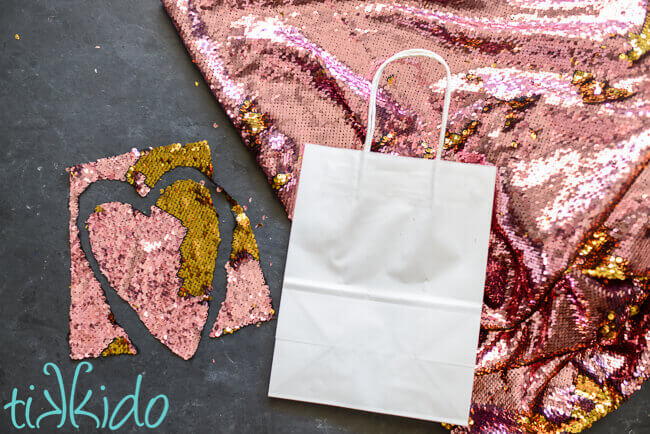 Cut your desired shape out of the sequin fabric.  DON'T use your good fabric scissors!  And I figured out when making the sequin fabric monogram Christmas stockings, that it's way easier to cut nice shapes out of this fabric if you adhere some paper to the back of the fabric.  You could use a wonder-under kind of product, but you could also just iron on freezer paper (shiny side down) or even use a bit of hot glue to tack plain paper to the back of the fabric like I did for the stockings.  Rip away the paper when you're done cutting the shape.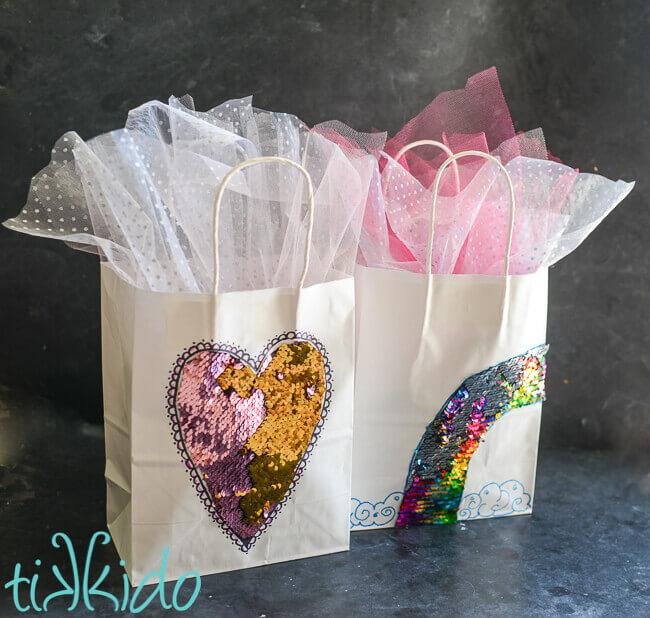 Then just glue the glittery, sequin shape to your plain paper gift bag!  The plain edges of this fabric are a little rough and ugly, so I added some embellishments with marker on these bags.  Using some sequin cord to outline the fabric (like I did with the stockings) would also look fabulous and finished.
I just might make some very fabulous Valentine's Day treat bags with this method!  My daughter would be SO excited to give them to her class.
Other Gift Bag Tutorials You Might Like: