Printer-friendly version
It's time once again for the monthly Taste Creations blog hop!  Our theme this month is crock pot or instant pot recipes, and I made carolina style pulled pork in my Instant Pot.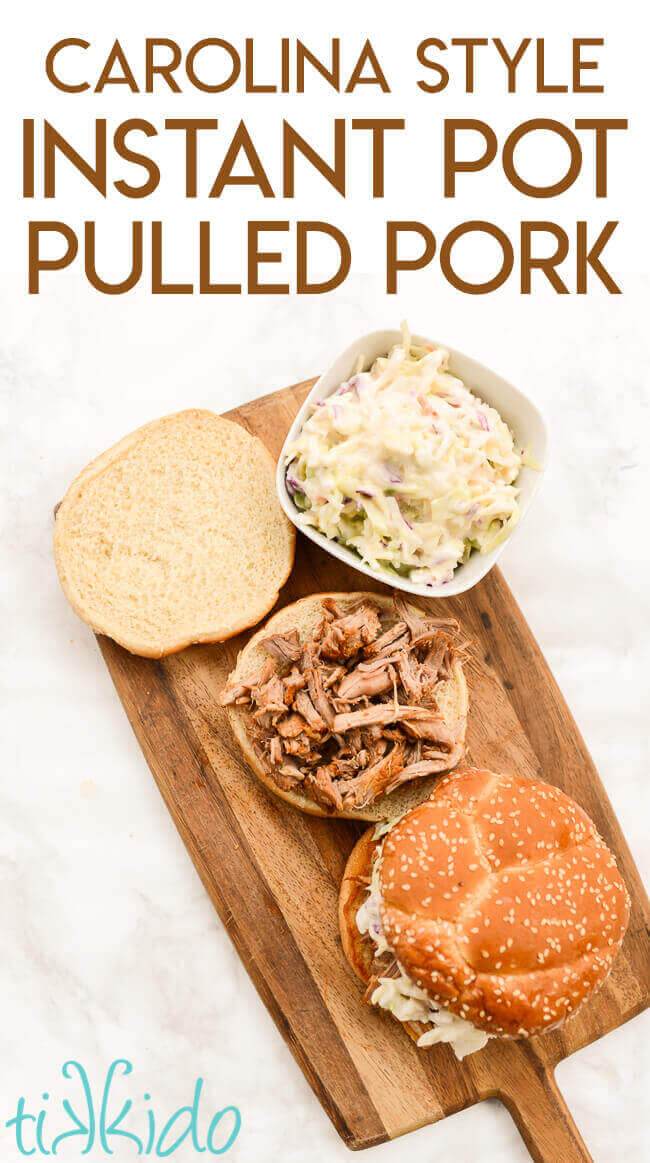 I love pretty much any kind of BBQ and pulled pork, and am lucky to have some amazing BBQ restaurants near me.  But I'm also lucky enough to have a friend who shared her awesome recipe for Carolina style pulled pork for the crock pot, and I happen to have a pretty new Instant Pot pressure cooker, so I decided to adapt the recipe for the Instant Pot.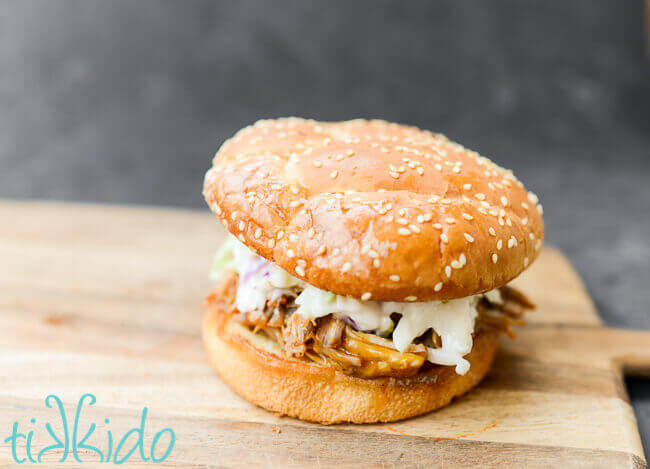 And oh man, did it ever work well.  I LOVE that vinegar-and-mustard-based Carolina pork BBQ so much!  I also love the region's penchant for putting the coleslaw on the pulled pork sandwich.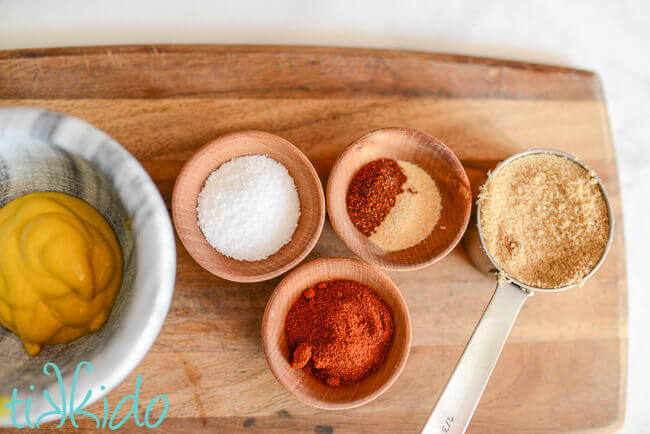 It all starts with a rub.
Instant Pot Carolina Pulled Pork Rub:
2 teaspoons salt
1 Tablespoon smoked paprika
1 teaspoon chili powder
1 teaspoon garlic powder
1/3 cup brown sugar
1/4 cup prepared mustard (can also use 1 teaspoon dried mustard powder)
Combine the rub ingredients and rub on your favored cut of pork.  I used pork shoulder, because everyone says you should use pork shoulder and the fat will just magically melt away and I decided to give it a try.  For the record, everyone lies.  It was delicious, yes, but I had to pick apart the meat from the fat with surgical precision to get it to my liking after it was cooked.
I spared you a picture of the raw meat slathered in the rub, because it just wasn't photogenic.  Making raw meat appealing is beyond my photo styling skills.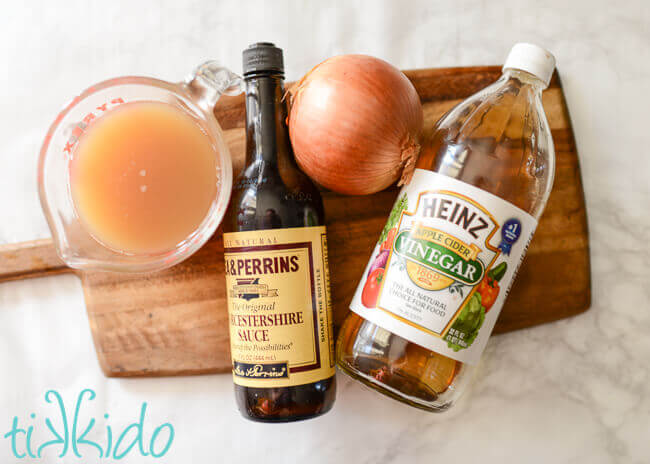 Instant Pots (or other pressure cookers) need liquid to come up to pressure and cook properly.  This was my mixture in the bottom of the pot:
Instant Pot Carolina Pulled Pork Cooking Liquid Ingredients:
1 cup apple cider
1/4 cup Worcestershire sauce
1/4 cup apple cider vinegar
1 onion, cut into chunks
Put the chunks of onion and liquids in the bottom of the instant pot.  Layer the rub-covered pork on top.  Seal the lid, and cook on high pressure on the manual setting for 60 minutes.  Let the meat do a natural pressure release.  (I will never call it NPR, because that is, forever and always, going to mean National Public Radio to me.)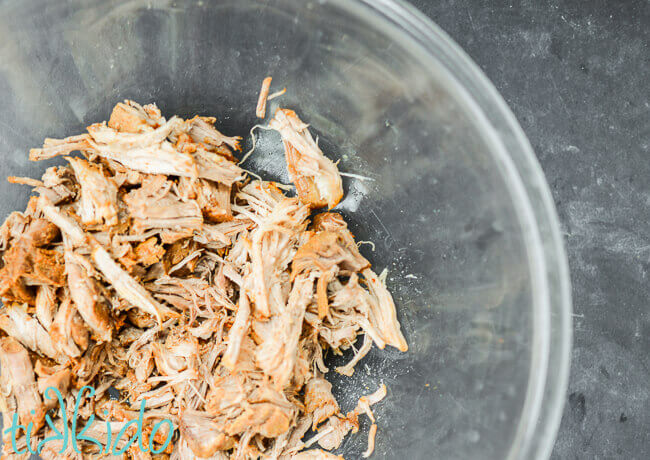 After the meat is cooked and the pressure released, pull out the meat and shred it.  It did fall apart like magic, I have to say.  But I had SO MUCH FAT to pick out.  I'm very picky about fat, and can't stand running into any in my pulled pork, so it was a tedious thing shredding the pork.  I'm going back to using a pork loin after this.  I don't care if it's a bit dry.  That's what BBQ sauce is for.  I particularly like Trader Joe's Carolina Gold BBQ sauce for this recipe.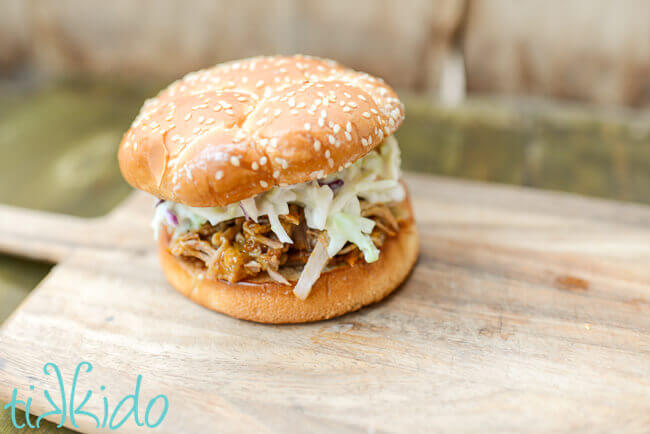 But I have to admit that my finished Carolina pulled pork sandwich was amazingly delicious.  I'm definitely going to be using my Instant Pot to be making pulled pork again soon.
Printable, One Page Instant Pot Carolina Pulled Pork Recipe:
Want a free printable, one page version of the recipe?  Here you go: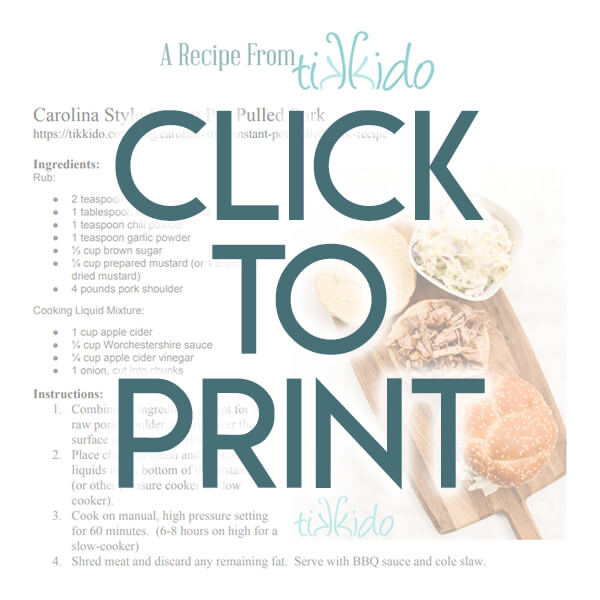 Other Crock Pot and Instant Pot Recipes from the Taste Creations Blog Hop:
Ready for some other fabulous and comforting crock pot and Instant Pot recipes?  Follow my Instant Pot Recipes Pinterest page, and check out the other fabulous recipes from my blogger friends in this blog hop:
Our Good Life: Slow Cooker Taco Chicken Chili
Mom Home Guide: Slow Cooker Baked Ziti
Other Instant Pot Recipes You Might Like:
Other BBQ Recipes You Might Like: