Printer-friendly version
We love being geeks of all stripes in my family. Robot-building philosophers, harp-building electrical engineers, English and Latin-Major computer programmers, students of Old English and Cornish languages, avid consumers of sci-fi and fantasy (especially time travel, I LOVE time travel)--we do and love it all! We rejoice in sci-fi and fantasy, in books and movies and media of all sorts that celebrate intellect and innovation and creativity in any form. And yeah, we really like Doctor Who. And Firefly...and The Hobbit...and... well, you get the picture: solid, well rounded geeks here.
It was my 6 year old daughter Niamh (say NEEV, it's Irish, because, yeah, we're literature and language geeks, too) who was the inspiration for this craft. She saw my tag shaped punch, and immediately thought I'd found a TARDIS paper punch. That's always stuck in my mind, and so when I needed to wrap up a book, I immediately thought of Niamh's observation.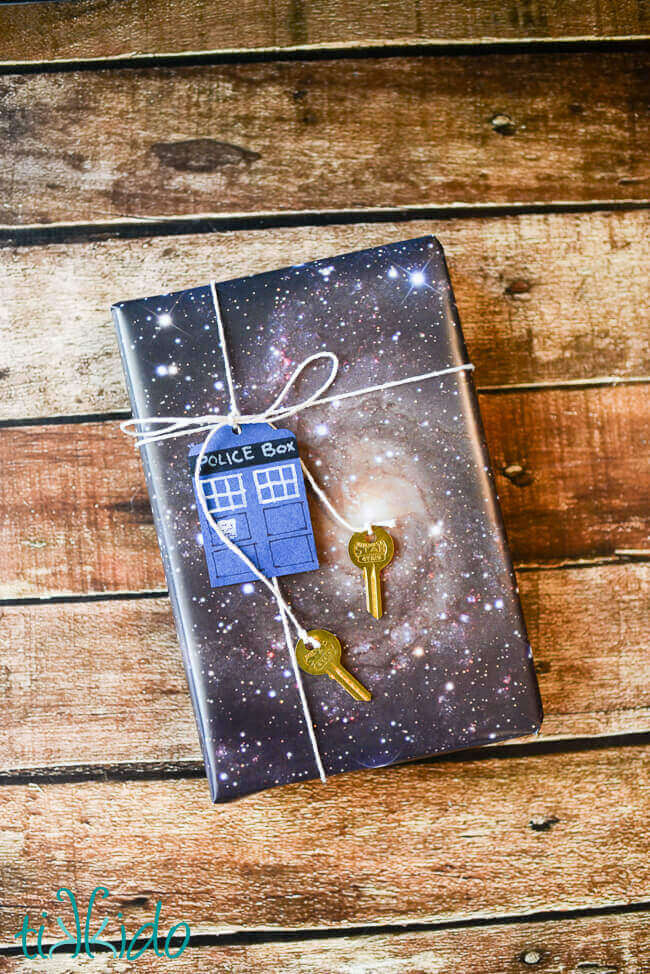 A TARDIS gift tag flying through wrapping paper space, tied up in simple string and ERA vintage keys. Oh yes, I did my Doctor Who homework (though I should have sanded them down, had I the time).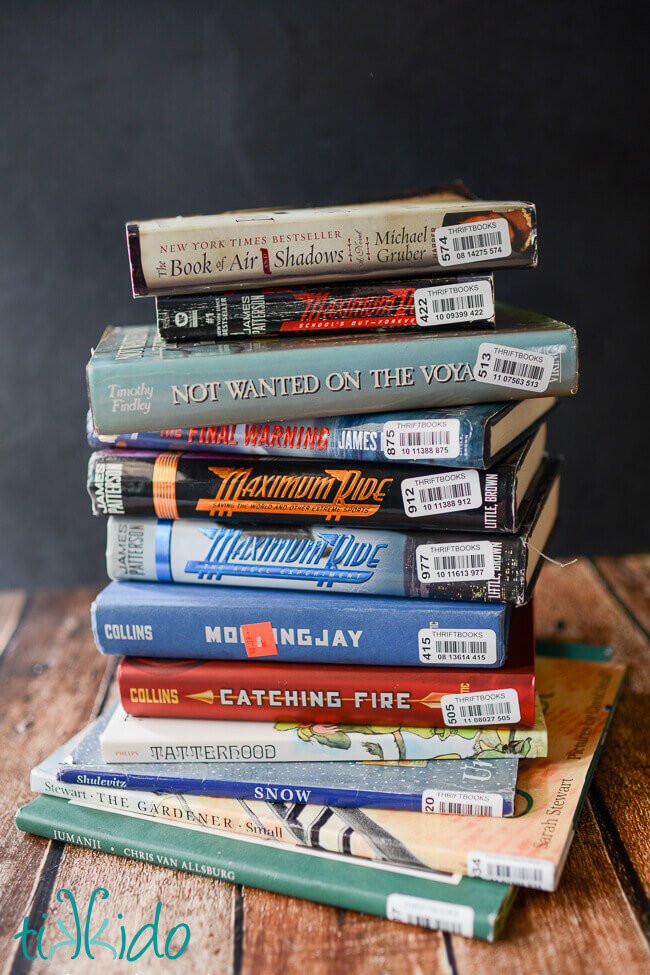 What more perfect way to wrap up a gift of a book--which is, of course, bigger on the inside, just like a TARDIS!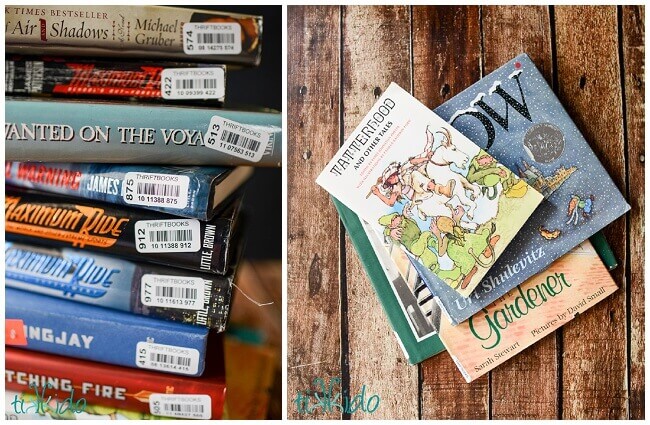 I am completely obsessed with Thriftbooks.com, an online used book superstore. They have over 7 million books in inventory. Book-lover's dream! Within a few seconds of logging on to the site, I found a book that I have been searching for for years, Not Wanted on the Voyage, by Timothy Findley. I LOVE this book, and used to have a copy, but I loaned it out to someone, and now I don't remember where it is. It was out of print and impossible to find when I've gone looking in the past, but I looked it up, and BAM, there it was, for just $3 and change. I love you, Thriftbooks.com. I mean that.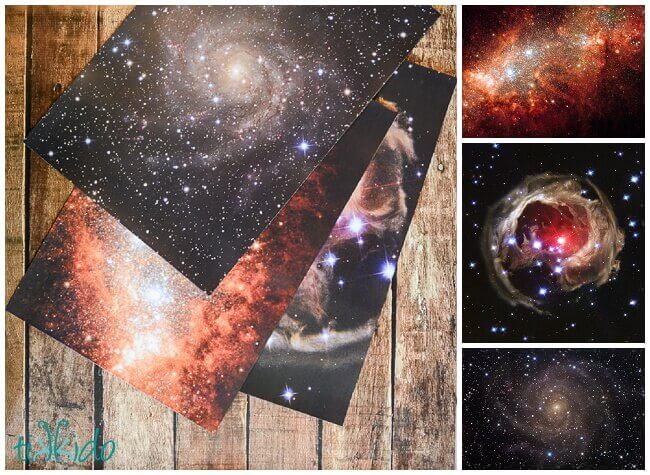 I bought some books (ok, a lot of books) for myself and my children, but I also got some as gifts. I have no qualms giving used books as gifts--the story is as rich and fabulous, even if there's some foxing or a slightly torn cover. But Thriftbooks does let you know exactly the condition of the book you're choosing, so you can pick perfectly nice, new-looking books. And at these prices, you can give LOTS of books. Lots of books is always a good idea. The more books the better. Plus, you get a $5 coupon for every $50 you spend. I got a LOT of books, and I didn't spend $50! But that coupon is just waiting for me, and yes, you shall be mine. My precious...
Books are all about the story, about the adventure and world within, so a Doctor Who themed TARDIS-in-space gift wrap project seemed entirely natural. The only problem was finding space themed wrapping paper. How is there not space themed wrapping paper available everywhere? It's such a great idea! But no. I clearly had to make my own. Did you know that NASA has all sorts of glorious, high resolution images of space on their websiteavailable for the public? Alas, I only have a low-end black and white laser printer, not a fancy color printer, but a quick call to my local printer made short work of that problem.
Shout-out here to my hero Justin at the Gilbert location of International Minute Press for making this happen for me. I only think of my best ideas at the last possible moment typically, and this gift wrap idea was no exception, and Justin would have been completely reasonable to tell me that it just wasn't going to happen today. Instead, he made it happen in under 10 minutes. My HERO. You made my spacey geeky dreams come true.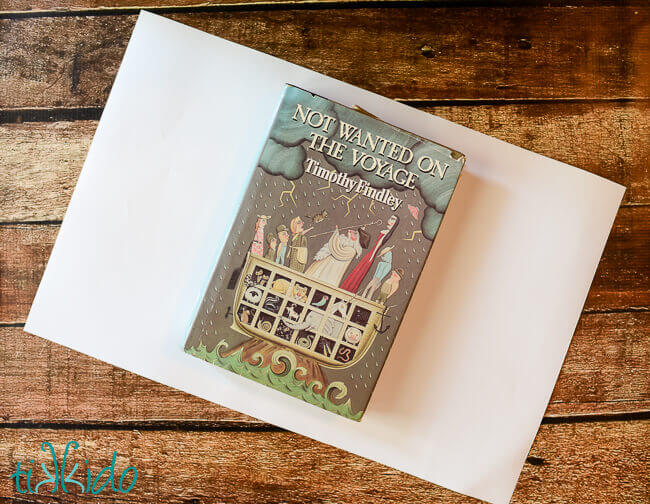 Because Justin was able to print my NASA space photos on the perfect, semi-glossy, lightweight-enough paper to be the ideal gift wrapping paper. If I'd given Justin 2-3 days, I could have had a piece of wrapping paper as big as I could ever want. As a total last-minute, squeeze-me-in job, the biggest I could get was 12x18 inches, which, coincidentally, is absolutely PERFECT for wrapping most books. I actually don't know how much this wrapping paper costs, because there was a minimum charge of $5, and my six pieces of space wrapping paper came to less than that. Justin apologized for charging me the $5, but I think it was an absolute steal. People, if you need printing, don't go to the big box stores. The local guys have always given me much, much better service and a much better price.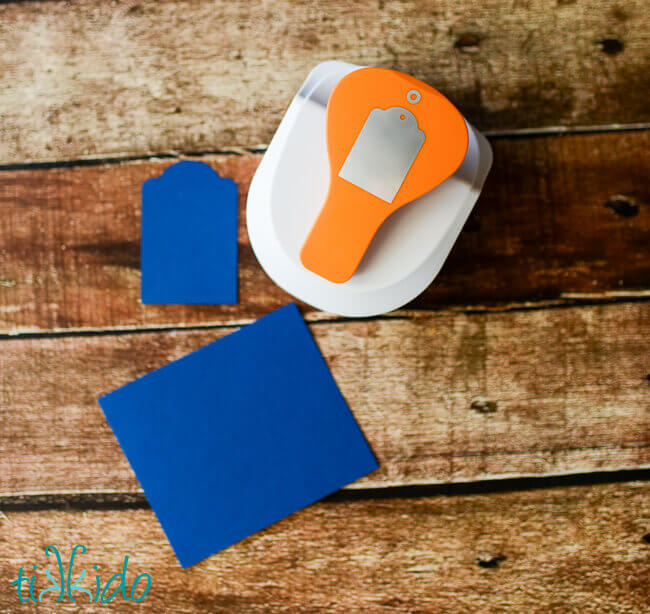 Some blue paper and a tag punch made an easy, TARDIS-shaped gift tag.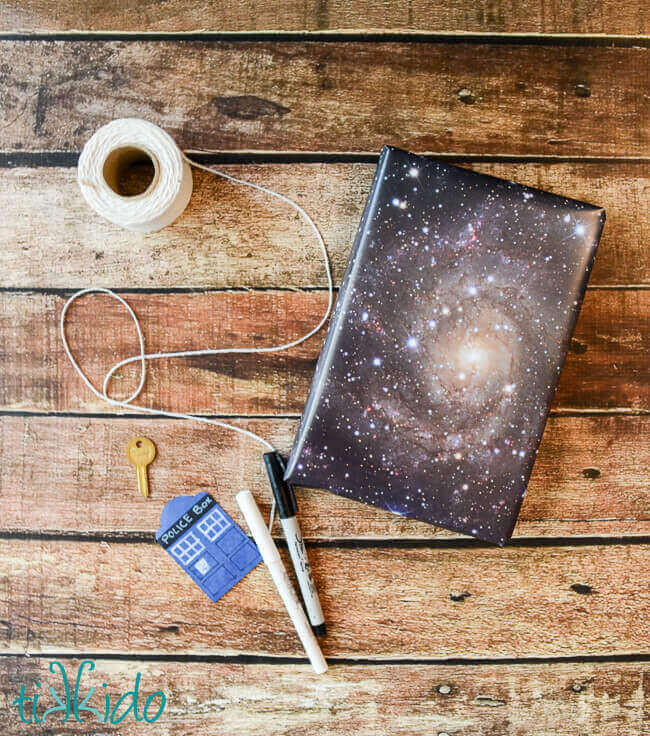 A white paint marker and a fine-pint black marker were all I needed to sketch a basic TARDIS design on the tag.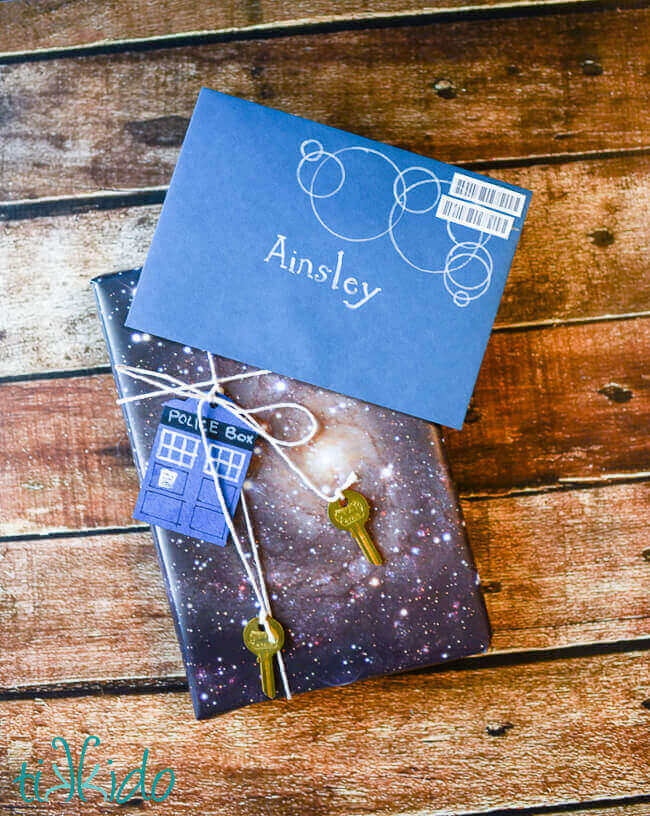 I added a couple of vintage ERA key blanks to the string binding up the gift. Voila, the perfect gift for the Whovian in your life. And if you don't have a Whovian in your life, I strongly suggest that you get one. On the whole, they're pretty awesome people!
I was selected for this opportunity as a member of Clever Girls and the content and opinions expressed here are all my own.