Printer-friendly version
This spooky spider trunk or treat is easy and inexpensive to make with fake cobwebs and a few Halloween decorations.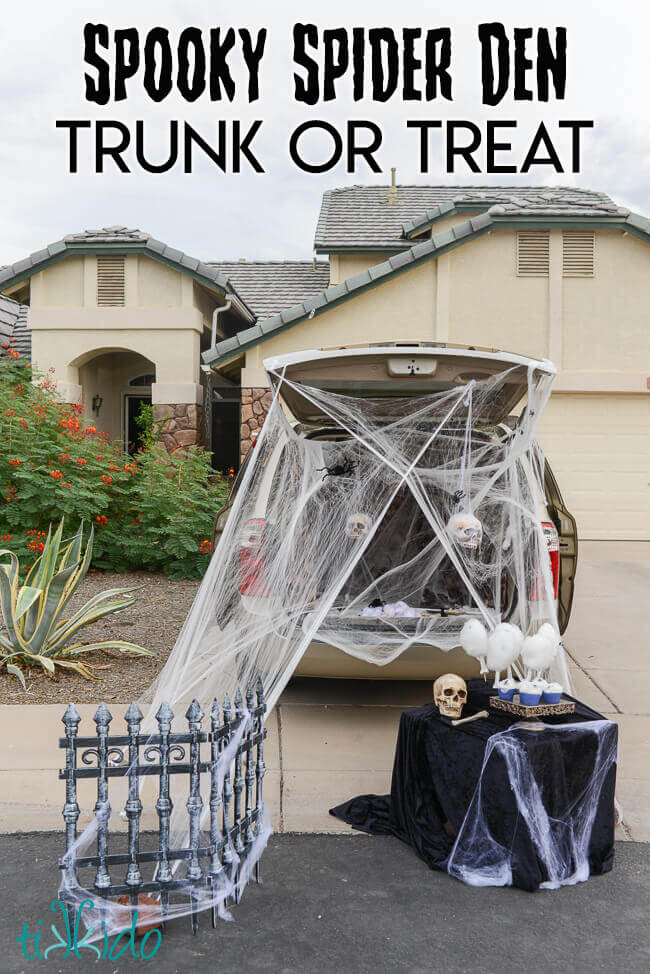 Have you heard of a Trunk or Treat?  It's a new(ish) trend for schools, social clubs, church groups--basically any collection of people who want to have a Trick or Treat Halloween experience, but don't live in the same neighborhood.  Instead, everyone gathers in a parking lot and decorates the trunk of his or her car, and the kids trick-or-treat from car to car.
I've teamed up with some of my blogging friends to give you some great inspiration for your own Trunk or Treat event, and my contribution is The Spider's Den.  
HalloweenCostumes.com sent me some awesome Halloween decor items to help me create this Trunk or Treat design.
You want a TON of bang for your decorating buck?  You can't go wrong with these fake spider webs! This isn't one of those dinky dollar store bags.  This is a BIG bag, and you can stretch it out to what feels like miles of creepy spider webs!  One bag was more than enough to do the whole car.
A little spider webbing around fake skulls added the perfect thematic creepy touch.  Skulls wouldn't have made sense in the spider's den without them.  I love it when something so easy ties everything together so well!
The vinyl catacombs backdrop was also an awesome way to decorate a large space without spending much money.  The vinyl is a nice thickness, and blocked off the light in the back of the car really nicely to make our spider cave.  Bonus:  I have so much left over that it'll make a great disposable tablecloth when Halloween rolls around!  We live on a culdesac, and since the weather at Halloween is glorious here in Phoenix, we close off our street and have a potluck party with our neighbors.  We have fun and get to socialize, and the kids who visit get 6 houses worth of candy in one stop.  I love our neighbors!
Instead of just having a bowl of candy, I decided to have a little fun with our treats, and turned them into spider egg sac candy bundles!  The kids had to brave the webby entrance to the Spider's Den to pick up their treats.
My daughter's opinion of the spider egg sac treats:  "Gross, but cool!"  Isn't that the best of what Halloween should be?
This bundle of bones was surprisingly heavy and really nicely made.  I'll have fun using these for years.  If I can get them away from my macabre little 5 year old, who is have fun assembling skeletons on the family room floor with them.  
I also made spider web cupcakes  (and I didn't even have to polish my silver stand for this creepy display!  ;-) ) and spider web cotton candy.
Mmm, edible gum paste spiders and cotton candy webs.  
To continue with our man-eating-spiders theme, I also made cotton candy spider webs on bone sticks. With more edible spiders, of course.
And even Murlin, the family dog, got in on the fun with a Spider Dog costume.  
He attentively guarded the cupcakes for us the whole time.
Other Trunk or Treat Ideas You Might Like: