Printer-friendly version
It's time for the 2017 Trunk or Treat Blog Hop!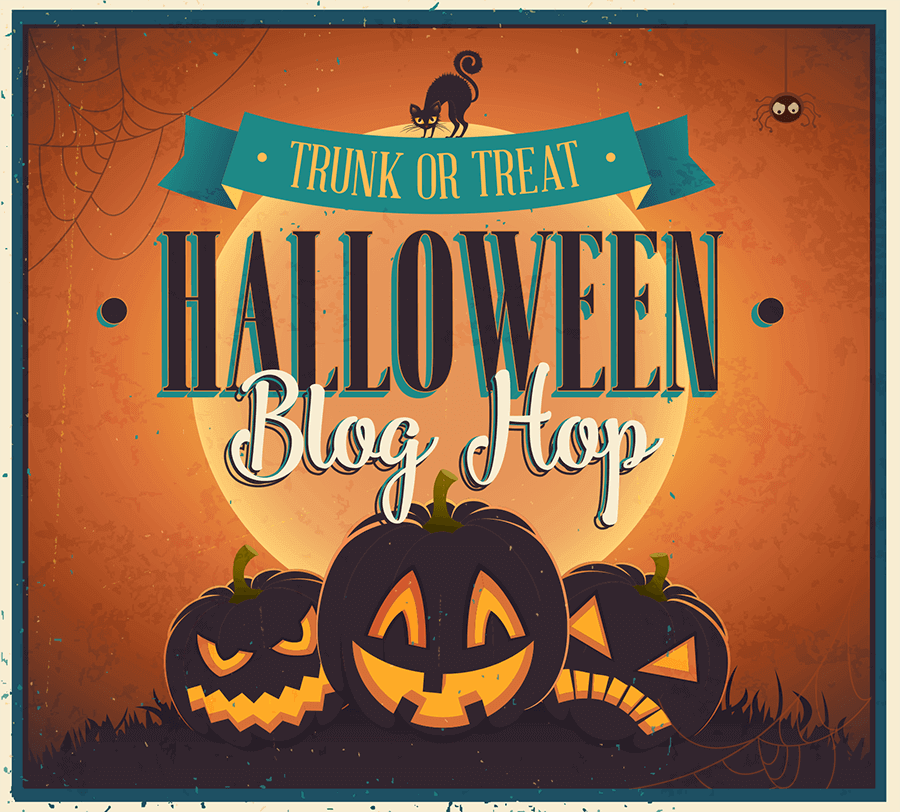 Are you familiar with Trunk or Treats? They've been gaining in popularity over the past several years, and they provide a safe, convenient way for groups (like churches, schools, etc.) of people who don't necessarily live in the same neighborhood to join together for trick-or-treating fun. You actually decorate the trunk of your car, all gather together in a parking lot, and the kids trick-or-treat from vehicle to vehicle.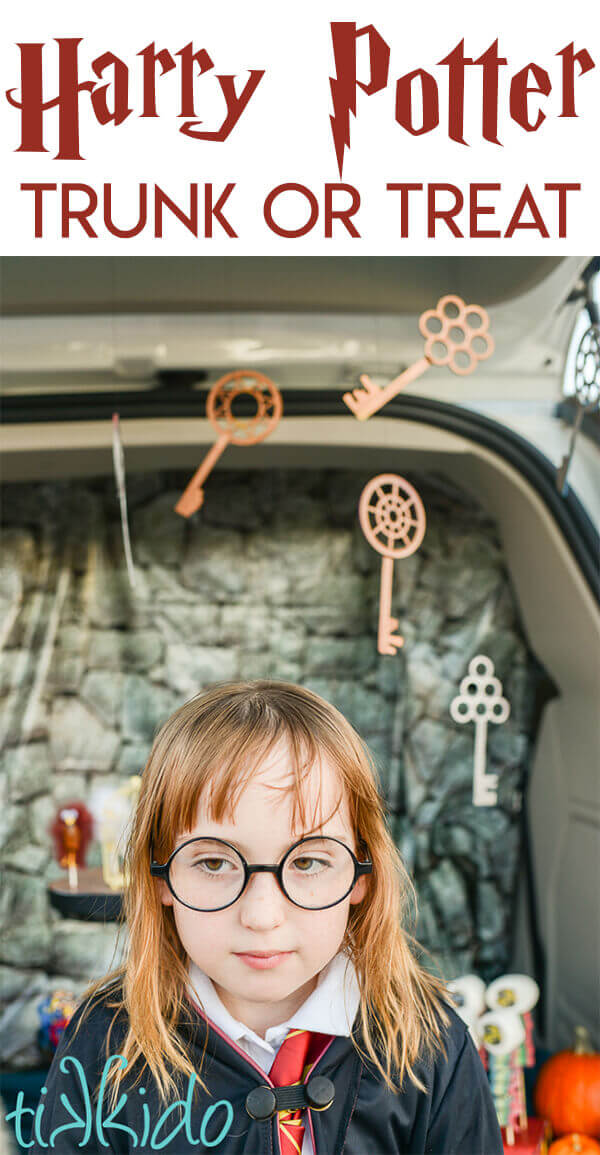 My theme for this year's Trunk or Treat? Harry Potter! A favorite with the whole family. I think Niamh looks like a perfect mix of Harry and Hermione here. She definitely always has Hermione's scruffy hair. ;-)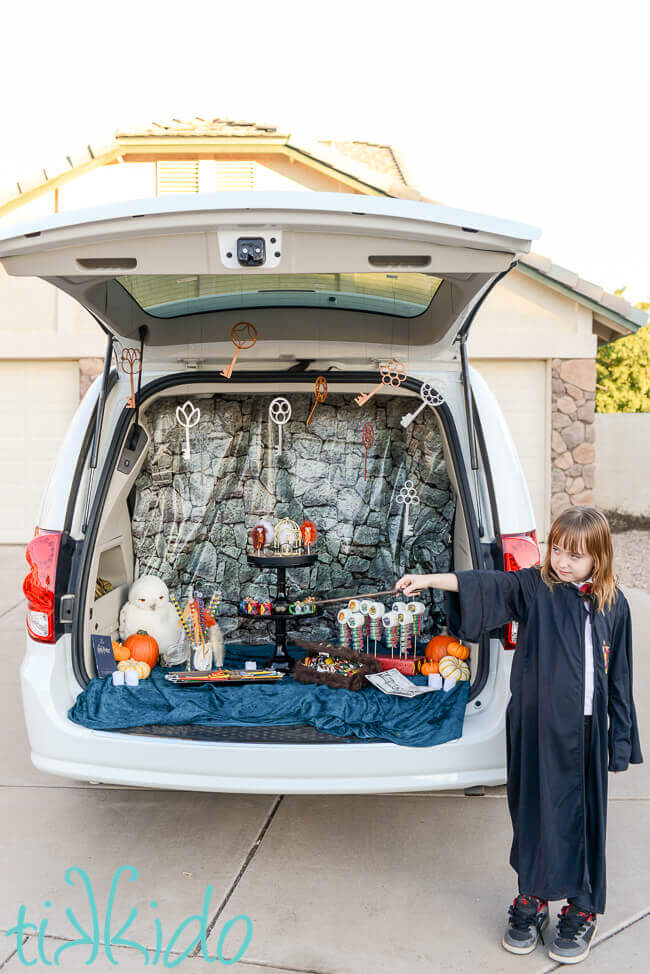 Oriental Trading Company sent me some fabulous materials to help transform my minivan into our own miniature Hogwarts. If you want to create your own magical Harry Potter transformation, and affordably, definitely check out Oriental Trading Company's amazing selection o Harry Potter products.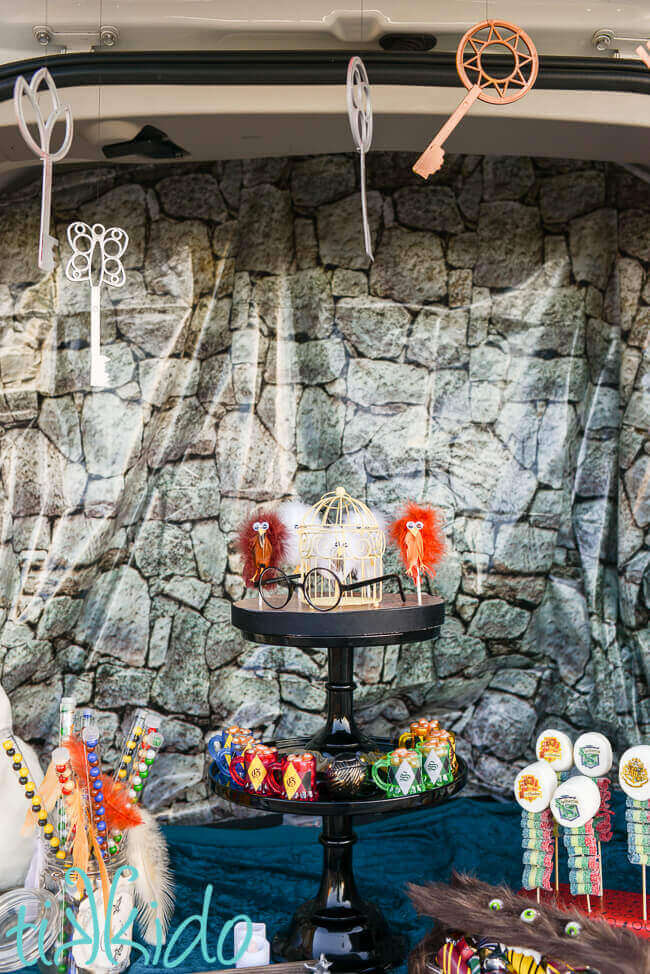 An inexpensive backdrop is incredibly useful for transforming the back of a car into something magical. I used this plastic sheeting printed with a stone wall image to mimic the halls of Hogwarts (and block the view to the front of the car).
TIP: To hang a backdrop in your car, use straight pins pinned into the ceiling upholstery of the car. I tried using tape for YEARS, and it works absolutely horribly. Paula from Frog Prince Paperie finally clued me in to using straight pins last year, and wow, what a difference it makes! You saved my sanity, Paula.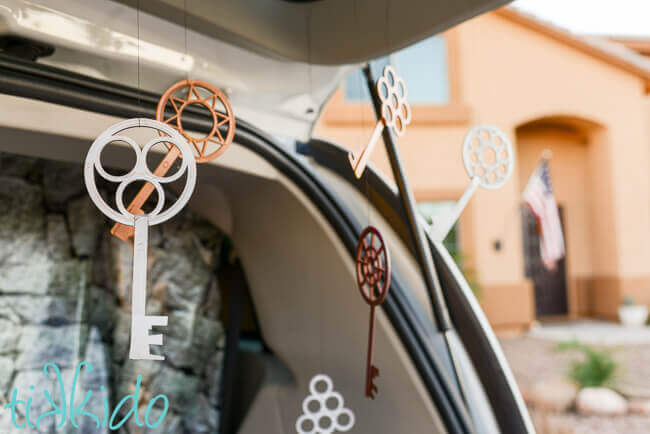 Remember the flying keys in the first book? I turned bubble wands from OTC into these levitating keys.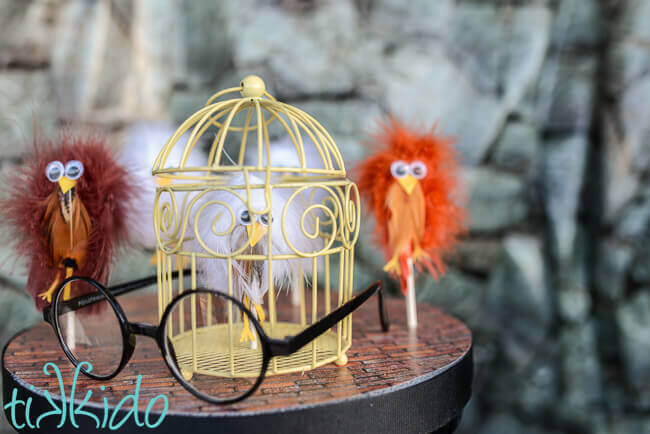 Can you guess what these owls are? Lollipops! Ack, I'm so pleased with myself for this craft. Ok, yes, it's a little over-the-top. I don't care. I love them.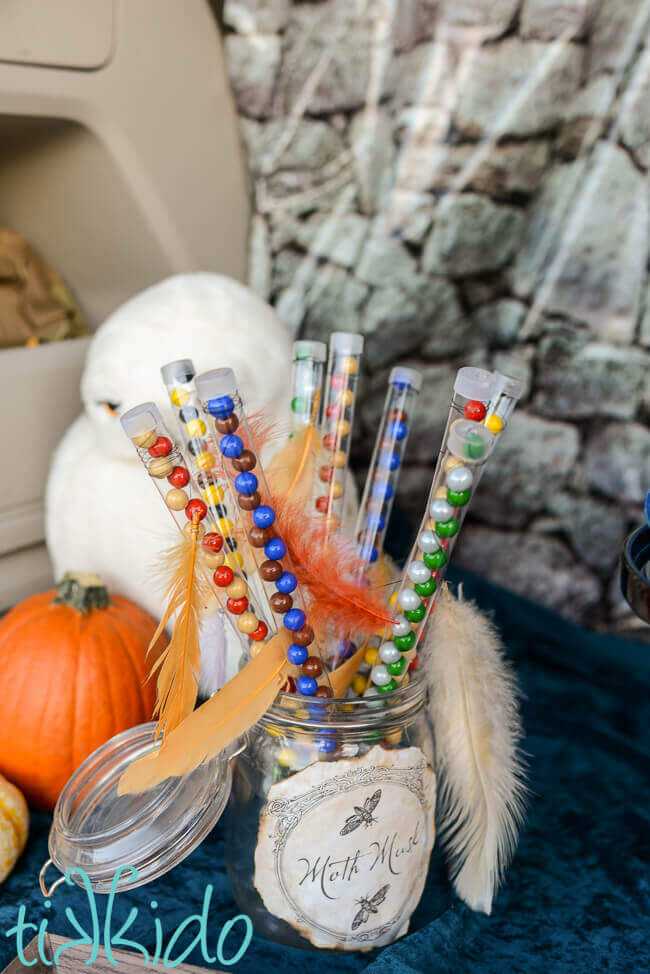 Of course I made candy wands. My eldest suggested adding the levitating feathers, and they're such a perfect, fun addition.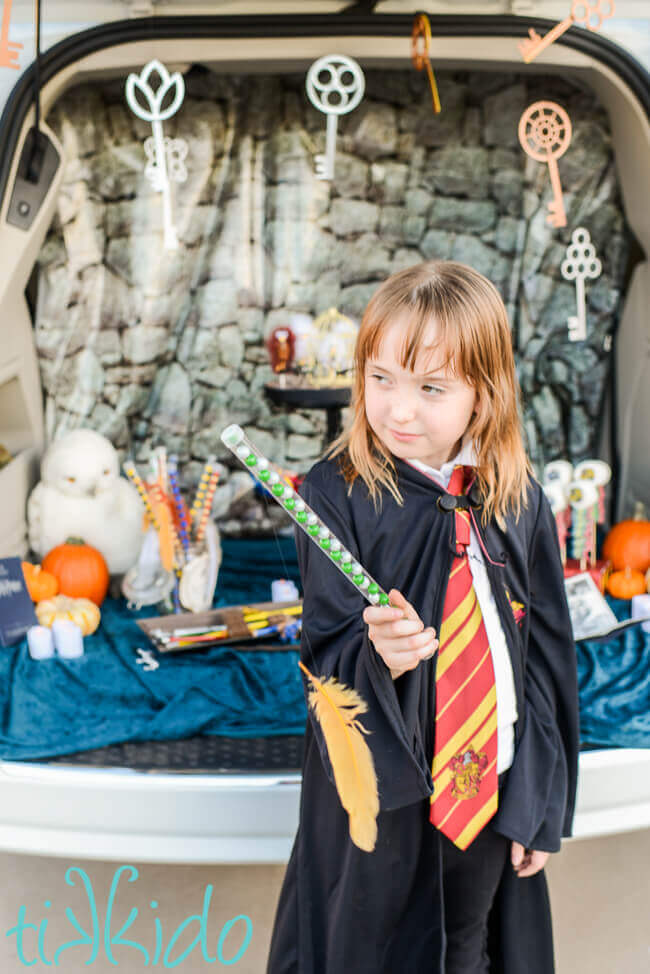 Wingardium leviosa!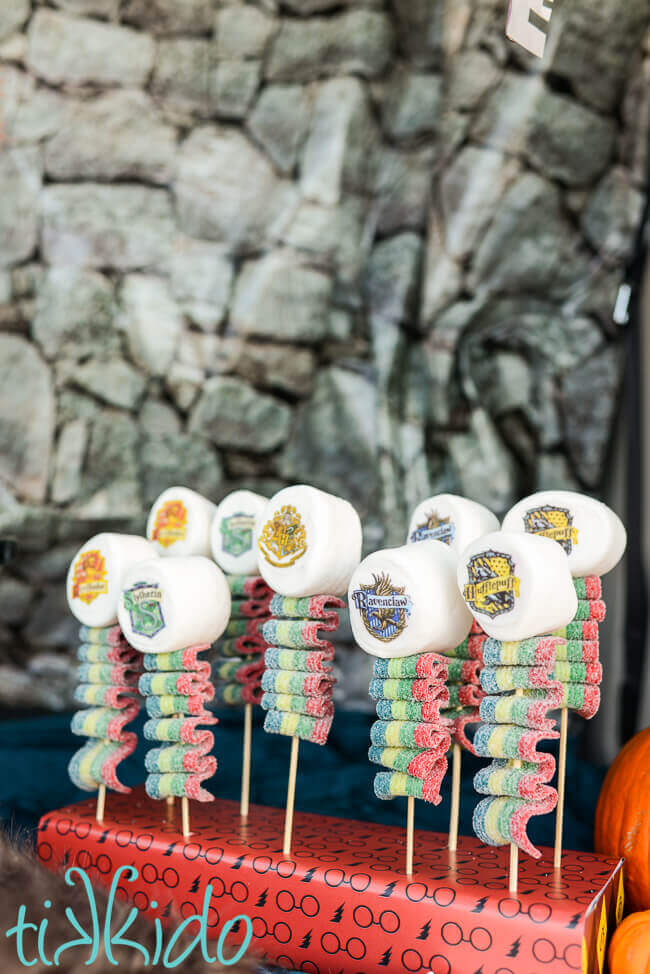 I used some edible images to make these easy Hogwarts house candy kebabs.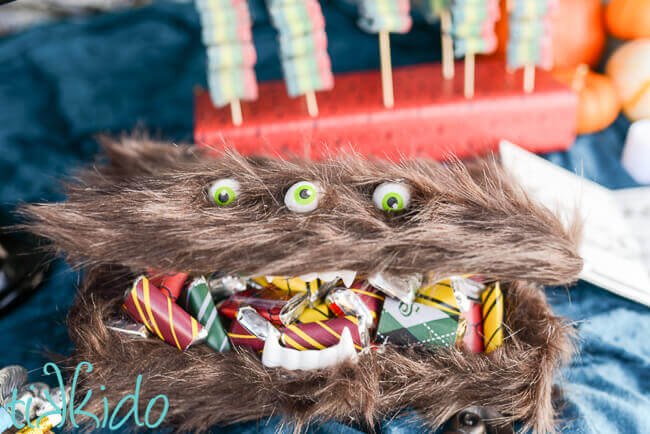 And I made a Monster Book of Monsters full of chocolates wrapped in house colors.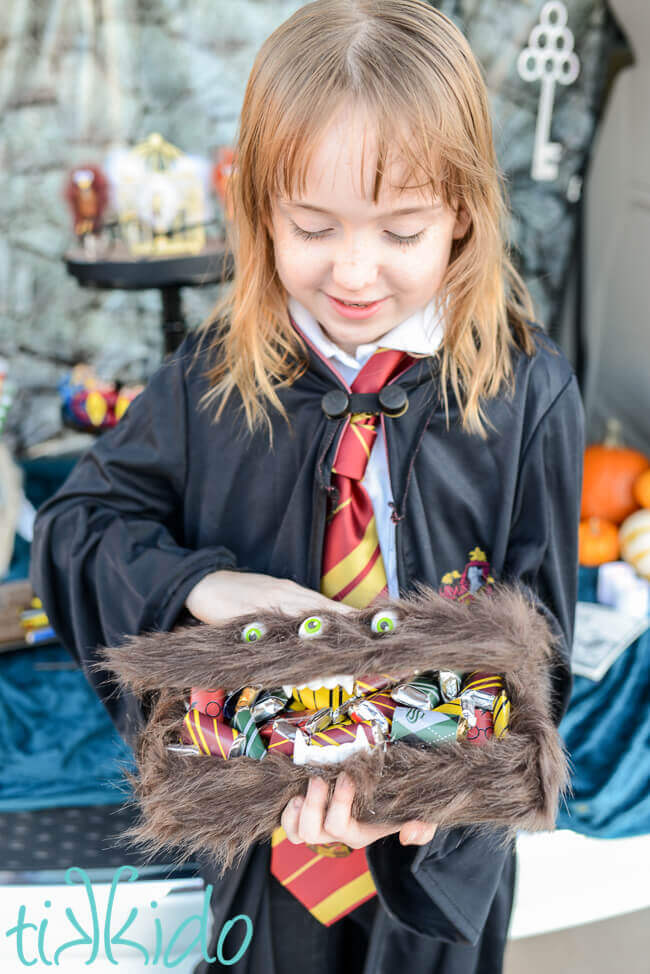 Niamh knows how to tame the savage, chocolate-stuffed beast.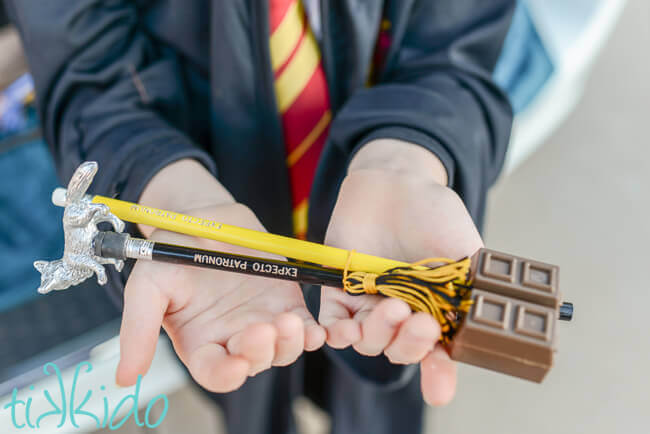 I always like to accommodate kids with food allergies and offer some non-candy treats. My idea for this year was Patronus Pencils. A silver, ghostly animal pencil topper on once pencil (in one house color), and a pencil sharpener/eraser set that looks like chocolate to go with the second pencil (in the other house color). With these, you'll be ready to fight off the dementors with ease.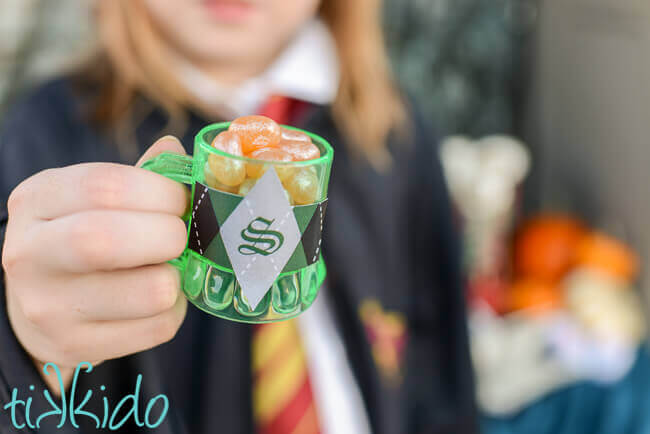 Back to the candy... butterbeer jelly beans in tiny steins in house colors!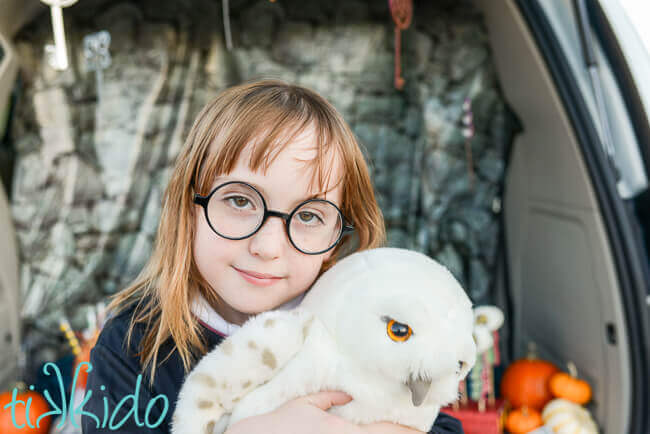 For more great Halloween supplies and inspiration, be sure to check out Oriental Trading's Halloween Headquarters!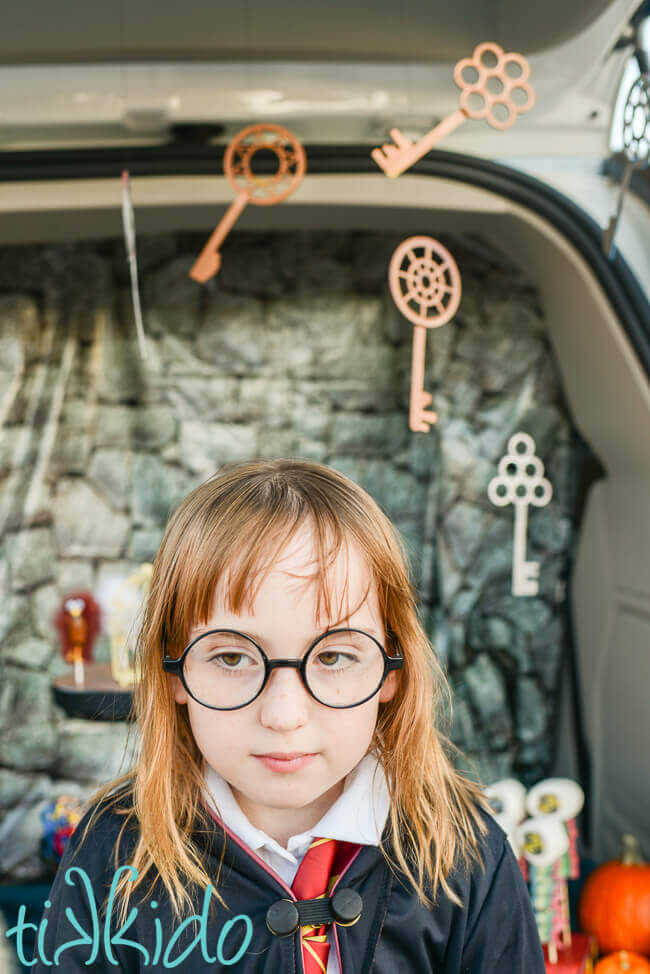 And do you want more amazing Halloween Trick or Treat inspiration? Check out the other AMAZING participants in this year's Trunk or Treat Blog Hop!

1. Super Hero Trunk or Treat by Everyday Party Magazine
2. The Working Dead by Michelle's Party Plan-It
3. Glam Cemetary by Jordan's Easy Entertaining
4. Hocus Pocus Trunk or Treat by Pineapple Paper Co.

5. Monster City by Fronie Mae Bakes
6. Magic Trick Trunk or Treat by Piggy Bank Parties
7. Zombie Meat Market by Ritzy Parties
8. Alice in Wonderland Trunk or Treat by A Lovely Design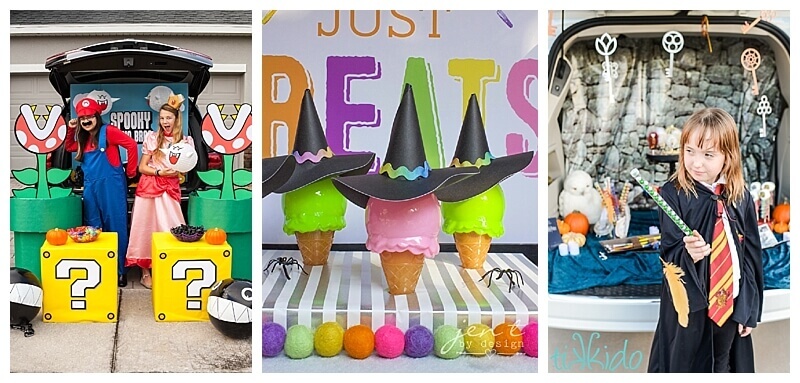 9. Super Mario Trunk or Treat by Frog Prince Paperie
10. Just Treats Trunk or Treat by Jen T. By Design
11. Harry Potter Trunk or Treat by Tikkido

12. Bug Bistro by Fern and Maple
13. Boo Spectacular from A to Zebra Celebrations (website now defunct)
14. Flamingo Trunk or Treat by Cupcake Wishes and Birthday Dreams