Printer-friendly version
I miss living in a green place--a place with defined seasons.  Sure, the Arizona desert has its own beauty, but I miss the lushness of fresh green life bursting forth in the spring.  Forsythia, and lilacs, and apple trees in full blossom.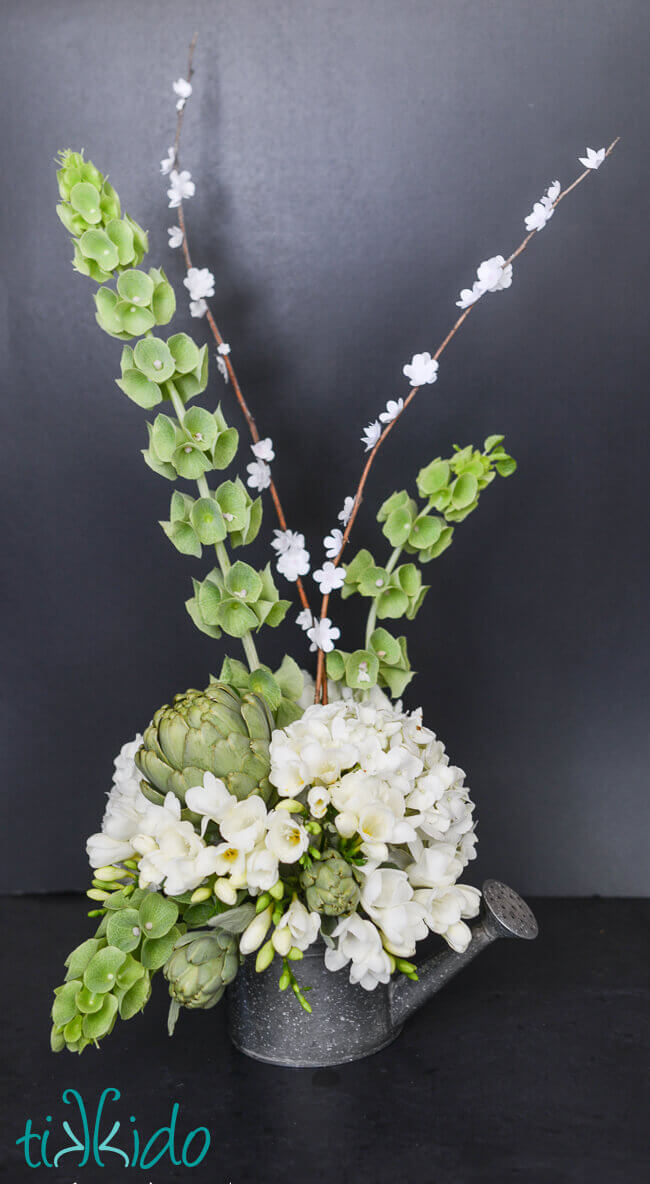 So for Easter, I decided to make a floral centerpiece that evokes those spring yearnings I still have, even though I've been a desert dweller since 2000.  Fresh greens and white flowers, and floral branches.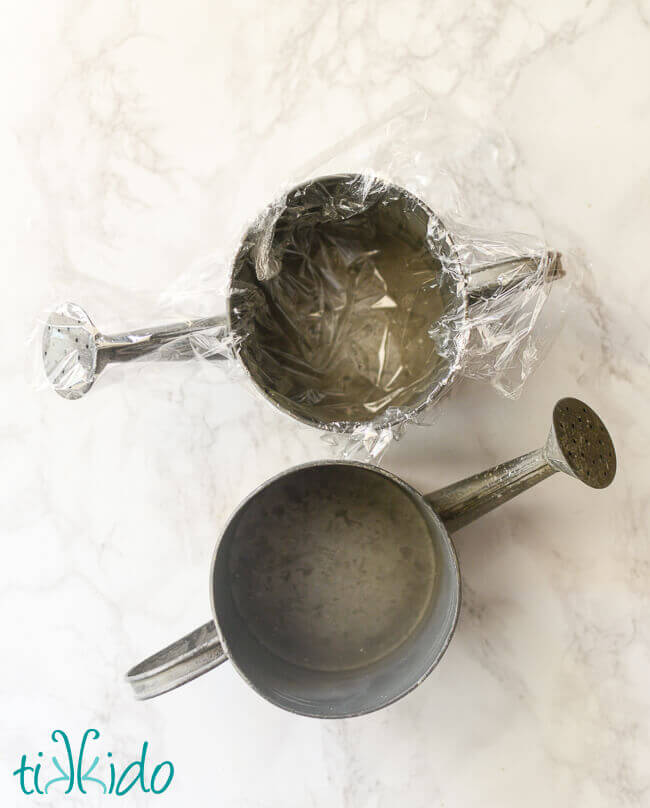 As I mentioned in the daffodil flower arrangement post on Wednesday, just because a container says it's a floral container doesn't mean it's actually designed to hold water and real flowers.  I knew I'd be using floral foam to make this flower arrangement, so just to be sure my little watering can container didn't leak, I lined it with saran wrap.  The floral foam holds the water quite well, but I always like a little extra insurance.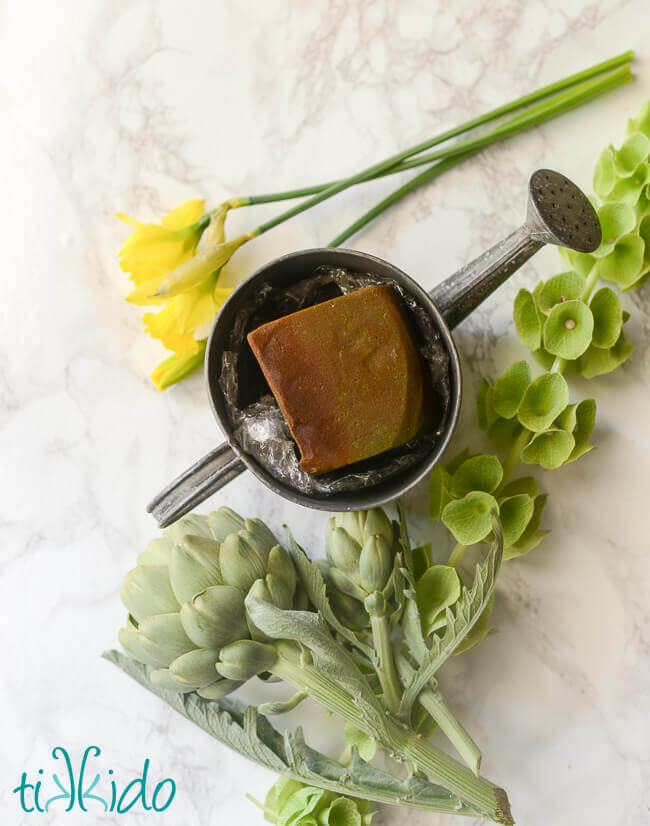 See?  The saran wrap gets tucked inside the pot, invisible, but provides a protective barrier for the water-logged floral foam.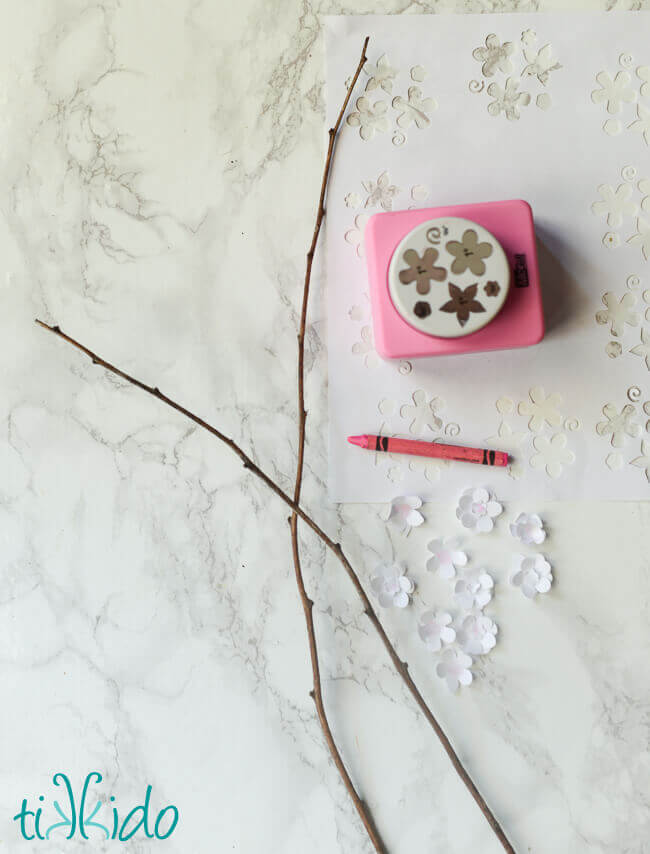 Some trees do bloom around here, but often when they already have leaves (like citrus), or it all happened a couple months ago (like peach trees).  
So I picked some slender branches from our pile of kindling, and made my own springy floral branches with paper flowers.  I used simple white printer paper, a pink crayon to give the centers of the flowers a bit of shading, and a floral punch (this looks like the latest version of the punch I have and like so much)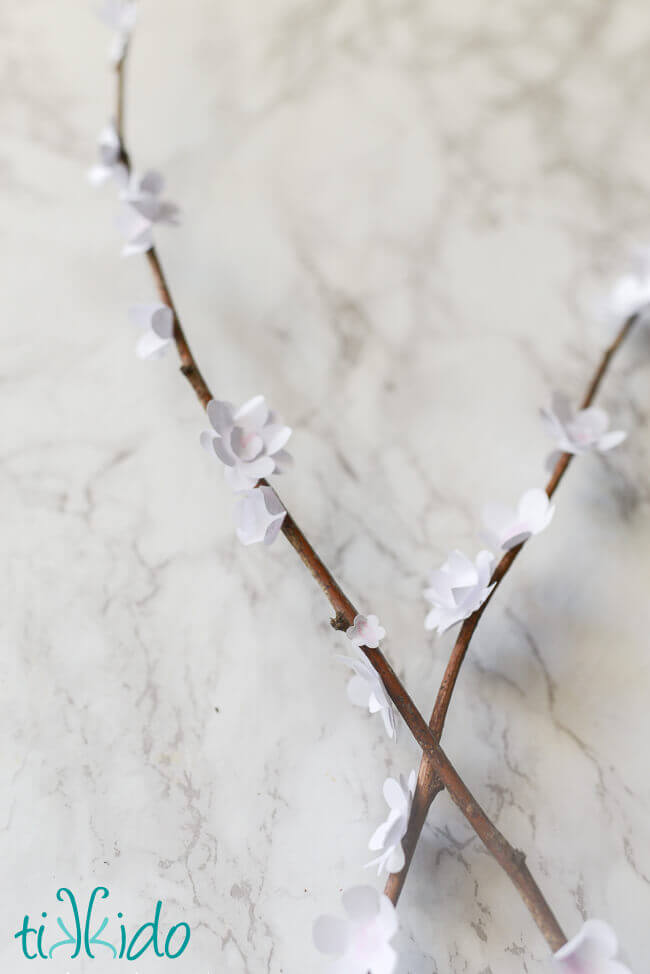 A bit of hot glue attached the paper flowers to my branches easily.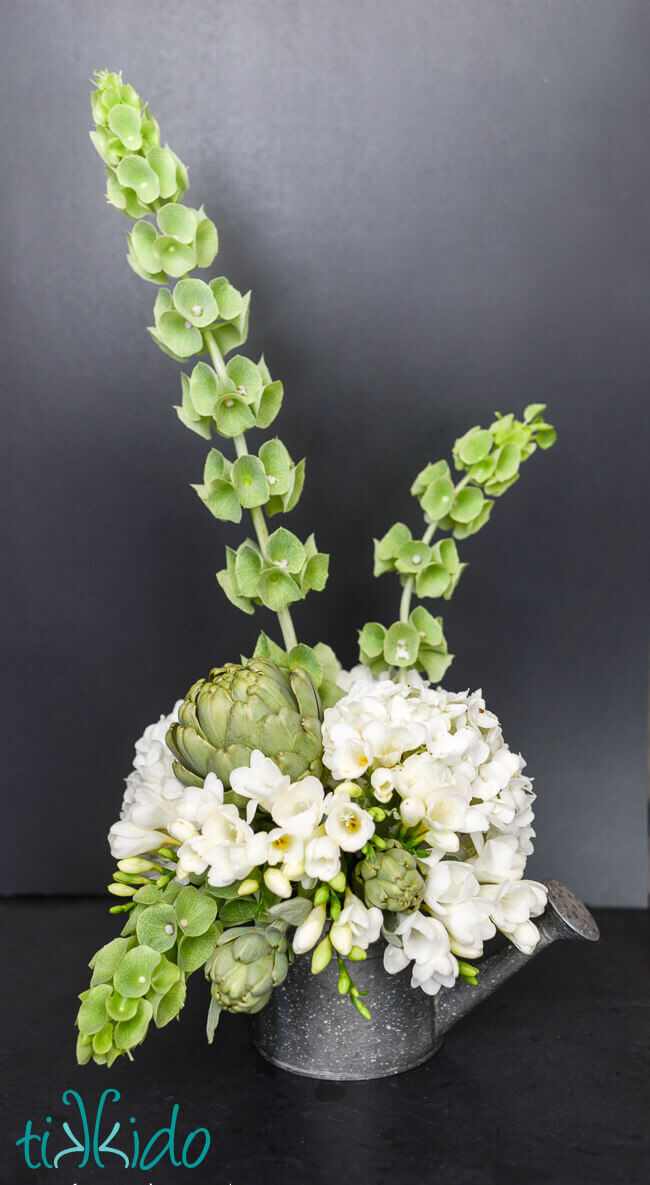 I liked the floral arrangement just fine without the faux floral branches, actually.  The Bells of Ireland came from my friend's garden (I had no idea they grew here in Arizona, but you can be sure I'll be planting my own next year!) and the artichokes came from my own garden.  The hydrangea and freesia came from Trader Joe's.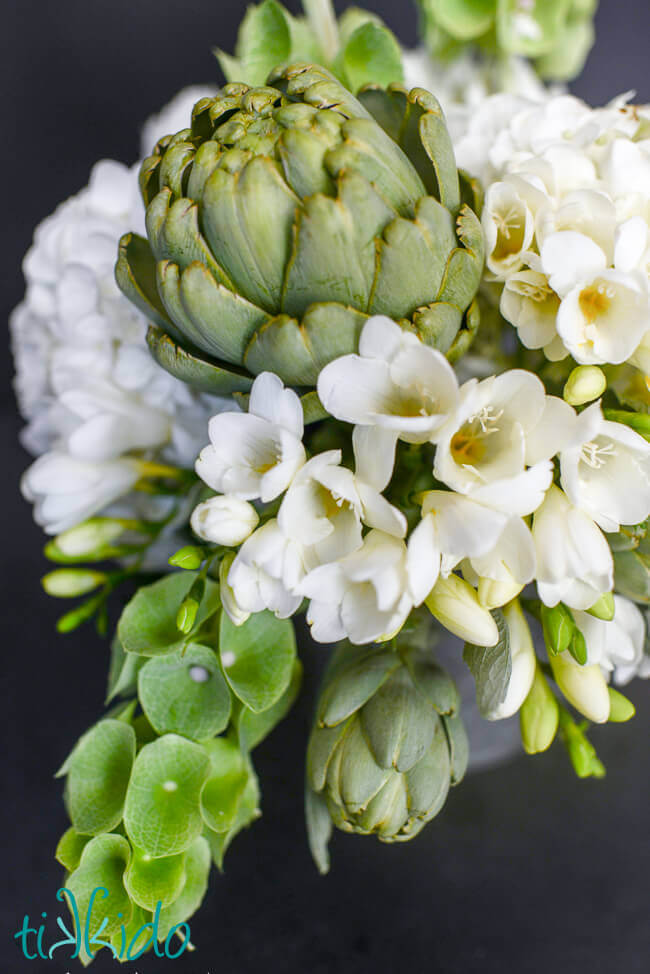 My girls were not impressed, initially, with my decision to use some of our artichokes just for decorative purposes (rather than eating them), but at least my eldest did look at the flower arrangement and say, "Ok, that's super cute."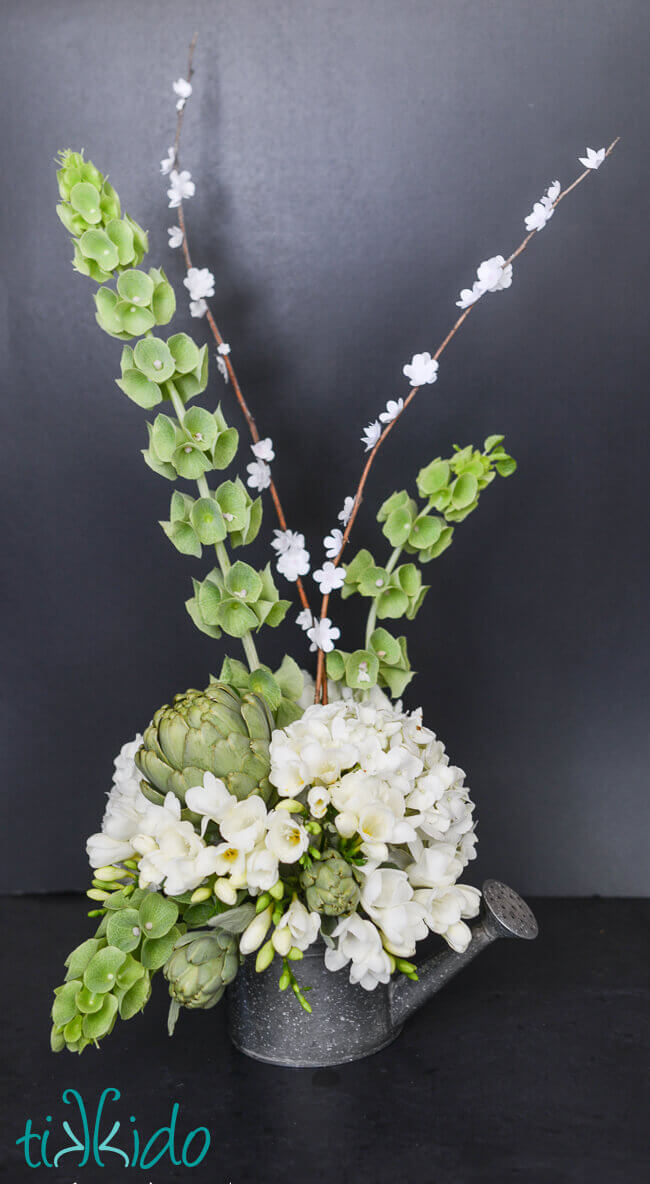 I love it even more with my flower branches!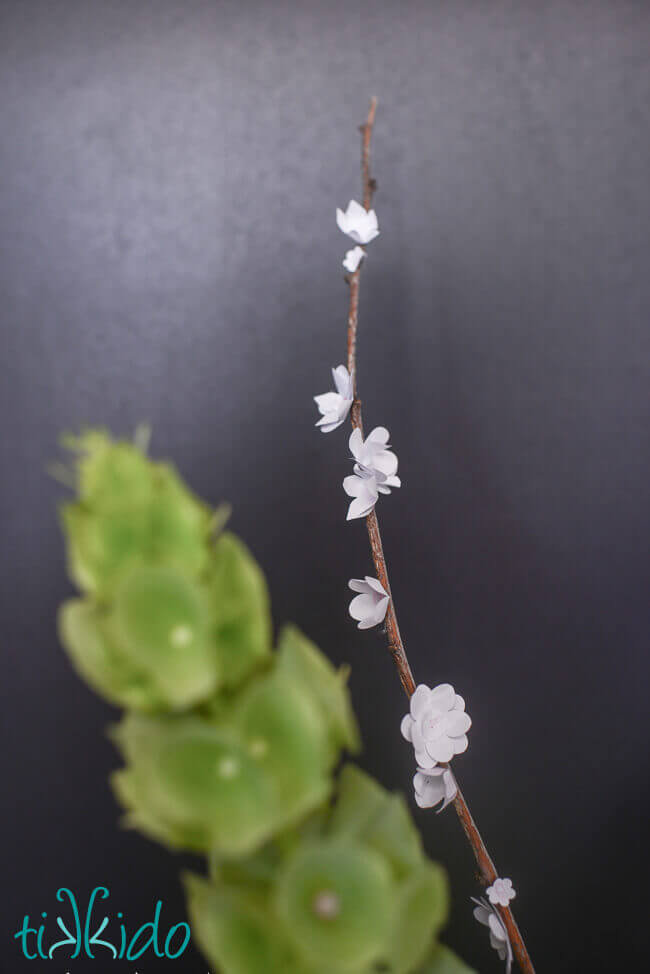 Nothing says spring to me like bare, flowering branches.  It's just something I'll never shake, no matter how long I live here.