Printer-friendly version
Teacher Appreciation Week is almost upon us! Are you ready to honor those fabulous men and women who shoulder so much responsibility for our children's education? Yeah, neither was I. I have all sorts of treats I could make (like these sugar cookies, and these fortune cookies) but I know a bunch of teachers who, though they love the gesture, are inundated with sweets, and would like a little more variation. I also know lots of teachers who, when asked, say that they love gift cards. Teachers spend a lot of their own money on our children, buying things for their classrooms, so I totally understand the desire for gift cards to help defray that cost. But even if I decide to go that route, I still want the gift to be personal and special. That's what prompted this gift wrapping project.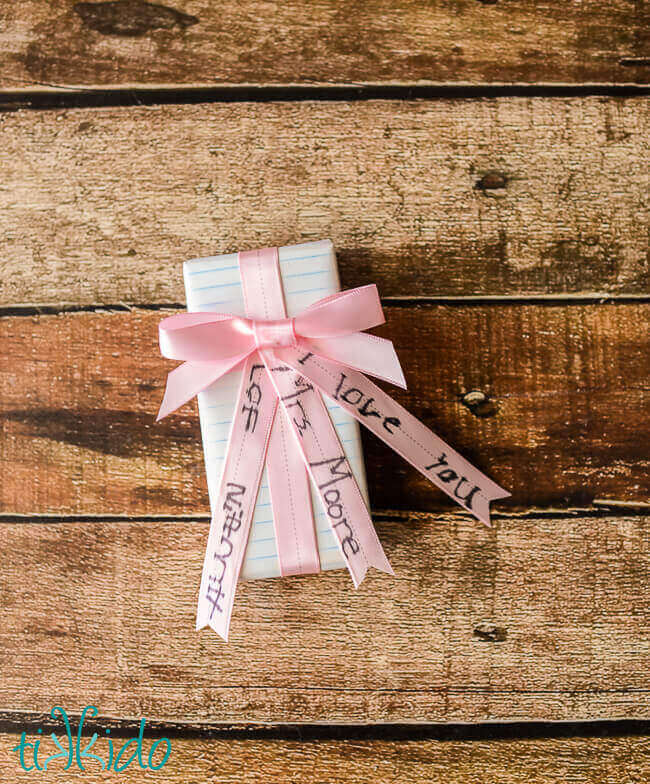 Gift card boxes are small, so it immediately occured to me that I could wrap the present in classic ruled notebook paper. I love unconventional wrapping ideas! But I didn't want to stop there, so I came up with a fun idea to make the ribbon fit the theme, too.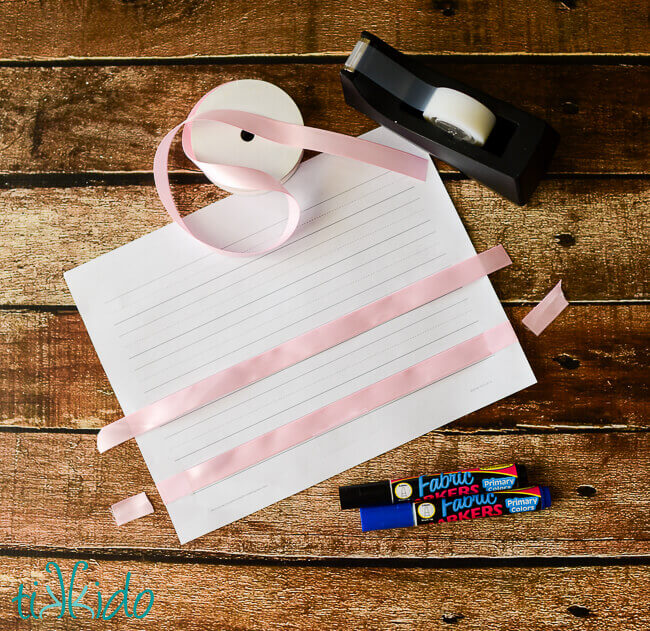 I started by printing out a free printable handwriting paper worksheet from Donna Young. I used the 3/4" size, but Donna has a ton of different options to fit whatever ribbon you're using.
Next, I taped lengths of my ribbon right on the paper I'd just printed out. I discovered that I only needed to tape on the right and left sides, in the margins, where nothing would get printed anyway. Trim off any excess ribbon that hangs off the edge of the paper.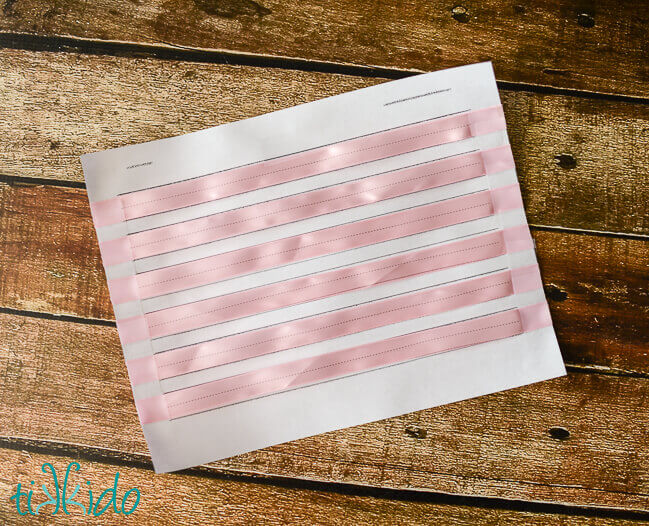 Then just run the paper with the taped ribbon through the printer again, and voila, handwriting ribbon! Pretty cute, right? These are obviously short lengths of ribbon, so would work best for small presents (like gift cards!).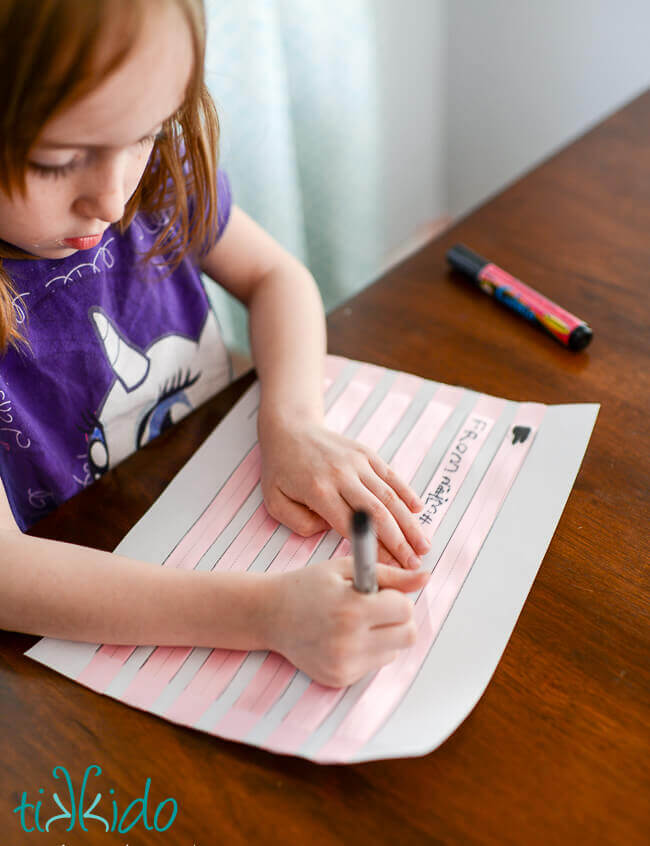 Use a fabric marker or a Sharpie and write your message! I love how Niamh took the job so seriously, measuring out her spaces with her fingers. She wanted to do a good job for her teacher.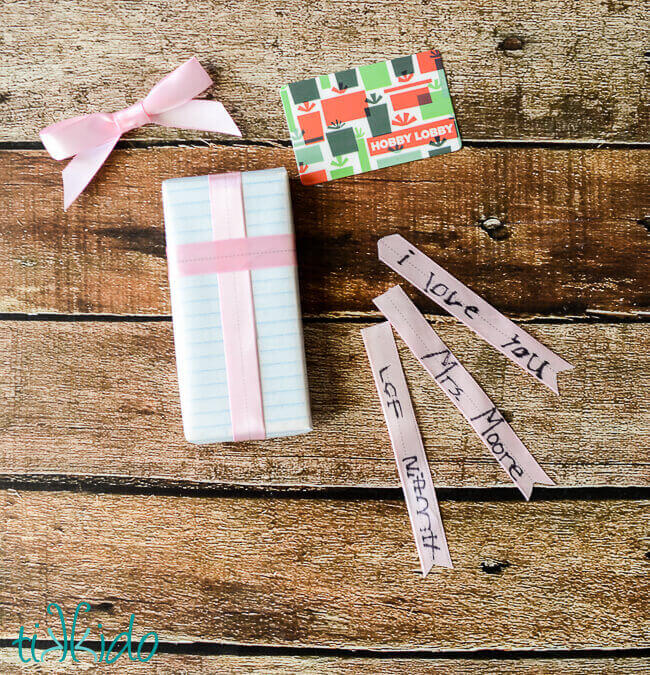 I used two lengths of the ribbon to wrap around the present box, and some of the printed ribbon to create tags.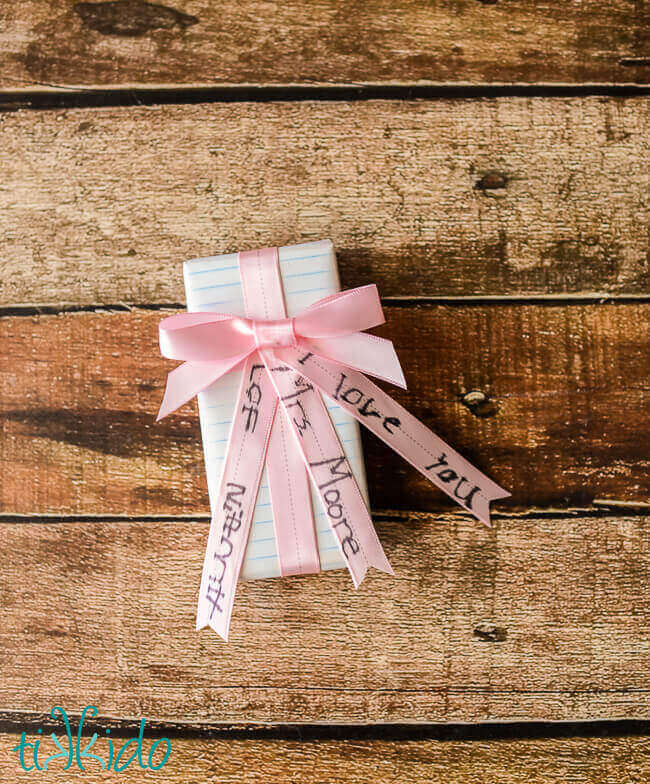 Glue it all together with a a few dabs of glue from the glue gun, and you've got one awesome present for the teacher in your child's life!
Looking for more awesome Teacher Appreciation Week easy crafts and ideas? This post is part of the Craft Lightning Teacher Appreciation Week collection! Check out all the other fabulous inspiration for dozens of other blogs, all working to come up with the best ideas for you to use for your teachers.