Printer-friendly version
Bake up a vegan gingerbread house with this delicious vegan gingerbread recipe.  I based this eggless gingerbread recipe on the amazing gingerbread house recipe my family has been using for decades, and for baking thousands of gingerbread houses.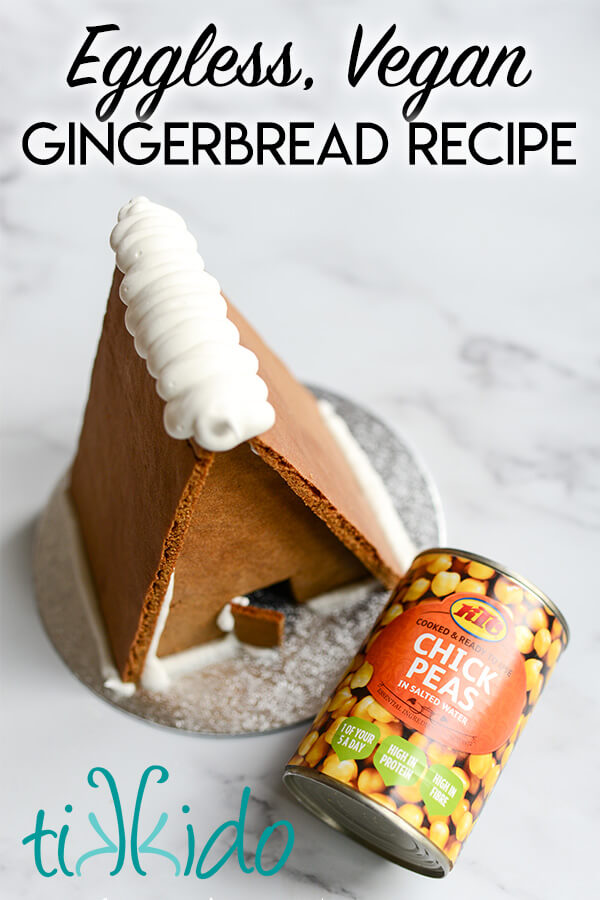 I developed this vegan gingerbread house recipe because one of my daughter's friends has a serious egg allergy, and I wanted her to be included in the fun of our gingerbread tradition.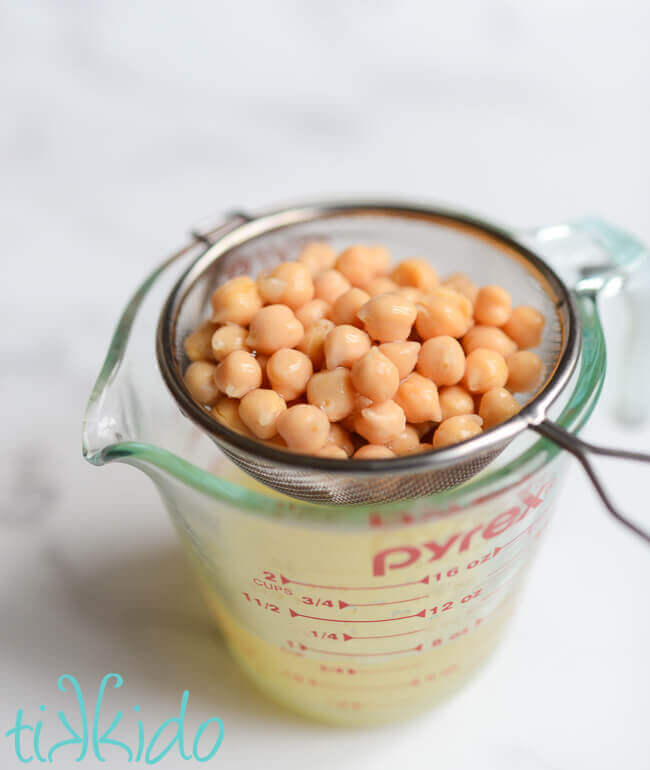 To convert my gingerbread house recipe into a vegan gingerbread recipe, I only needed to replace the eggs.  I used aquafaba--the liquid from a can of chickpeas--as the egg substitute to make my eggless gingerbread house.
If you don't like eating chickpeas, and don't want to waste any beans, you can actually purchase powdered aquafaba!  I didn't know that until after I'd already bought the cans of chickpeas, but I was planning to roast them to make a snack, anyway.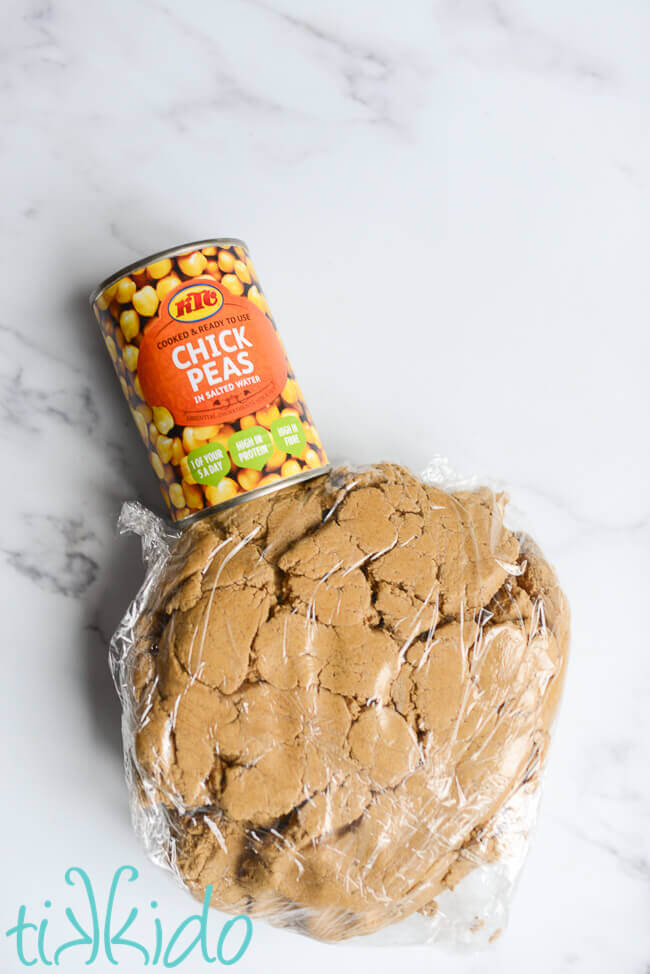 Vegan Gingerbread Recipe:
2 Cups granulated white sugar

1 Cup plus 2 Tablespoons brown sugar

1 Cup solid vegetable shortening

12 Tablespoons aquafaba

3 Tablespoons molasses

1 1/2 teaspoons salt

2 teaspoons baking soda

1 Tablespoon ginger

1 Tablespoon cinnamon

6 Cups flour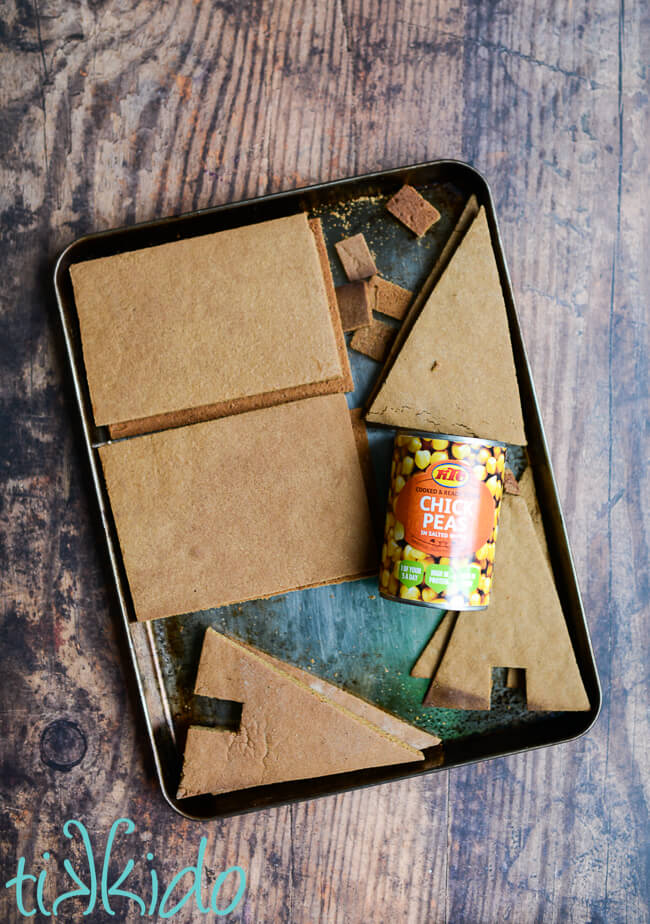 The instructions for making the dough, and how to roll it out and bake the pieces, is exactly the same as my traditional gingerbread house recipe, so head over to that blog post for all the details.
The dough behaved just like the non-vegan gingerbread dough I've been making for years.  It had the same feel, and rolled out just as easily.
It baked a little faster than my standard gingerbread house dough.  If you're making small pieces or gingerbread men, check the cookies at 10 minutes.  If you're making a large sheet of gingerbread to cut into four roof pieces, I cooked the full, normal 14 minutes.
The vegan gingerbread was a little more crisp than my usual gingerbread recipe--but that's a great thing for constructing gingerbread houses!  Though it was more crisp, it was still delicious and a great texture for eating, too.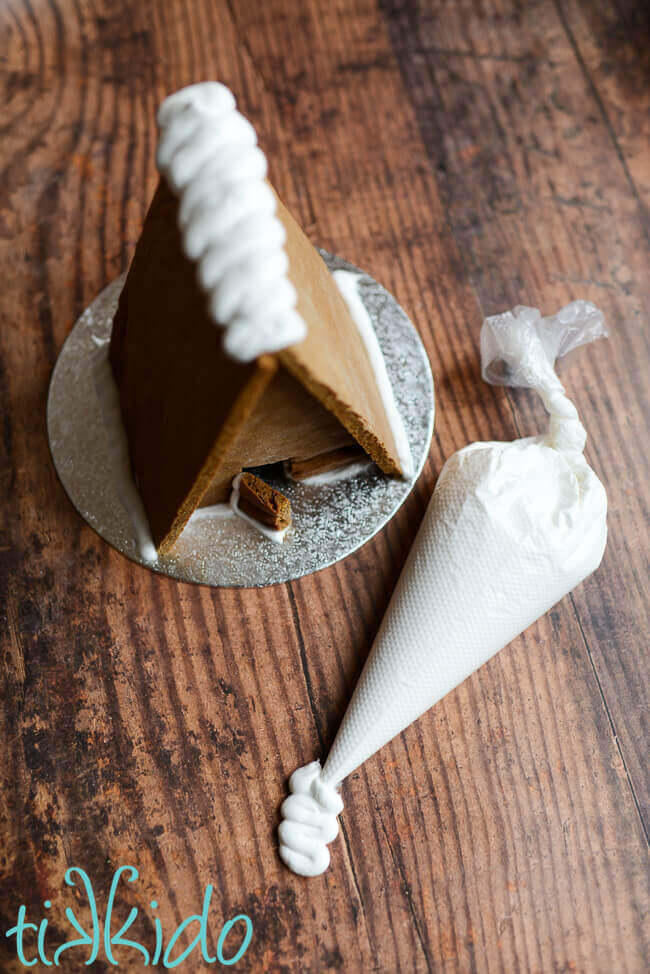 I was so glad I was able to include my daughter's friend in our holiday tradition safely!  And I'm delighted to have a vegan gingerbread house recipe in my repertoire now.  
Be sure to check out the vegan royal icing recipe I used to assemble and decorate the vegan gingerbread houses.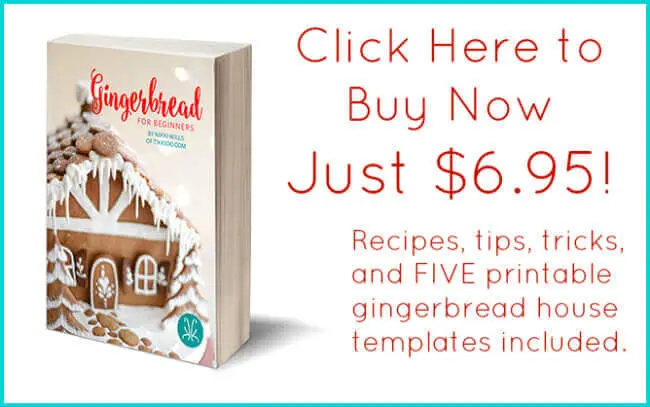 Other Special Diet Gingerbread House Recipes You Might Like: