Printer-friendly version
Felt holly Christmas napkin rings are an easy Christmas craft to make--great for giving as a gift or using to set your own beautiful holiday table.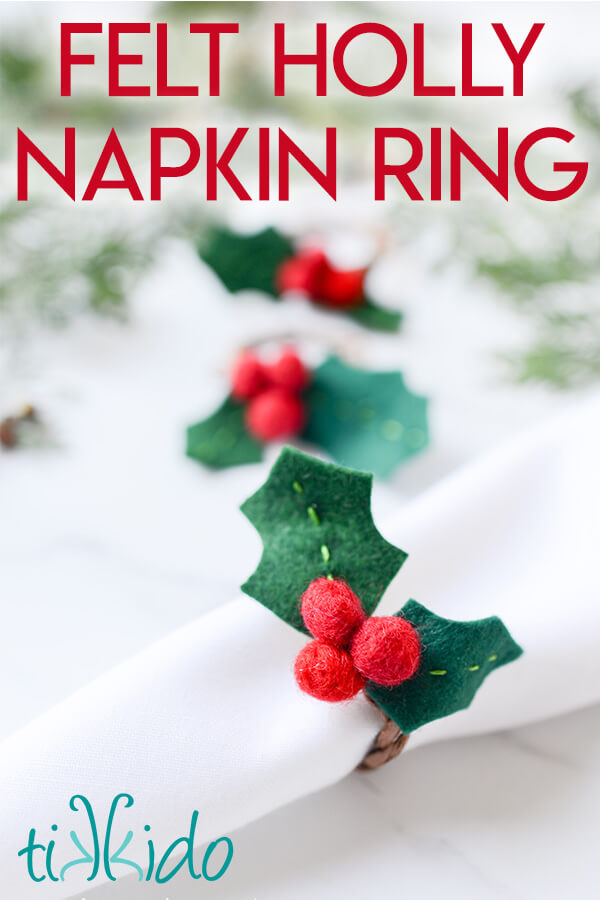 I made these DIY Christmas napkin rings as my first project for the Festive Christmas Ideas Blog Hop.  The theme today:  DIY gifts.
Welcome back to year 6 of our Festive Christmas Event where we team up with a bunch of talented blogging friends to bring you a plethora of creative ways to celebrate your holiday season.
We will be baking some cookie recipes for you, sharing some party games, making some handmade gifts, doing some ornament crafting, and sharing our Christmas movies family fun. There will be breakfast recipes and as always our decorated Christmas Trees which is always a fun tour of homes.
New this year is Gift Guides. We are right there with you shopping from home due to Covid 19 and we understand how hard that can be so we have been busy little Elves doing tons of research to create fabulous Gift Guides to help you with your holiday shopping.
You will find new ideas every Monday and Wednesday between Oct. 19th through Nov. 18th. Scroll all the way down to find all the ideas linked at the end.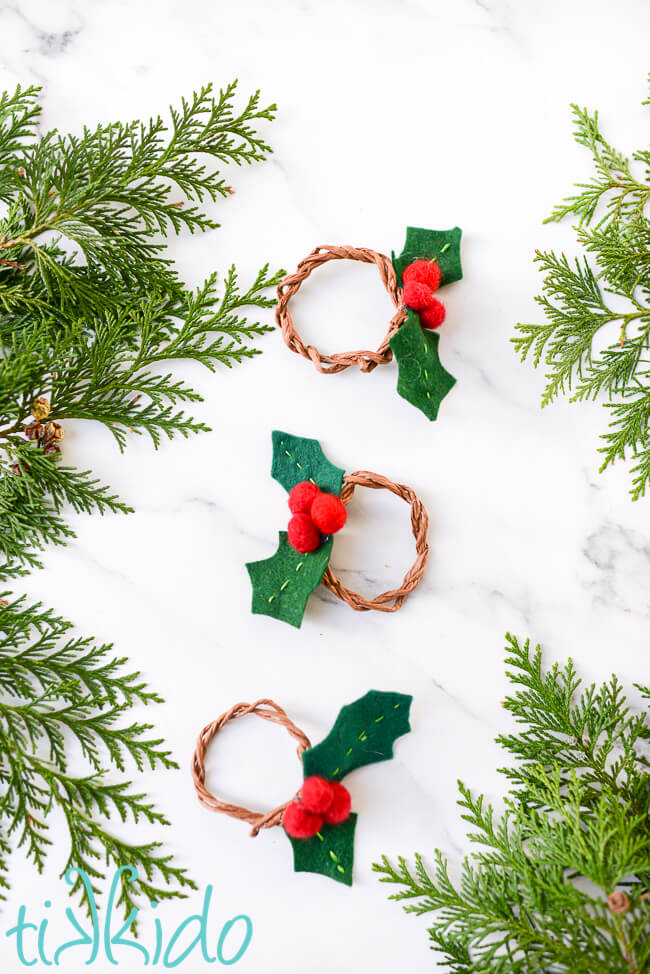 I love pretty napkin rings!  They're such a fun element of any beautifully set table.  The nice onces can also be awfully pricey!  That's why I started making my own.  These Christmas napkin rings feature felt holly, and are quick and easy to make.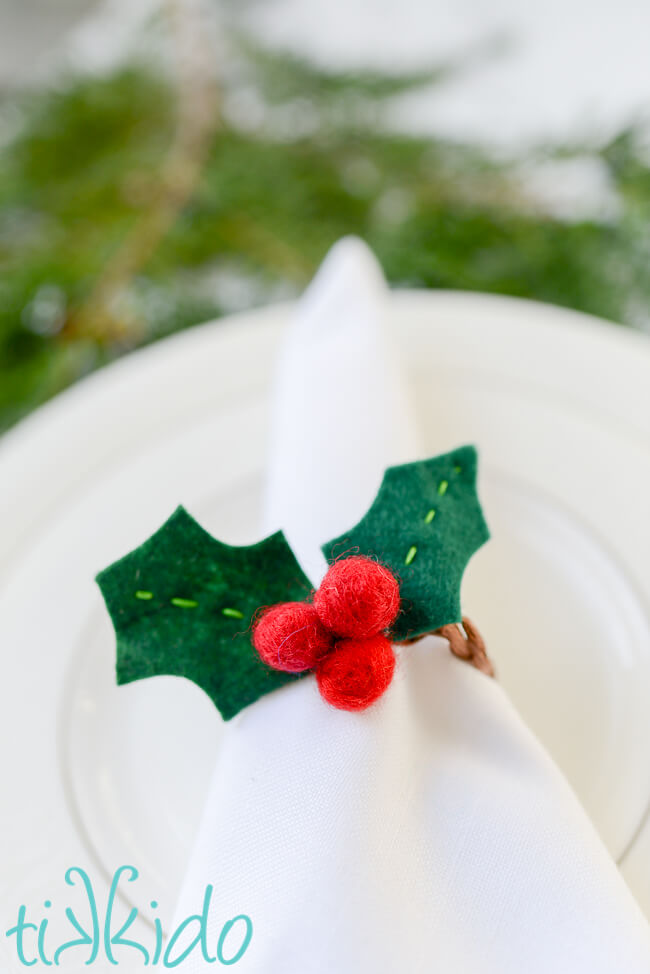 I used needle felted balls for this craft (here's the tutorial), but you can also make wet-felted felt balls if you don't have needle felting tools.  No tools necessary for that method--just some warm, soapy water and your hands.  You can also buy pre-made wool felt balls, or you could even use pre-made red craft pom poms.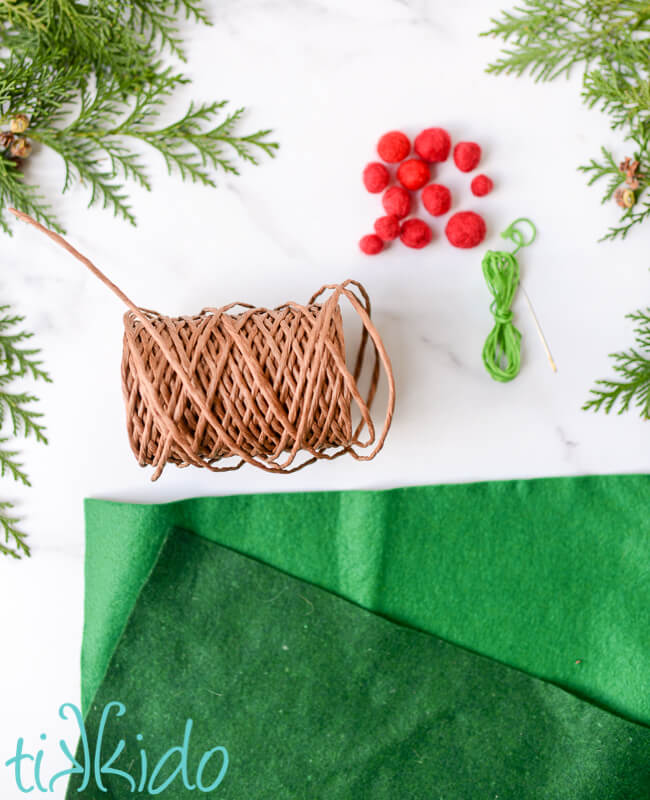 Materials for Felt Holly Christmas Napkin Ring:
green felt
lighter green embroidery floss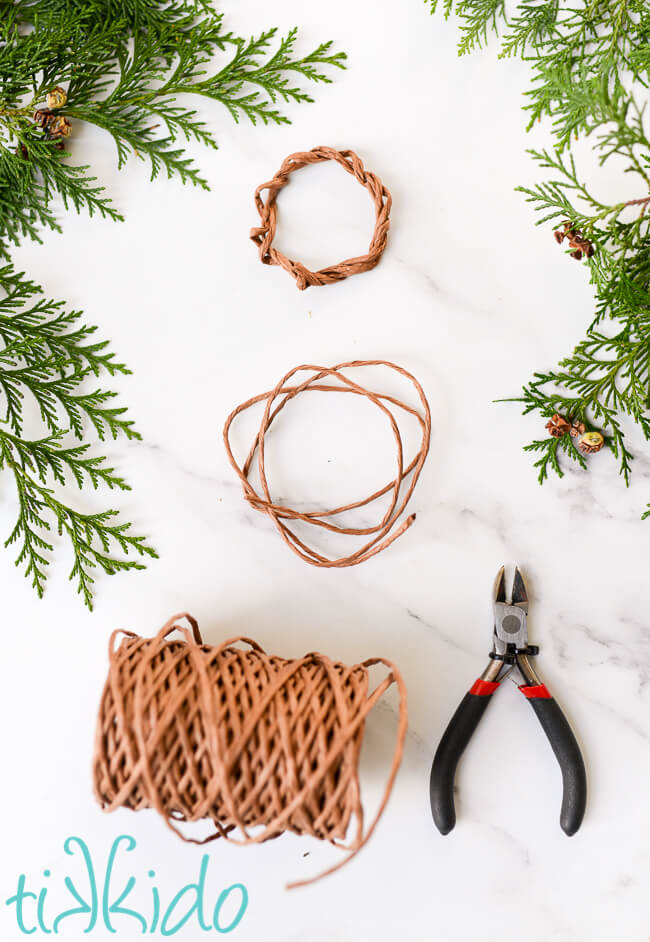 Cut a piece of the grapevine style floral wire approximately 30" long.  I don't actually measure the wire when I make these.  Instead, I wrap the wire loosely around the four fingers of my hand three times.  I measured it, though, and it's always just about 30 inches.
Wind the wire around itself to create a napkin ring that looks like a miniature grapevine wreath.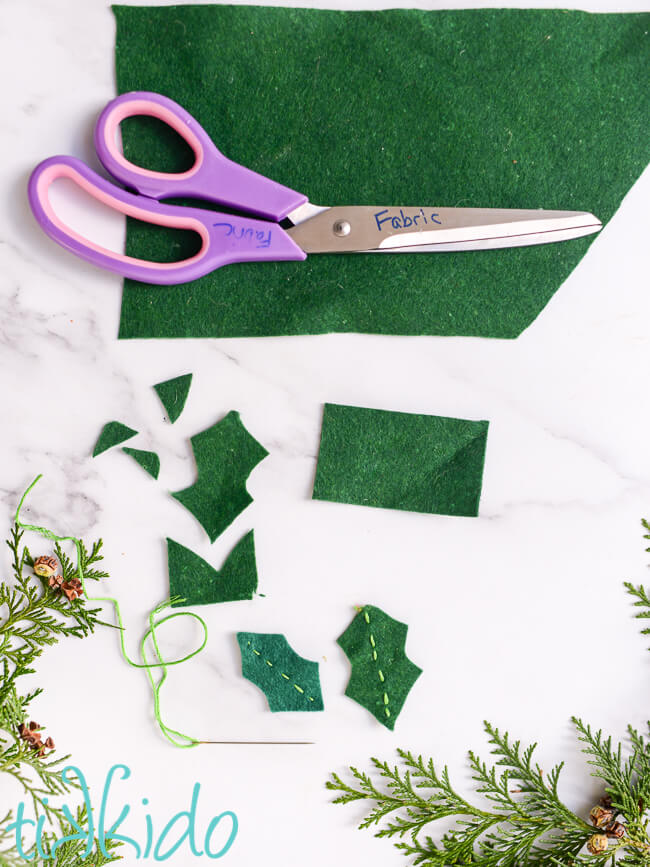 Cut felt into simple holly leaf shapes.  Use a lighter green embroidery thread to stitch a simple running-stitch line to add some dimension to the felt holly leaf.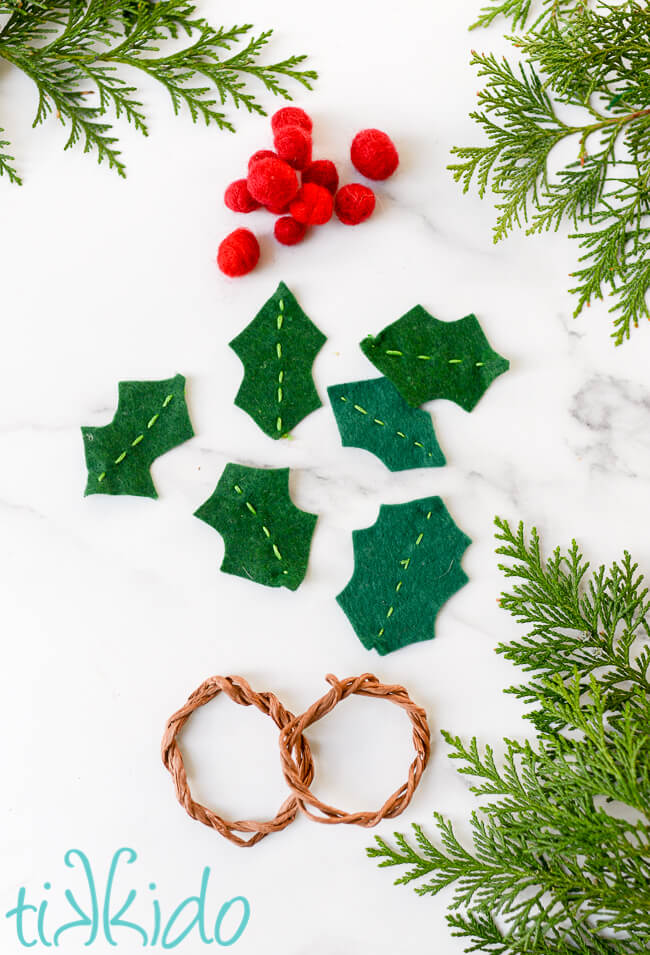 Now all that remains is to assemble the felt holly napkin ring!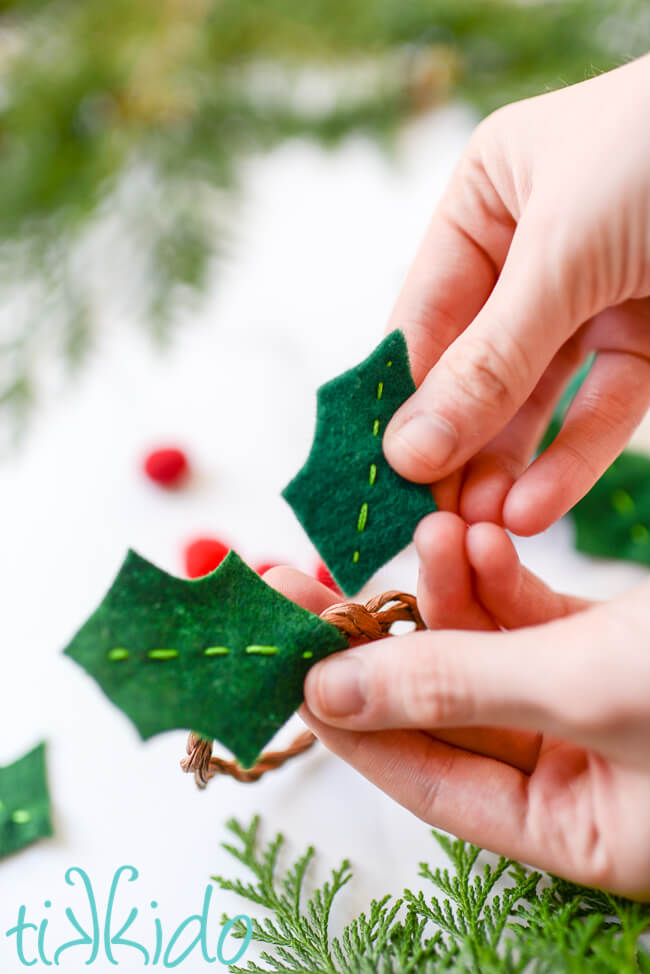 Use a low temperature hot glue gun to glue two holly leaves to the wire napkin ring.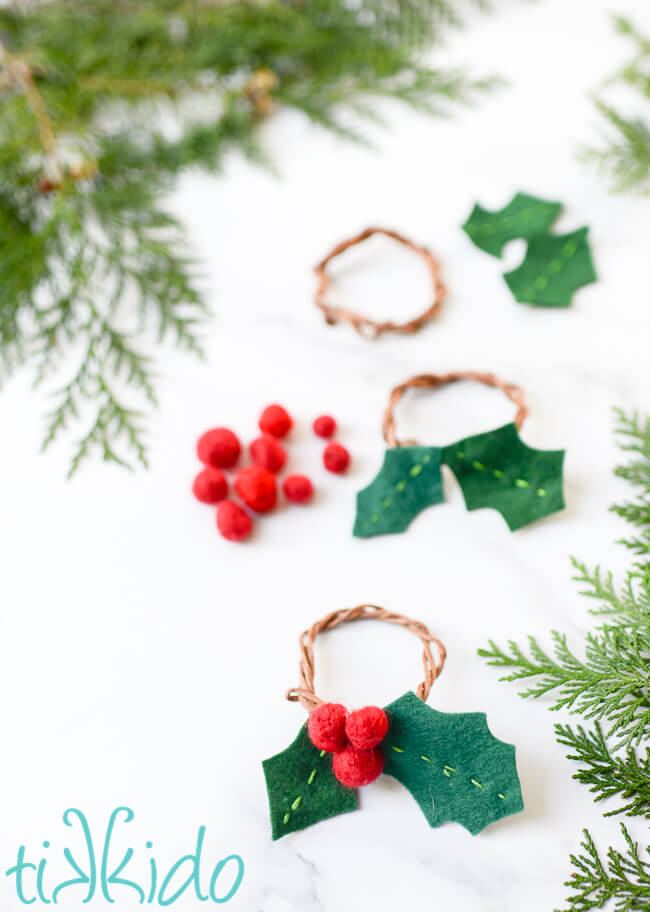 Add three red felt ball holly berries to the center of the napkin ring, where the points of the felt holly leaves are glued to the napkin ring form.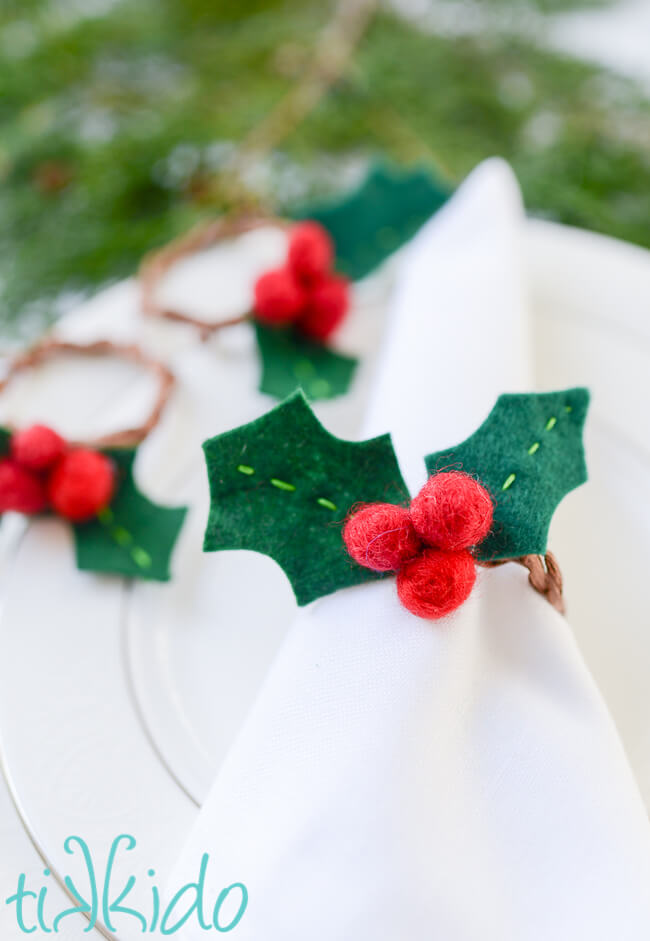 That's it!  Easy, right?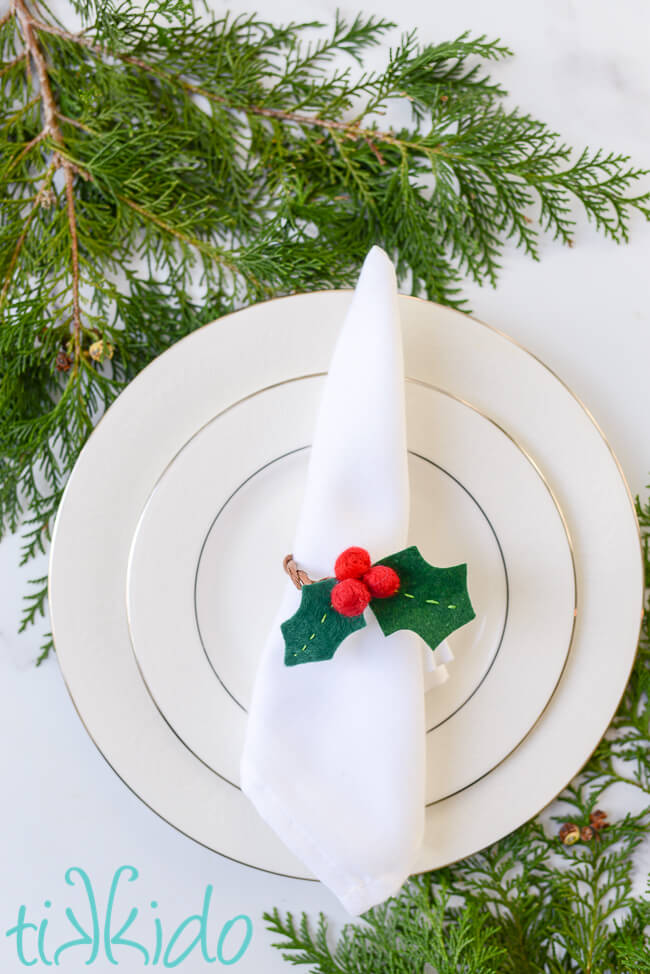 I absolutely love how these turned out, and I can't wait to use them on my own Christmas table this year.  But they'd also make a magnificent DIY gift to make and give to friends, family, and neighbors.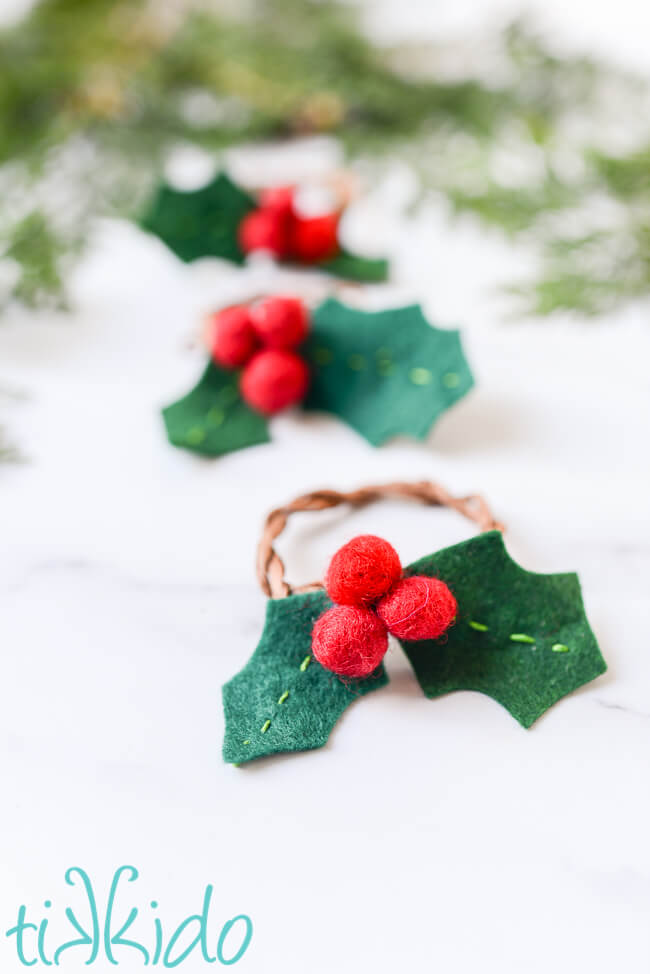 Who would you make these napkin rings for?
Festive Christmas Ideas DIY Gifts:

1. DIY Fabric Face with Center Seam My Pinterventures
2. Make This Dollar Store Gift Elf Cam Mug Using Cricut Intelligent Domestications
3. Christmas Treats Rock Art Christmas Tree Lane
4. DIY Herb Markers Made with Cricut Creative Cynchroncity

5. How to Make a Coca Cola Clock Farm Girl Reformed
6. Handmade Soap Gift Purple Hues and Me
7. DIY Snowflake Soap As For Me And My Homestead
8. DIY Car Care Gift Bag For Her - Festive Holiday Ideas - Homemade Gifts! Little Vintage Cottage

9. ZGallerie-inspired DIY glam candle holders From House To Home
10. How To Package A Cookie For Christmas Gift-Giving My Humble Home & Garden
11. Homemade Hot Chocolate Mix Coffee With Us Three
12. DIY Angel Mason Jar Gift An Alli Event

13. Memory Garment Hand Warmers Interior Frugalista
14. Christmas Cookies In A Jar With Free Printable Simply Inspired Meals
15. Snow Globe Shadow Box Craft Rocker
16. Holiday Cookie Mix Gift Sack with Printable Gift Tags Blogghetti

17. Lighted Snowflake Wine Bottle Mom Home Guide
18. Christmas Tea Towels DIY Across The Blvd.
19. DIY Gifts For Teens By Teens Polka Dot Poplars
20. Felt Holly Christmas Napkin Rings Tikkido

21. DIY Coasters with Infusible Ink Domestically Creative
22. DIY Monogram Tray -The Handmade Gift The Aspiring Home
23. Handmade Earrings Domestic Deadline
24. Haylee Scarf Free Crochet Pattern Eye Love Knots
25. Santa Hat Calming Jar Our Sutton Place
Other Napkin Ring Tutorials You Might Like: