Printer-friendly version
Swedish paper hearts are an easy Christmas ornament to make with just some colored paper, scissors, and a little glue.  I've even created a printable Swedish paper heart template to make this craft even easier.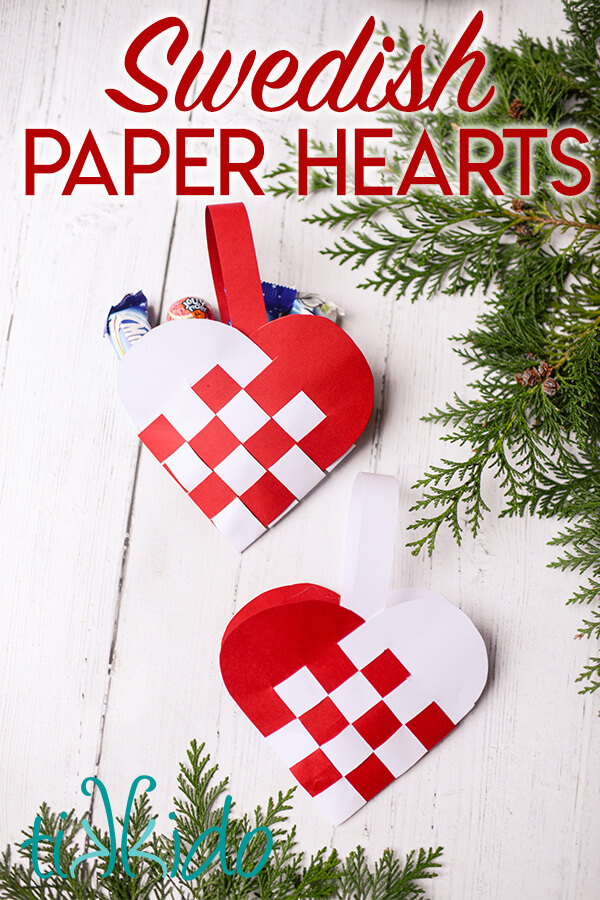 Welcome back to year 6 of our Festive Christmas Event where we team up with a bunch of talented blogging friends to bring you a plethora of creative ways to celebrate your holiday season.
We will be baking some cookie recipes for you, sharing some party games, making some handmade gifts, doing some ornament crafting, and sharing our Christmas movies family fun. There will be breakfast recipes and as always our decorated Christmas Trees which is always a fun tour of homes.
You will find new ideas every Monday and Wednesday between Oct. 19th through Nov. 18th. Scroll all the way down to find all the ideas linked at the end.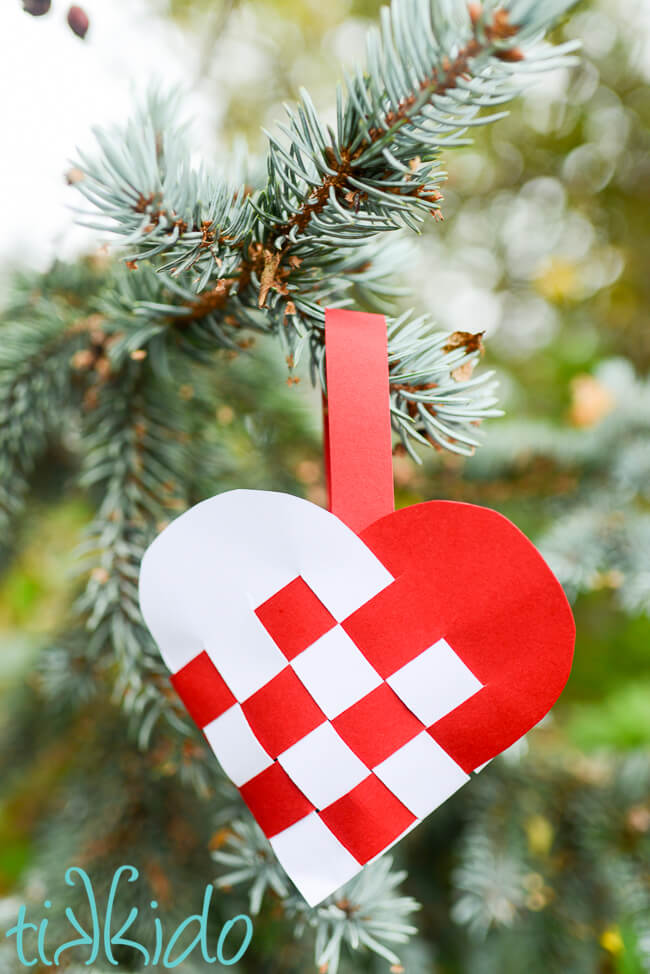 Our theme today is Christmas Ornaments!  I've been making these Swedish woven paper heart ornaments for many, many years.  They've even appeared on the blog before, though this is the first time I've written a tutorial.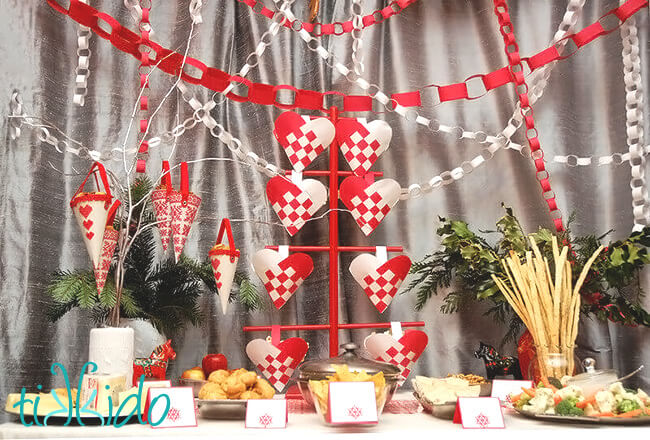 They were featured in my Swedish Christmas themed gingerbread decorating party from way back in 2010!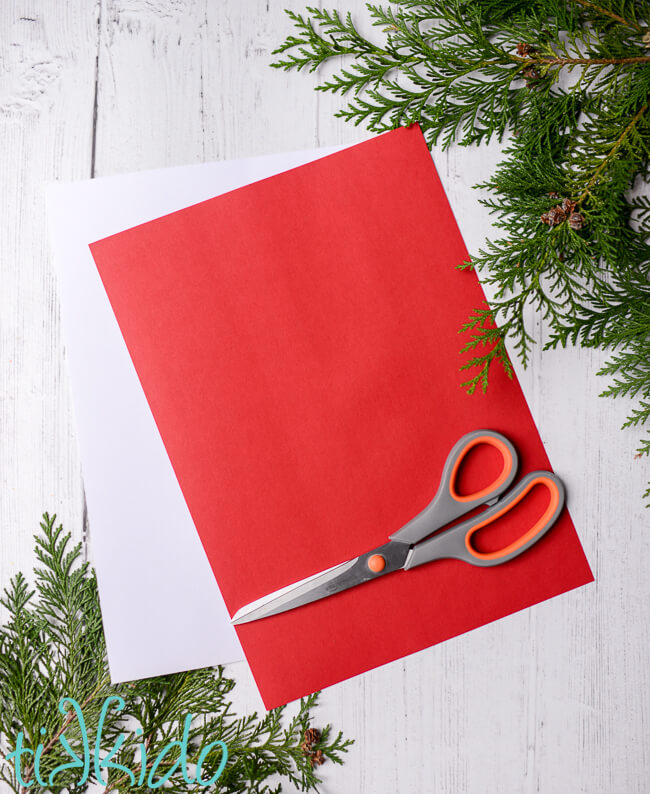 Swedish Paper Hearts Materials: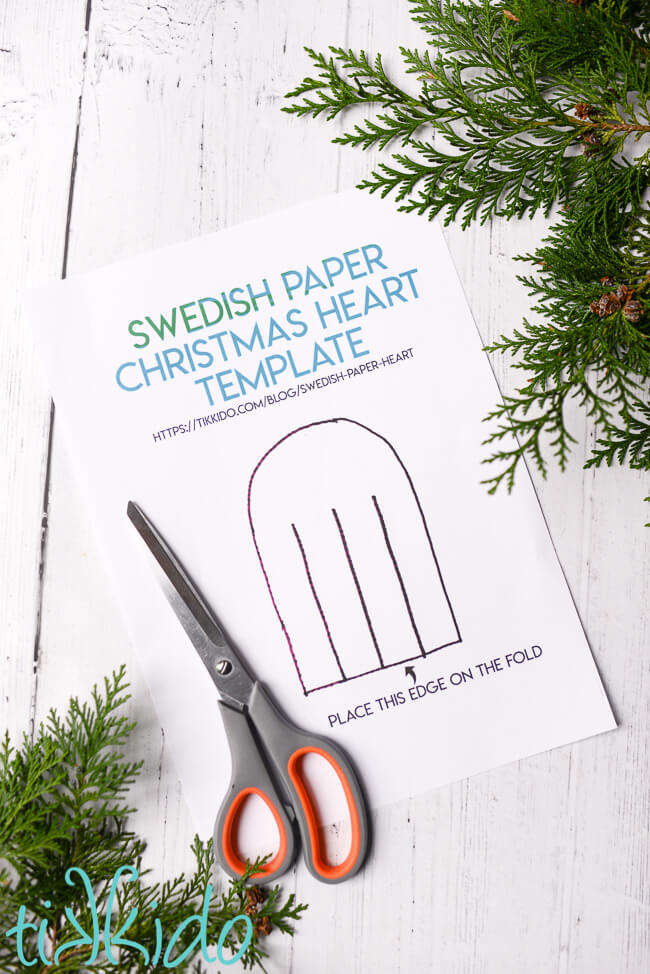 You can make these Scandinavian paper hearts in any size, of course.  And you can get fancy and create really beautiful patterns by making more cuts, and varying the width of the cuts of paper.  But this is the classic, basic design, and will get you started making Swedish woven paper hearts. 
Swedish Paper Heart Template: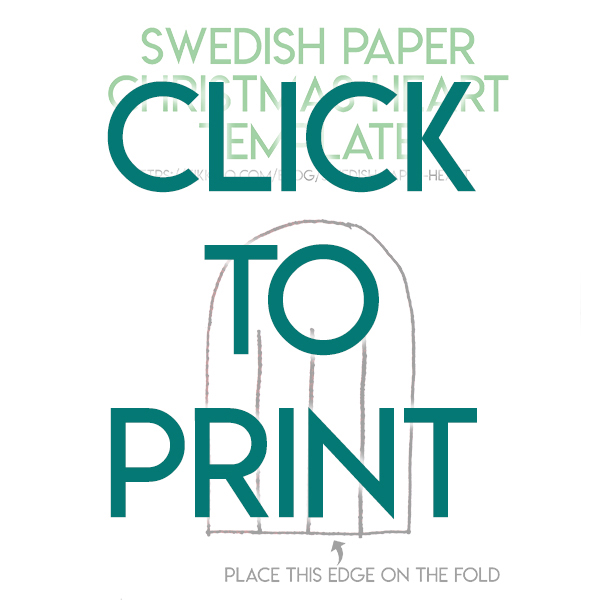 Print out the woven paper heart template, and cut out the template shape.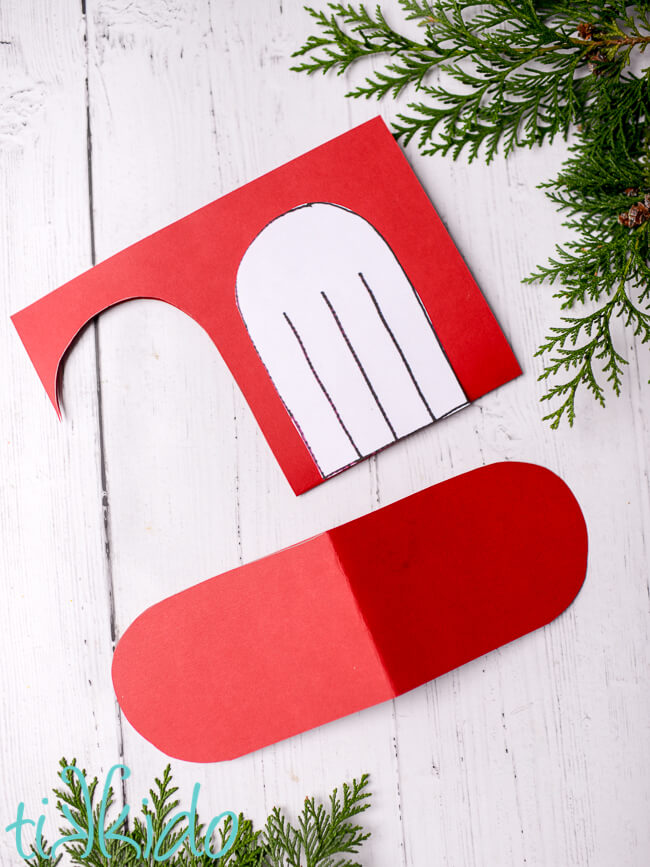 Fold a piece of card stock in half.  Place the bottom (straight) edge of the template ON THE FOLD.  Trace around and cut it out.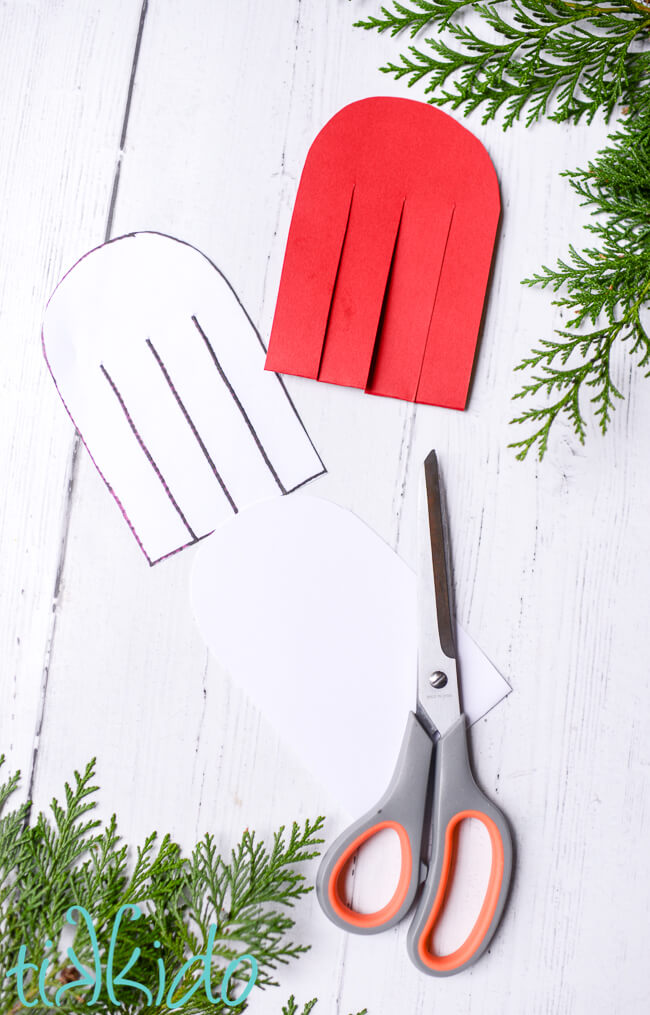 Cut along the lines in the template so you have four strips in your folded piece of paper.  Make one of red, and one of white.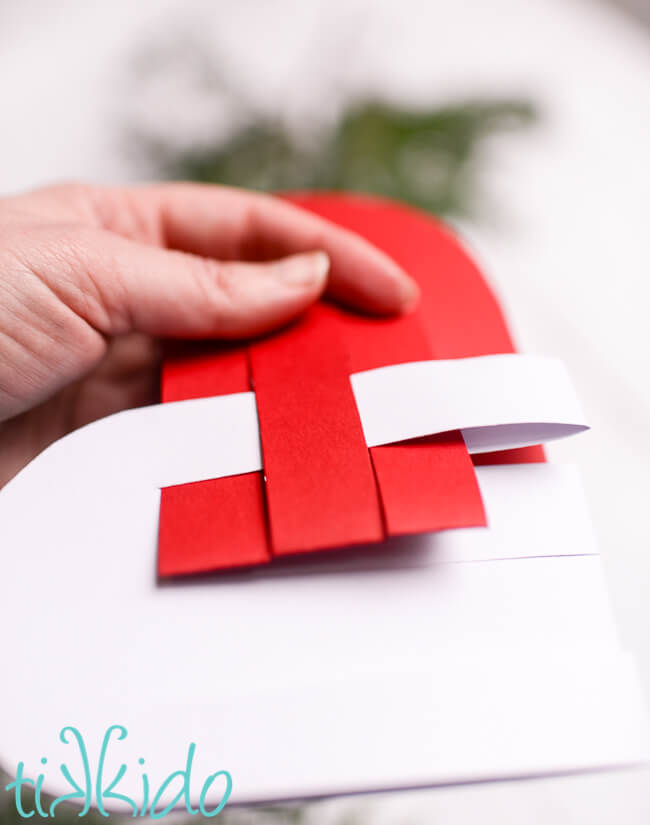 How to Make Swedish Paper Heart Ornaments:
Now it's time to weave--but it's a little more complicated than just over-under-over-under.  To make the basket, you need to weave the fingers of paper INSIDE the other.  Think of it more as weaving inside-outside-inside-outside.  Put the first finger of red paper inside the finger of white paper, then put the next red finger of paper outside that same finger of white paper, etc.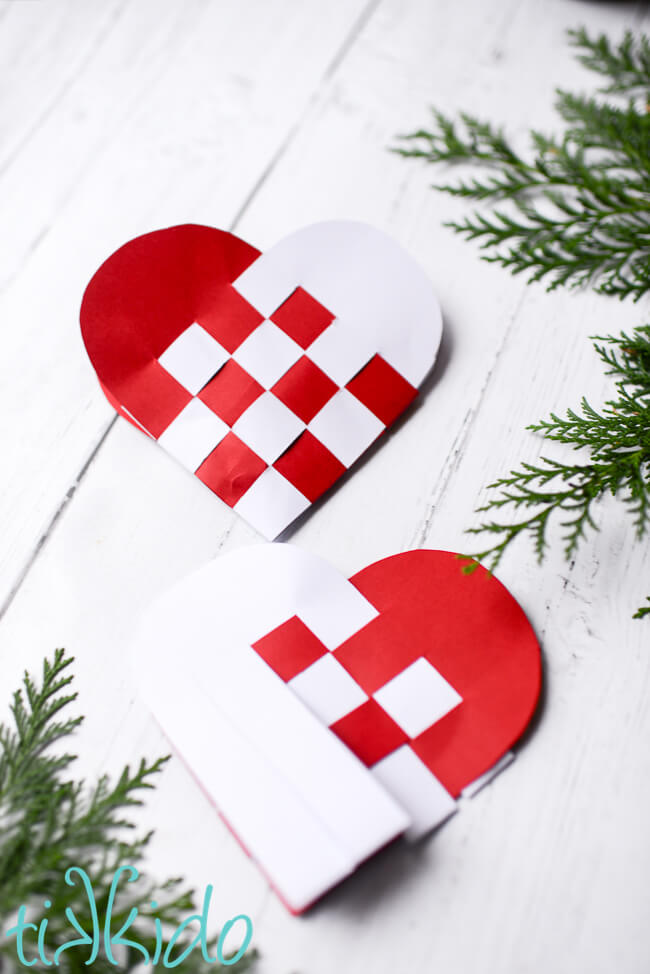 It's hard to show the process well in just still photos, but the video I made should help you understand what I mean.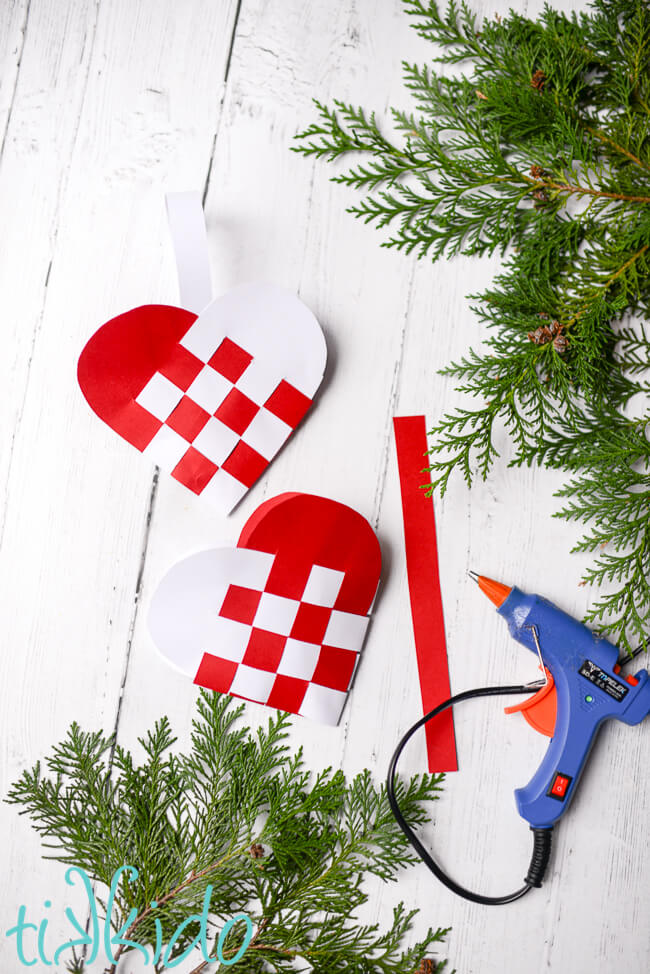 When the two pieces are woven together, glue a strip of paper on the inside of the woven heart to create a basket handle or ornament loop.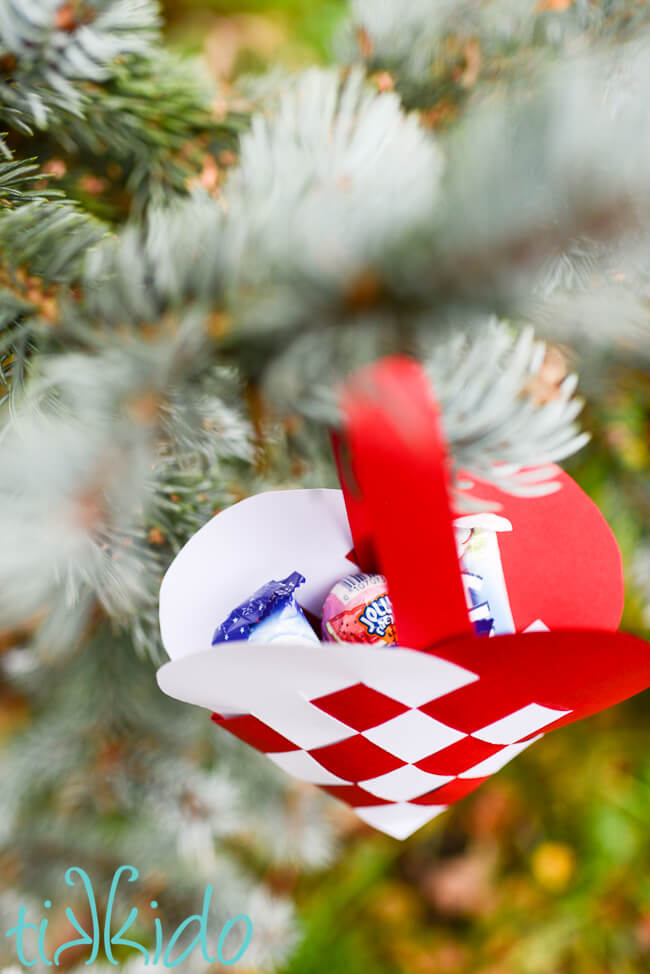 These Swedish paper heart ornaments are lovely just as they are hanging on a tree, but they're also fun to fill with treats, like candy.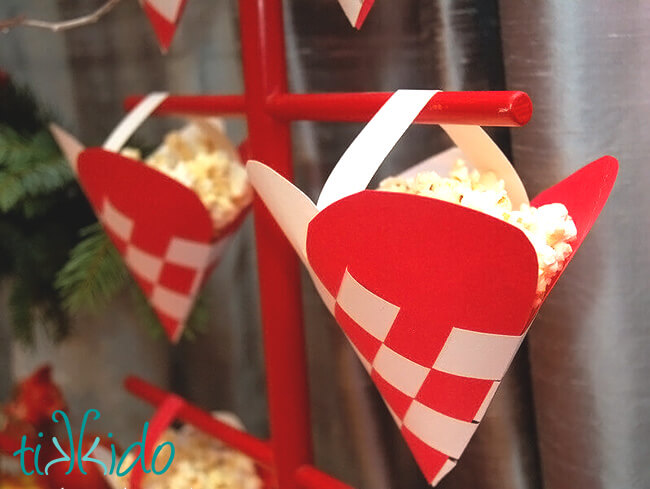 I filled them with popcorn at our Swedish Christmas gingerbread party.  (We had more than enough sugar with all the gingerbread decorating candy and icing that got eaten that night.)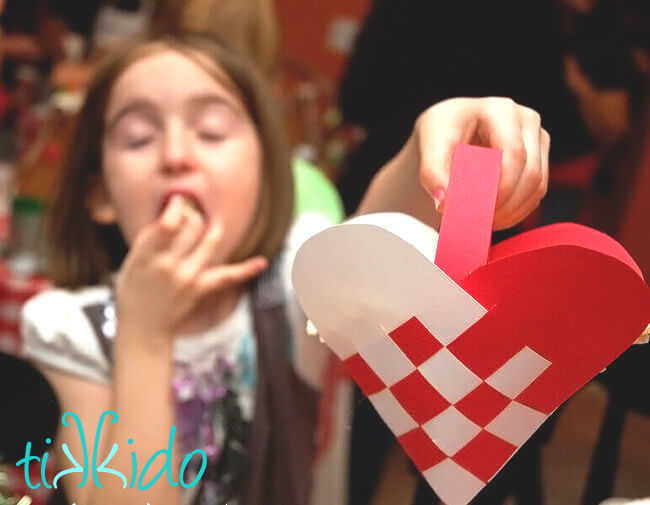 The popcorn was definitely a hit, but the kids loved the pretty woven hearts, too.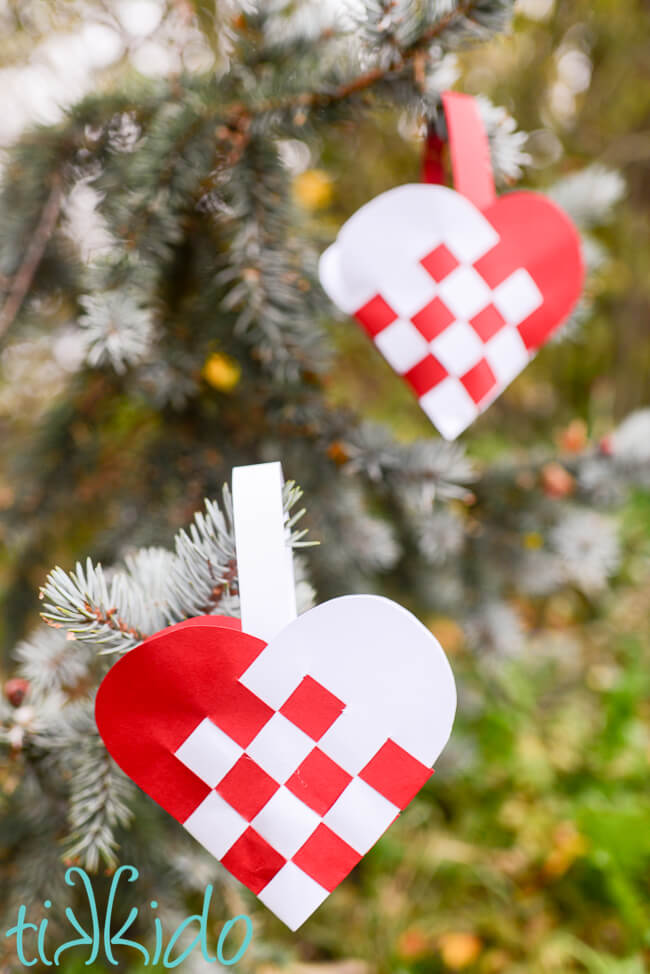 What would you fill your Swedish paper hearts with?
Other Fabulous Ornament Tutorials from the Festive Christmas Ideas Blog Hop:

1. How to Make Animal Crossing Balloon Present Ornaments My Pinterventures
2. Easy Painted Wood Slice Ornaments In Bright Colors Intelligent Domestications
3. DIY Wood Burn Ornaments As For Me and My Homestead
4. Marbled Ornaments The Aspiring Home

5. Snow Globe Ornaments From Recycled Ice Cream Lids! Little Vintage Cottage
6. Minion Ornaments Coffee With Us 3
7. Crystal DIY Christmas Ornaments From House To Home
8. DIY Pour Painted Christmas Ornaments Blogghetti

9. DIY Christmas Tree Ornament: Easy Decoupage Craft An Alli Event
10. Organza DIY Embroidery Hoop Ornaments Interior Frugalista
11. Disney Holiday Cookie Ornament Craft Simply Inspired Meals
12. Glittery DIY Candy Ornaments with Your Cricut Craft Rocker

13. DIY Starfish Ornaments for a Coastal Tree Across The Blvd.
14. Clothespin Snowflake Ornaments Polka Dot Poplars
15. Farmhouse DIY Christmas Tree Ornament Pretty DIY Home
16. Lightweight Bauble Ornament Eye Love Knots

17. Woodland Ornament DIY Christmas Tree Lane
18. Simple DIY Leather Christmas Ornaments Domestically Creative
19. Light Up Christmas Lantern Ornament Purple Hues and Me
20. DIY Wood Slice Christmas Ornaments Mom Home Guide

21. Lettered Wood Slice Ornaments Creative Cynchronicity
22. Swedish Paper Heart Ornament Tikkido
23. Personalizing Ornaments with a Cricut Domestic Deadline
24. How To Make One-of-a-Kind Snowman Ornaments My Humble Home and Garden

25. DIY Wood Slice Ornaments Farm Girl Reformed
26. How to Make Super Simple and Sparkly Christmas Ornament Our Sutton Place
Other Christmas Ornament Tutorials from Tikkido that You Might Like: