Printer-friendly version
Who has lots of cookie cutters and various cake decorating stuff?
(raises hand)
Who always vows to get more organized every New Year?
(raises hand)
It's a perpetual struggle in our house, but I finally have a good system for coralling all my cookie cutters and various small cake decorating supplies, and I found the solution in the scrapbook section of the craft store.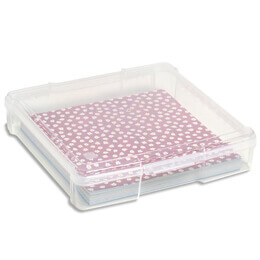 These clear plastic bins are meant to hold 12x12 scrapbook paper, and are usually $8.99 at my local Michaels.  But they're often on sale, and whenever I see them at 50% off (like they are right now), I pick up a few.
They hold a surprising number of cookie cutters and stack really well!  We just installed some Ikea Besta storage cupboards in the office, but they were stacked very nicely in the guest room closet before they moved to their new home.
I simply taped paper labels to the front of each container, divvied up my cookie cutters by shape, and labeled what was inside.  When I buy a new cookie cutter, it's incredibly easy to write down the new addition to the box.
And if you're using a Besta cabinet from Ikea, not only do the scrapbook containers fit perfectly depth-wise, but the leftover space turns out to be the perfect size for the cheapest plastic shoebox sized storage containers from Target.  I'm going to be soooo organized.  As soon as I finish organizing!
And, by the way, those 12x12 scrapbook storage boxes are also absolutely perfect for saving school year treasures.  I get one for each girl for each year of school, label with the name, grade, year, and teacher, and stow the special things that come home during the year.