Printer-friendly version
Succulents and cactus are so trendy right now, and I'm all in.  I love it.  And I really love these watercolor succulent sugar cookies.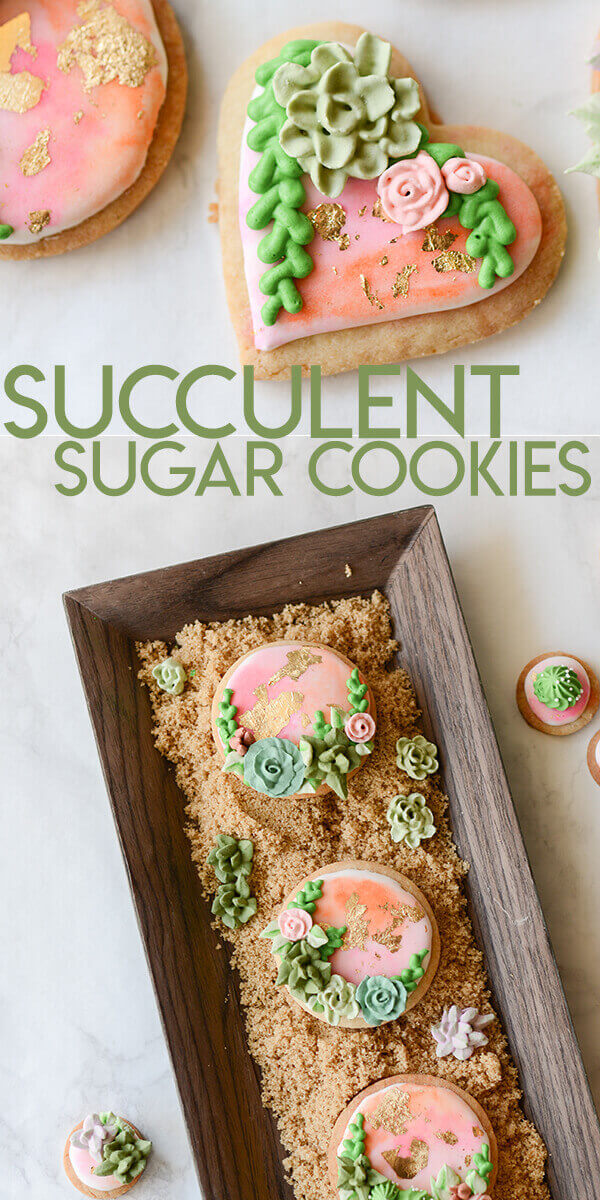 I can go for a hike here in Phoenix and see actual desert landscape any time, but somehow it's even better when it's in cookie or cake form.  No big surprise there, I suppose.  ;-)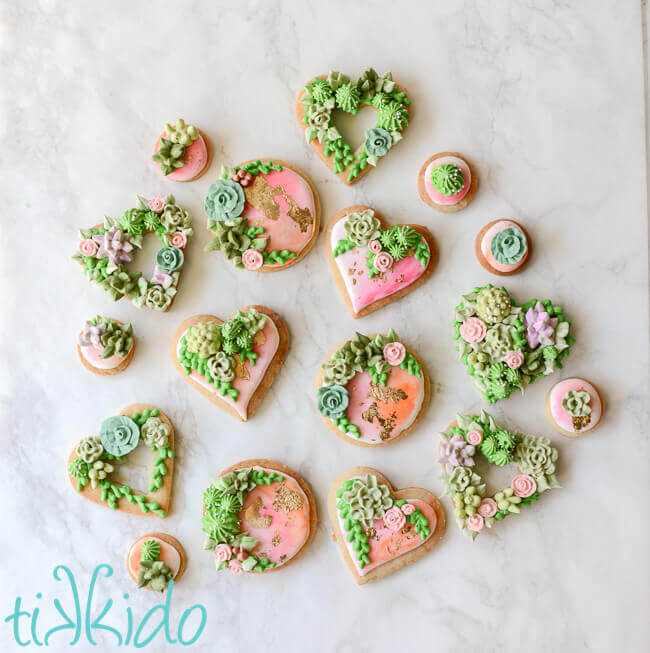 My girls are both Irish dancers, and we recently had the feis (Irish dance competition) that our dance school puts on, and I created some succulent garden cookies for the judges, to help welcome them to the desert from around the country and around the world.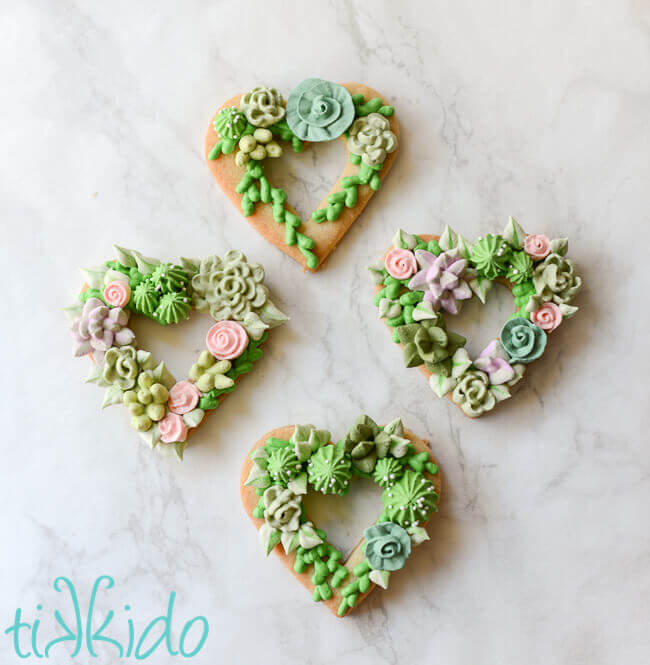 But really, I'd been looking for an excuse to make some succulent cookies.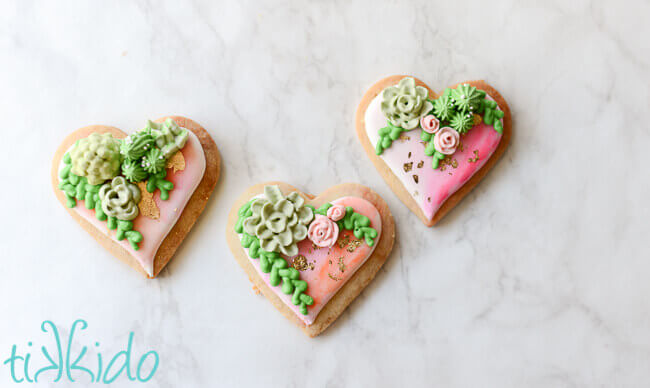 I made some for my family, too, and made some in heart shapes, which I thought would be fun for a Valentine's day cookie.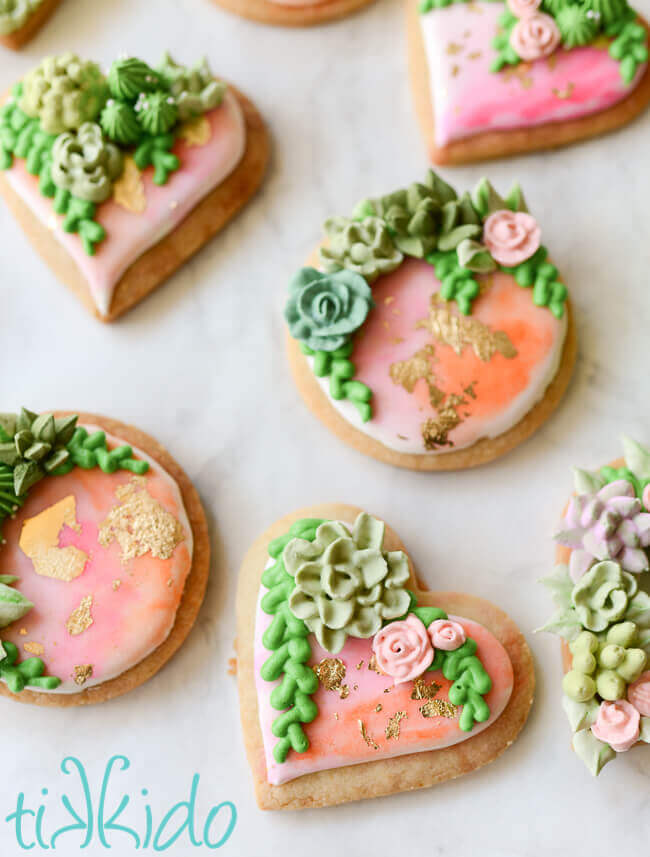 I love using real gold leaf on my cookies, too.  Instant elegance, but with a very organic, natural look.  Minerals and cactus just seem to go together, don't they?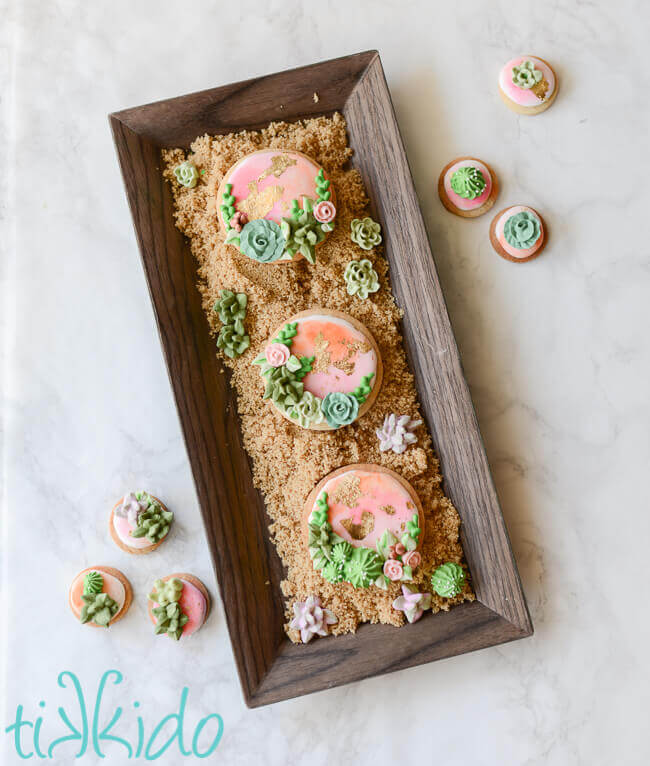 Elegant Succulent Garden Cookies Tutorial: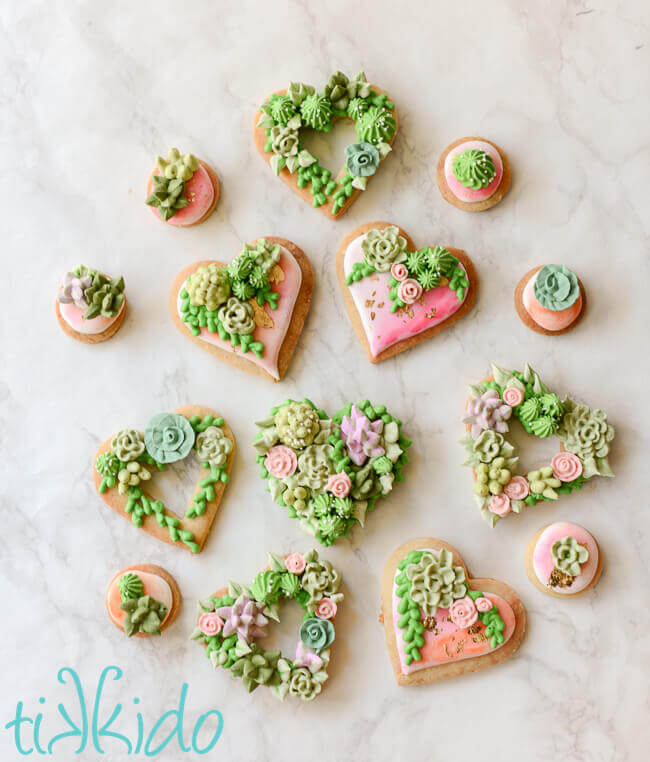 Making these cactus cookies isn't hard, but it does take some planning and prep work.  You can't do it all in one go.  The upside is that you can do some of the elements far in advance, and not have to do all the work at once.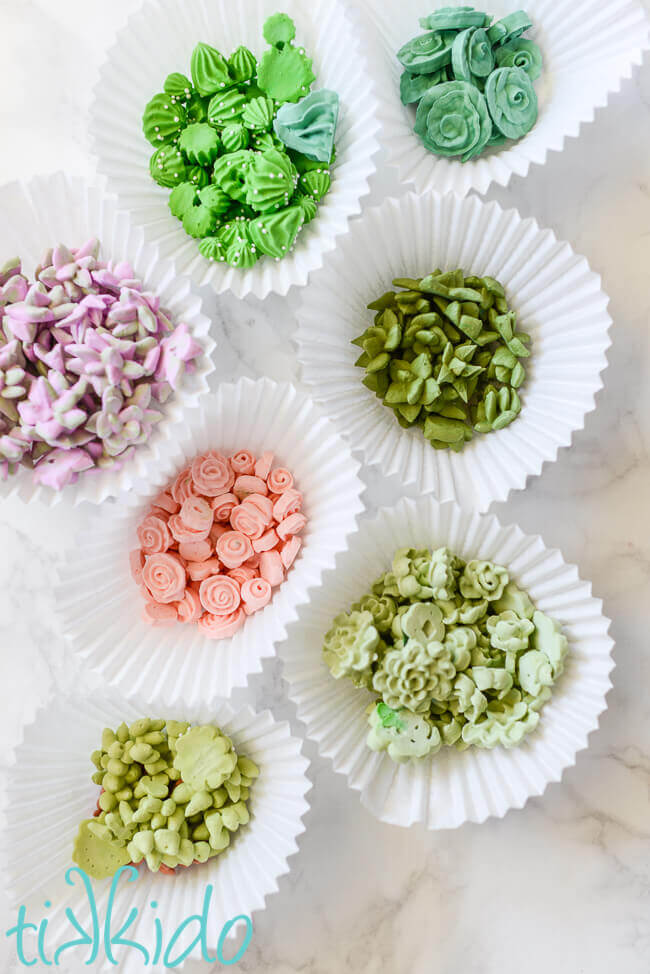 Namely, you have to make all the cactus and flowers (or at least most of them) out of royal icing ahead of time and let them dry completely.  So this needs to happen at least a few hours before you want to put them on the cookie, and they can be made months--years--in advance. You can read all about how my grandmother, who was a professional cake decorator, used to use all her leftover royal icing to make tiny royal icing decorations that she'd use in the future.
I watched a bunch of succulent buttercream piping tutorials on YouTube (like this one) and then just adapted the techniques to make smaller succulents and used royal icing instead of buttercream.  But the techniques are the same.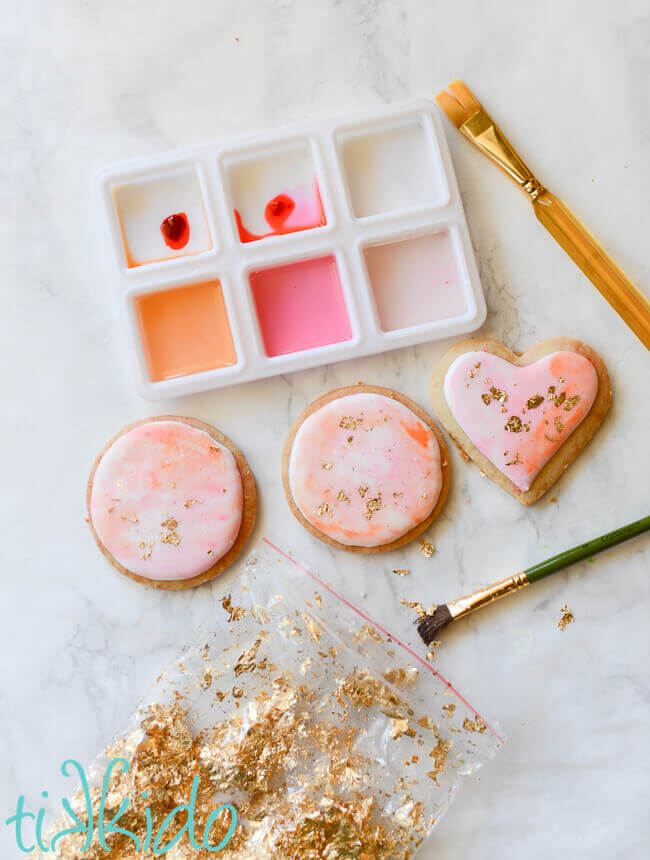 Bake your sugar cookies (here's my favorite recipe).  Make a batch of royal icing (the kind of icing that hardens when it dries), thin some to flooding consistency, and cover your cookie shapes.  Let dry completely (at least a few hours!).  I flooded my cookies with white icing, and then painted on food coloring thinned with Everclear alcohol (it evaporates so quickly!) to give it a watercolor, desert sunset kind of effect.  
While the painted cookies were still wet, I brushed some edible real gold leaf flakes on top of the cookies.  The moisture is enough to activate some of the sugar in the icing and adhere the gold to the cookies.  But work quickly!  Like I said, that Everclear evaporates REALLY quickly.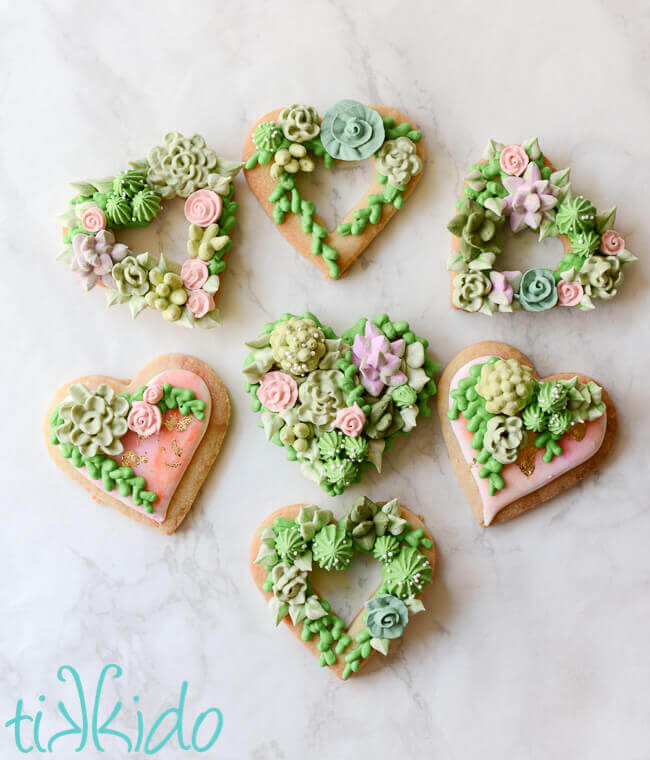 The kind of vine-like succulents were piped directly on the cookie, but all of the flowers and other cactus were pre-made and just stuck on the cookies with small dabs of icing.  I used a leaf tip (a v-shaped style one like this) and some green icing to fill in any gaps and add a little bit more greenery to some of the cookies.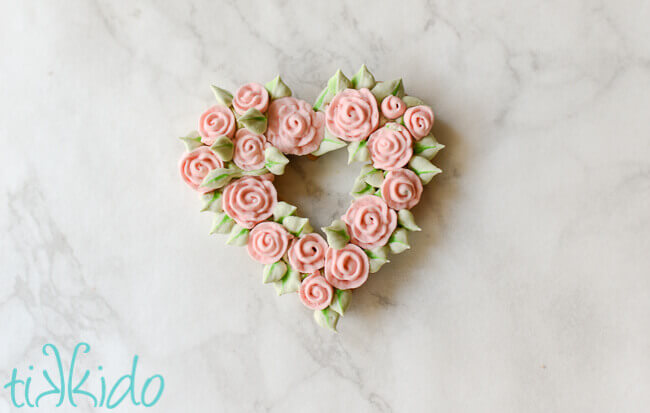 I also made one cookie with just the ribbon roses and freshly piped leaves.  Pretty too, but I like the cactus ones best!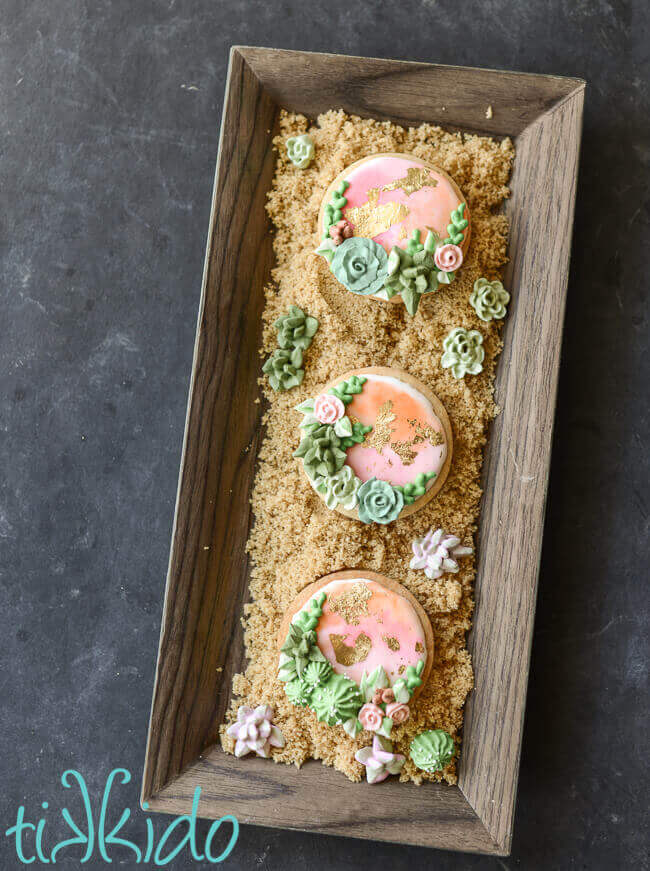 I'm working my way up to trying a cactus cake, but first I'm going to start with cupcakes, I think.  I have a bunch of these little icing cactus left over just waiting to be used, after all!