Printer-friendly version
Do you decorate for St. Patrick's Day?  Yeah, neither do I, typically.  Since I was and Irish dancer, and my two girls are Irish dancers, we're usually too busy around St. Patrick's day to decorate.  It's a big deal to us, but it's not a big decorating holiday.  Still, I came up with three really easy St. Patrick's Day garlands to make if you feel like sprucing up your home with a little Celtic spirit.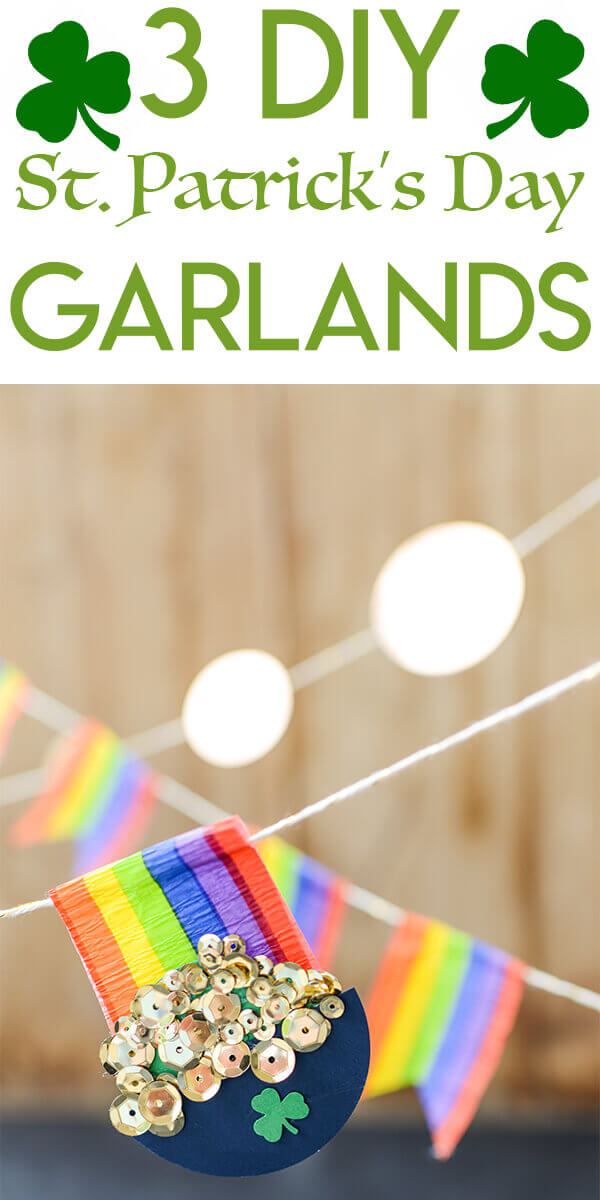 You know it actually has to be legitimately easy if I'm going to do it during the St. Patrick's Day performance season.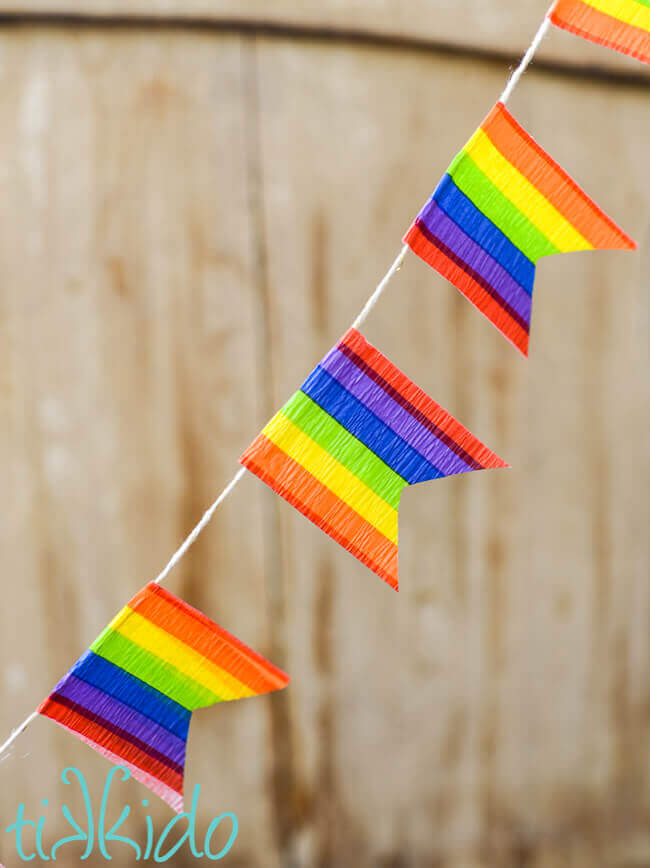 Although...rainbows... I do love rainbows.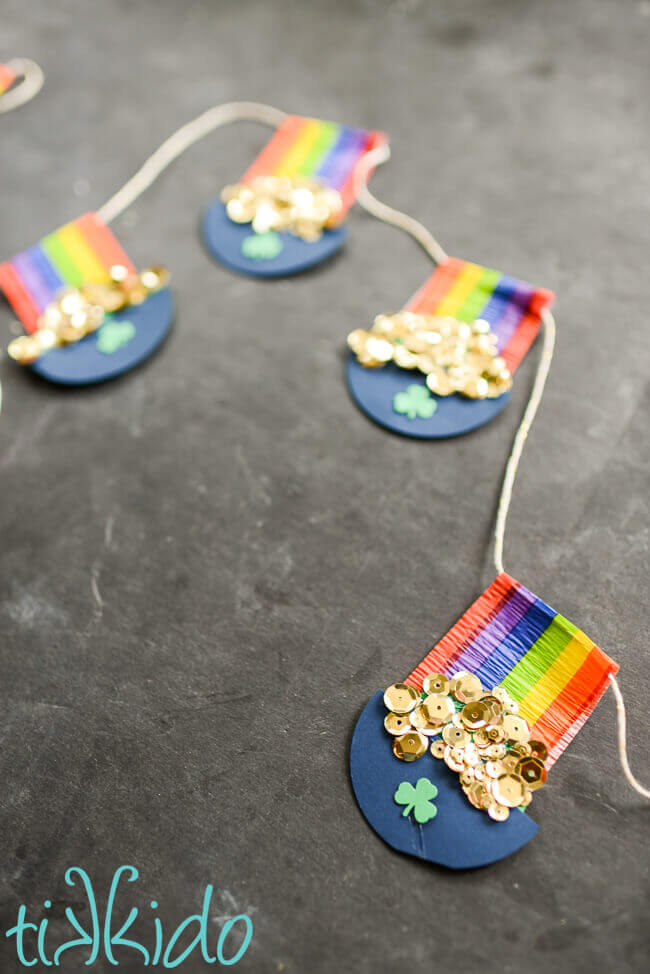 Adding in pots of gold is a logical extension.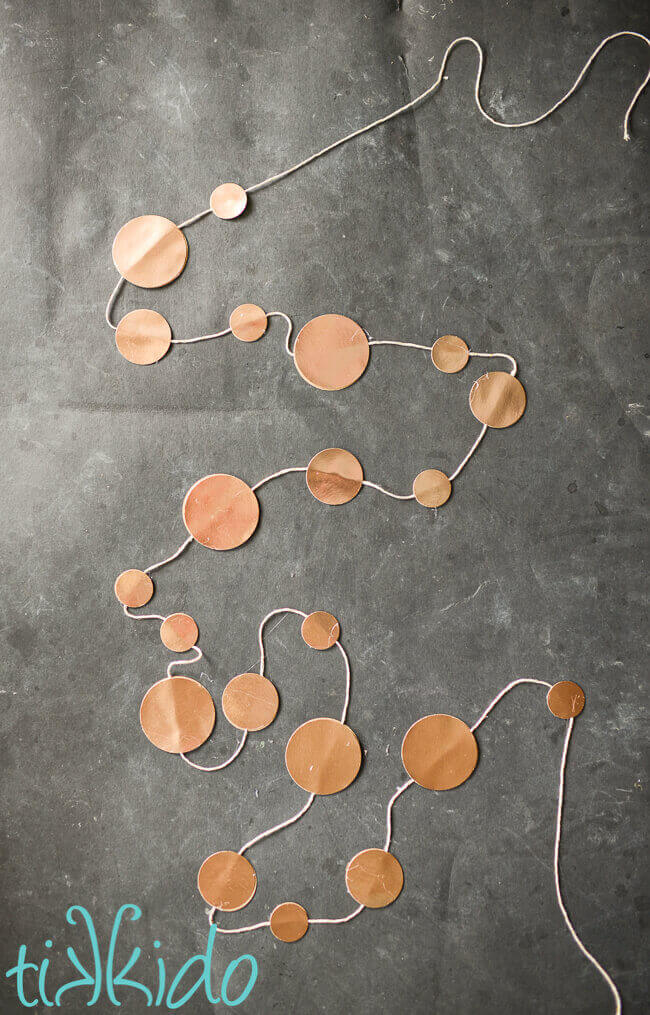 And a simple golden coin garland, well, that's practically a gimmie.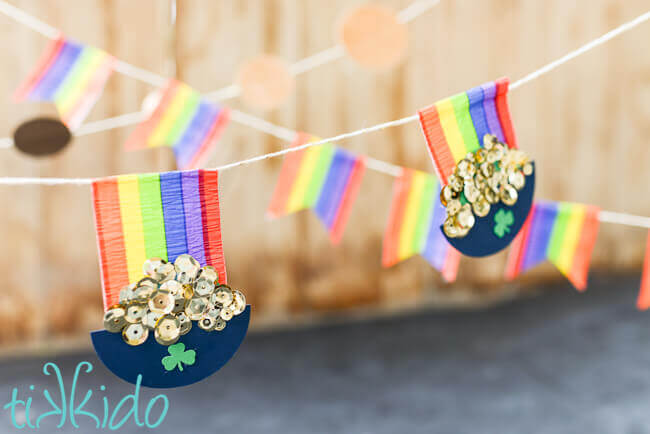 These pots of gold are stinkin' cute, right?  My eight year old daughter came up with this idea.
Pot of Gold at the End of the Rainbow St. Patrick's Day Garland Tutorial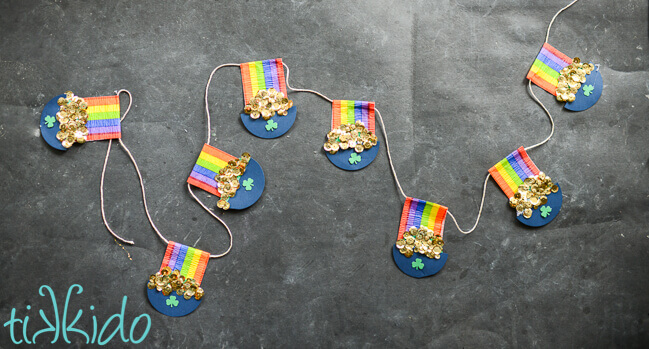 This pot-of-gold at the end of the rainbow garland is as St. Patrick's Day as it gets.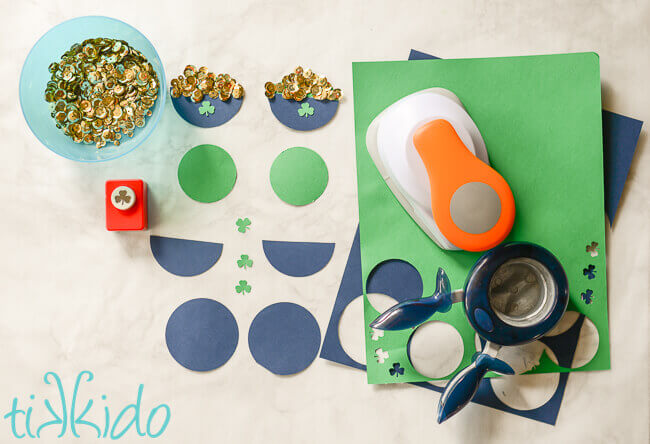 Materials and Supplies for Pot of Gold Rainbow Garland: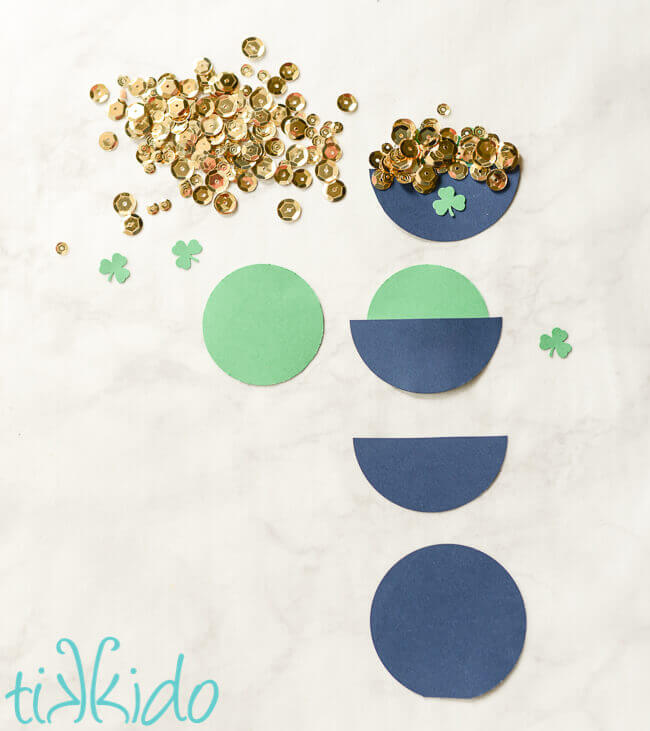 The pot for the pot-of-gold is made out of a 2" circle punch, cut in half.  The filling is made with a 1.5" circle punch, glued to the back of the half 2" punch.  You could make them any size . you want, of course.
To add the gold sequin coins, apply hot glue liberally on the green section of the pot-of-gold, then quickly dip it in a bowl with the gold sequins.  This is not only much faster than applying each individual sequin, it also looks much more organic and natural.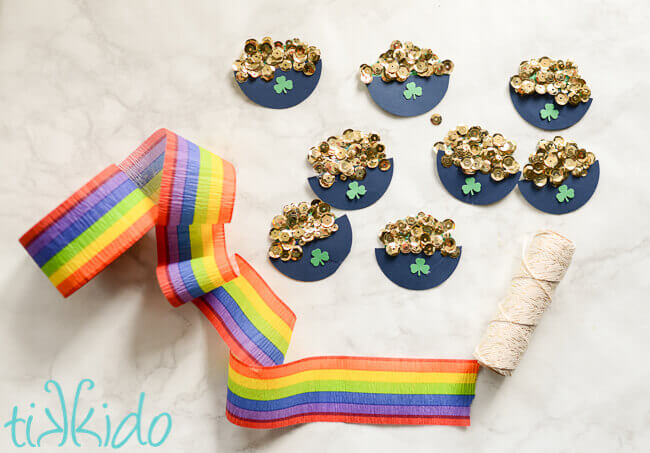 Add a small shamrock paper punch to the pot, if you desire.  I think it really added to the finished product, but it's definitely an optional element of the craft.  An easier way to do it would be to use shamrock stickers (and ooh, look, these ones are sparkly!)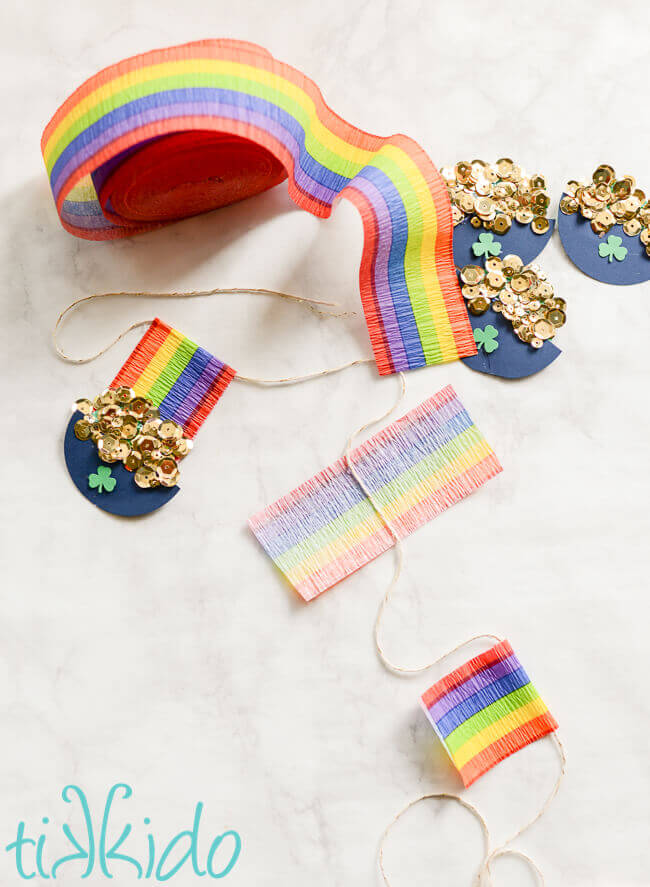 Cut an approximately 4" length of the rainbow crepe paper.  Glue the center of that piece to a string for the garland.  Glue the crepe paper over itself, doubling over the garland string.  Glue the pot of gold to the bottom of the rainbow garland tab.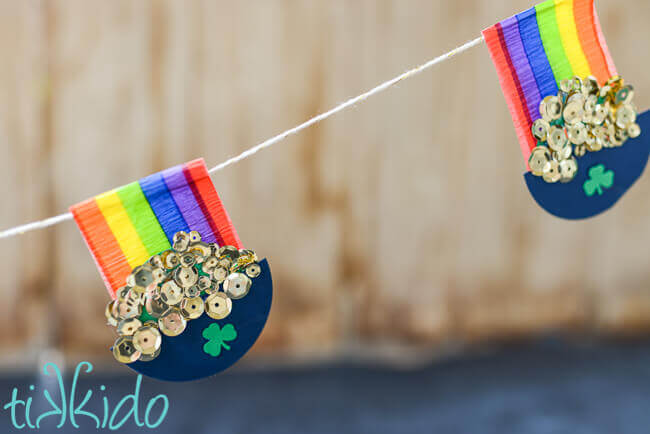 looks delightfully lucky, right?  
Crepe Paper Rainbow Bunting Tutorial: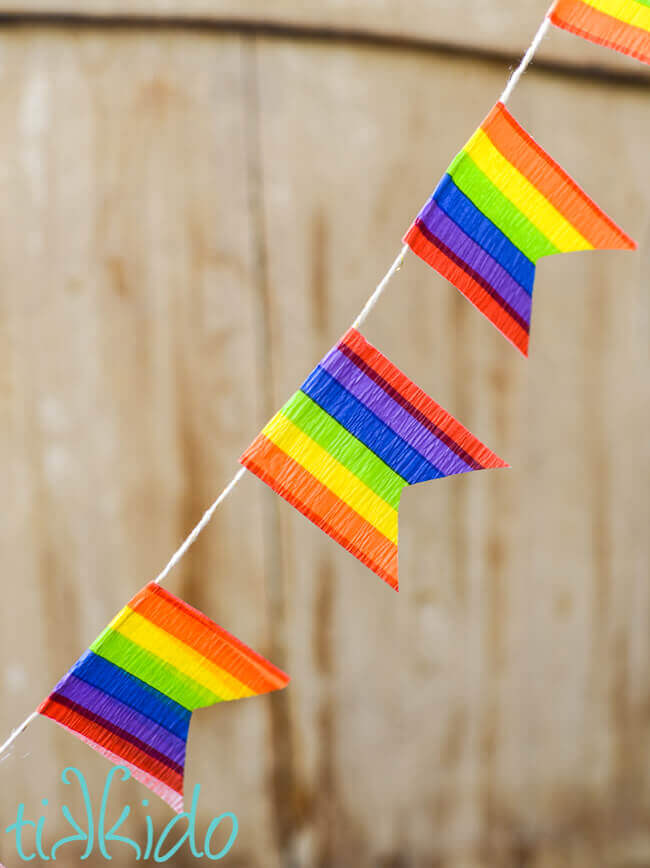 This classic rainbow bunting and garland is easily made with an inexpensive roll of rainbow crepe paper and some string.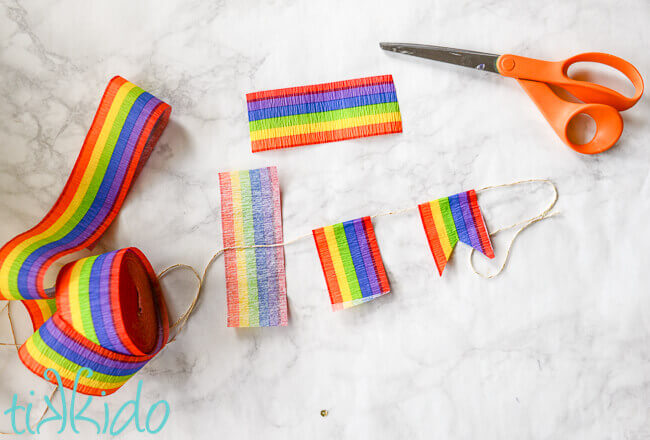 To make this rainbow bunting, cut 5" lengths of rainbow crepe paper.  Fold in half, and glue the string along the center fold of the "wrong" side of the crepe paper.  
Apply glue to the wrong side of the paper, and fold in half, sandwiching the garland string between the halves of the crepe paper.
Fold the ends of the crepe paper in half, and cut the paper in a penant shape.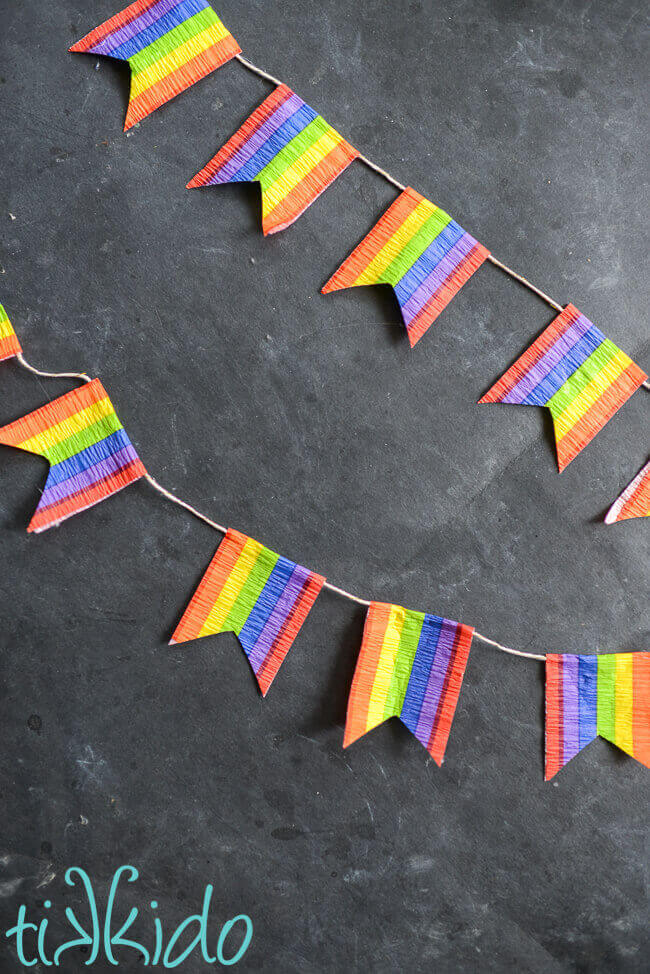 Rainbow victory!!!
Gold Coin St. Patrick's Day Garland Tutorial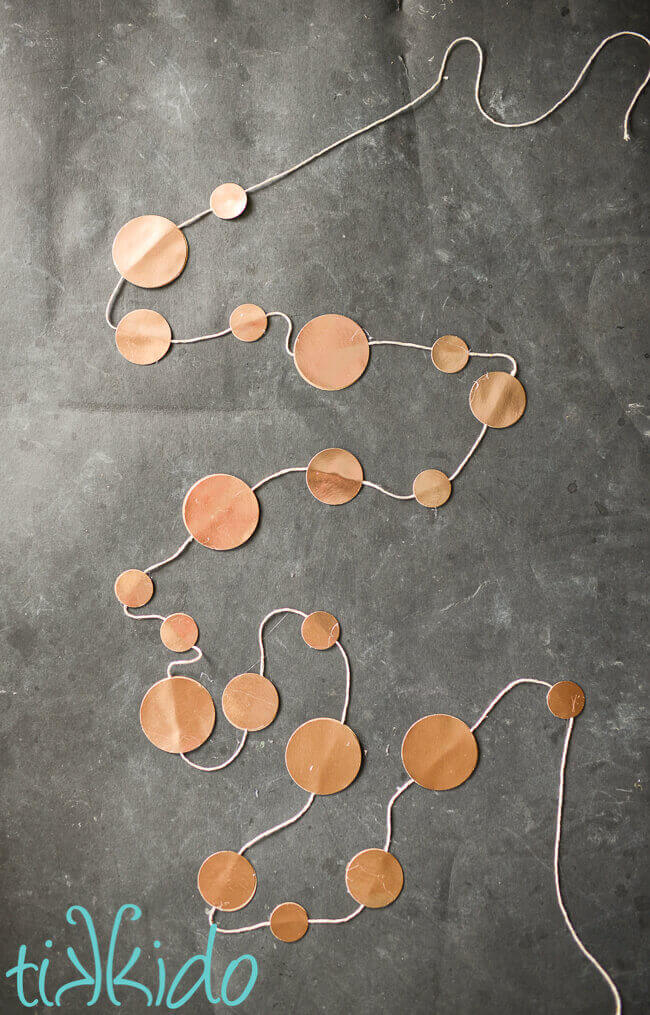 This golden coin St. Patrick's Day garland tutorial couldn't be easier to make.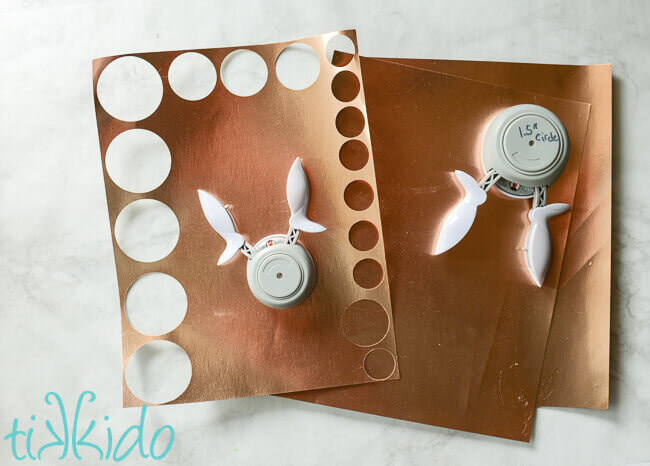 All you need is metallic paper (gift wrapping paper is an inexpensive way to go for this craft), a low temperature hot glue gun, circle punches, and some string.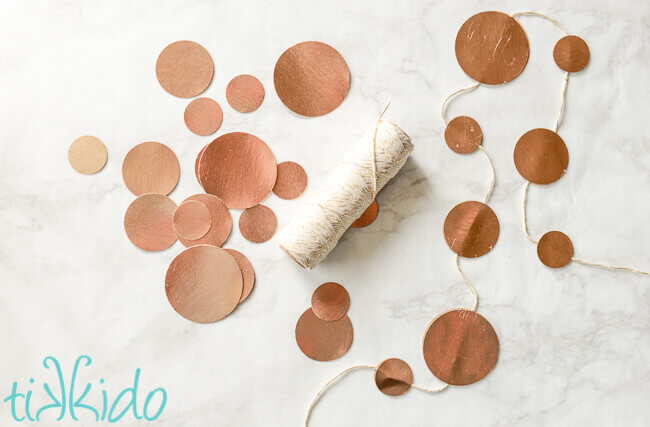 Cut circles out of the metallic paper with the circle punches.  I used a variety of circle sizes for this particular garland.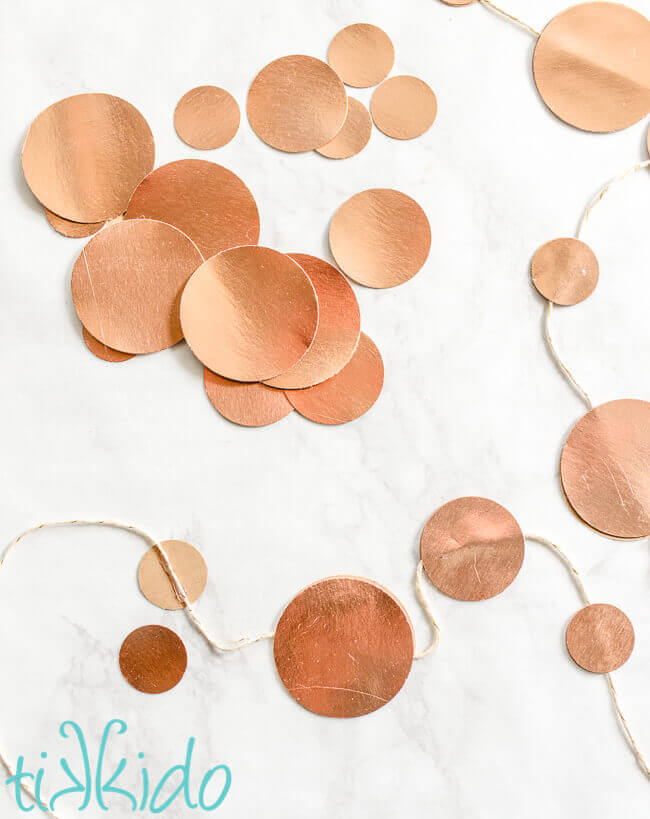 Sandwich the string between two circles of the same size.  That way, no matter which way the circles turn, it looks shiny and right.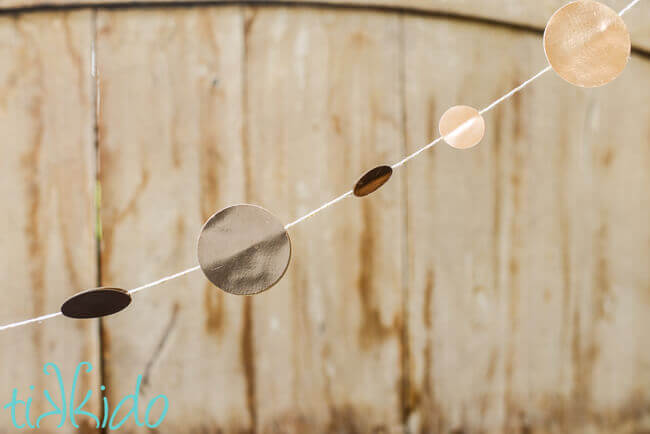 So, so golden, glittery, and shiny.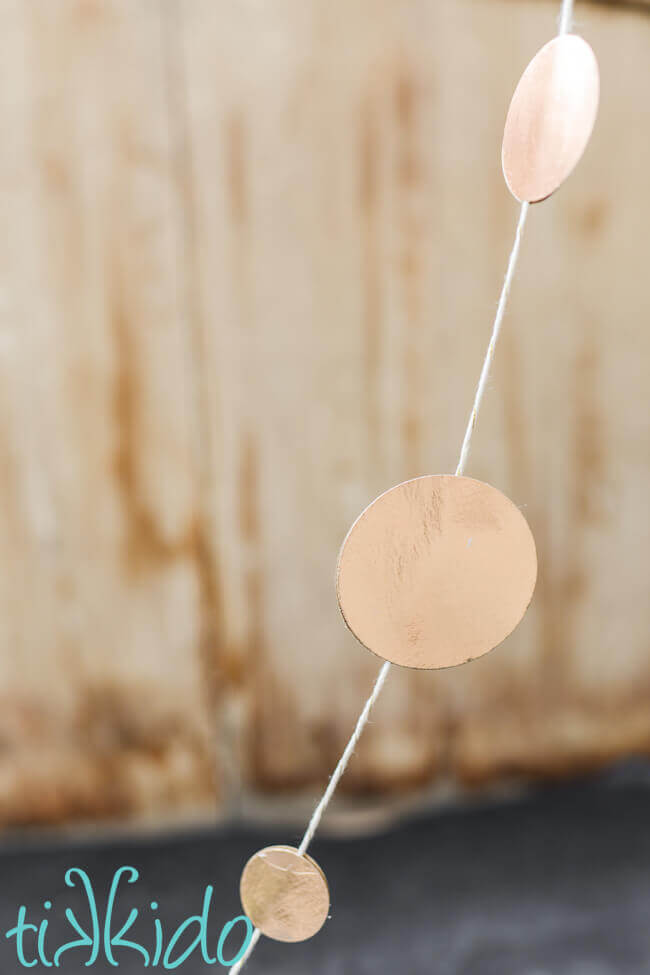 And layered with the other St. Patrick's Day garlands?  Pure magic.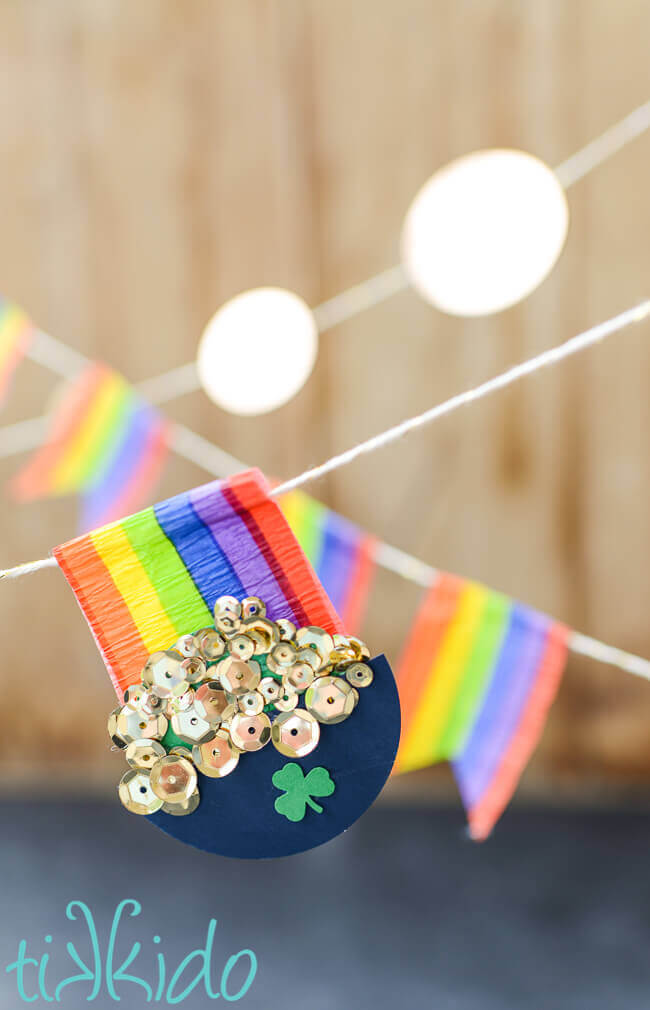 Happy St. Patricks day!