Printer-friendly version
This sweet DIY yarn pom pom Christmas wreath is a simple Christmas craft anyone can do.  And if you want to dress up the design of this Christmas wreath, I'm showing you how to make adorable little ribbon trees and a tiny felt gingerbread house, too.   Buying Christmas wreaths--especially ones that actually look good--can be so expensive!  But between my pom pom wreath craft and the other amazing DIY Christmas wreath crafts from my fellow bloggers in the 12 days of Christmas blog hop, you're sure to find some wreath you'll want to make.
Welcome to Day 1 of the Fourth Annual 12 Days of Christmas Series!
We have teamed up with 50 plus bloggers to bring you a oodles of DIY Ideas and Recipes to make your holiday season merrier. There are 12 different posts in the series and we have spread them out over a four week period with three posts per week. Now is the time to subscribe!
GO HERE for the complete list of Dates and Topics plus a collection of most popular holiday ideas including ornaments, games, recipes and more from all 50 plus talented bloggers!
It's Day 1 and we are sharing DIY Wreath Ideas!
---
Adorable, Easy Yarn Pom Pom Christmas Wreath with a Felt Gingerbread House and Ribbon Trees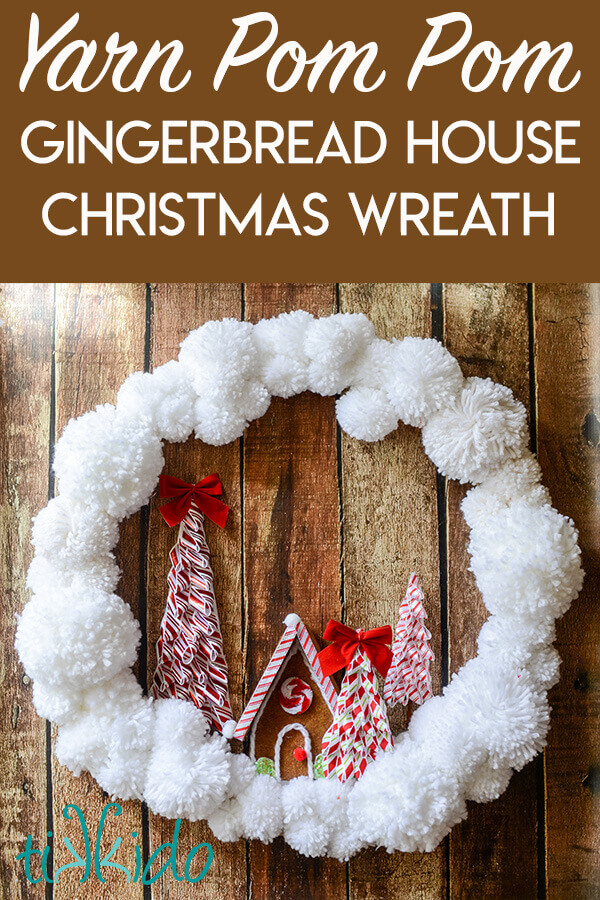 Here it is, my crafty contribution to the DIY Wreath Day of the 12 days of Christmas blog hop!  I've been having a lot of fun with my pom pom maker recently, and I absolutely LOVE how this wreath turned out.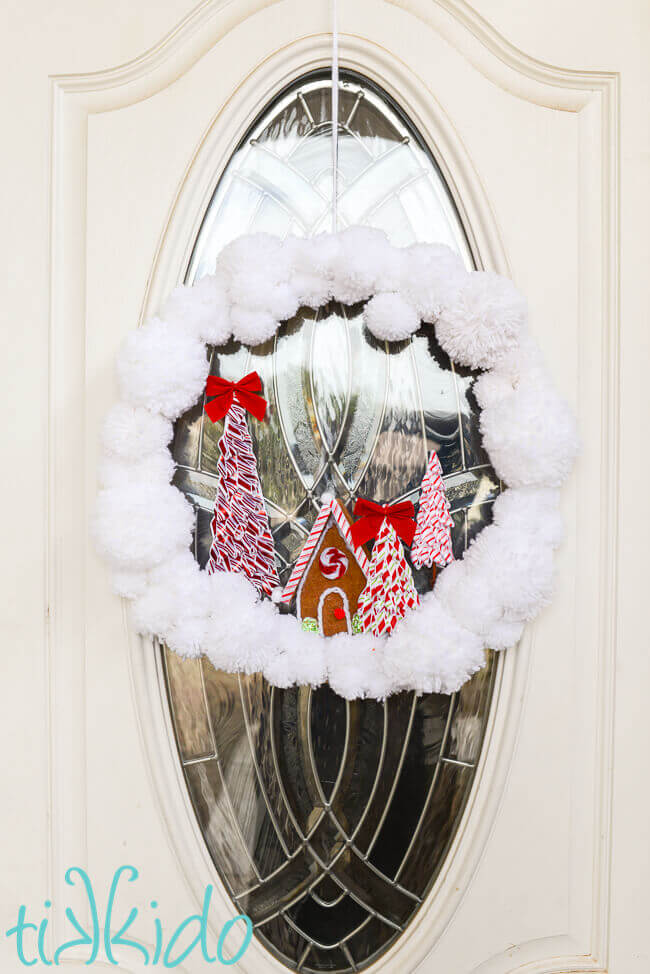 And you know that Gingerbread is totally my thing (are you going to watch me compete on the Food Network this week??) so incorporating some gingerbread and candy ribbon trees into my design seemed natural.  An actual gingerbread wreath would have been fun, but it would have been eaten by critters pretty quickly, I think.  This yarn, felt, and ribbon version will last for many years.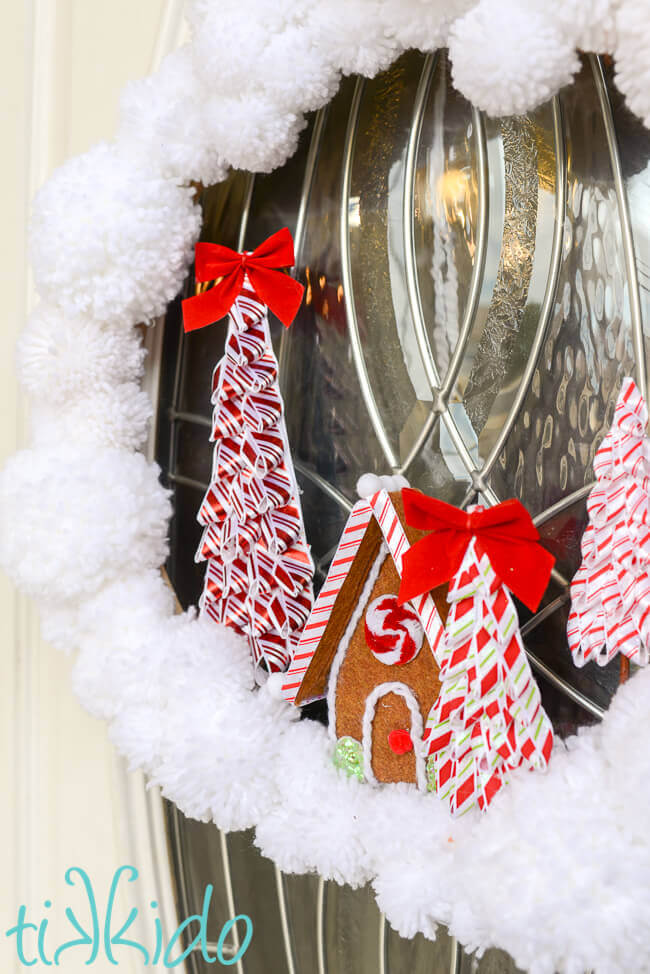 I have a fondness for felt as an art medium, too, and it seemed perfect with the yarn in this no-sew textiles craft.
How to Make Ribbon Trees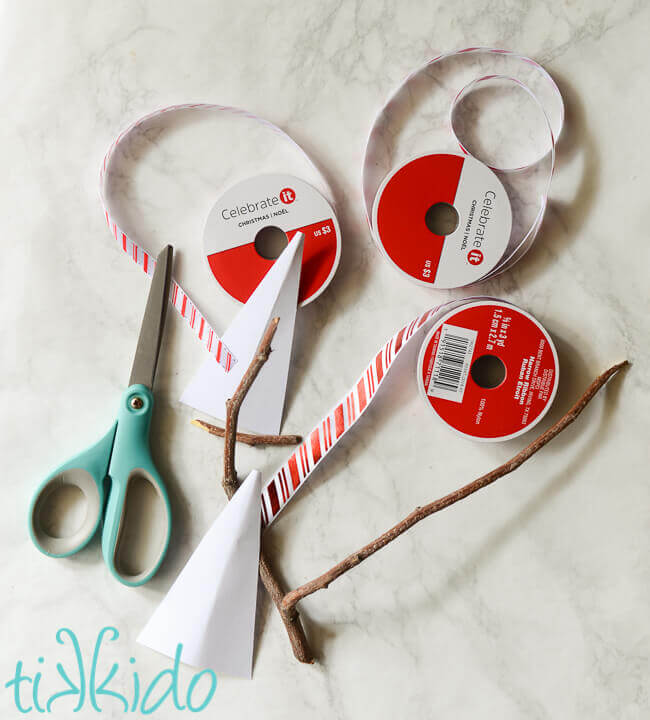 Materials for Two Dimensional Ribbon Trees:
sticks from the yard (could also use pretty paper straws)
low temperature hot glue gun
cardstock
narrow ribbon (1/2" to 3/4" approximately)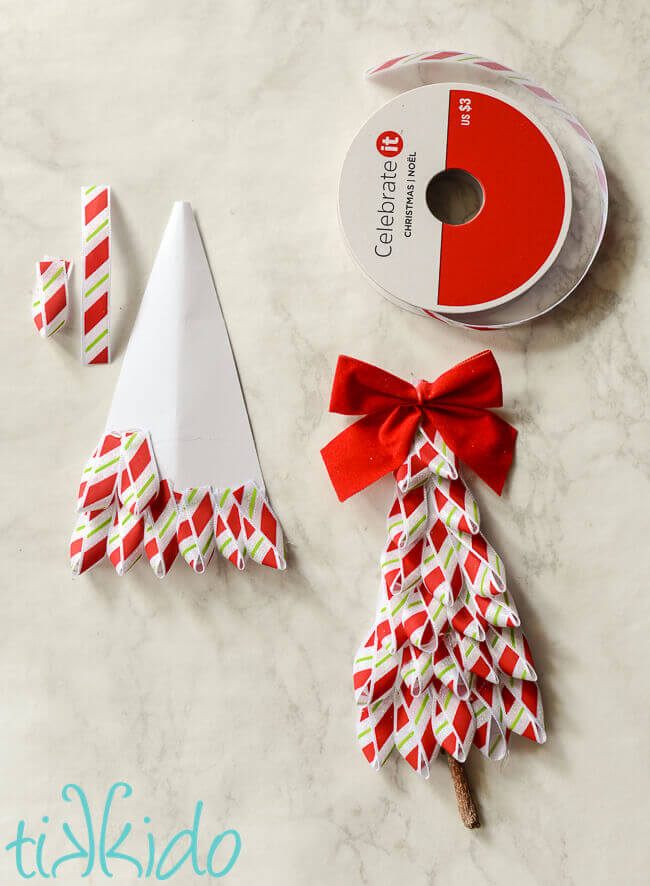 Cut the cardstock into a triangle shape.  Make it whatever size you'd like.  I folded my carcstock in half so I could easily cut a perfect, symmetrical triangle for the basic tree shape.  And I ended up liking that slight curve to the finished tree that it gave, so rather than creating a template, I just bent all my cardstock in half and cut all my trees that way.
The trunk of the tree is simply a stick from my backyard glued to the back of the paper triangle tree shape.
I used ribbon that reminded me of striped candy canes because I wanted to play off the felt gingerbread house I was making for the center of the wreath.  Cut short lengths of ribbon (about 1.5-2" long) and glue the two ends of the piece of ribbon together using a low temperature hot glue gun.  Glue the "right" sides of the ribbon together, so you get a slightly pointed loop shape of ribbon.
Glue the loops of ribbon to the paper triangle base, starting at the bottom and overlapping the ribbon loops as you go up the tree.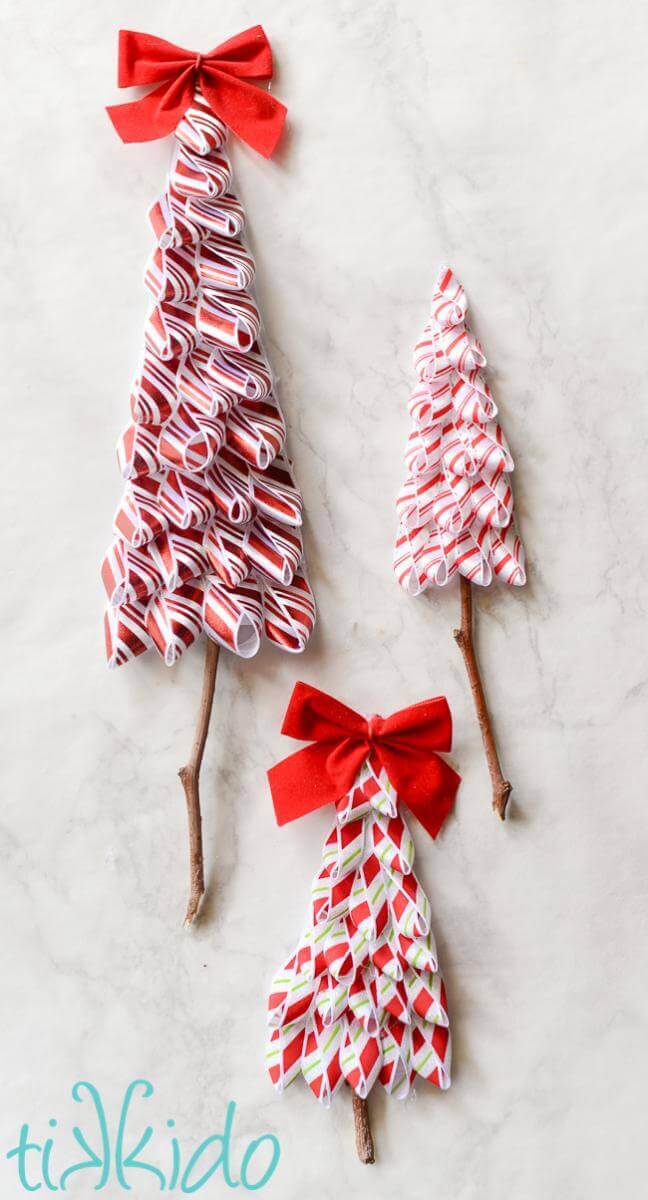 I topped off my ribbon trees with a little ribbon bow that I bought at the dollar store (meant for a miniature tree, I imagine), but you could easily make your own, or just not top the tree with anything in particular.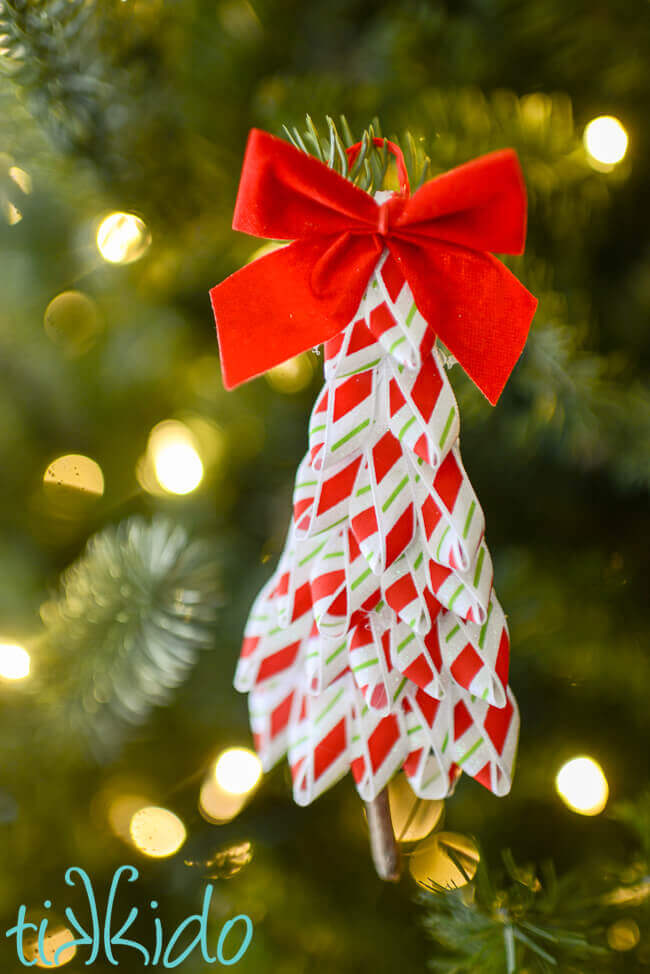 These little ribbon trees turned out to be adorable Christmas ornaments, too!
How to Make Pom Poms for the Pom Pom Wreath: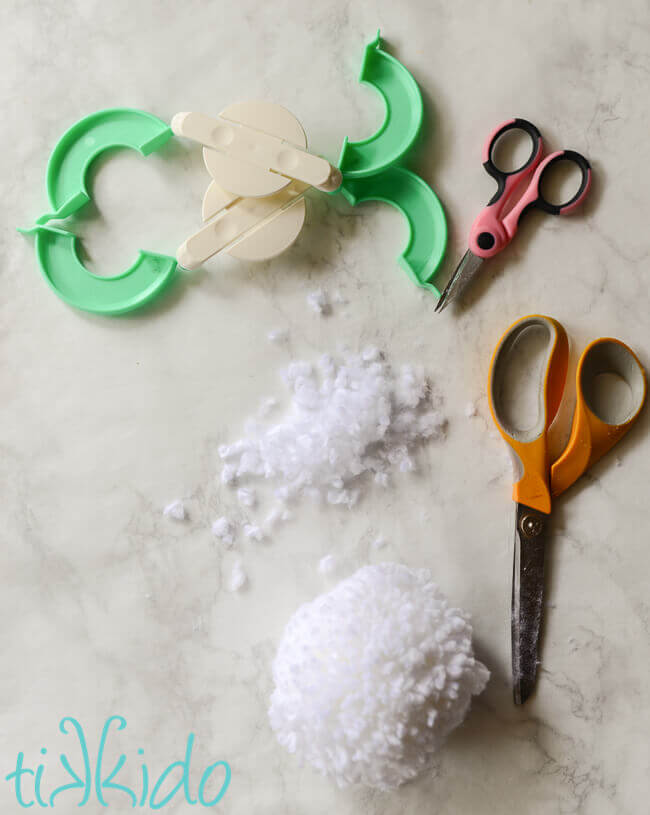 You can make yarn pom poms without using a pom pom maker, but man, do those pom pom makers make it so easy to make perfect pom poms!  And a set of makers is only a few dollars.  It was definitely a worthwhile investment for me.
Check the video at the top of the post to see the pom pom maker in action.
How to Make a Felt Gingerbread House for the Yarn Pom Pom Wreath: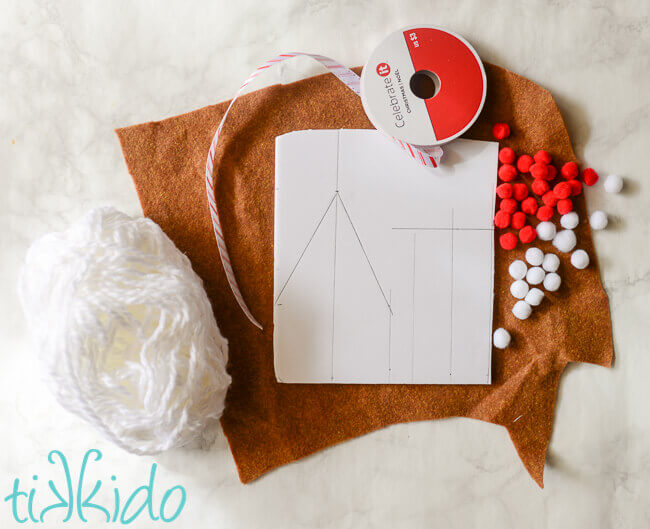 Materials for Miniature Gingerbread House for Pom Pom Wreath:
foam core
white yarn
brown felt
assorted pom poms and candy stripped ribbon.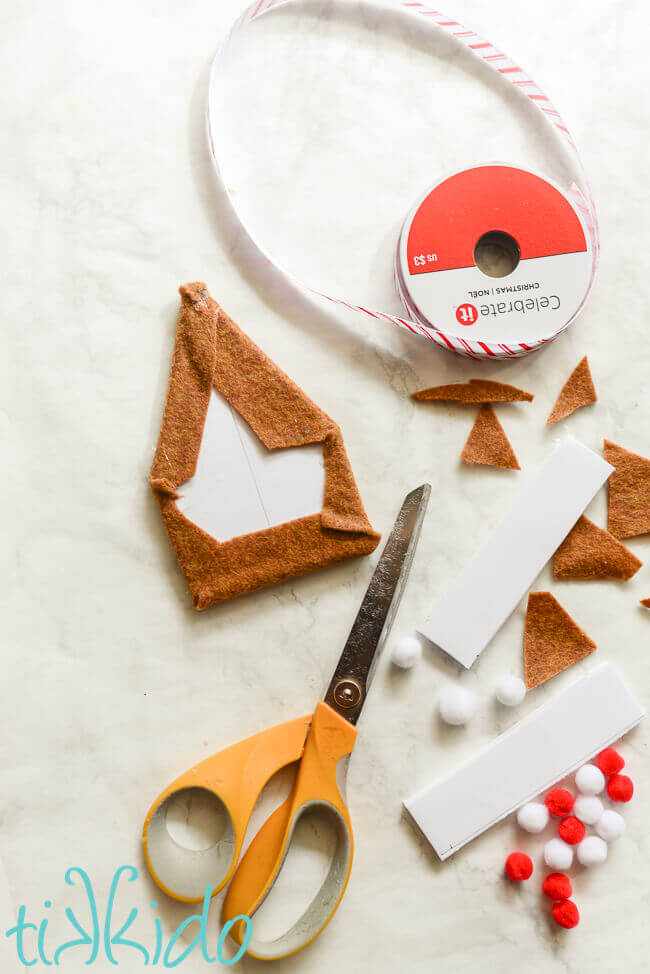 At first I made a whole little 3D felt gingerbread house, but that turned out to be too deep and bulky for the center of my wreath.  A more two-dimensional house was much better.  So I just drew a basic house shape for the front of the house, and a couple of 1" deep roof pieces.
Cover the pieces of cardstock with brown felt, and glue together.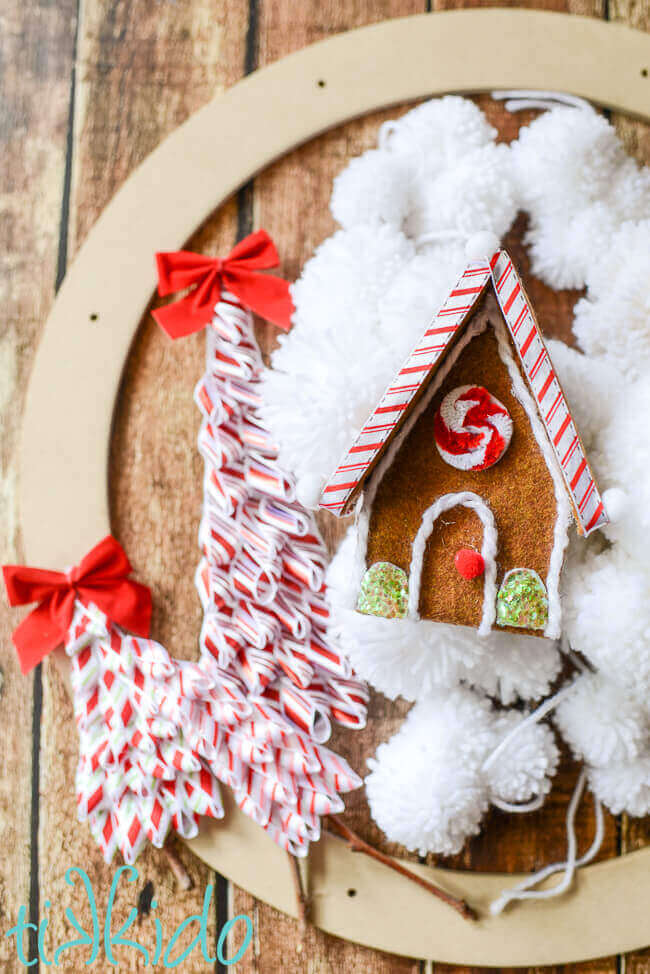 Decorate with some white yarn) (for icing) and pom poms and ribbon and such.  Whatever is handy and looks kind of like candy.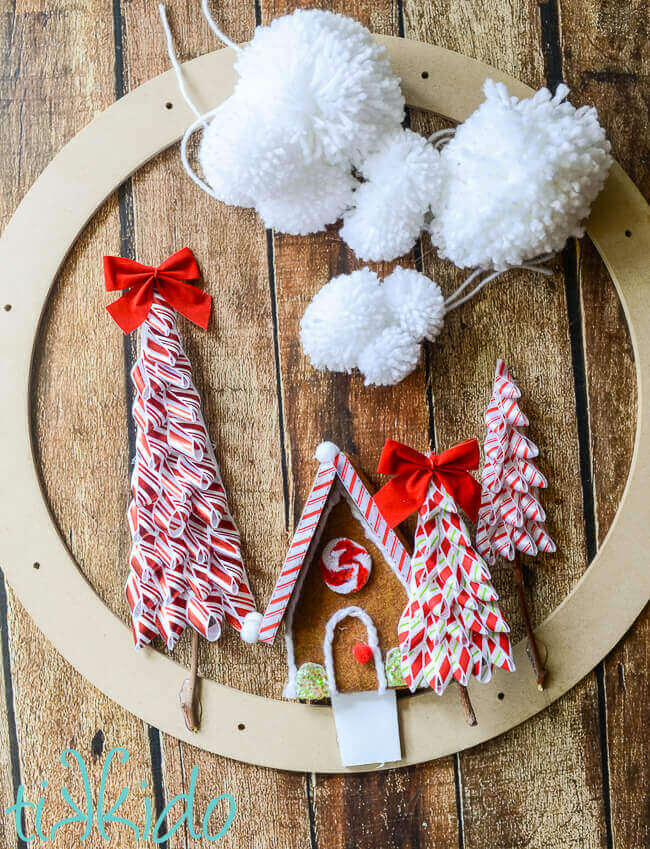 I used a flat wreath form, because I knew I wanted to glue my pom poms to the wreath to create the design.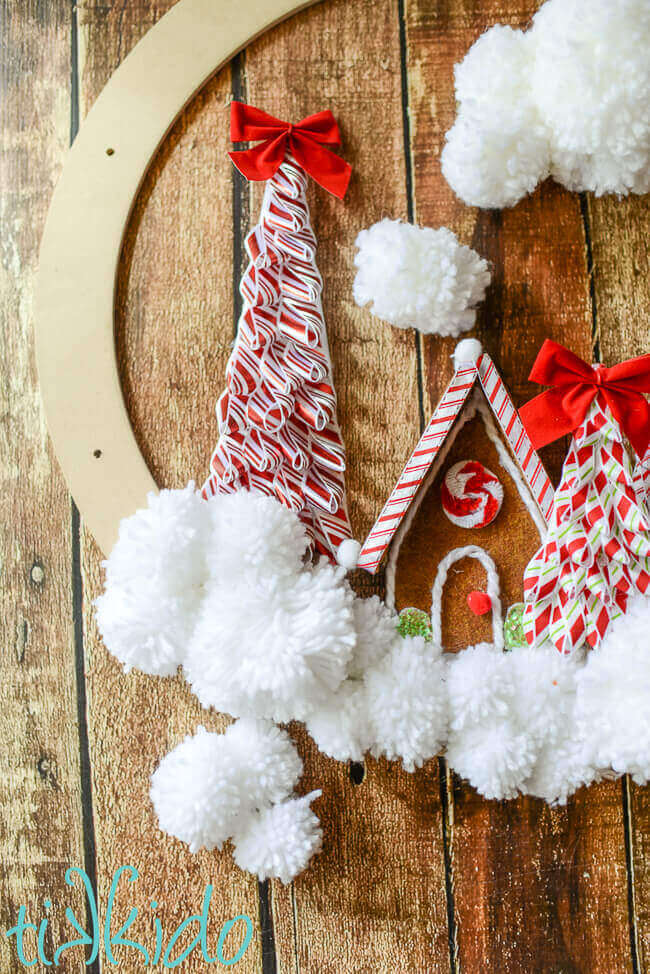 Once the trees and gingerbead hosue were glued in place, I started gluing on the pom poms.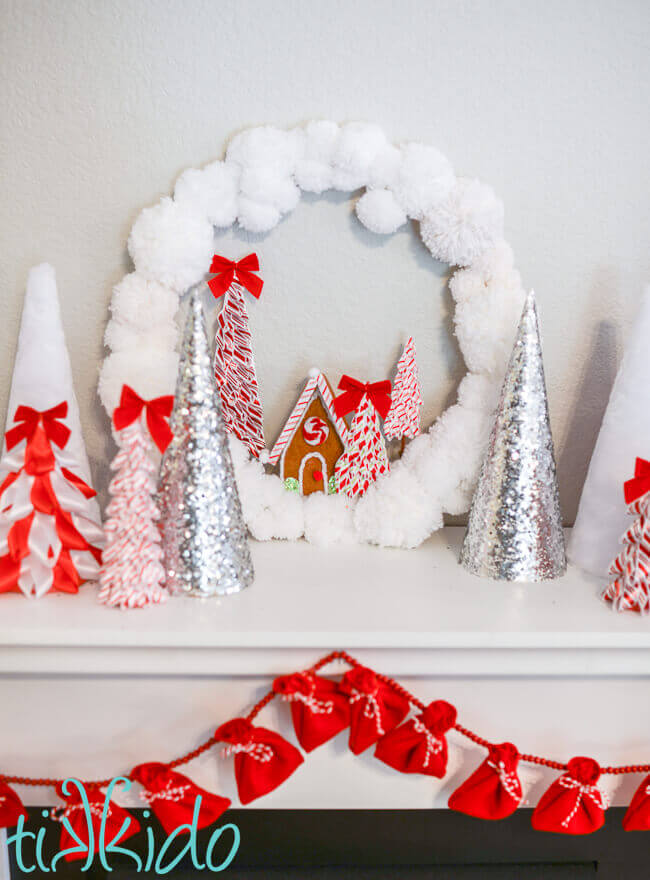 I liked using a variety of sizes of pom poms for my wreath.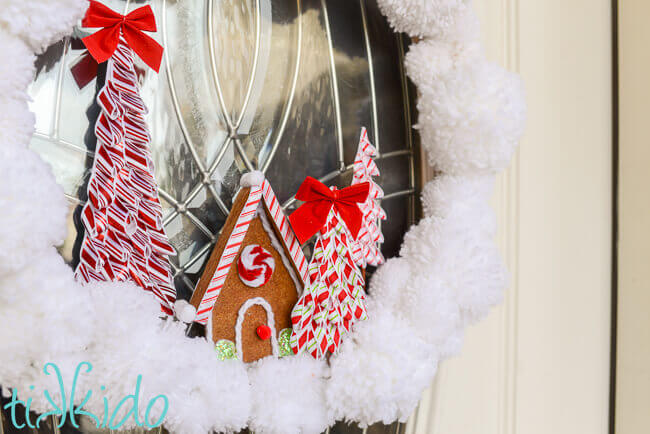 Just the thing to welcome people to my home for our annual gingerbread house decorating party, isn't it?