Printer-friendly version
This shop has been compensated by Collective Bias, Inc. and its advertiser, MARS. All opinions are mine alone. #BOOItForward #CollectiveBias
My whole family absolutely loved the new Ghostbusters® movie.  We were already fans of the old ones, but this new version absolutely captured our hearts and imaginations, so I jumped at the chance to have some Ghostbusters® themed fun with my girls as we prepare for Halloween by making BOO Kits for our friends and neighbors.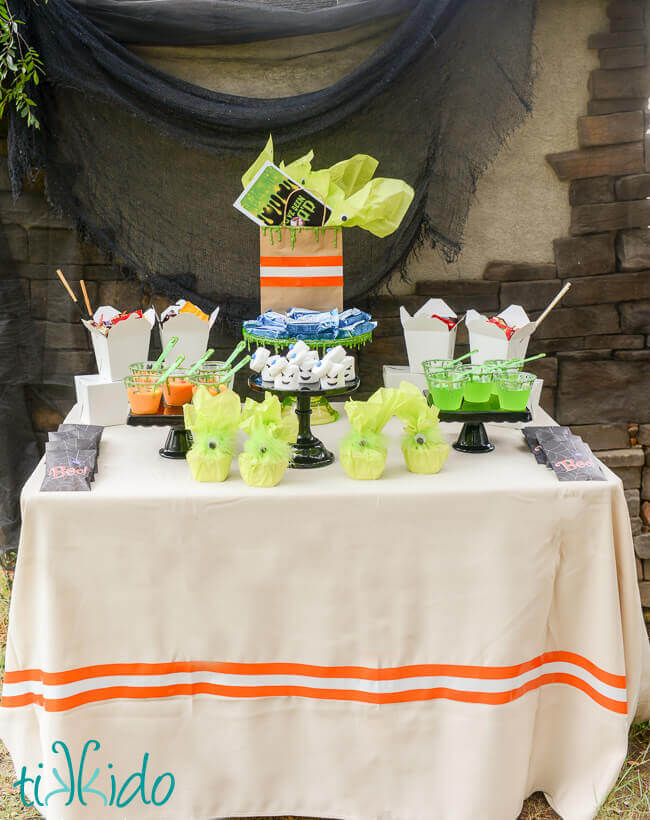 The movie itself was full of so many fun, quirky little details (like those MTA jumpsuits with the reflective stripes!), so it was incredibly easy to come up with party ideas to go along with the theme.
Not sure what a BOO Kit is?  Check out all the ideas and examples at BOOitForward.com.  Basically, it's a fun Halloween goodie bag full of fun treats that you leave anonymously for friends and neighbors.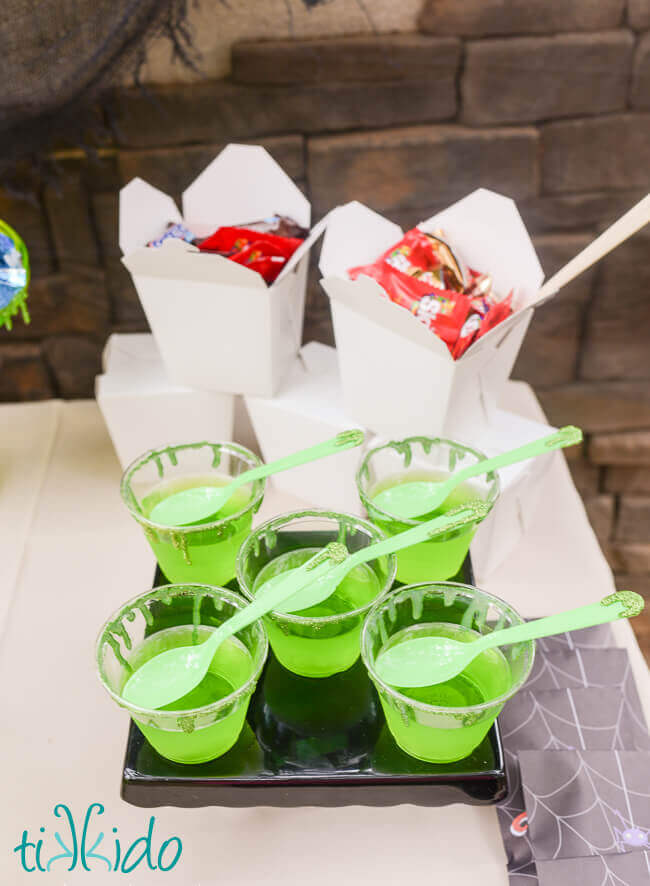 At our little Ghostbusters® party, of course we had to have gelatin slime.  I made fun glitter-embellished slimed spoons and serving cups to go along with the theme.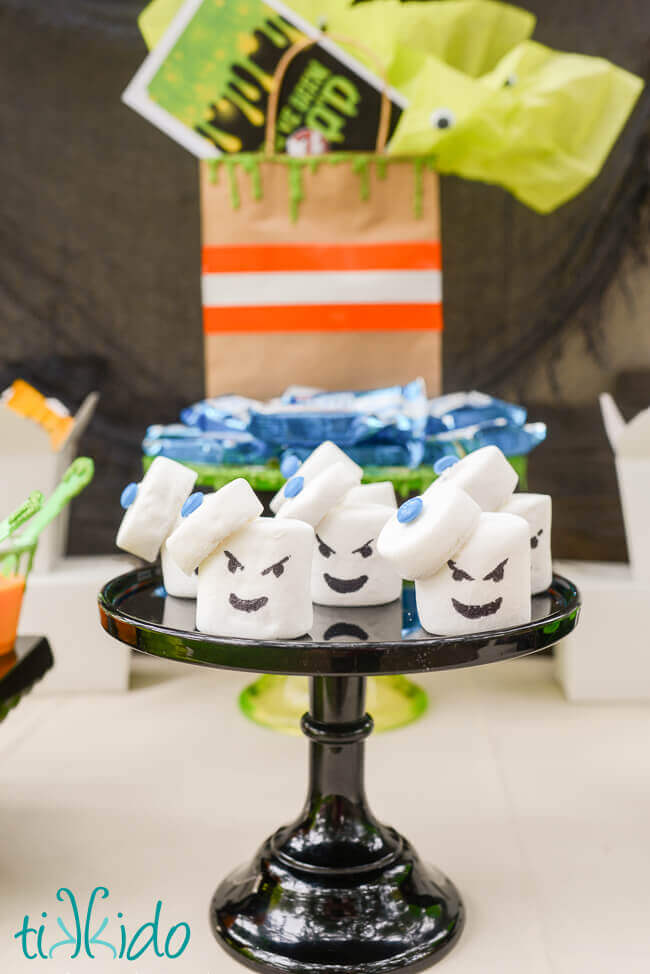 And no Ghostbusters® themed party would be complete without the Stay Puft Marshmallow Man.  (The blue M&M'S® made the perfect hat-topper for these easy marshmallow versions of the classic Ghostbusters' ® nemesis.  Here's the tutorial for making these incredibly easy Stay Puft Marshmallow Man Marshmallow Treats.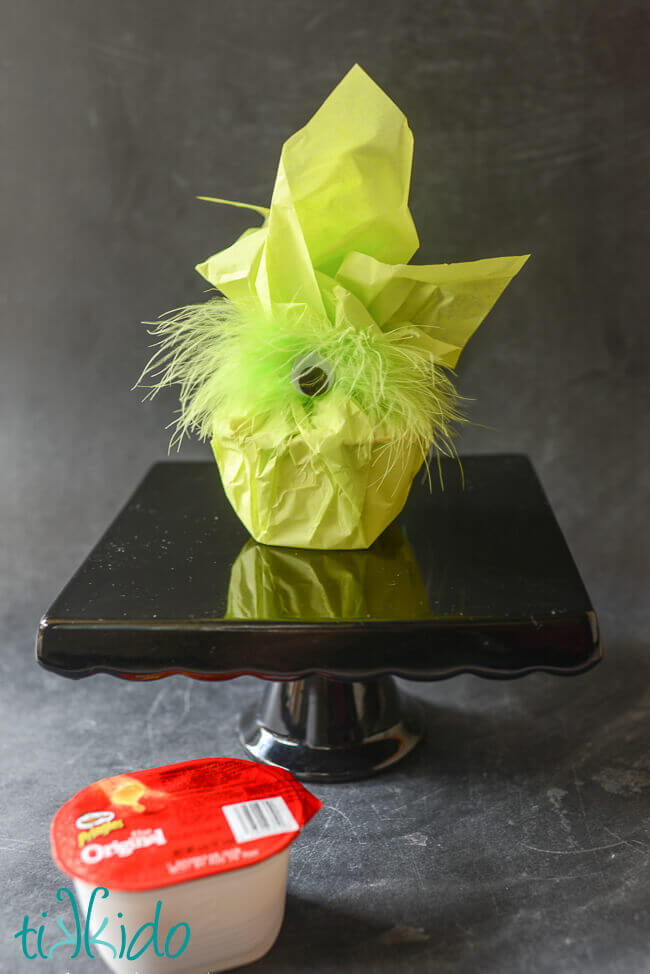 Single-sized Pringles® are always a hit, and made adorable, not-too-spooky monsters when dressed up with a bit of American Greetings® tissue paper, a bit of feather boa, and a googly eye.  Here's the full tutorial if you want to make these monster treats for yourself.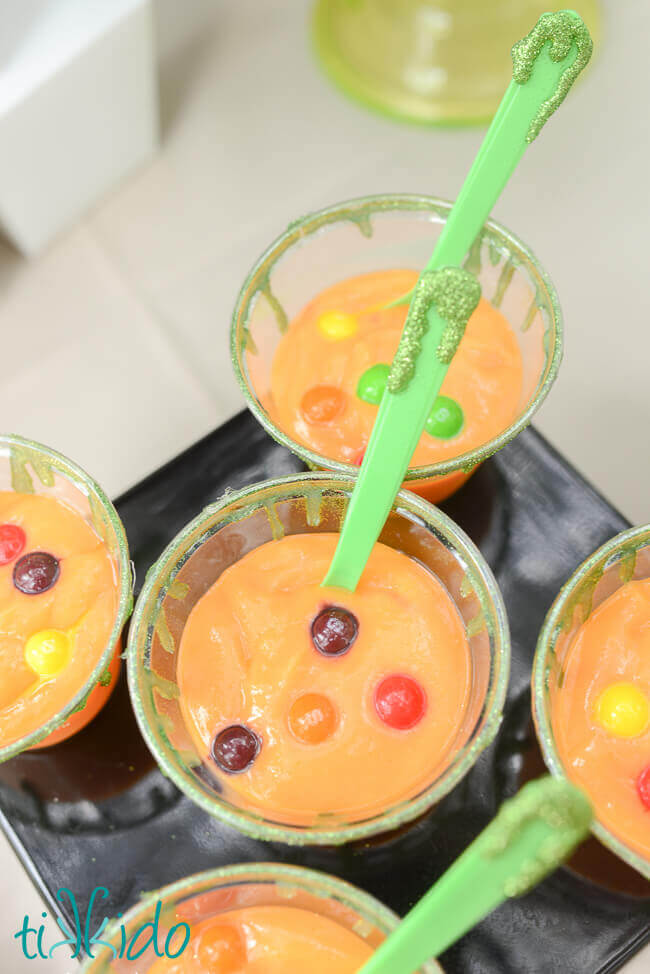 Edible Skittles® slime was the perfect addition to our Ghostbusters® party menu.   Want to know how to make it? 
Edible Slime Recipe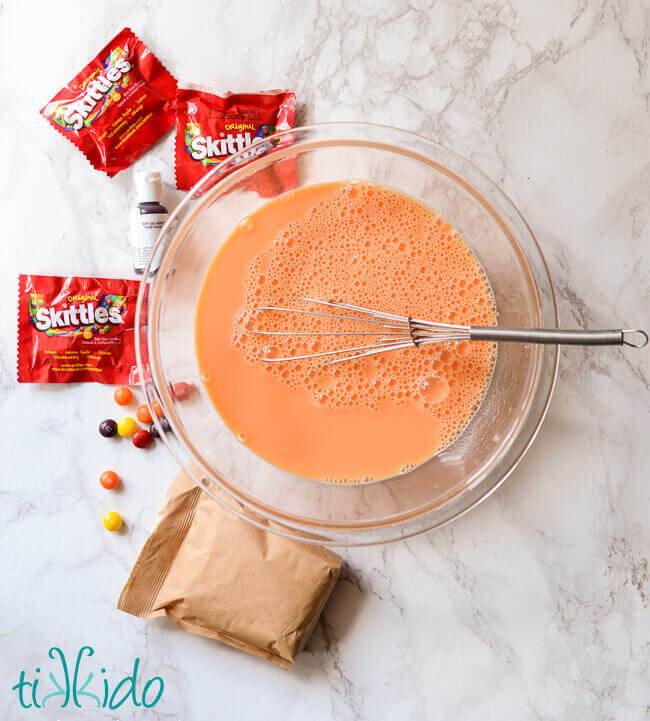 Skittles® Slime Recipe:
1 package vanilla pudding
gel food coloring (I chose electric orange)
3 cups milk
Skittles® candies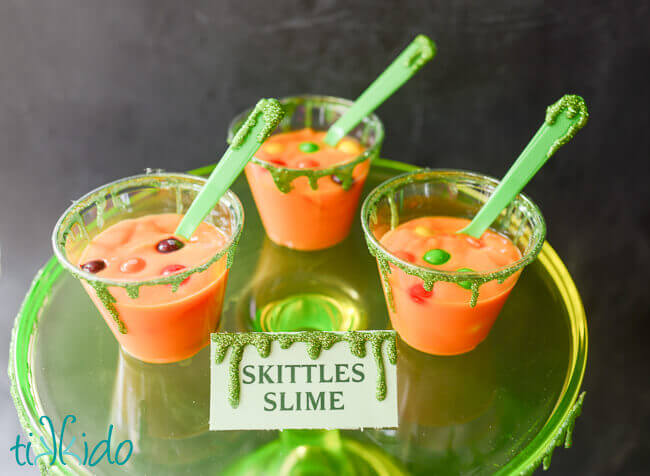 Prepare the vanilla pudding as directed on the package.  Let set up in the fridge for several hours.  When ready to set out at the party, stir in a few packets of Skittles® into the vibrant pudding, and scoop into the individual containers.  Sprinkle more Skittles® on the top layer of the pudding as well.  The Skittles® add a vibrant punch of fruit flavor to the plain vanilla pudding, and the color eventually starts bleeding out into the pudding in an entirely awesomely gross way.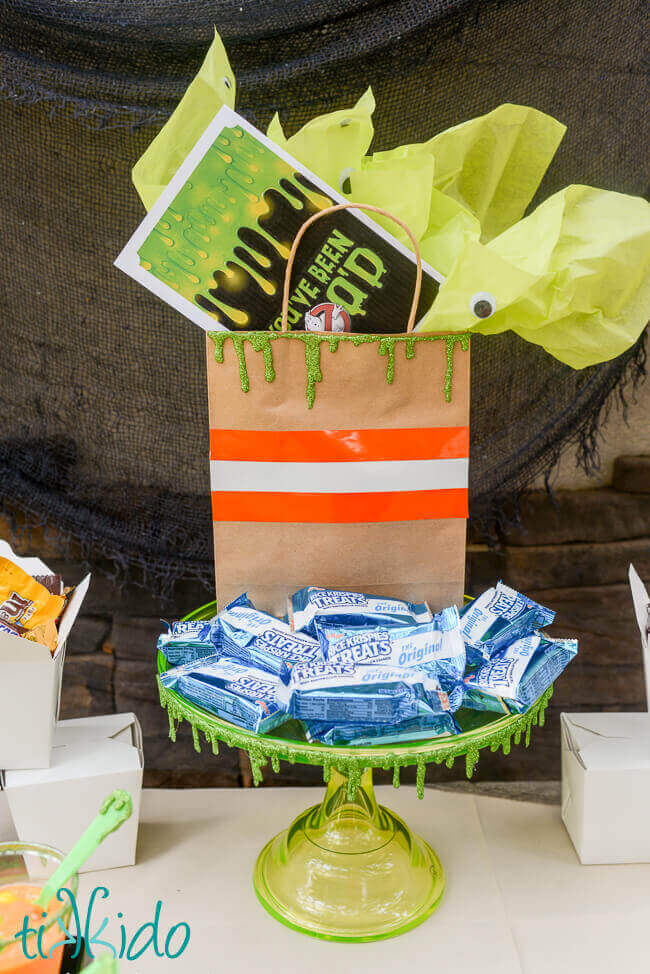 Our BOO Kits were incredibly easy to make, and feature my favorite element of the party, the Ghostbusters® gift bag.  Want to know exactly how to easy they are to make?  
Ghostbusters Themed Easy Gift Bag Tutorial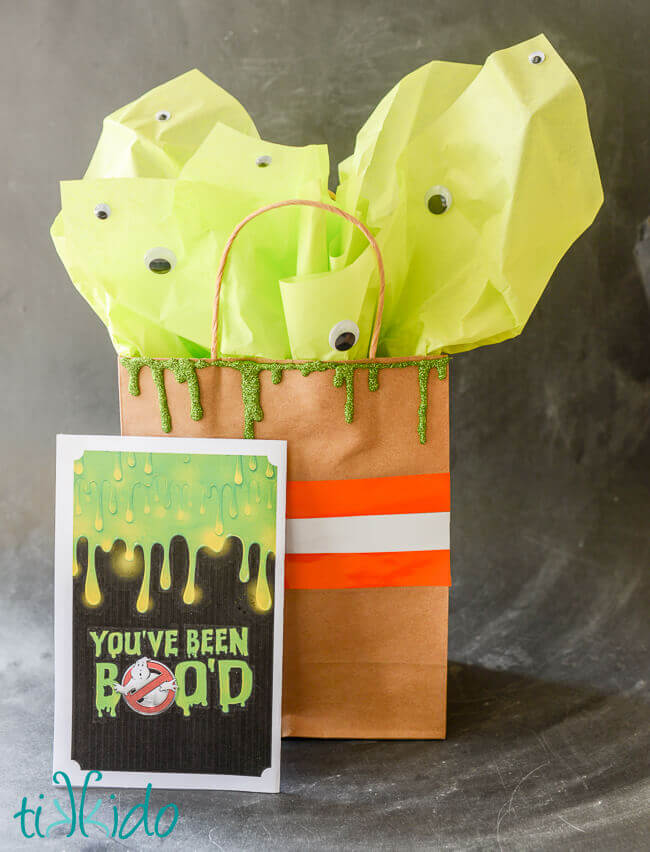 I love transforming plain gift bags into fabulous, fun, custom gift bags!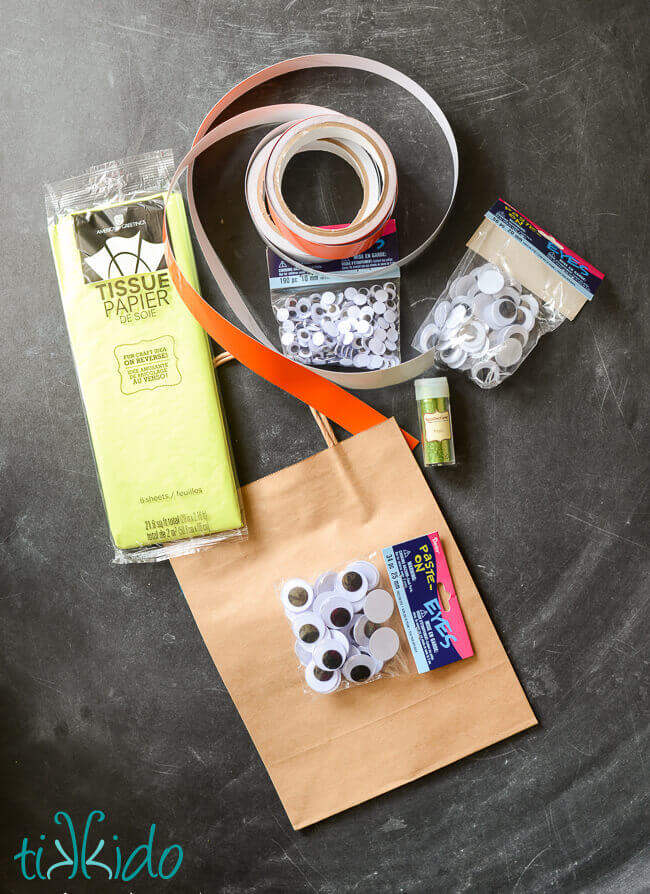 The Ghostbusters® gift bags were incredibly quick and easy to make.  You'll need:
Brown kraft paper gift bags
reflective tape
green glitter
glue gun
American Greetings® tissue paper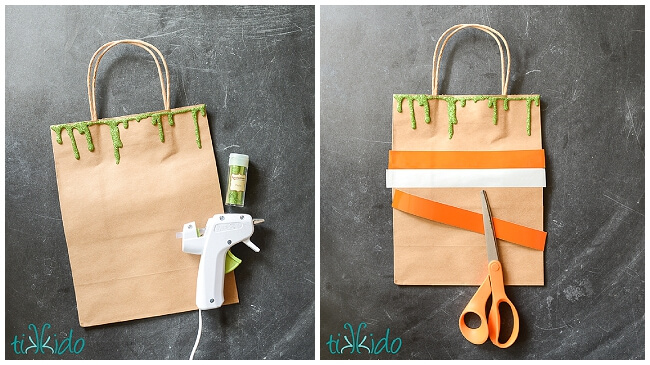 Use the glue gun to draw drips of glue onto the top of the gift bag.  While the glue is still hot and sticky, quickly sprinkle with green glitter.
Add three stripes of reflective tape to mimic the look of the MTA jumpsuits the Ghostbusters® wore in the new movie.  Trim off any excess tape.
Fill with tissue paper, and attach a few googly eyes to the tissue paper if you'd like.  Slimer-green was the obvious color choice for the tissue paper!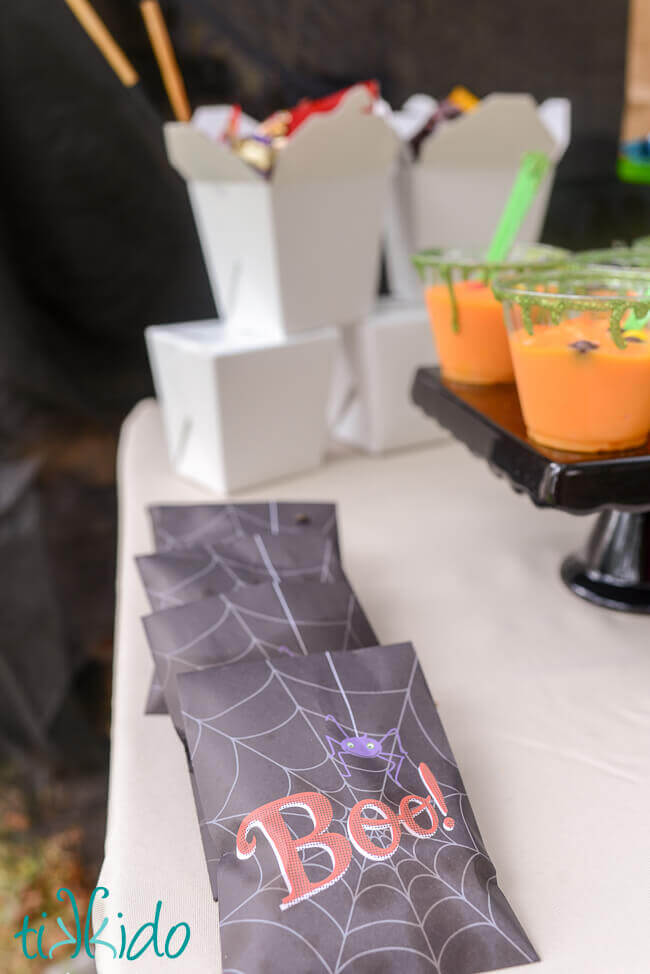 These American Greetings® treat bags were absolutely perfect for making fast, easy, and cute individual bags of snacks to include in our BOO Kits.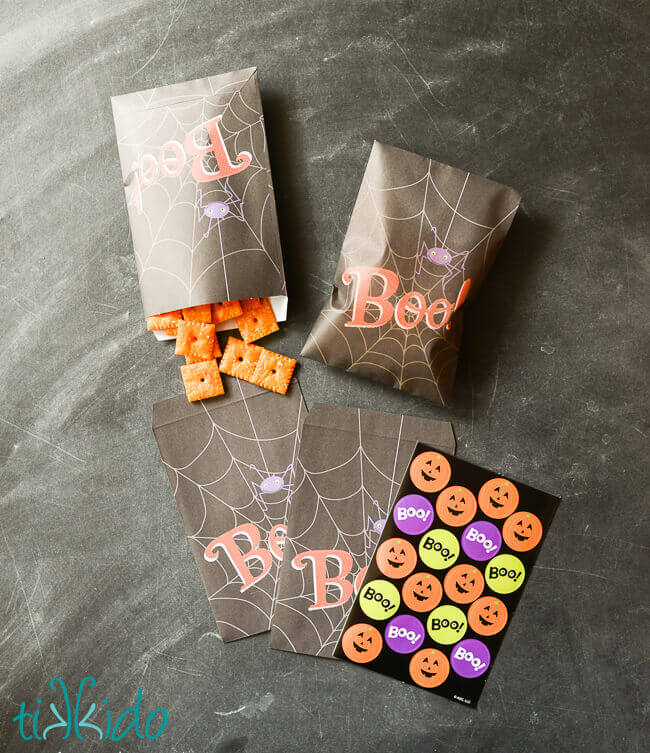 They even came with perfect stickers for sealing the bags shut.  Single portions are a good thing, or else I would have eaten ALL the Cheez-It®.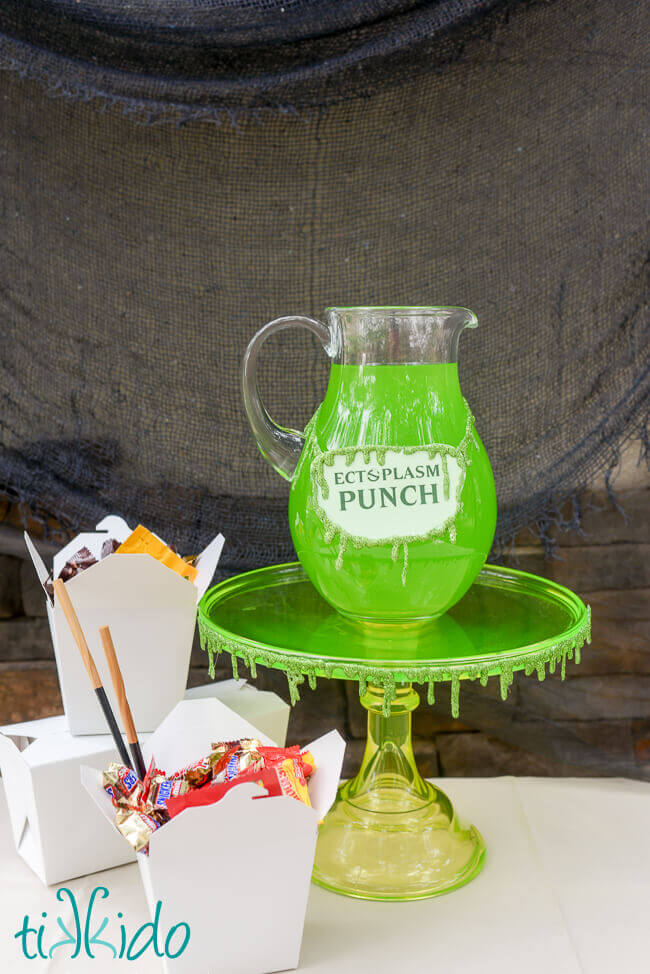 Just in case our guests were thirsty, I had Ectoplasm Punch on hand.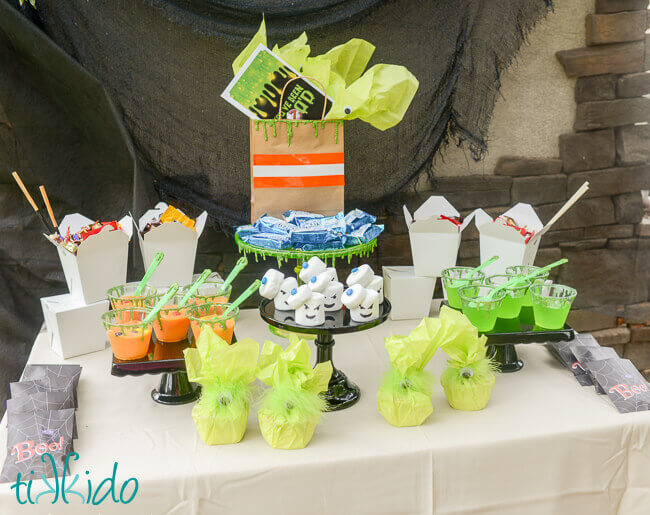 I can't wait for the new Ghostbusters® movie to be released on October 11th!