Printer-friendly version
It's time for the 2016 Trunk or Treat Blog Hop!  I've teamed up with some of my favorite blogger friends to bring you a fabulous collection of DIY Trunk or Treat ideas.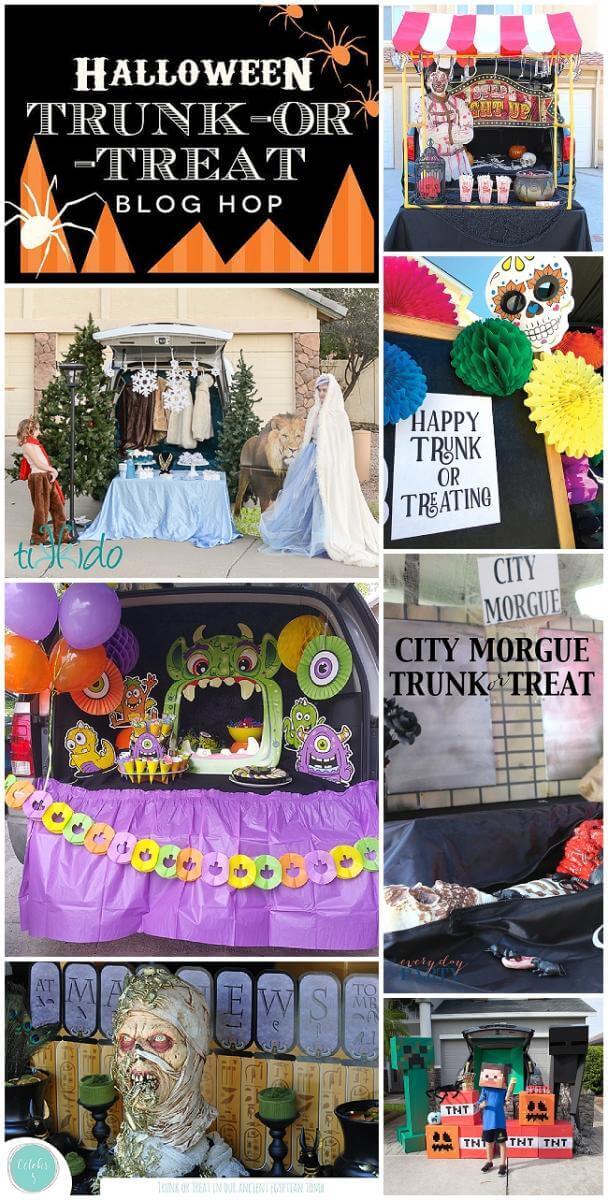 Some spooky, some not--all awesome!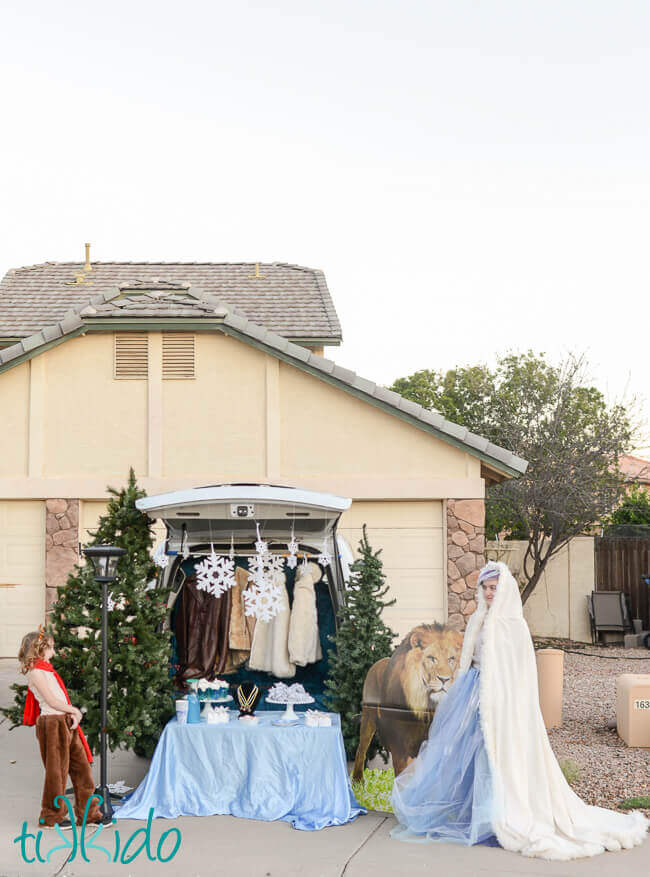 I usually do a more traditional, spooky Halloween trunk or treat, but this year I decided to break that mold and make a Narnia/The Lion, the Witch, and the Wardrobe Trunk or Treat.  I've been hoping one of my kids would let me do this theme for a birthday party, but they've alays had other ideas, so I had to get a little creative to do a theme I've been wanting to do for years.  ;-)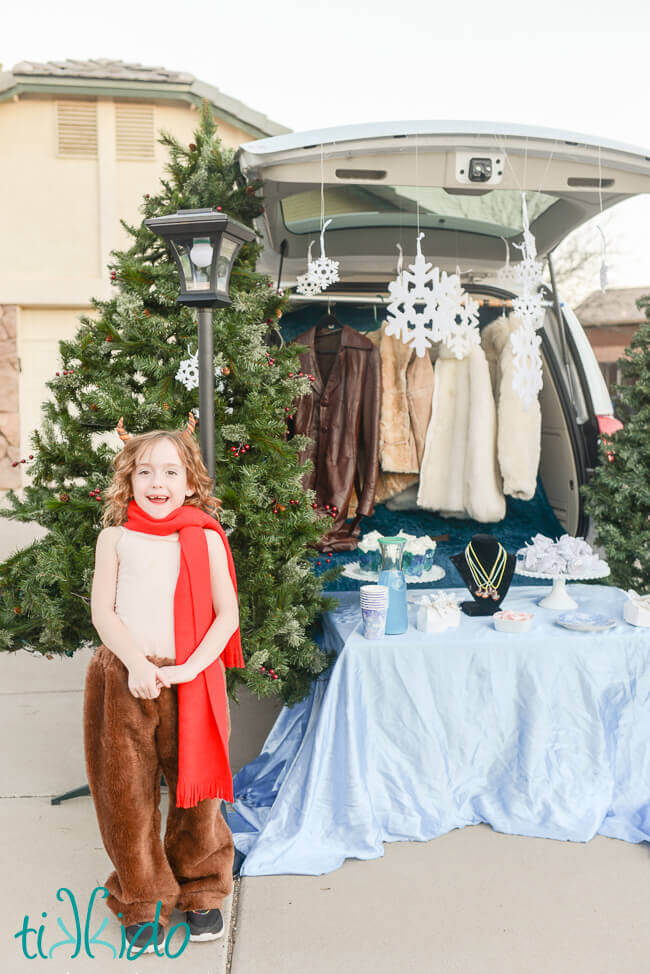 The back of the minivan itself was our wardrobe, and I pulled out old coats from our coat closet.  I'd been hoarding the fur and faux fur coats (Goodwill finds for a couple dollars each) for several years in the hopes that one day I'd be able to do this theme!  I used a couple of our bare Christmas trees to represent the transition into the Narnian forest, and of course I had to have a lamp post (buy it here).  Inexpensive snowflake ornaments completed the snowy scene.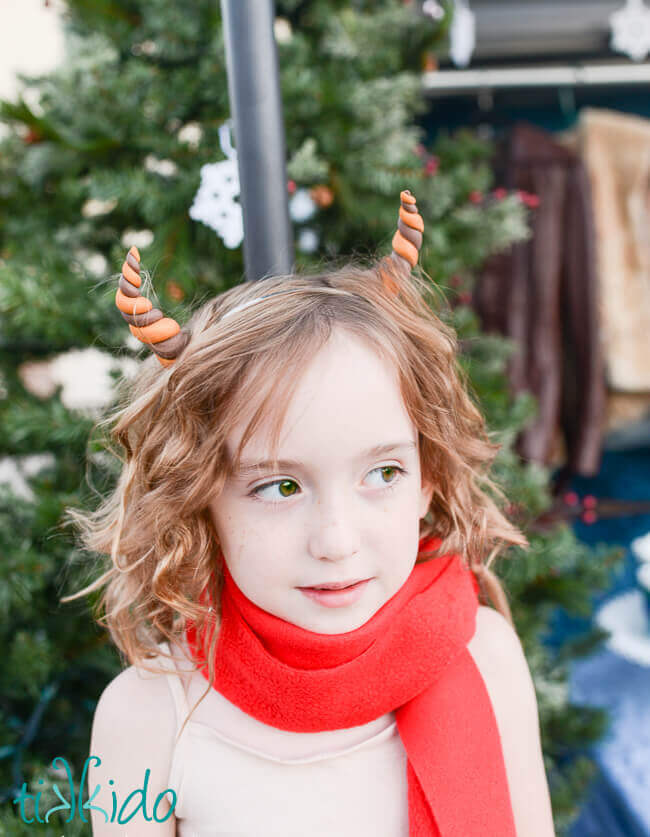 Niamh was my sweet little Mr. Tumnus, the faun.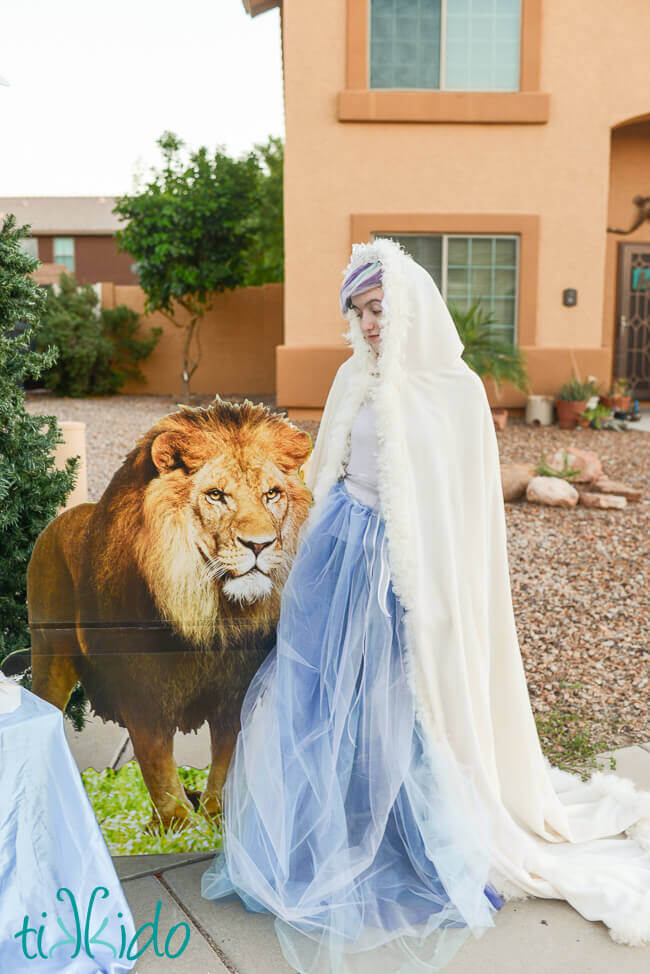 And Ainsley was our Jadis, the White Witch.  She's trying to look very stern at Aslan here (found at Oriental Trading), but it looks more like her bemused-big-sister look.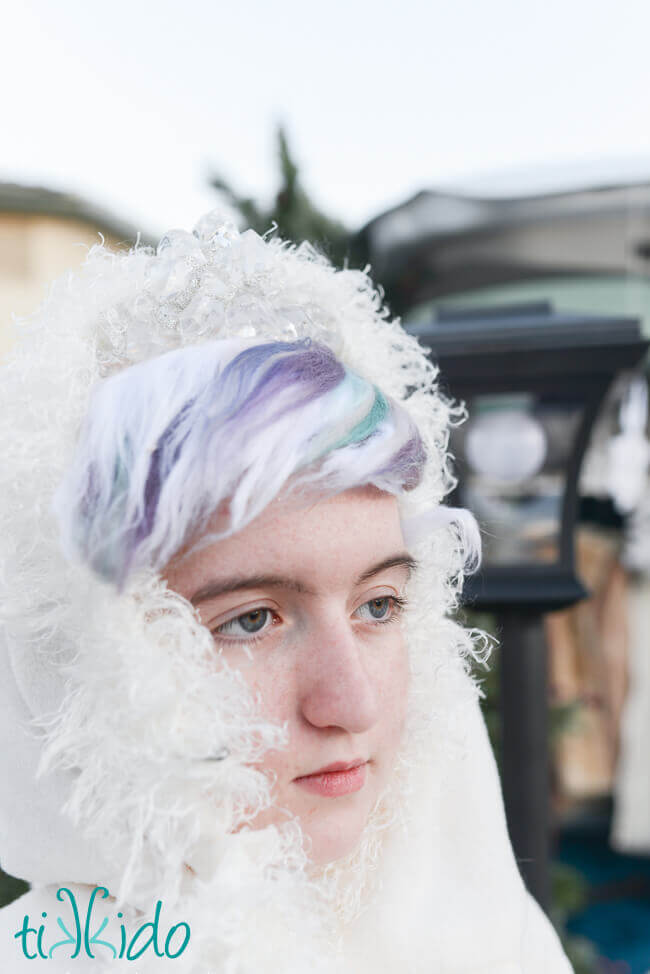 I really love how the ice crown I made turned out.  I'll have more pictures and a tutorial on the blog soon.  Also for the icy bangs I made to complete the look.
Narnia Trunk or Treat Ideas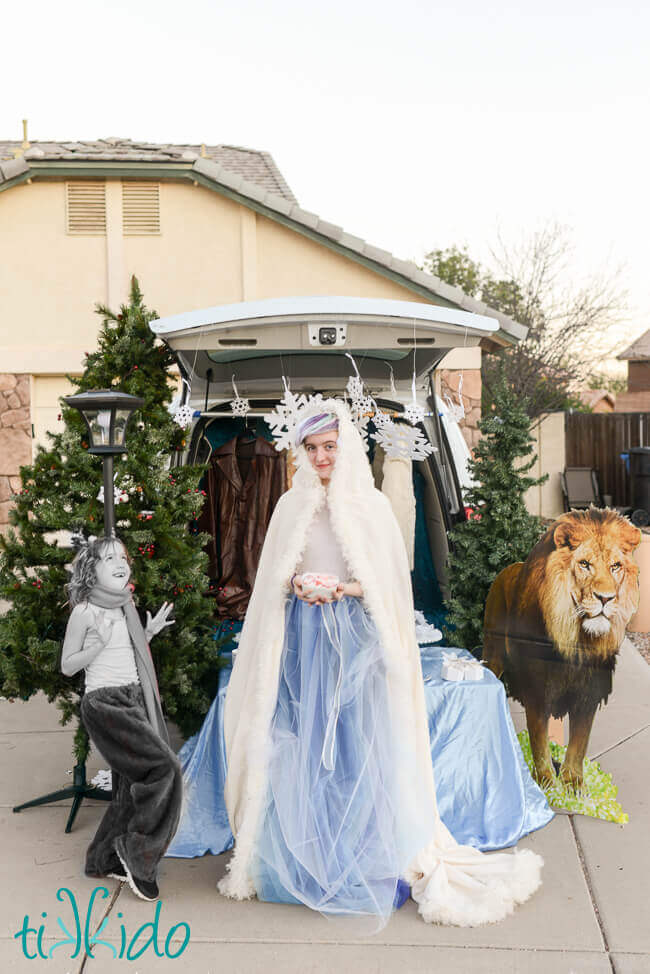 Niamh was my little art director for the shoot, and asked me to turn her black and white in this picture so everyone would know that she had been turned to stone.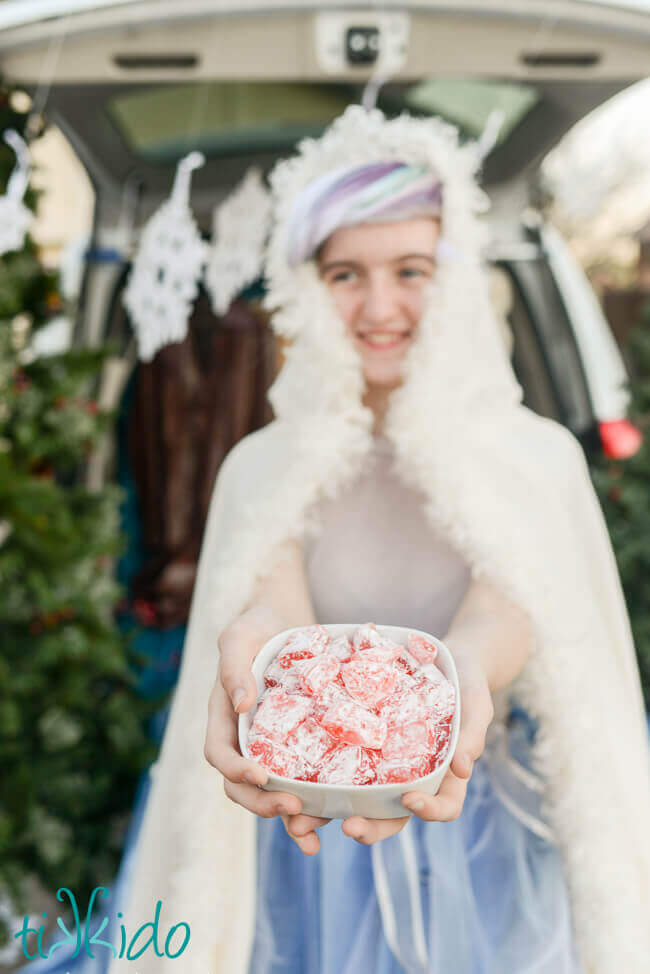 Homemade Turkish Delight, of course!  It tasted like delicious homemade Swedish Fish candies to me.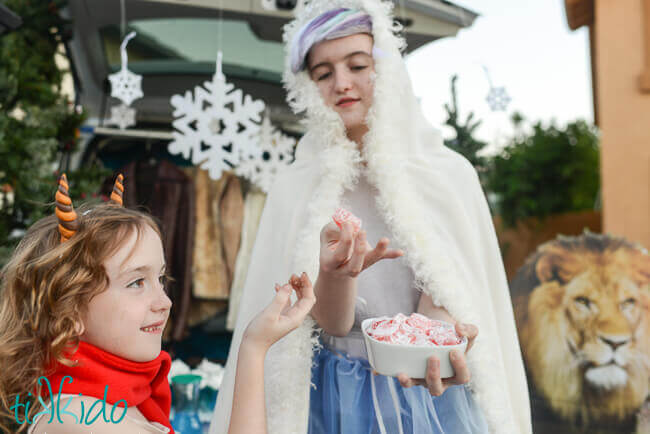 Trying out this stuff that made Edmund betray his family.  Niamh did not think it was worth it.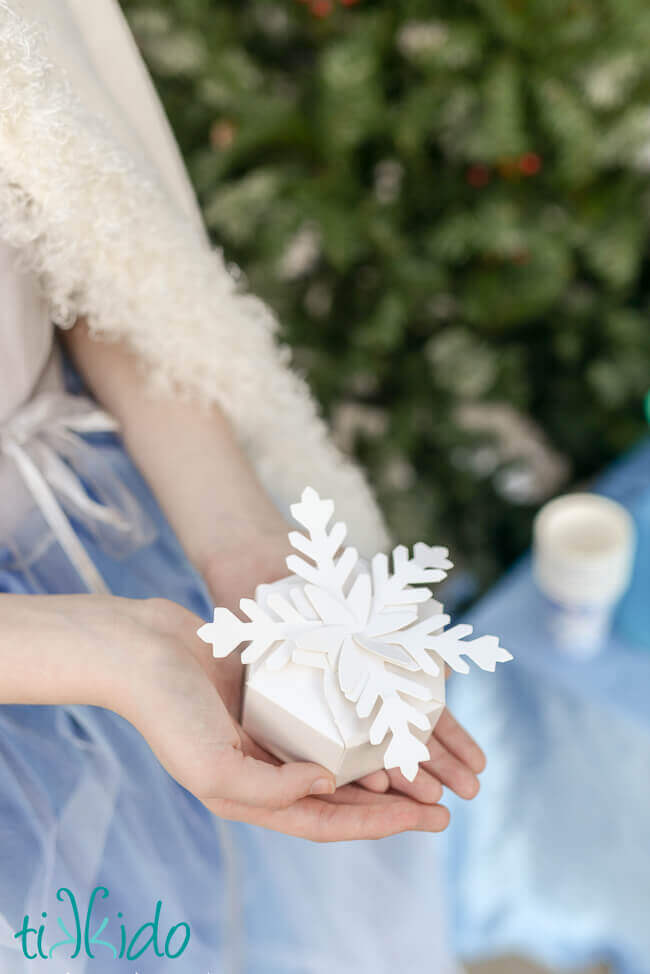 Halloween candies don't have the best look to go with a Narnia theme, so I dressed ours up in these lovely snowflake favor boxes from Oriental Trading.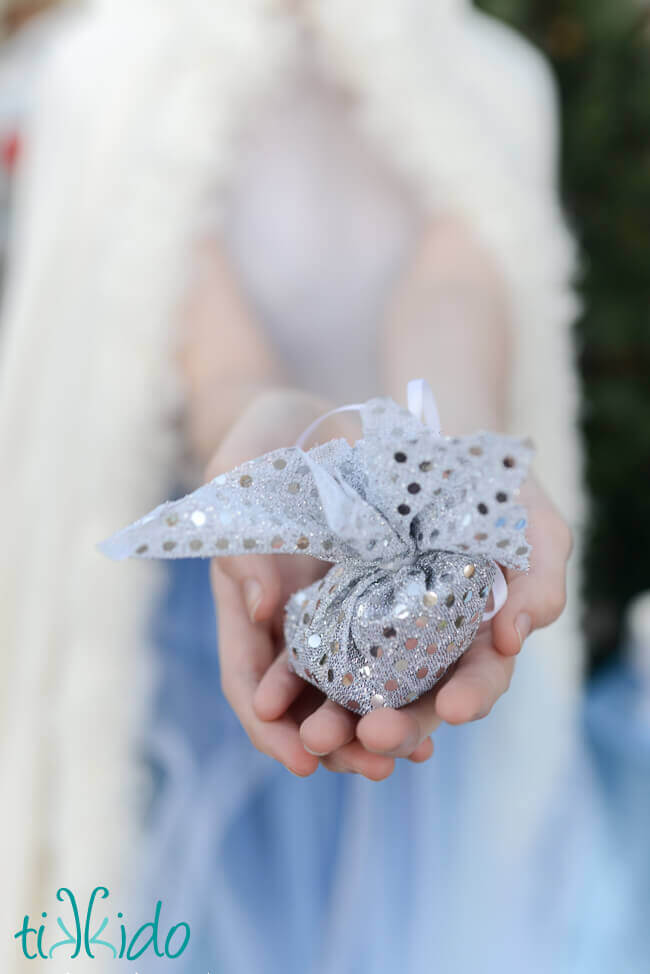 And covered some of the candies in simple sparkly silver pouches, made just by gathering a square of leftover silver fabric I had on hand, and tying with a ribbon.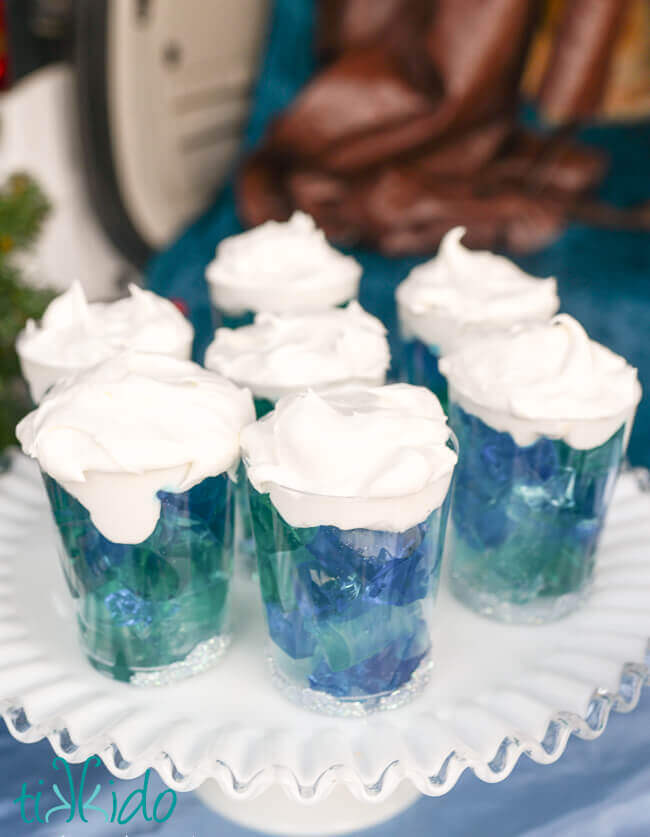 Snowy, icy jello treats were a hit with the kids.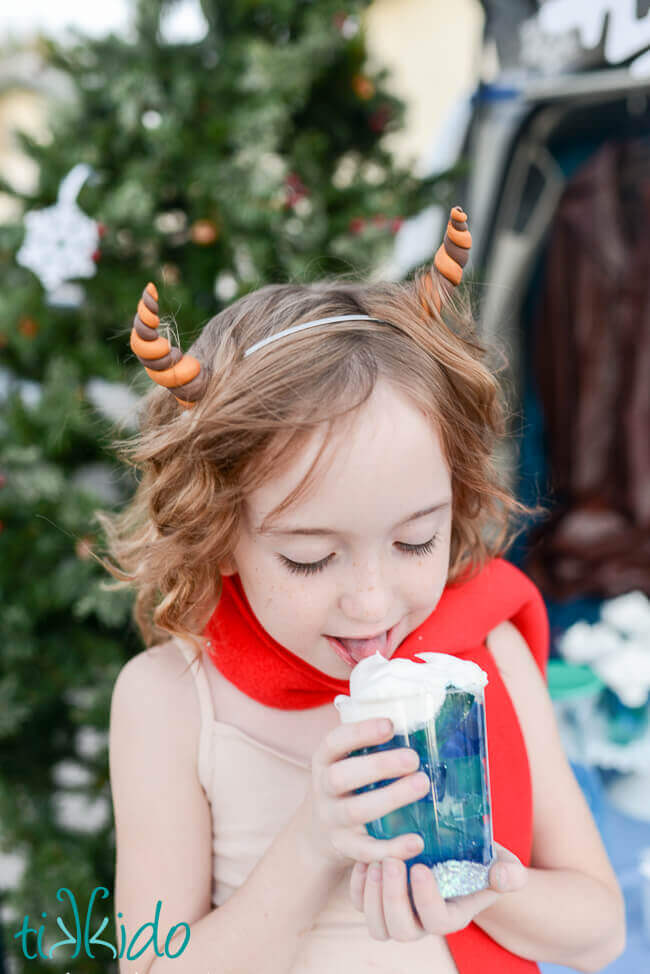 Niamh decided that Fauns don't need spoons.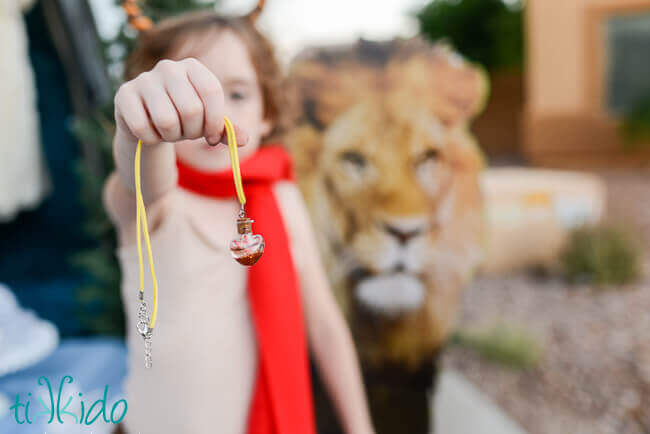 I always like to have non-food treats for kids with dietary restrictions, so I made some glittery heart potion bottle necklaces (my version of Lucy's healing cordial, a gift from Father Christmas), using these heart bottle charms.  I also had beaded snowflake ornament kits for the kids to make.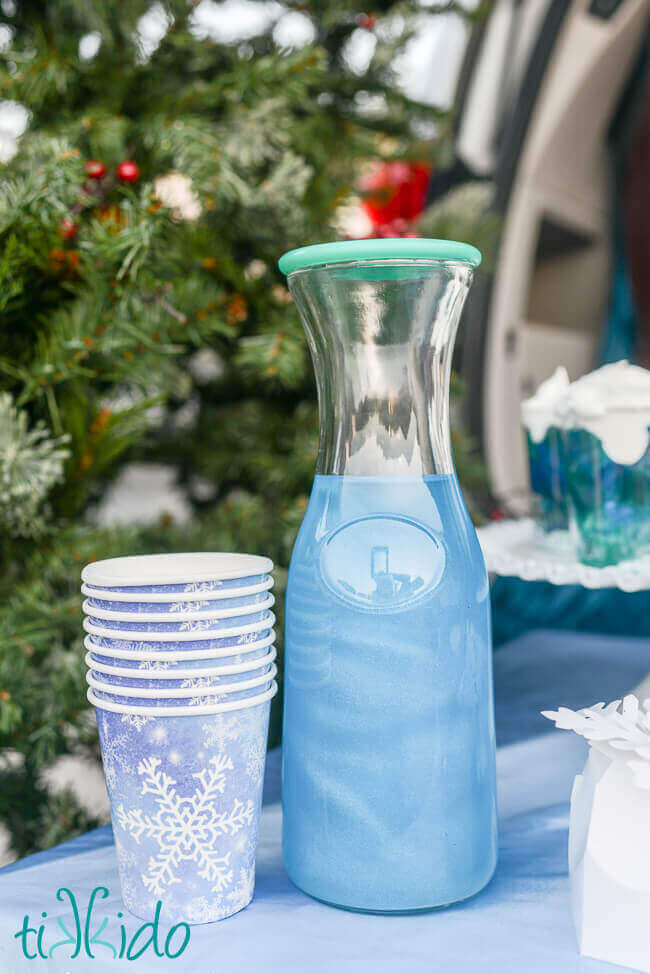 Blue Kool-Aid was given a frosty, magical makeover.  I'll have details on this project coming up on the blog soon, too.  The snowflake cups and plates also came from Oriental Trading.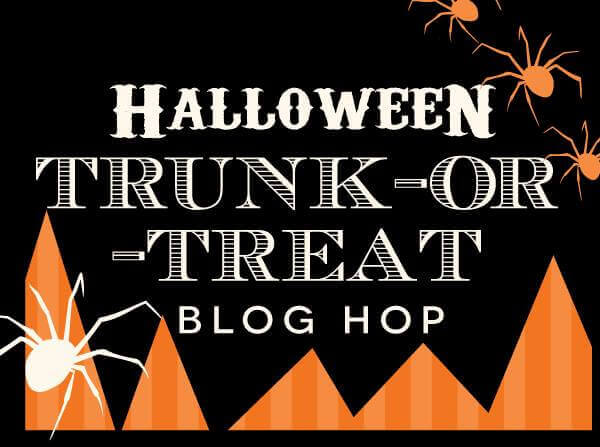 Want even more fabulous Trunk or Treat ideas for Halloween?  Check out the amazing Trunk or Treats created by my blogging friends: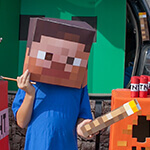 Minecraft Trunk or Treat
from Frog Prince Paperie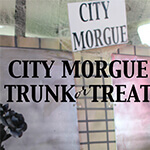 City Morgue Trunk or Treat
from Everyday Party Magazine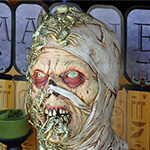 Ancient Egyptian Mummy Trunk or Treat
 from Fern and Maple Events