Printer-friendly version
This unicorn bookmark makes reading and even more magical experience!  It's an easy unicorn craft that doesn't use any special equipement, just paper, yarn, tape, and scissors.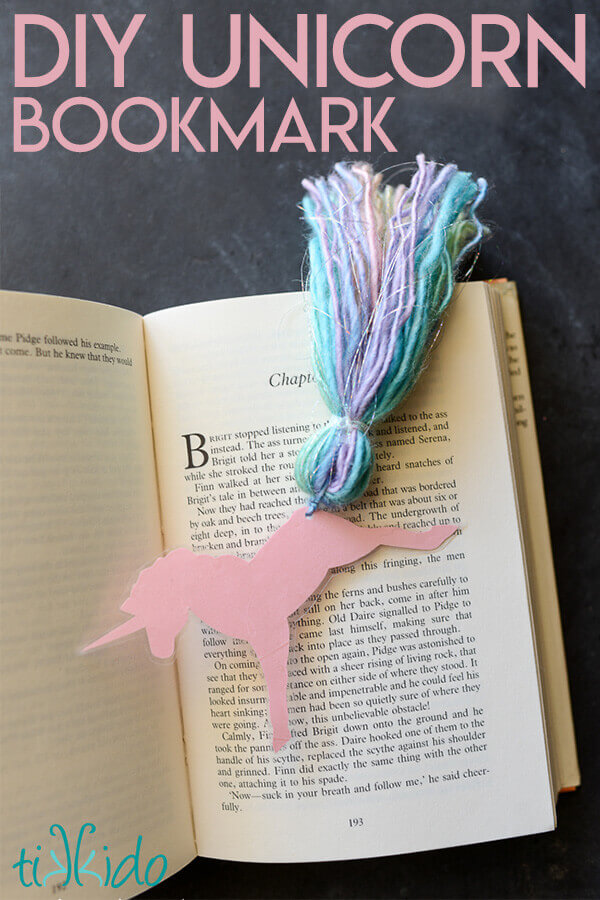 It's day 4 of Unicorn Week!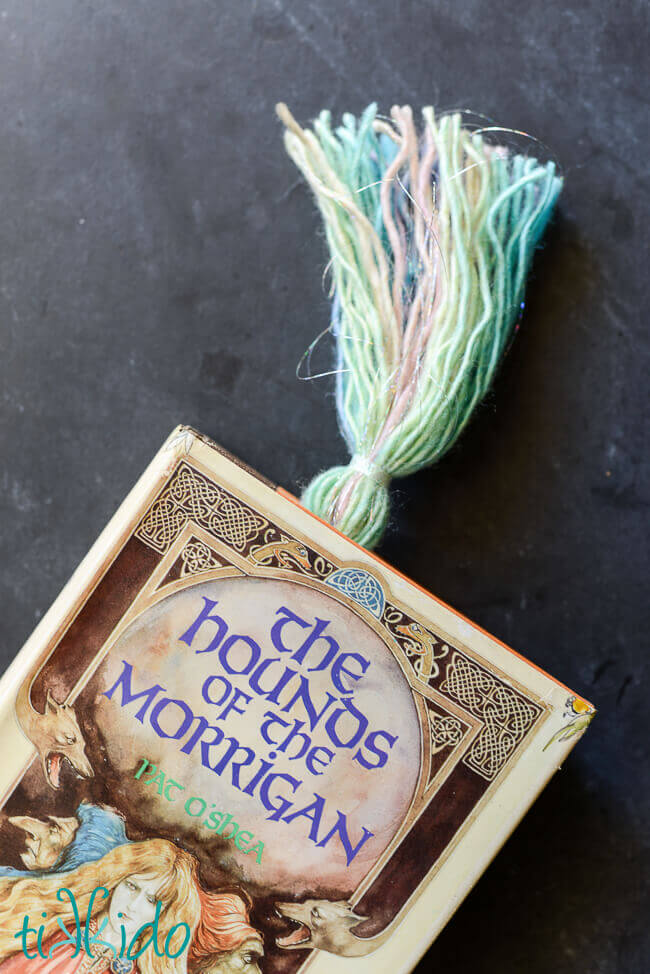 You can just have the unicorn's tail hanging out of the book...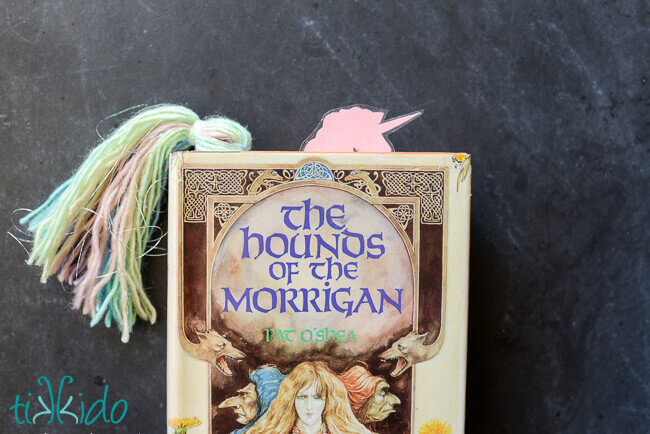 ...or, as I prefer, have the head and tail both peeking out.  This little guy just makes me happy!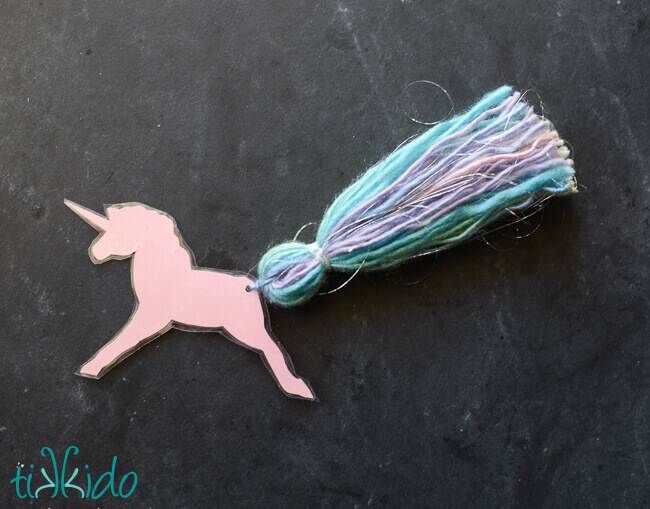 Ready to find out how easy it is to make this unicorn bookmark?  It's so easy!  No special equipment required.
How to Make a Unicorn Bookmark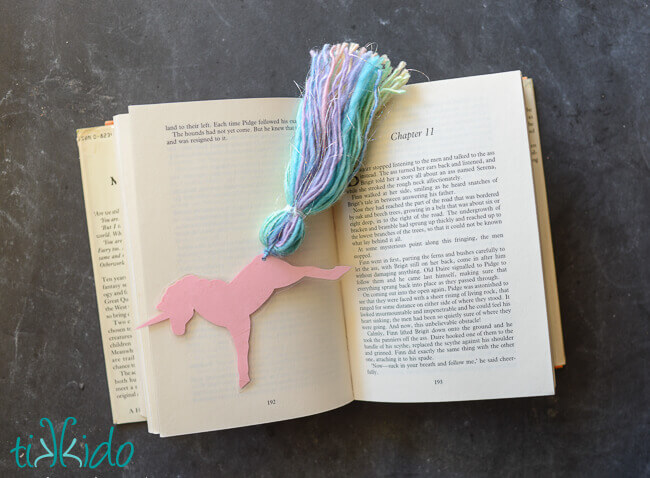 Materials and Equipment for Unicorn Bookmark Craft:
Rainbow variegated yarn
cardstock
clear packing tape
hole punch
iridescent thread (optional)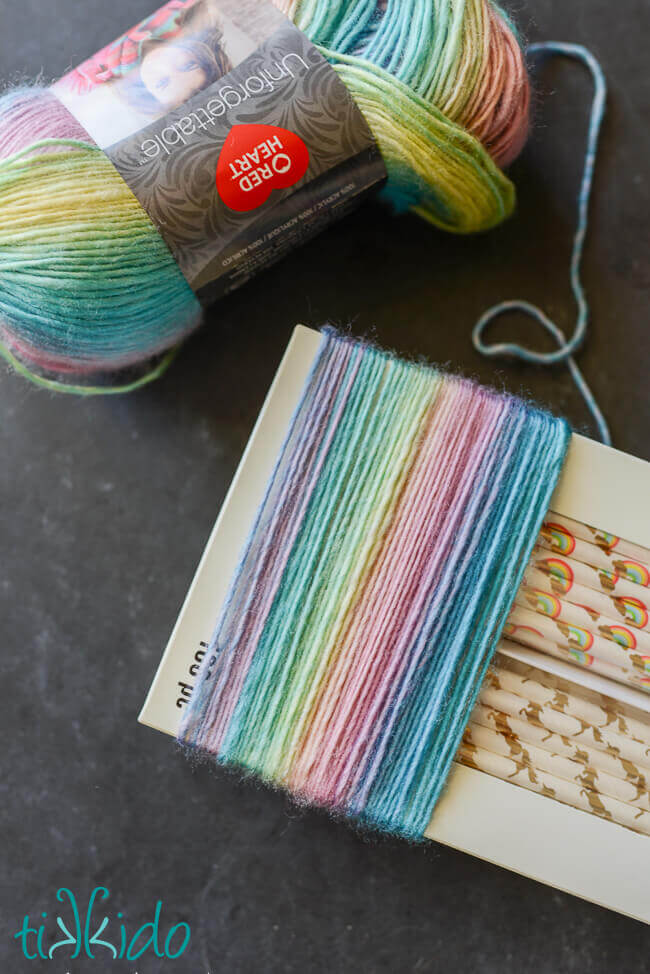 Yarn Tassel Unicorn Tail for Unicorn Bookmark:
I picked up this gorgeous variegated pastel rainbow yarn at Michaels.  If you don't have a good local craft or yarn store and need to order online, I found this crochet yarn that would be spectacular for this craft--it's so silky and lovely and I think would look even better than the yarn I found!
I wanted my unicorn tail tassels to be long and luxurious.  To make the tassels even, I wound the yarn around a box of unicorn and rainbow straws (I also found those at Michaels!).  Choose any object you want--a book would be a great choice, for example--that will give you the approximate length you want your tassel to be.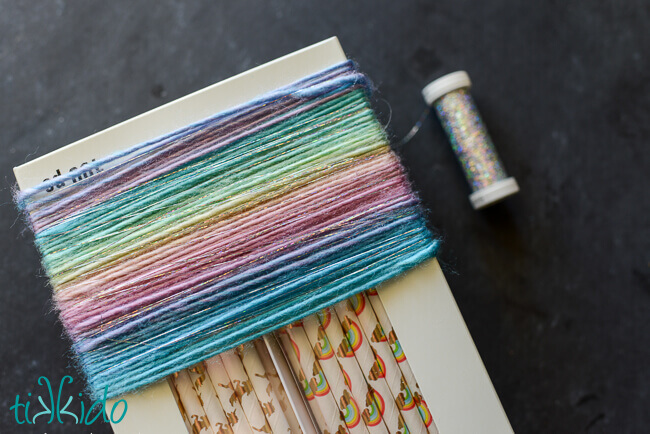 I found some iridescent thread in my stash, and wound that around the yarn to add some extra sparkly magic, but this step is completely optional, of course.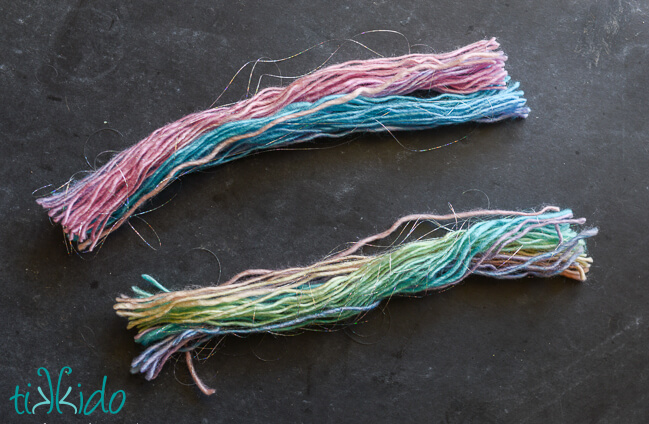 The amount of yarn I would around the box was too much for just one unicorn tail, so I divided the yarn in half to make two tassels.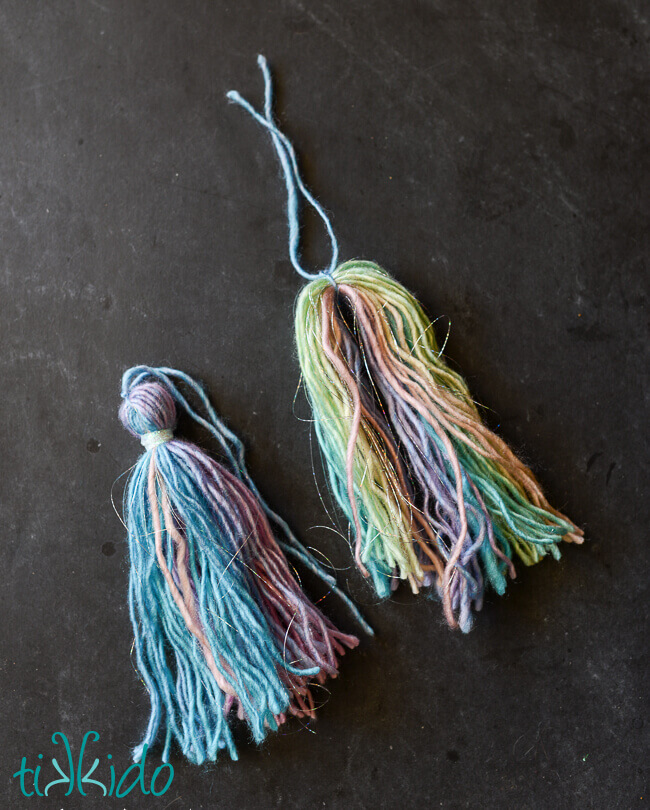 Tie a piece of yarn around the center of the gathered strands of yarn, fold in half, and tie more yarn (or I used iridescent ribbon) just below the center point to create the classic tassel shape.  Trim ends so that they're even.
For the final part of the tutorial, I'll show you how I easily made my unicorn shape without having to resort to any drawing skills.
Unicorn Bookmark Body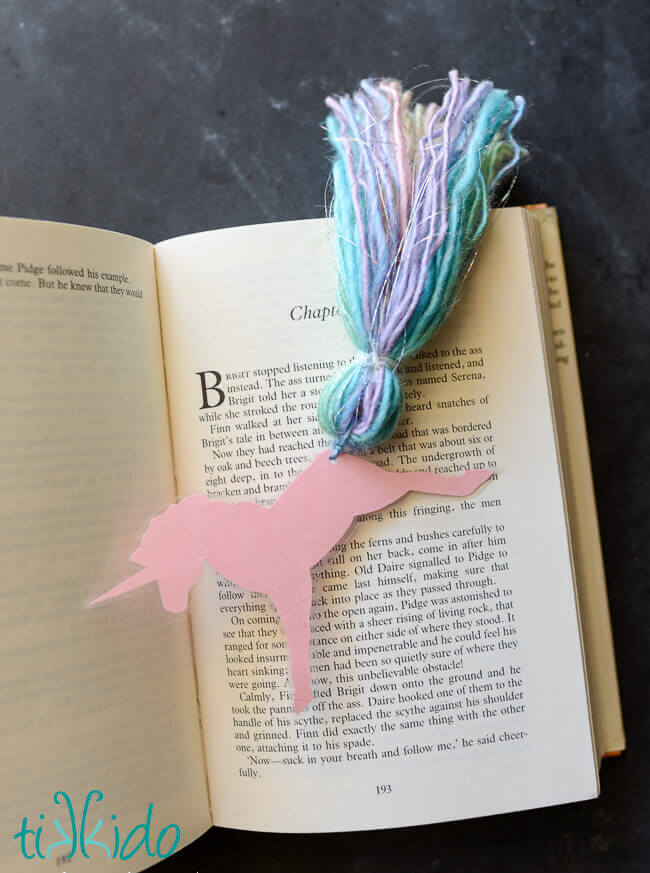 It's been a lot of years since I drew unicorns regularly, but I quickly realized that I didn't have to rely on my own artistic abilities, because I had the perfect template already:  the cookie cutter I used to make the watercolor painted unicorn sugar cookies.
I just traced around my cookie cutter on cardstock and cut out the shape!  I trimmed off the tail, because I was adding my own luxurious yarn tail to the bookmark.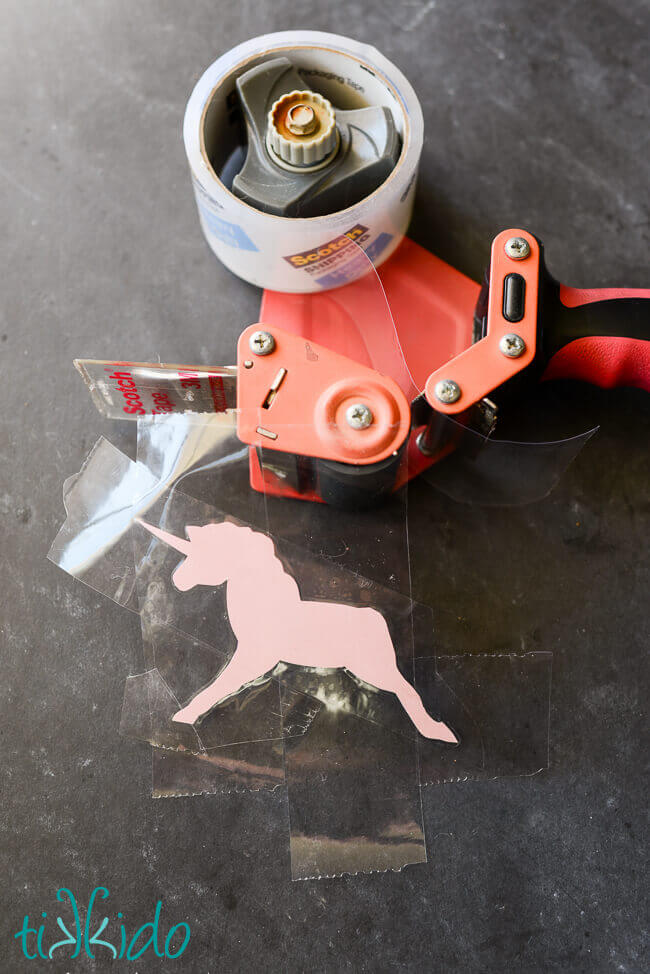 What to Do if you Don't Have a Laminator?
I wanted my bookmark to be durable, but I don't own a laminator, so I just covered both sides in clear packing tape.  It works perfectly!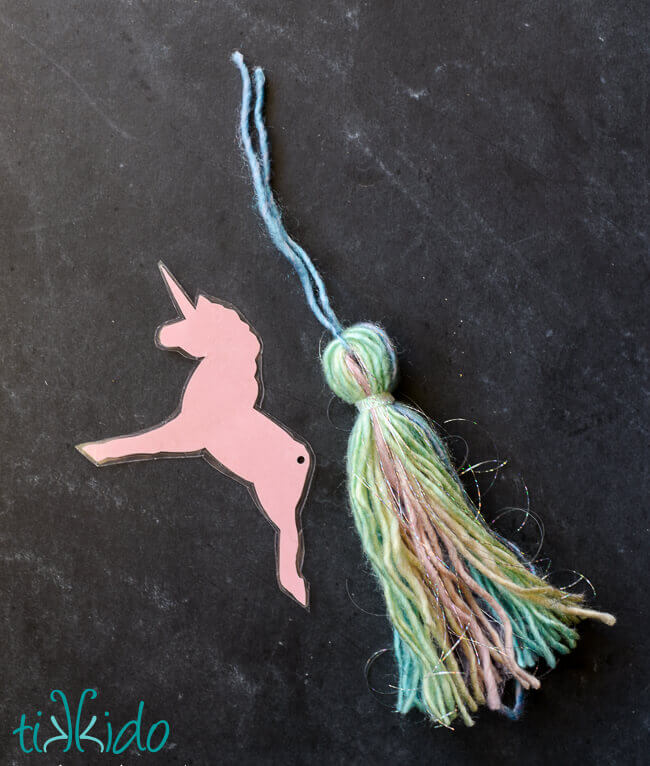 I used my small single hole punch to punch a hole on the unicorn's haunches, and tied the rainbow yarn tassel to the paper shape.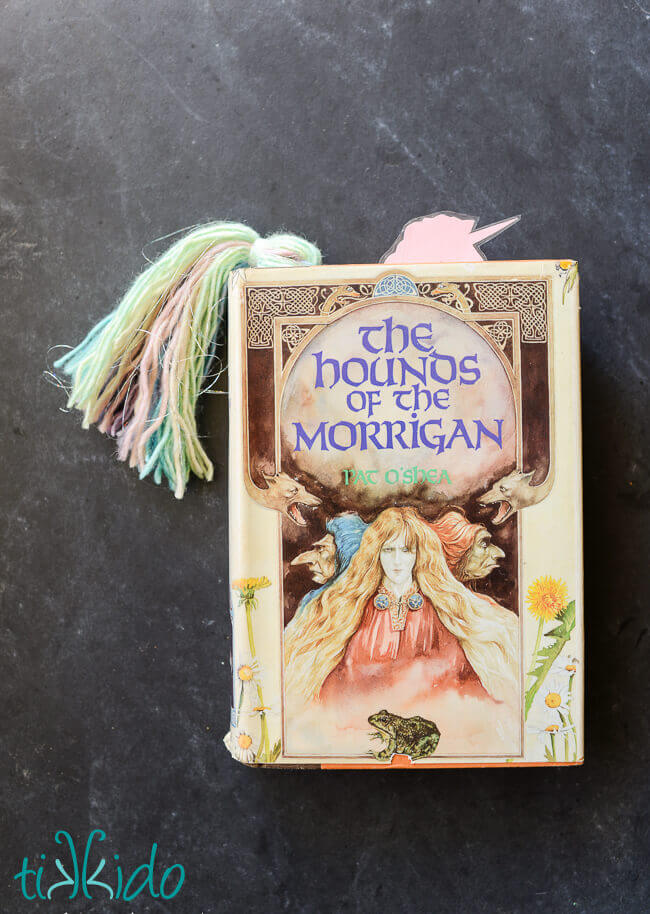 I made this just in honor of Unicorn Week and to brighten my own day, but wouldn't it make a magnificent favor for a unicorn birthday party?