Printer-friendly version
Make your gift even more magical by giving it in a unicorn gift bag.  It also makes an amazing unicorn party favor bag.  It's made with just a few craft supplies and a plain white paper bag.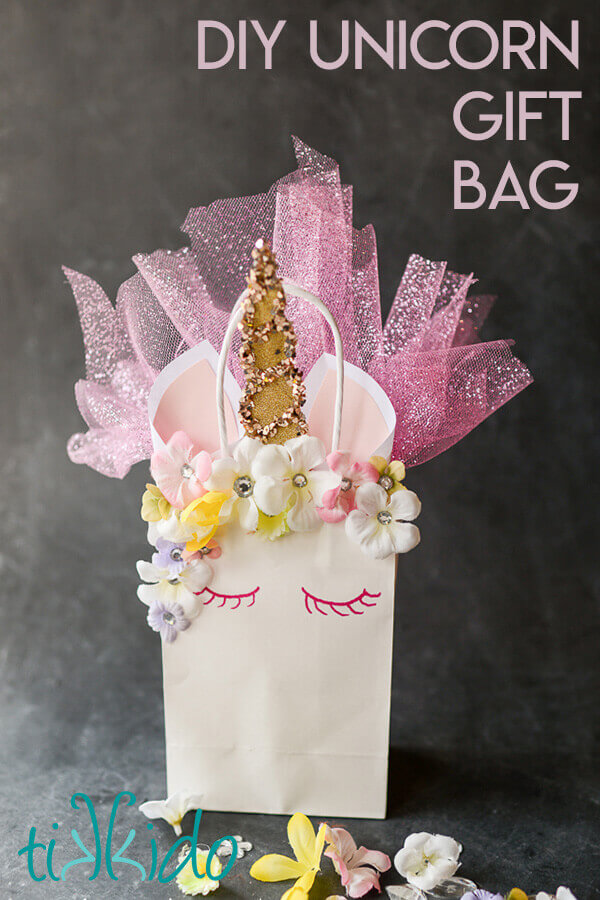 Welcome to Day Three of Unicorn Week!  (In case you missed the previous days, here are the unicorn cookies and unicorn cupcake tutorials from earlier in the week.)  Today, I'm showing you how to make a magical unicorn gift bag out of a plain white gift bag.
It's a masterpiece, right?  Ok, maybe "masterpiece" is going a bit far.  But I still really like it.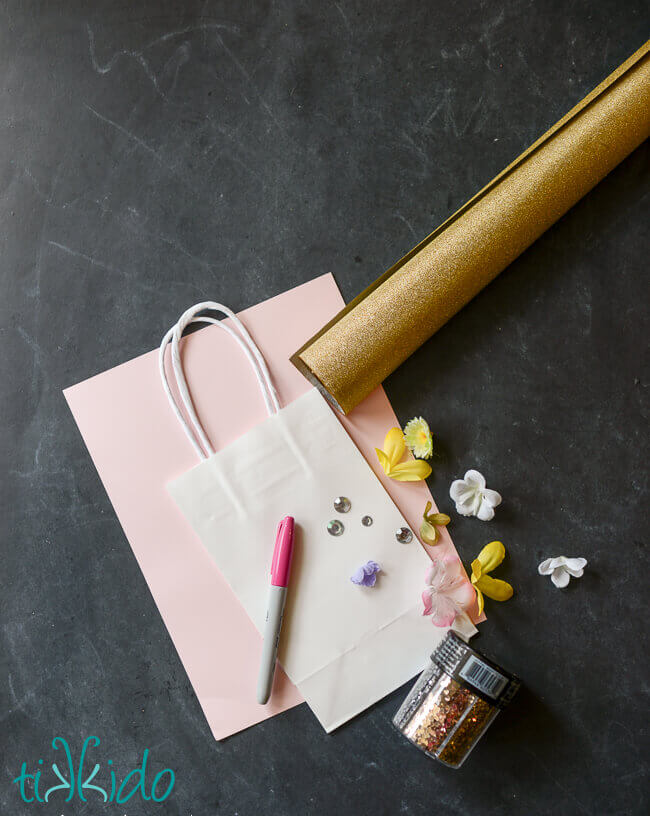 Materials for Unicorn Party Favor Bag:
pink and white paper
gold paper
gold glitter
low temperature glue gun
artificial flowers
rhinestones
colored marker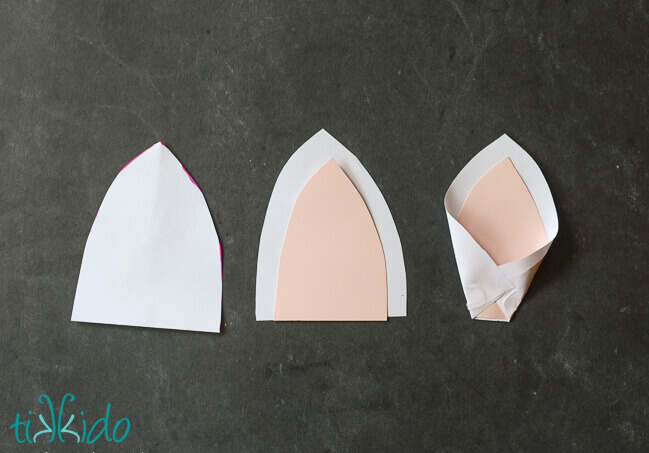 I made the ears out of white paper (just plain white printer paper, though you could use cardstock) and light pink cardstock.  I cut two ear shapes out of the white paper, cut slightly smaller versions out of the pink paper, and glued the two together.  I then folded the two bottom corners of the ear toward the middle, and glued them in place.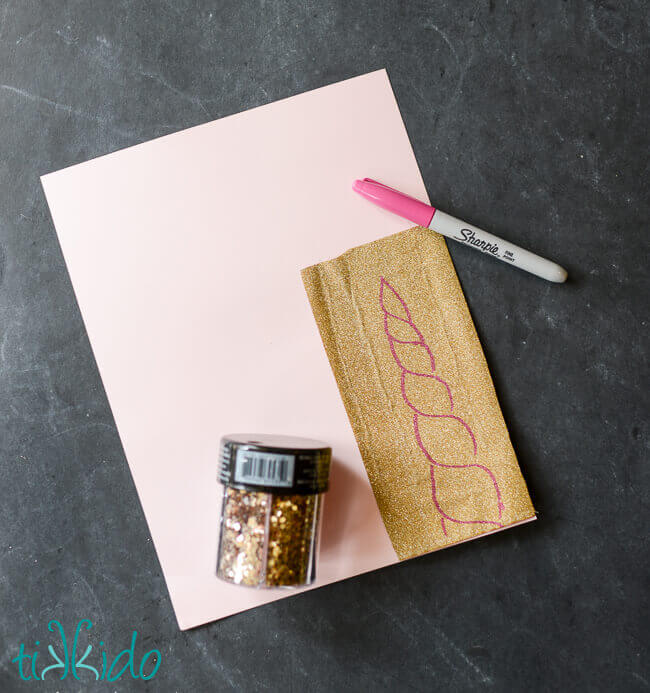 I didn't have any gold paper, but I did have some gold wrapping paper, so I glued the wrapping paper to cardstock to give it some rigidity.  If you had gold cardstock or even that sparkly craft foam, you wouldn't need to do this first step.
Once I had my gold paper attached to the cardstock base, I simply drew a unicorn horn.  My eight year old self would be very ashamed of how out of practice I've become at drawing unicorn horns, but though it's not perfect, it still totally works.  ;-)  If you're out of practice, too, I made a free printable unicorn horn template for you!
Printable Unicorn Horn Template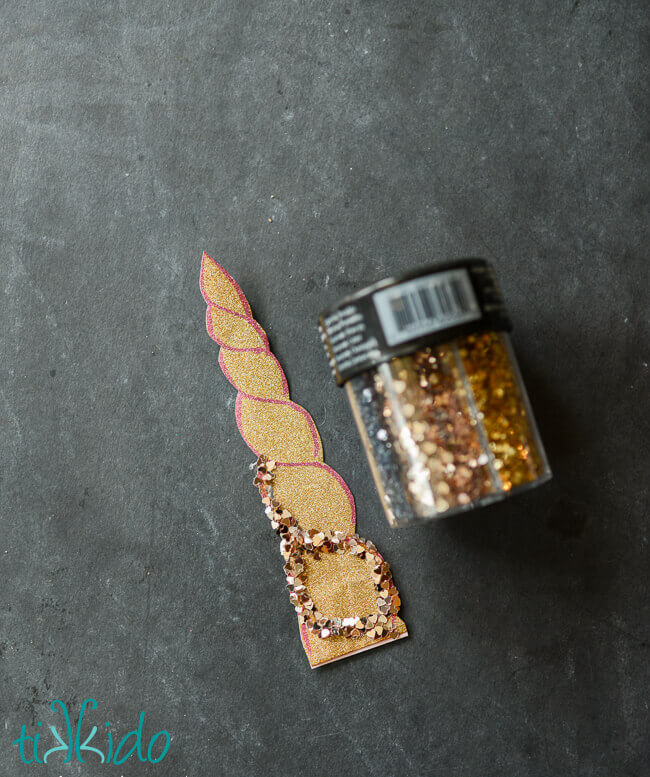 I cut the horn shape out, and then added glitter over the drawn lines.  I used my low temperature hot glue gun to glue the glitter to the horn.  Not only does it dry/cool very quickly, but I like the dimension it gives the project.  I'm also loving the super chunky glitters right now.  If you look closely, you can see  that it's even heart-shaped glitter!  
New Unicorn Horn Tip:
I have subsequently discovered that it's easier to just use golden glitter foam sheets instead of layering gold wrapping paper and card stock to make the unicorn horn.  
Still use the hot glue and the chunky glitter, though, because that makes the unicorn horn completely awesome!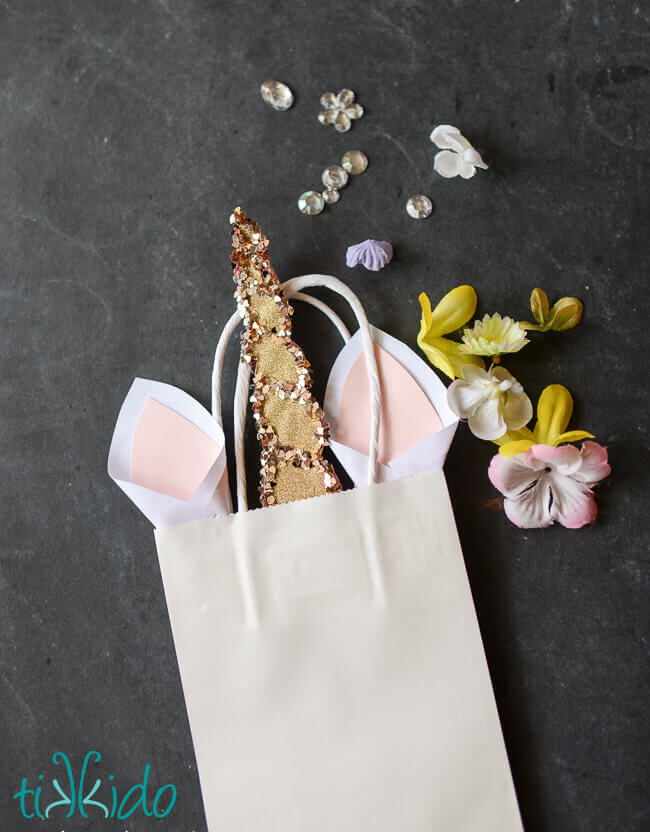 I then glued the ears and horn to the inside of the front of the gift bag.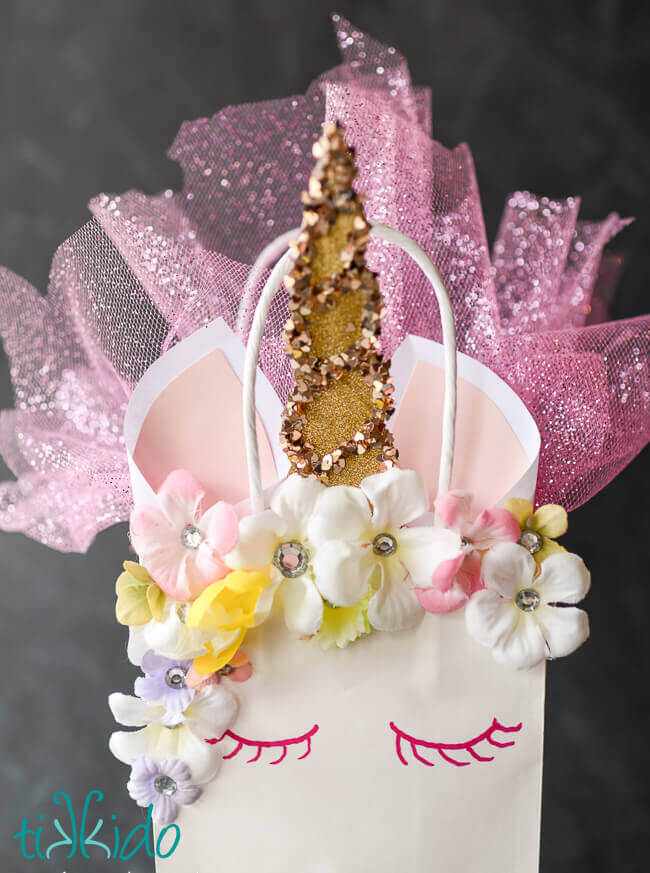 I never use artificial flowers in my home decorating, but I do buy them on sale and pull them off their stems and use them for craft projects!  When you pull the silk flowers off their stems, the stamens usually come off, too, so I used some inexpensive rhinestones from my kids' craft supplies stash for the centers of the flowers.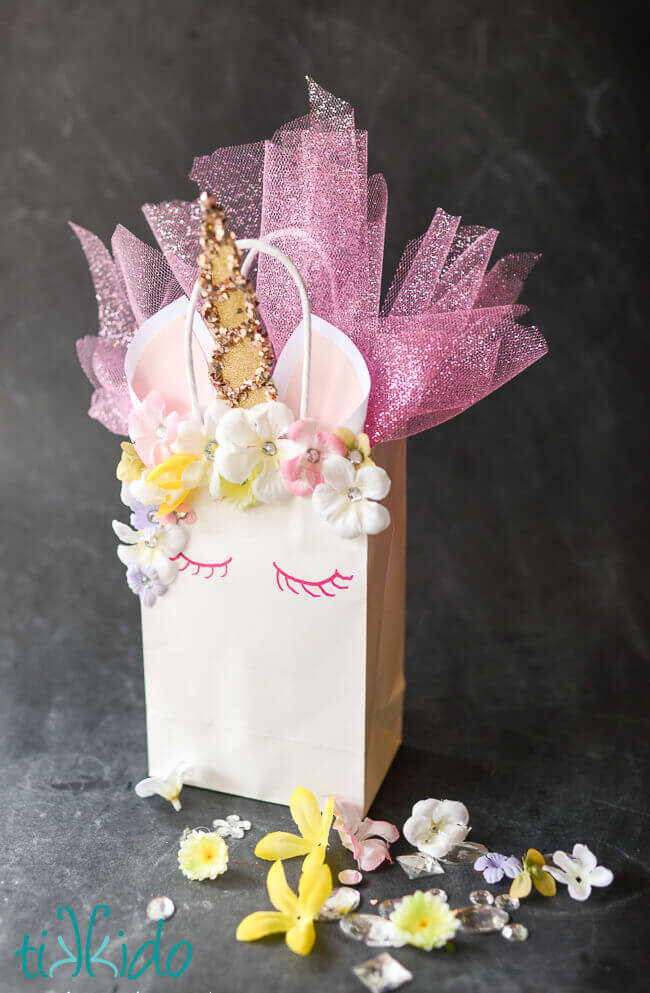 I drew on the simple eyes with a pink marker, and filled the bag with sparkly pink tulle instead of the standard tissue paper used to fill gift bags.  It's not really any more expensive than buying tissue paper, it's definitely no harder to do, and it looks so fancy!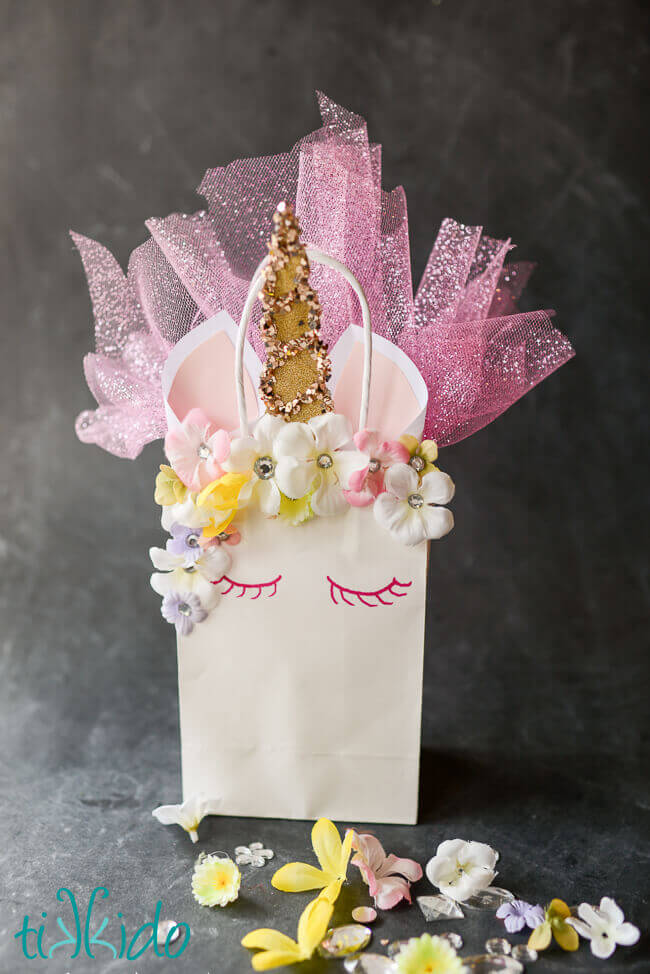 These would make fabulous gift bags for a unicorn birthday party, or are the perfect way to give a gift to a unicorn-loving friend.