Printer-friendly version
Apple cake (which can easily be baked as apple cupcakes) is an amazing autumn recipe.  Full of chunks of fresh apples and fall spices, this apple cake recipe is the best of fall baking.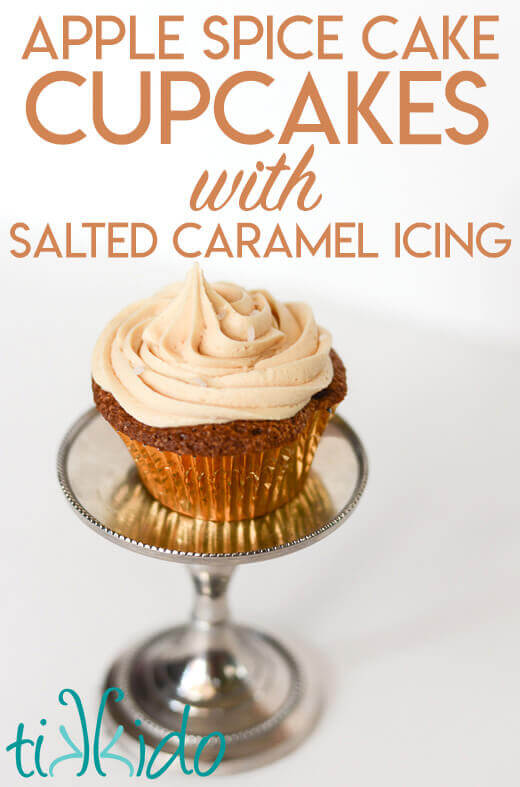 Hooray for fall, and cooler weather, and pumpkins, and APPLES!  I love apple pie, apple fritters, apple cider, apple donuts, caramel apples.  And just plain old apples, of course.  Fresh from the farm, crisp and juicy--there's nothing better!    
One of my favorite ways to use bountiful autumn apples is in apple spice cake (or cupcakes, here!)
It's the perfect combination of fall flavors.
Apple Cake Recipe:
2 eggs
1 cup (2 sticks) butter, softened
1 cup brown sugar
1 cup white sugar
1/2 t salt
1 t cinnamon
1 t vanilla extract
1 t baking soda
2 1/2 cups flour
1/2 cup buttermilk (or regular milk mixed with a little vinegar or lemon juice)
4 cups of diced apples
Beat the sugars and softened butter together.  Add eggs, one at a time, beating after each.
Add the cinnamon, salt, baking soda, vanilla, buttermilk, and flour, mixing until combined.
Peel and chop the apples--you want about four cups total.  I like to use a variety of apples in a single cake; it adds complexity, different textures and flavors.  If you're making the cake into cupcakes, make the apple pieces fairly small.  You can get away with larger chunks or slices if you're making a 9x13 or 2 8" round pans.  Mix the apples gently in the rest of the cake batter at the end.
If you're making cupcakes, no need to do anything special to prepare the pan.  But if you're making round cakes or a 9x13, it helps to either put parchment or wax paper circles in the bottom of the round pans or butter and flour the 9x13.  
Bake at 350 degrees for approximately 50 minutes for cakes, 25 minutes for cupcakes.  Use a skewer to test the cake for doneness.  
Once the cake has cooled, it can be iced with utterly decadent salted caramel buttercream.  
My favorite treatment is actually just a light sprinkling of powdered sugar.  I'm not much of an icing person, though I do make an occasional exception for that salted caramel buttercream...  It's awfully hard to resist.
Ooooh yeah, come to mama.