Printer-friendly version
Apple crumble is a close cousin to apple crisp, and is the perfect, easy fall apple dessert to make if you don't like oats.  Fresh apples are topped with a buttery, crumbly crumb topping that contrasts perfectly with the warm, baked apples of the filling in this classic apple crumble recipe.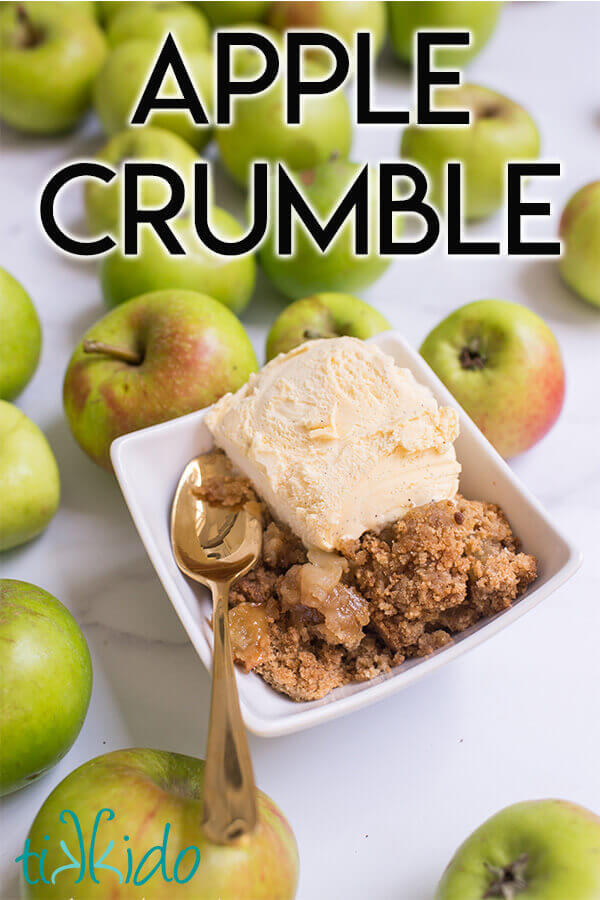 It's the first Monday of the moth, and that means it's time for the Taste Creations Blog Hop.  Our theme this month is apples, so this was the perfect opportunity to share my favorite apple crumble recipe with you.
I love apple crumble best when served warm out of the oven, topped with vanilla ice cream.  There's something so perfect about the blend of textures and flavors and temperatures.  Apple crumble is one of my very favorite things to make with autumn apples.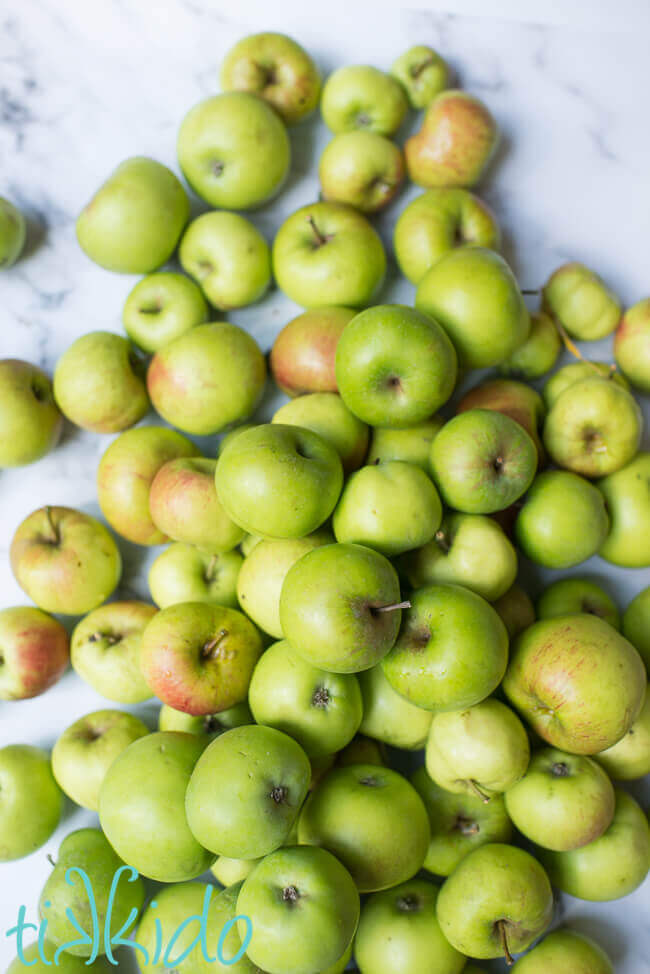 Look at this glorious pile of amazing organic apples I was given by a neighbor!  I love living in a place where apples grow so well.
If you're buying apples to make a recipe, and aren't sure how many to buy, I found this excellent resource for calculating what you need from The Spruce Eats.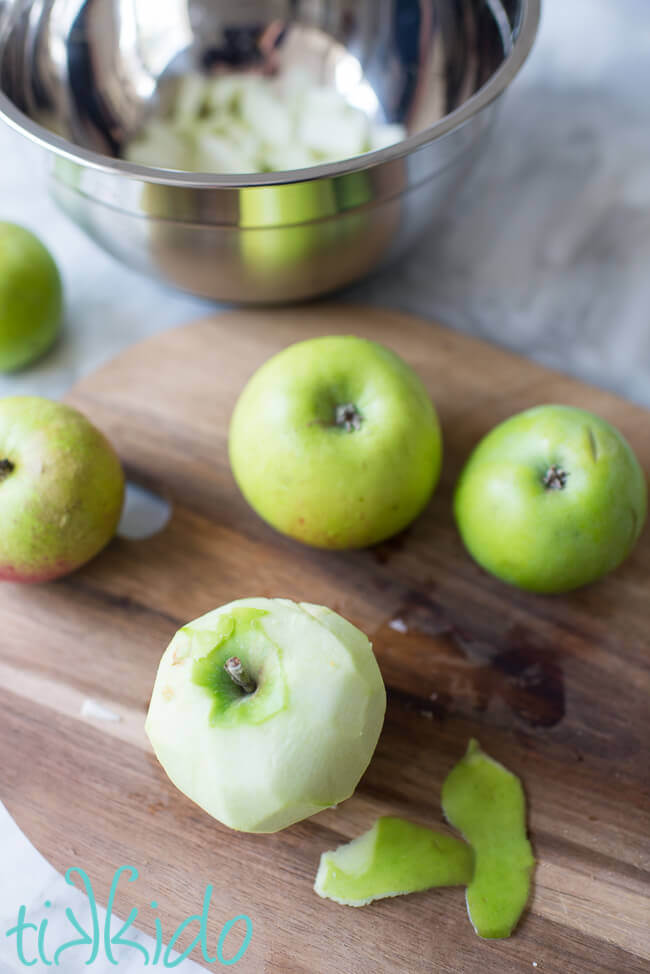 Peeling Apples for Easy Apple Crumble
It's not strictly necessary to peel apples to make an apple crumble, but I definitely prefer it made with peeled apples.  If you need to peel and core a bunch of apples, I love this Kitchenaid attachment.  For a small job like a single apple crumble, however, I just use a handheld vegetable peeler and a knife.

Apple Crumble Topping Ingredients:
3/4 cup brown sugar, packed
2 1/4 cups of flour 
1 cup (2 sticks) butter
1/2 teaspoon cinnamon
1/4 teaspoon nutmeg
1/2 teaspoon salt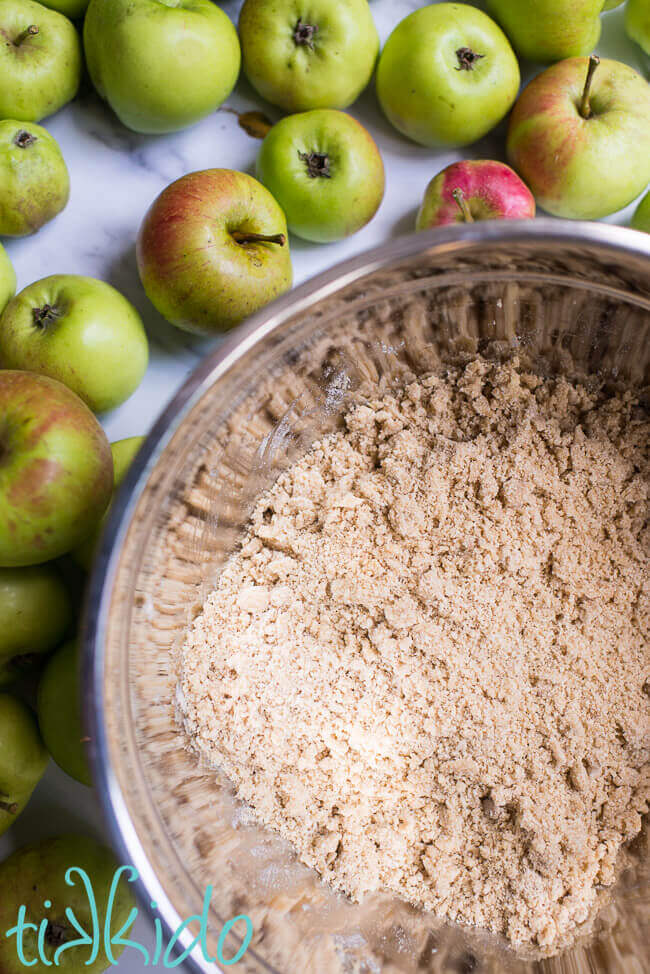 Mix dry ingredients together, and then cut the butter into the dry mixture until the butter is incorporated pretty well, leaving only pea-sized lumps of butter.  You can use a pastry cutter to do this, two knives, or even just your hands.  The texture of the finished mixture reminded me of the Moon Sand my daughter loves to play with--dry, but it clumps together.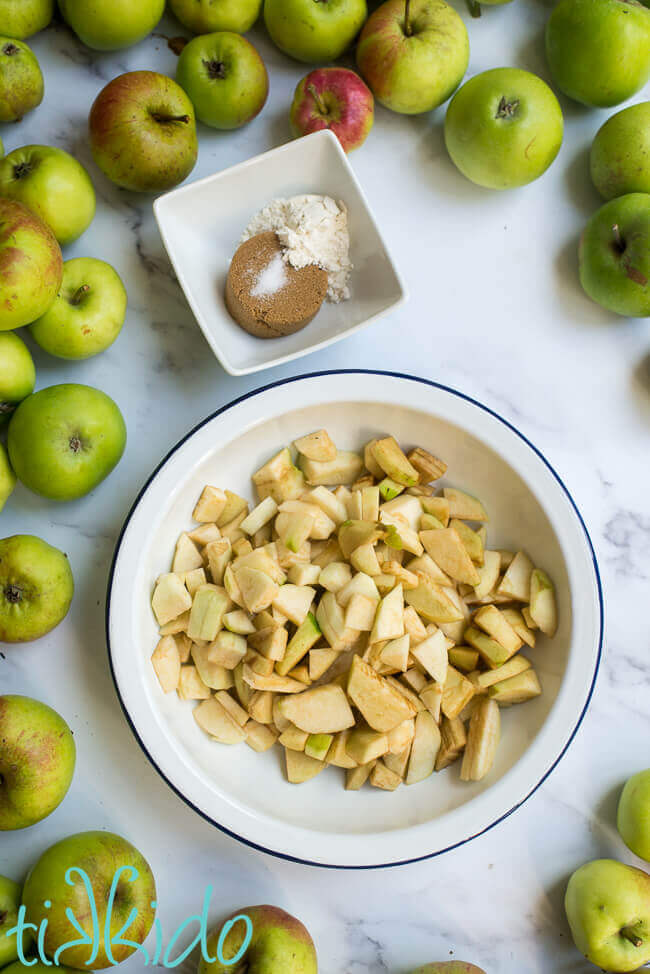 Apple Crumble Filling Ingredients:
3 to 4 apples, peeled, cored, and sliced
1/4 cup brown sugar
1 Tablespoon flour
pinch salt
1 teaspoon cinnamon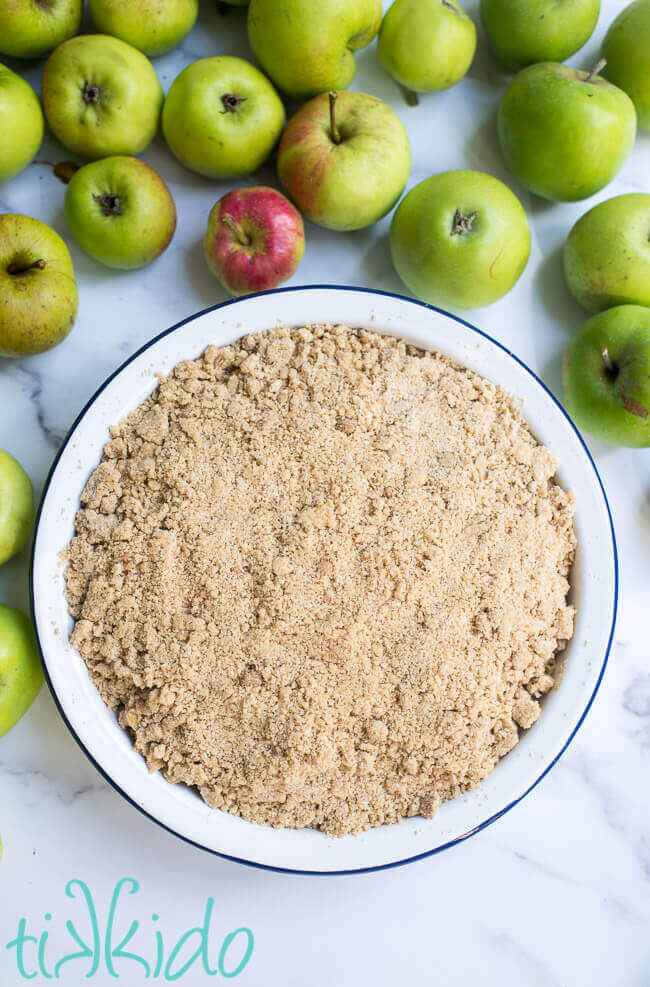 Mix the apples and other filling ingredients together, then place in the bottom of a 9x9 inch baking dish (I used a deep enamel pie plate because my square baking dishes are still on a container ship somewhere in the middle of the Atlantic ocean).  Top with the crumb mixture.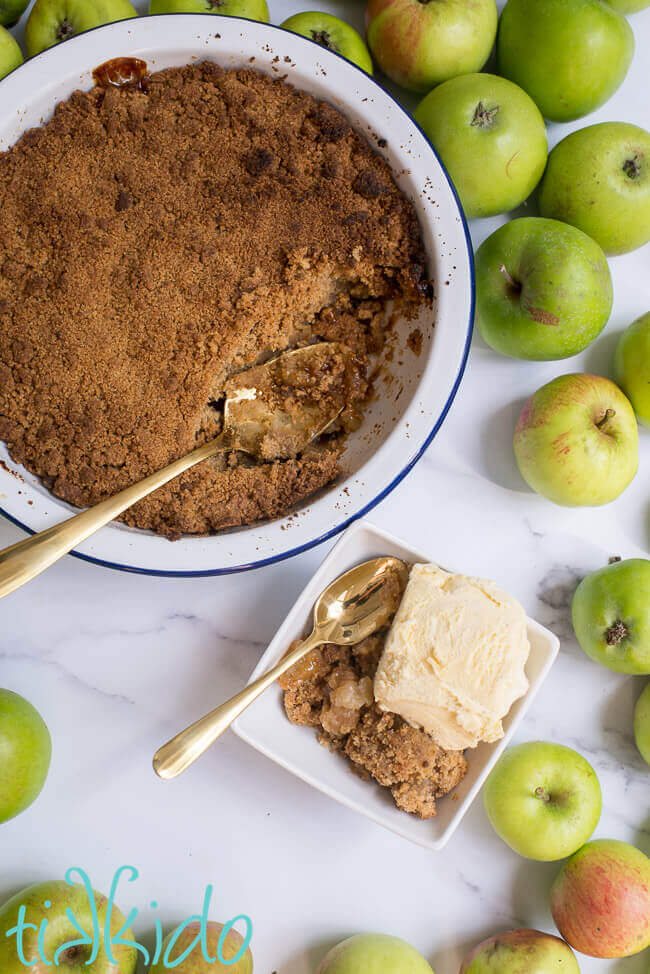 Bake at 350 degrees Fahrenheit for 40-45 minutes.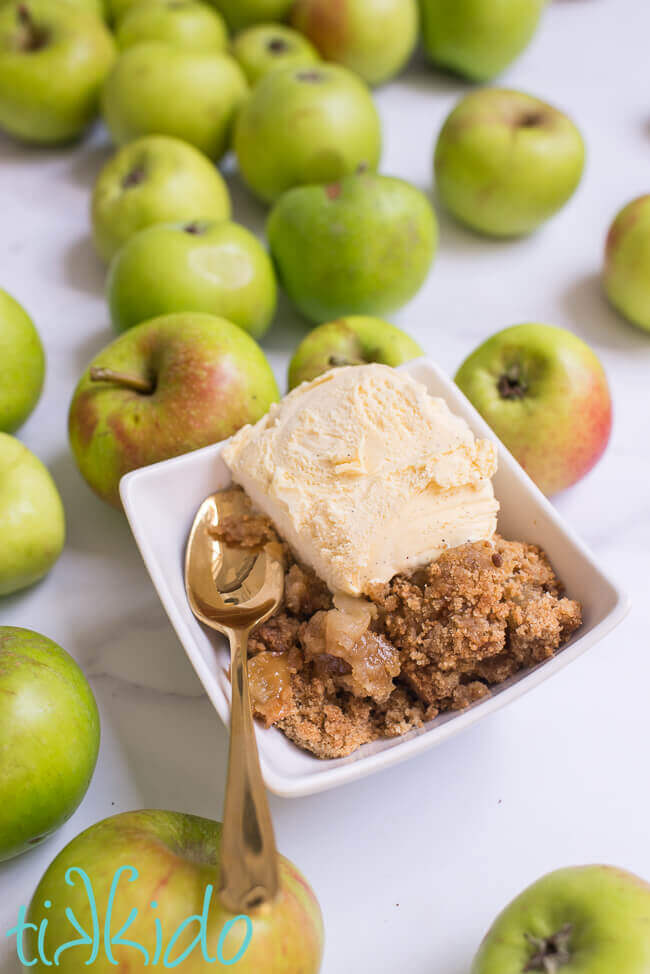 The crumble topping turns into a crisp-yet-tender cookie crust that tastes absolutely amazing with the bright and flavorful cooked apples.  And when served warm, with a scoop of vanilla ice cream--well, that's just heavenly.
Printable, One Page Apple Crumble Recipe:
Other Apple Recipes from the Taste Creations Blog Hop: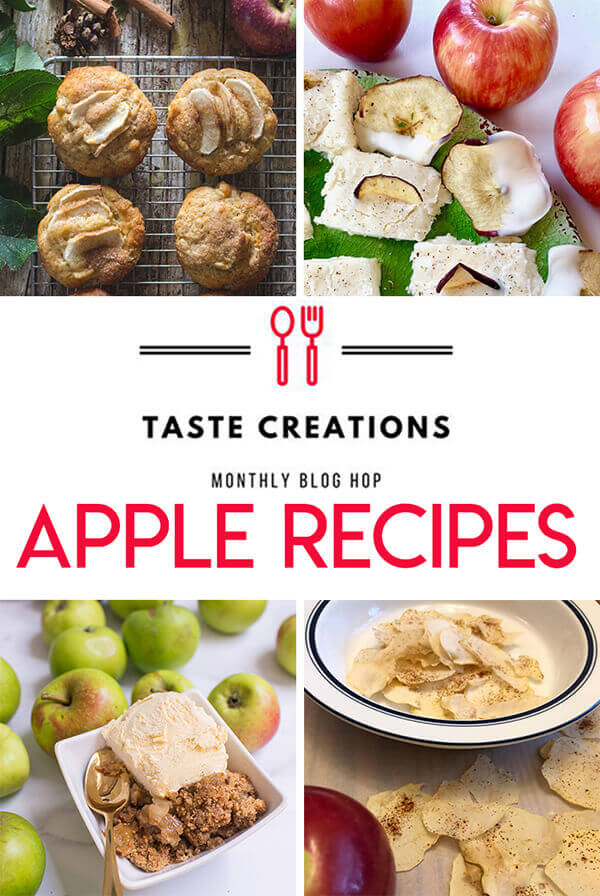 Other Apple Recipes from Tikkido You Might Like: