Printer-friendly version
Homemade blueberry muffins are a magical thing, aren't they?  Great for breakfast, delicious with dinner, perfect for a picnic.  And blueberry muffins are so easy to make, too.  This is my family's absolute favorite recipe.
We love berries in my house.  Any kind of berry.  If the prices are even semi-reasonable, we have buckets of them at all times.  Sometimes I buy enough that we just can't go through them quickly enough, but happily, blueberries freeze easily and gorgeously.  I almost always have a stash in the freezer, ready to whip up some utterly delicious blueberry muffins.
When I came up with the classic Americana inspiration for the Gold Rush BBQ dessert table for Festivities Magazine, I knew immediately that I wanted to make our favorite blueberry muffins for this red, white, and blue, classic barbecue picnic.
Homemade Classic Blueberry Muffins Recipe
(makes 24)
4 cups AP flour
2 T baking powder
1 T salt
1 t cinnamon (optional)
2 eggs
2 cups sugar
8 T (one stick) butter, melted
2 1/2 cups sour cream or plain yogurt
3 cups blueberries (can be fresh or frozen)
1)  Preheat oven to 350 degrees, and line your muffin tins with paper liners.
2)  Combine all the dry ingredients in a bowl, and mix thoroughly.  
3)  In a seperate bowl, beat the eggs together until combined and a light yellow color.  I've written about this before, but I absolutely adore my little egg squisher tool for this.  I don't even know what it's really called.  It's boingy and springy and fun and there's nothing better for beating eggs.  It's a vintage tool, so if you see one in a thrift shop, pick it up!  It's absolutely worth it!  
And if anyone knows the real name of my egg beater thingy, please do let me know!
4)  Mix the wet ingredients in with the eggs, mixing thoroughly.  
5) Combine the wet and dry ingredients, mixing gently.  You want to mix until the dry ingredients are JUST incorporated.  If you overmix, you'll end up with tough muffins.  Nobody wants tough muffins. Gently fold in the blueberries at this stage.
6) Scoop the batter into the muffin tins.  I like using a cookie scoop tool.  I have them in about six different sizes.
It's far less messy than using a spoon, but on the downside, you don't get batter all over your finger that you simply must lick off.
7)  Bake for approximately 25 minutes.  The tops of the muffins should be a light golden color, and use a toothpick to check and be sure that the batter is cooked through to the center.  
Enjoy!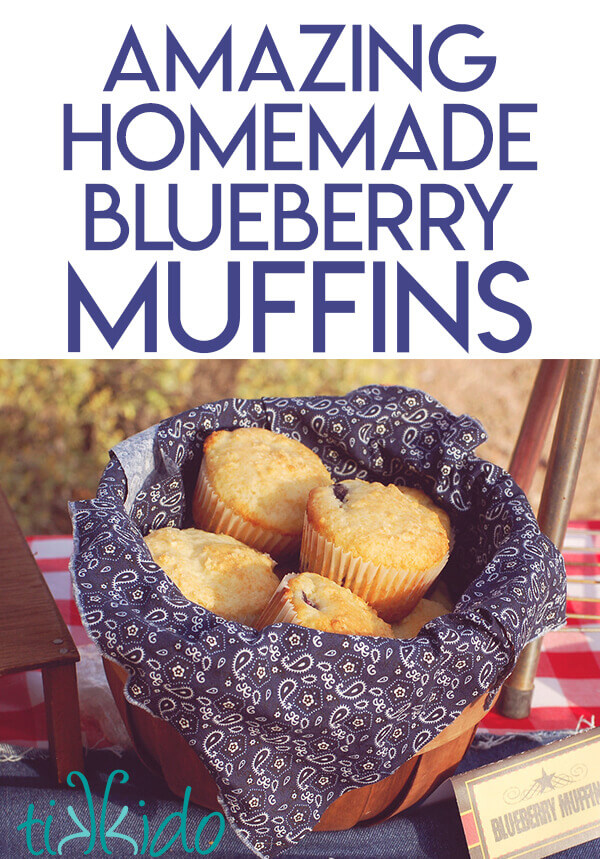 Other Muffin Recipes You Might Like: