Printer-friendly version
Butternut squash bruschetta is the perfect fall or winter appetizer.  Slices of toasted bread are topped with a creamy mix of ricotta, honey, and browned butter, then a generous heap of roasted butternut squash, and drizzled with honey.  This butternut squash appetizer is easy to prep ahead of your party, and the amazing flavors will wow your guests.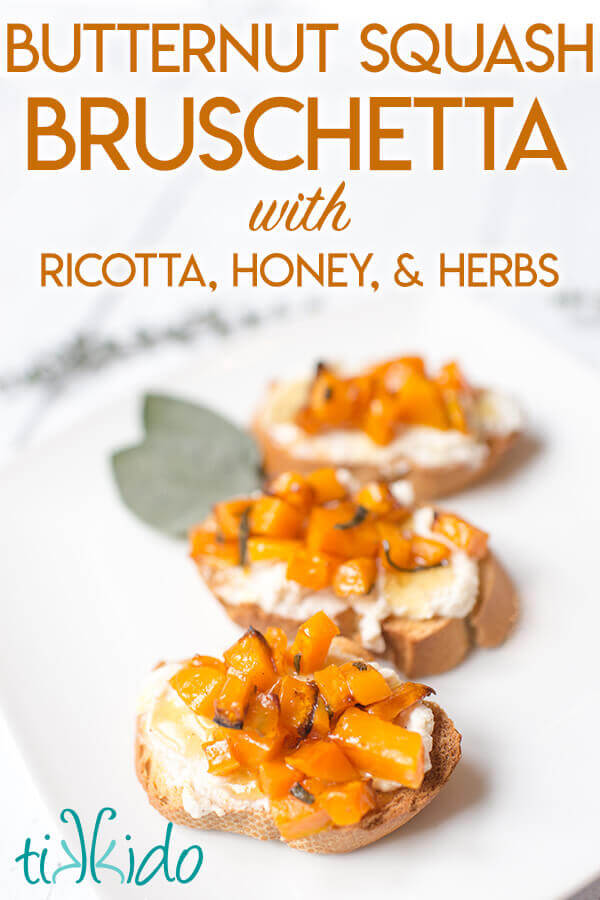 Butternut squash is in season during the fall and winter, so this butternut squash bruschetta is the perfect appetizer to serve at all your parties from Thanksgiving through New Year's Eve.
You can make the elements of the bruschetta several days ahead of your party, and just assemble them at the last minute.  That's always an important consideration for holiday entertaining.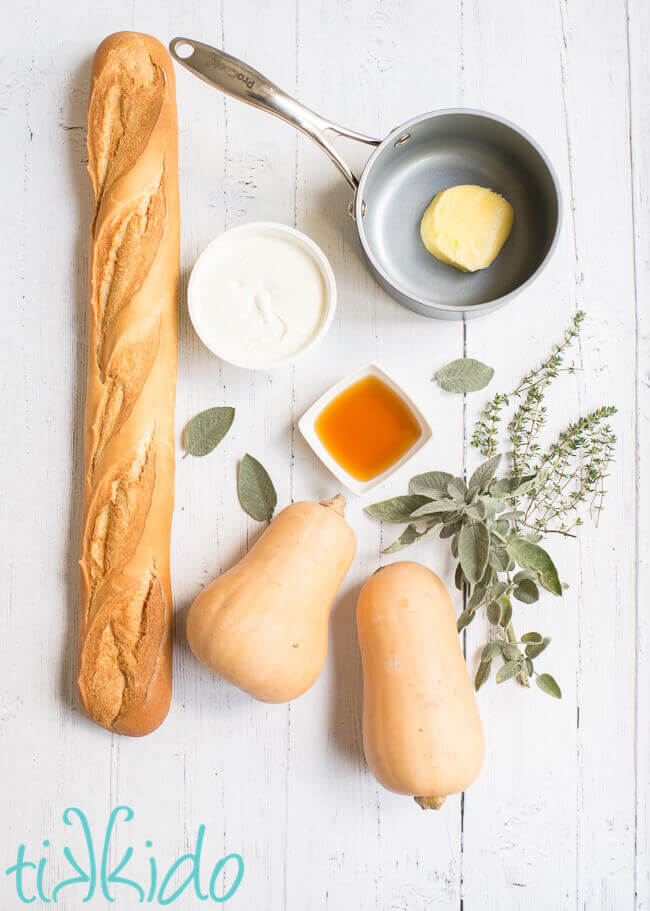 Butternut Squash Bruschetta Ingredients:
Roasted butternut squash, cut into small cubes
baguette, sliced and toasted
1 Tablespoon browned butter
1 cup ricotta cheese
1 Tablespoon honey
more honey to drizzle
The first step in making butternut squash bruschetta is roasting the butternut squash.  I like to have a pretty fine dice to my squash when I roast it.  I like the extra bits of browned surface area, and the smaller size lends itself nicely to being used for bruschetta or being tossed in salads.
I have a whole blog post and recipe for roasted butternut squash with browned butter and herbs.  You can roast your squash up to several days ahead of when you need it for the bruschetta.  Store in the refrigerator, and heat it or let it come to room temperature when you're ready to use it for the bruschetta.
Browned butter makes everything more delicious!  And even though the roasted butternut squash is already tossed in browned butter, I wanted to infuse some of that flavor into the ricotta spread for my butternut squash bruschetta.  Reserve about one Tablespoon of the browned butter from roasting the butternut squash for the bruschetta.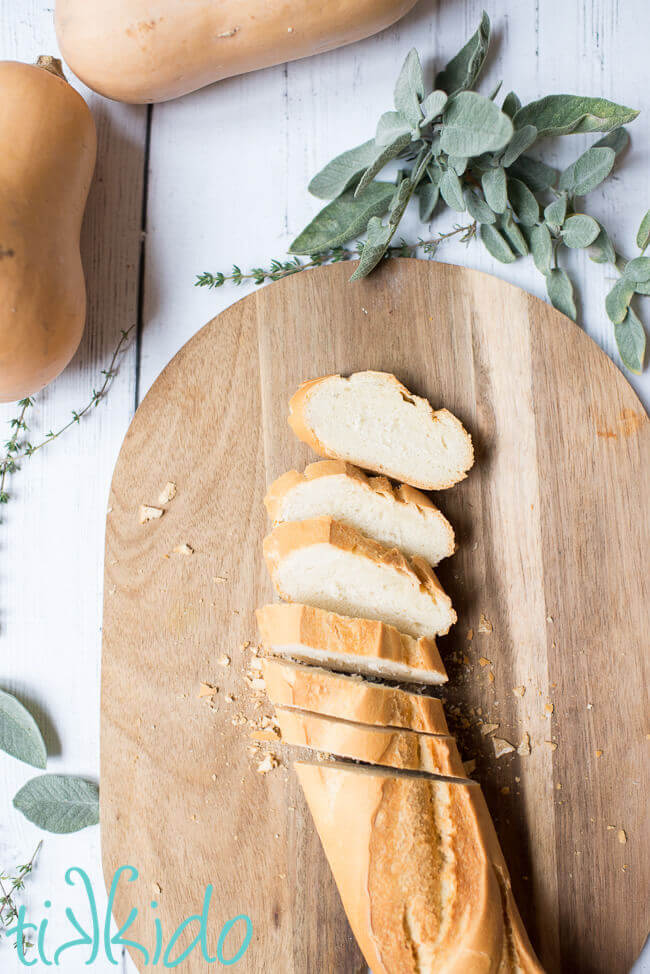 Slice a baguette, and toast the slices for a couple minutes under the broiler in your oven.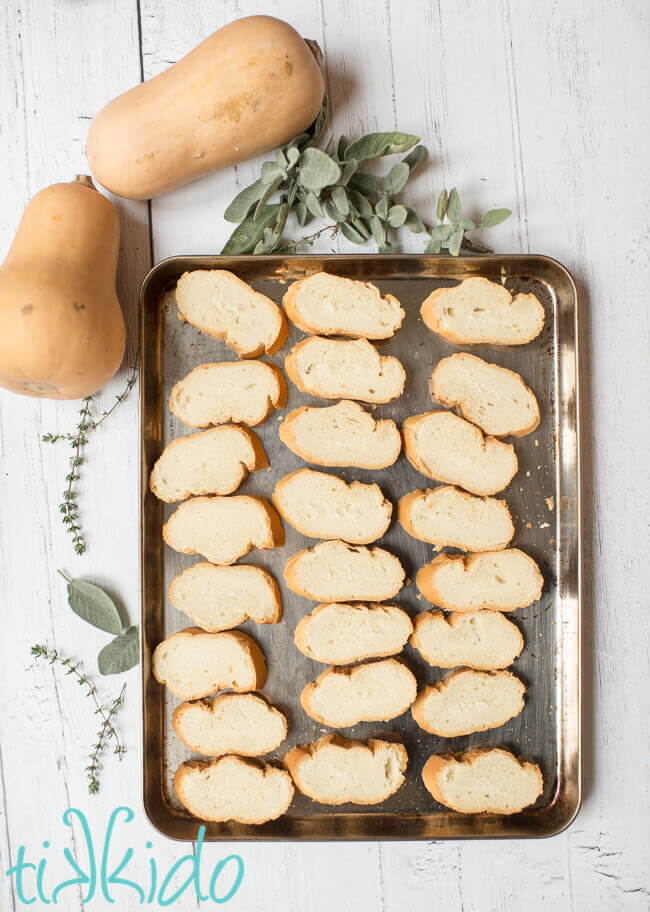 Watch carefully--you just want the bread toasted, and it can burn quickly!
Combine the ricotta, one Tablespoon of honey, and one Tablespoon of browned butter in a bowl.  Mix together until well combined.  No need to bring out a mixer for this job; it's easy to do by hand with a spatula and a bowl.
Spread the toast slices with the ricotta mixture, top with a generous heap of roasted butternut squash, and drizzle extra honey on top.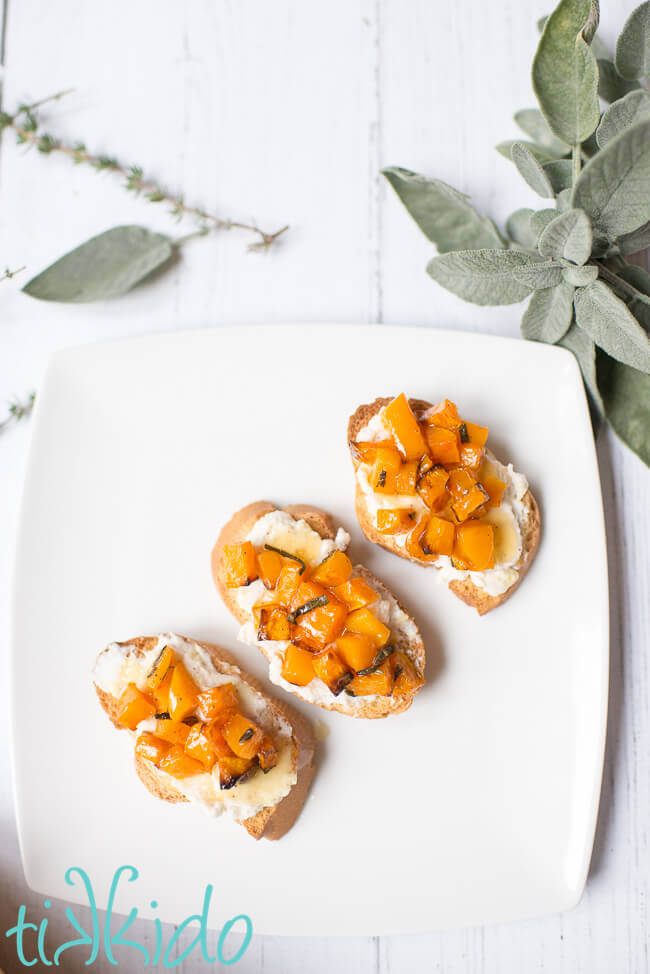 The natural sweetness from the butternut squash and the honey pairs gorgeously with the tang of the ricotta and the deep, rich flavors added by the herbs and browned butter.  This is my new favorite fall and winter appetizer!
Other Butternut Squash Recipes You Might Like:
Other Appetizer Recipes You Might Like: