Printer-friendly version
Roasted butternut squash is easy to make, and when roasted with herbs and dressed with browned butter, it makes an absolutely delicious Thanksgiving side dish.  I make my roasted butternut squash in the oven, and I cut the butternut squash in cubes so that it roasts more quickly.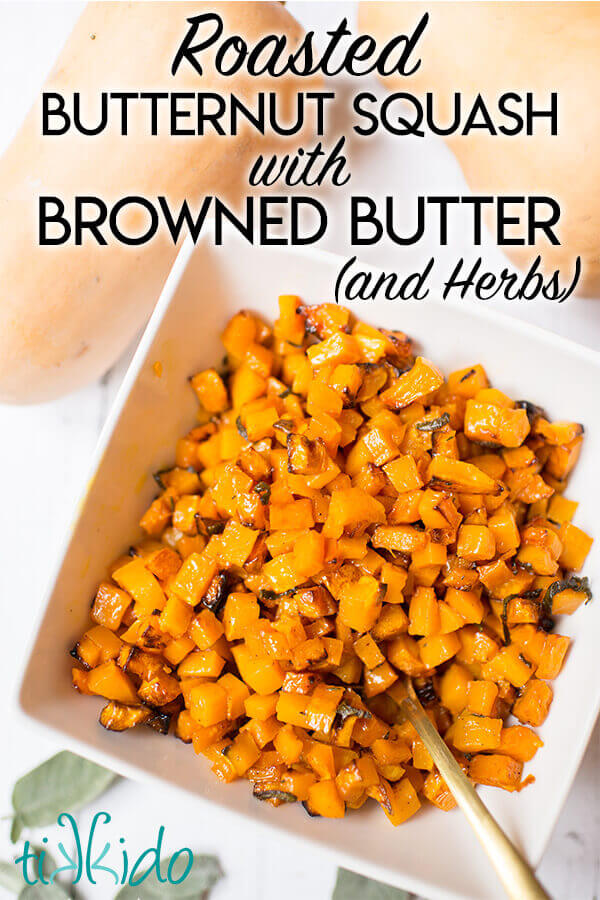 Can I admit something?  Until I made this dish, I'd never cooked a whole butternut squash.  I'd only bought pre-cut or even frozen butternut squash puree.  My good knives and fabulous vegetable peeler STILL haven't arrived from the states (but are coming this weekend, hurrah!), so cutting this squash was a bit of a challenge, but if I can do it with the limited tools I have at the moment, anyone can.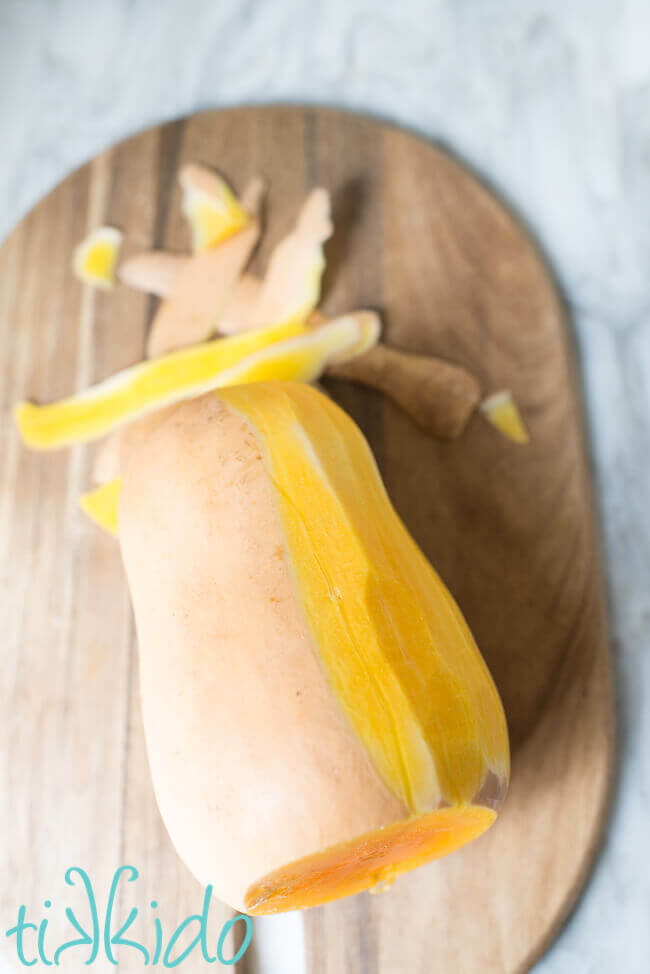 The skin of a butternut squash is thick and tough, and needs to be peeled off before roasting with this method.  Cut off the top and bottom of the butternut squash, and peel the skin using a vegetable peeler.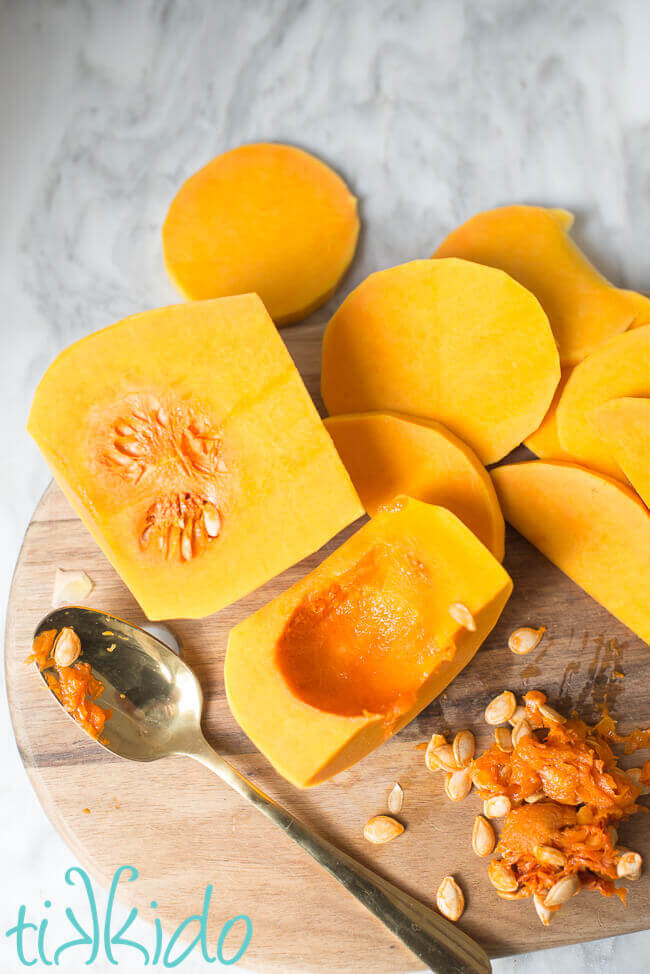 Cut the neck and bottom of the butternut squash off in slices.  Remove the seeds from the center of the squash, and slice that portion as well.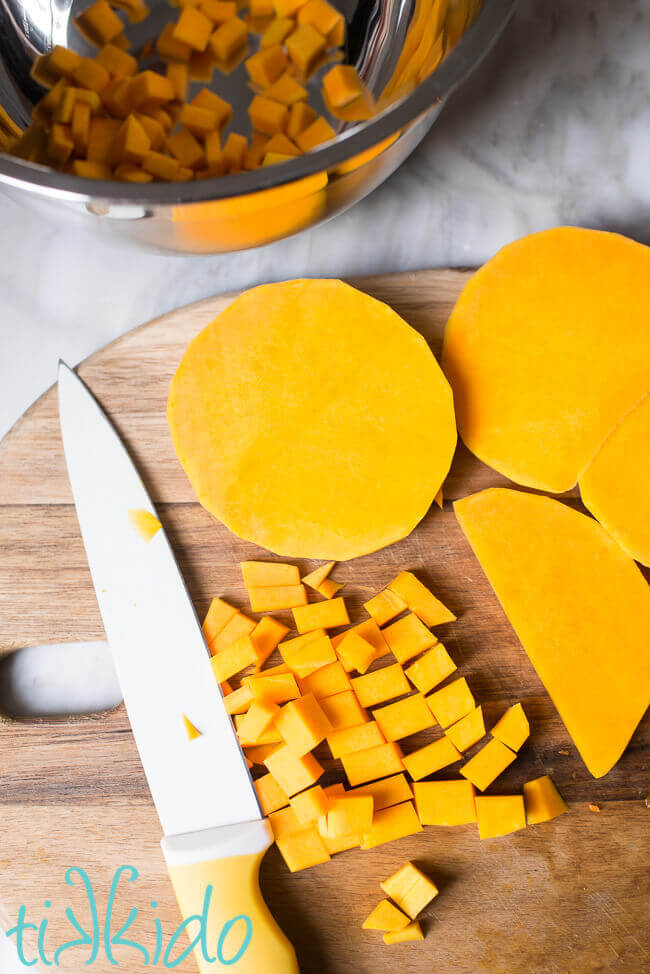 Cut the butternut squash into cubes.  I chose to make very small cubes so I could also use this roasted squash for my butternut squash bruschetta, but I loved how there was more surface area to get that delicious, golden browning, and how the smaller pieces needed less time to cook.  For me, it was worth the bit of extra effort to cut the squash into smaller pieces.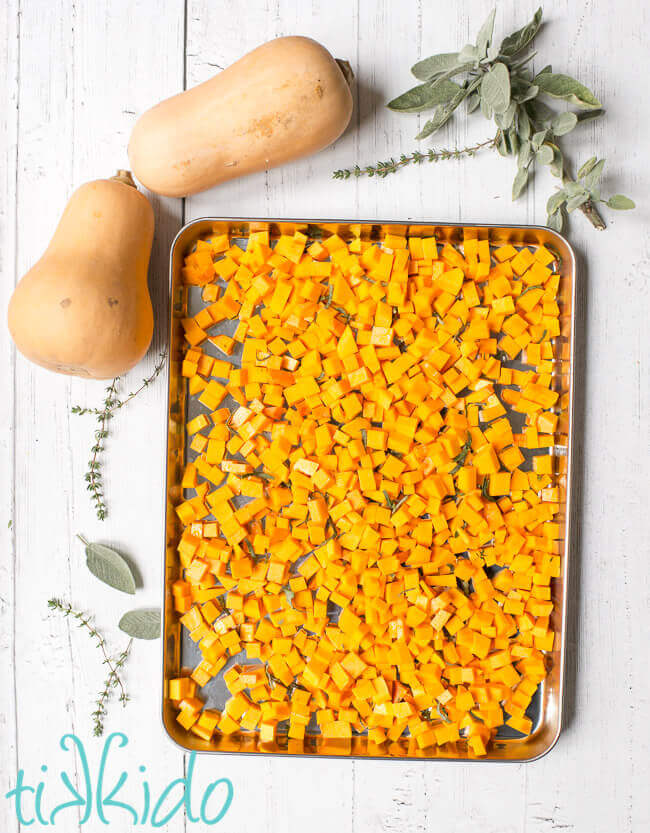 Toss the butternut squash cubes with a bit of olive oil and any herbs you want to add.  I used sage and thyme from my garden.
Roast the butternut squash in a 425 degree Fahrenheit oven for 20-25 minutes, until the butternut squash cubes are soft, and have some browning.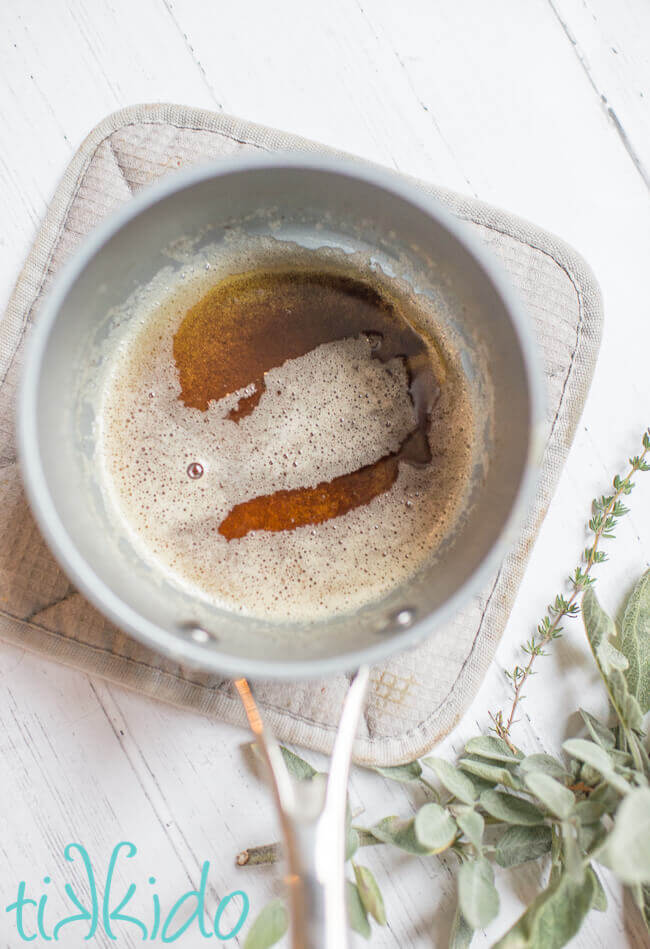 Browned Butter for the Butternut Squash
Butternut squash and browned butter are flavors that pair together so well!  I didn't want to risk the butter burning in my very hot oven as the butternut squash roasted, so I roasted the squash with a little olive oil, and made browned butter on the stovetop to add to the squash after it was done cooking.
To brown your butter, melt the butter in a saucepan over medium-high heat.  Watch the butter and stir it frequently, and remove from heat once the milk solids in the butter have turned a delicious golden brown color.
Pour the browned butter over the roasted butternut squash cubes after the squash is done cooking and has been removed from the oven.
It's naturally sweet, but the herbs and the browned butter and the browning from roasting the butternut squash give this side dish complexity and tons of flavor.  This is going to be a must-have on our Thanksgiving table every year now.
Idea for Using Leftover Roasted Butternut Squash
And if you make too much at Thanksgiving?  I have a great way to use up any leftovers.  I cooked a pot of quinoa in my rice cooker, and once it was cooked, I added goat cheese, sauteed kale, and my leftover roasted butternut squash.  It was a spectacular one-dish dinner packed with nutrition and flavor, and it used up leftover squash that might have otherwise languished in the fridge.  My family has already requested this dinner again, and as often as possible.  I call that a win!
Other Thanksgiving Recipes You Might Like: