Printer-friendly version
Cherry and almond just go together.  The flavors are just right, working in concert.  So when I needed to use up some cherries that were tottering at the edge of freshness, I decided to develop and quick and easy recipe for a cherry almond bar cookie.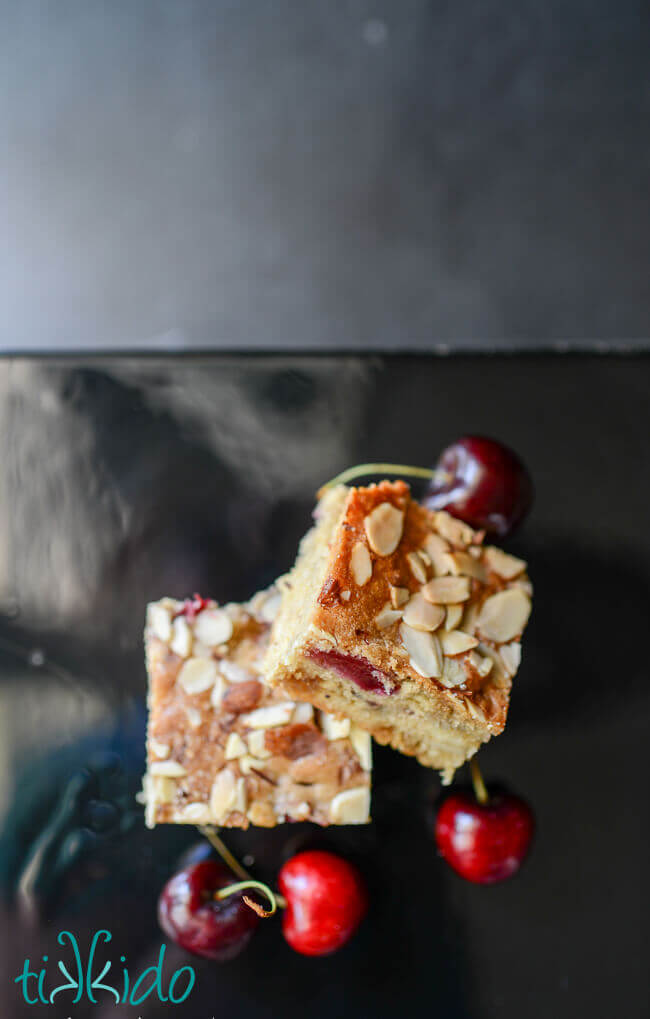 I love bar cookies; they're so fast and easy to whip up.  And you know what?  A lot of the time, I prefer the slightly softer texture, too.  I've always been a middle-of-the-pan-brownie girl.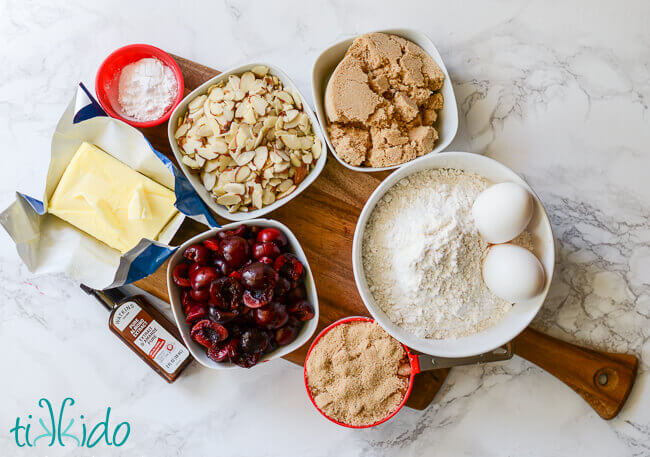 Cherry Almond Bar Cookies Recipe:
8 ounces (1 cup, or 2 sticks) of butter
2 cups brown sugar
2 eggs
1 teaspoon salt
1/2 teaspoon almond extract
2 teaspoons baking powder
2 2/3 cup flour
1 1/2 cup fresh cherries, pitted
1 1/2 cup sliced almonds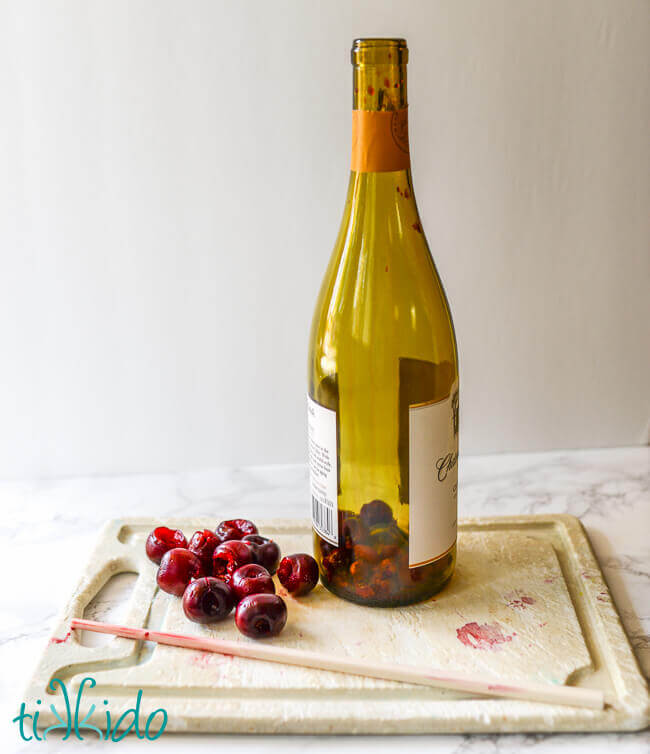 FYI: if you don't have a cherry pitter (I don't), the empty wine bottle and a chopstick trick totally works.  Nothing's going to keep your hands from getting covered in bright red juice, though.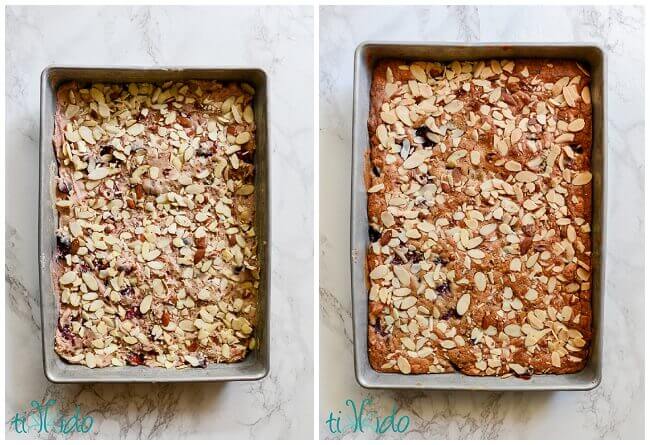 Cream together the softened butter and brown sugar.  Add eggs and almond extract and beat.  Add dry ingredients (flour, salt, baking powder) and mix until combined.  Add 1 cup of the almonds and all of the cherries, and mix just until incorporated into the batter.
Spread in a 9x13 pan, and top with the remaining 1/2 cup of almonds.  I pressed the almonds gently into the batter to get them to stick nicely to the tops of the cookies.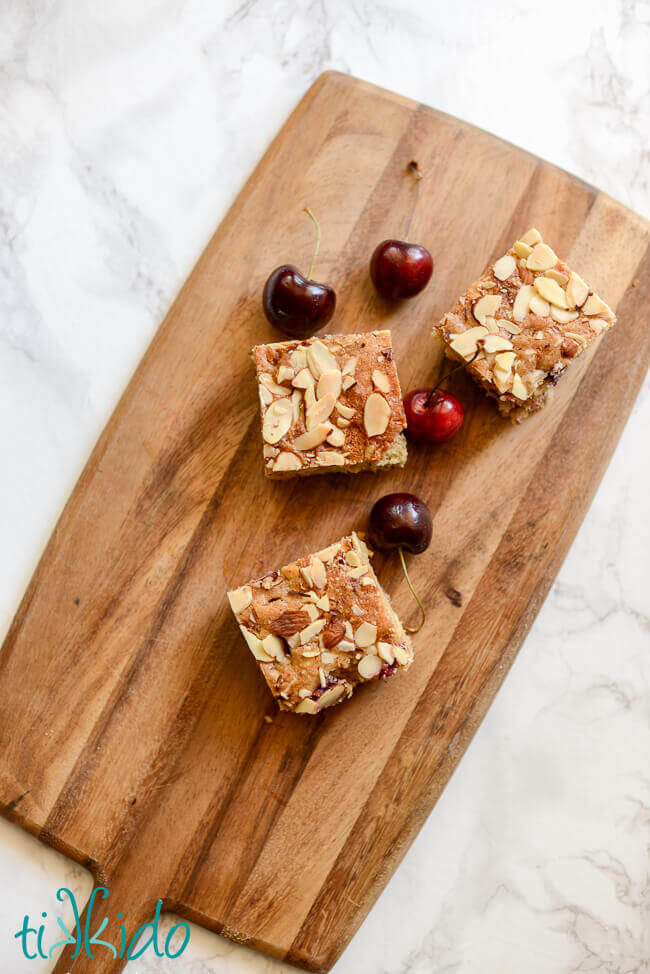 Bake at 350 degrees Fahrenheit for 40 minutes.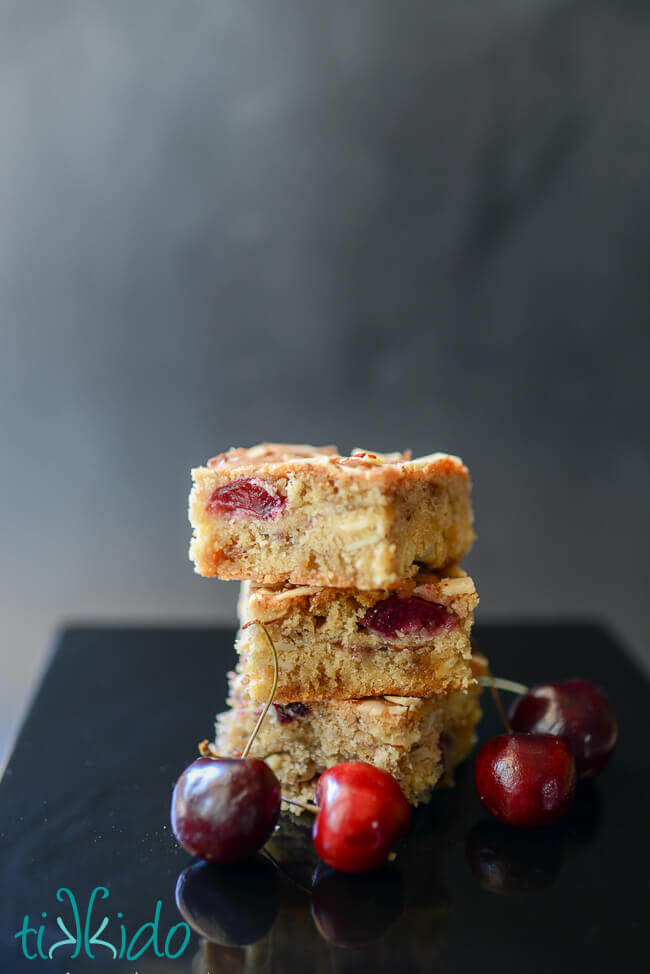 Let cool completely before cutting into squares.  They're more prone to crumble if they're still warm.  Delicious either way, but definitely prettier once they're cooled!
I still have some cherries that I need to use up pretty quickly.  What's your favorite way to use fresh cherries?  I need suggestions!
Printable, One Page Cherry Almond Bar Cookie Recipe:
Want a free, printable, one-page version of this recipe?  Here you go!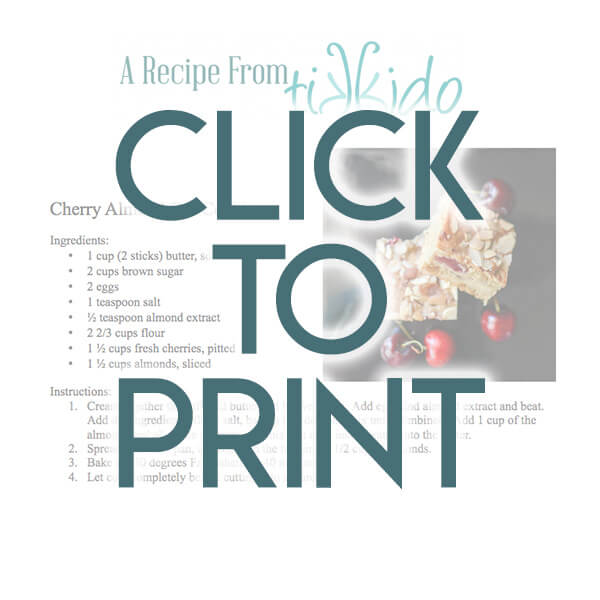 Other Cherry Recipes You Might Like: