Printer-friendly version
This cherry pie recipe is my all-time favorite.  It features a homemade recipe for cherry pie filling, and that makes all the difference in the world in how good a cherry pie can be.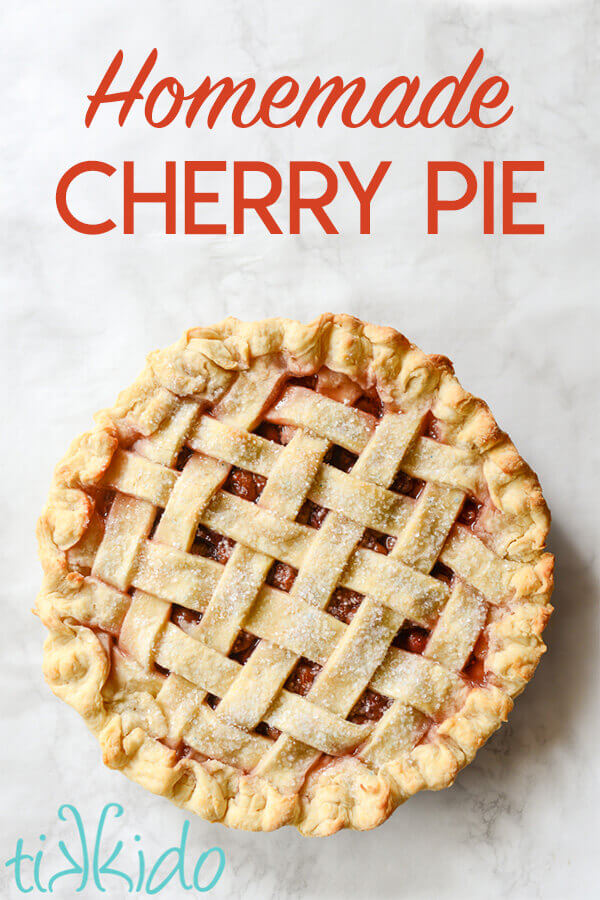 My favorite pie in the world is cherry pie.  I love that perfectly tart and sweet cherry filling, the crunch of sugar on the lattice crust...  Cherry pie is the best!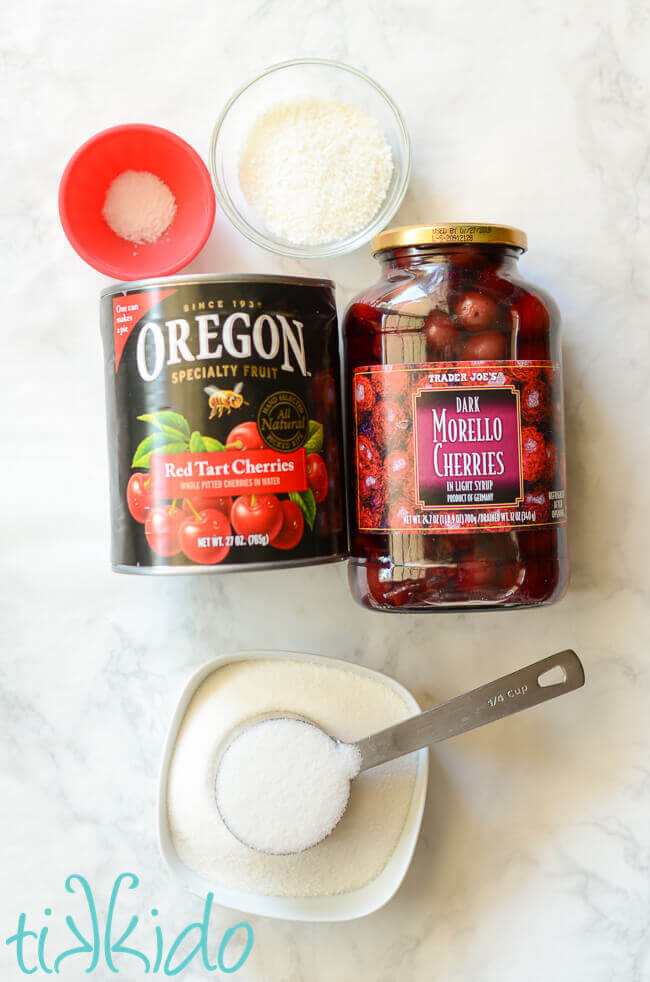 Cherry Pie Filling Recipe:
5 cups of sour cherries, fresh, canned, or frozen.  If canned, drain the cherries.
1 1/4 cups sugar
4 Tablespoons instant tapioca
1/2 teaspoon salt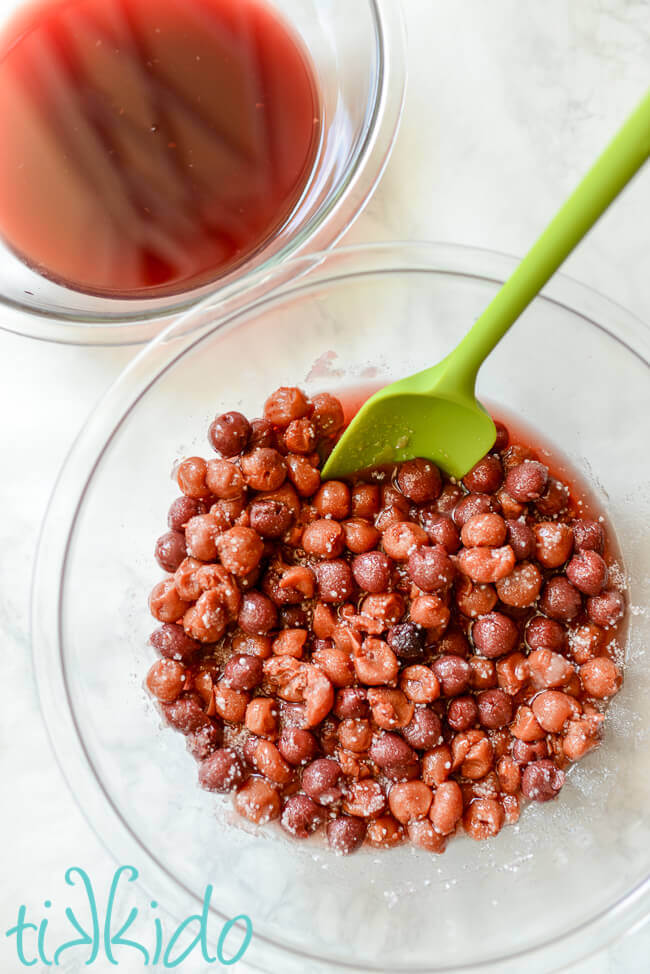 Combine all cherry pie filling ingredients and let sit for at least 15 minutes.  I typically  prepare the filling, then make my pie crust.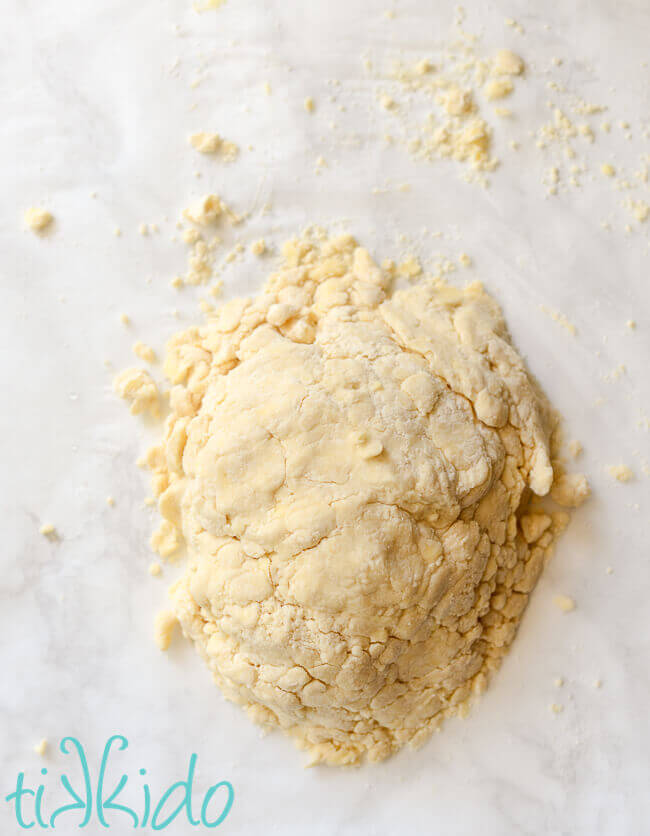 Make a two-crust batch of pie crust.  Or buy it.  I don't care.  Focus your energy on the filling for great pies!  But I have to recommend my favorite Vodka Pie Crust recipe if you want to make it yourself.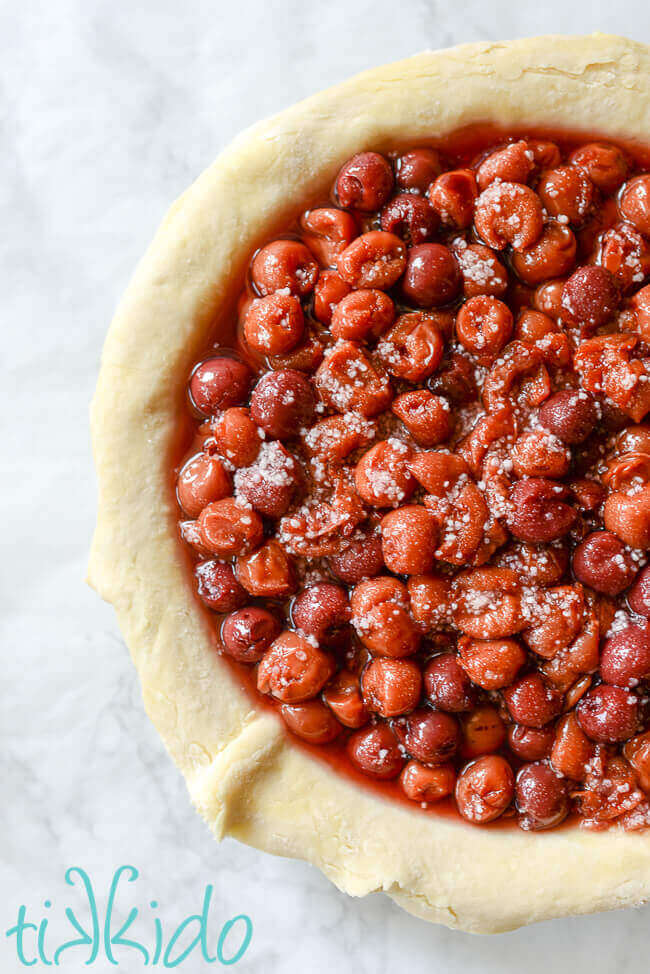 Fill the pie crust with the cherry pie filling.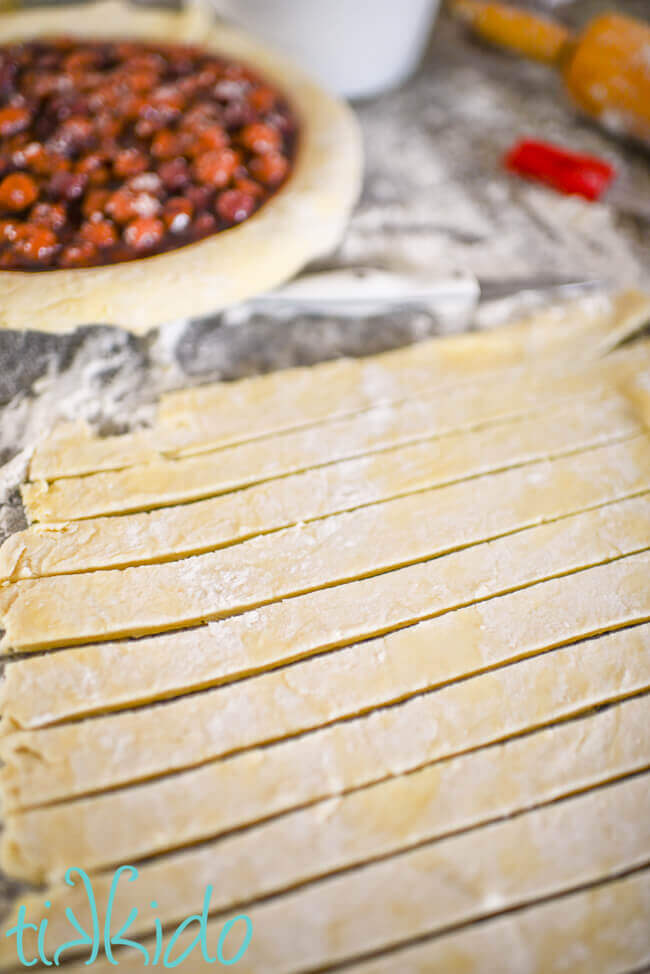 I love a classic lattice top for a cherry pie so those pretty red cherries can peek out.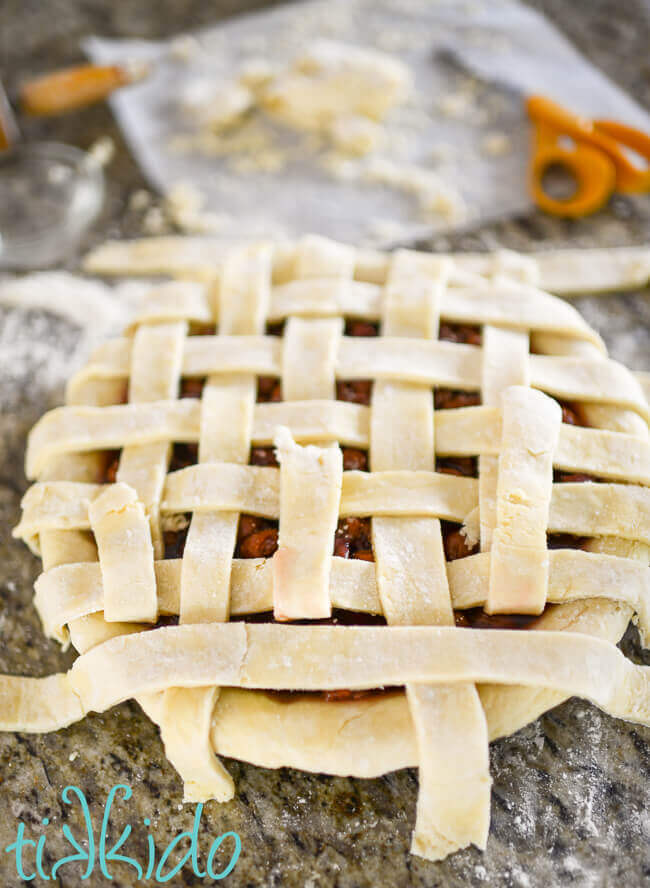 Making a lattice top is quite simple, really:  just cut strips of the pie crust and weave, over under over under, until the top of the pie is covered.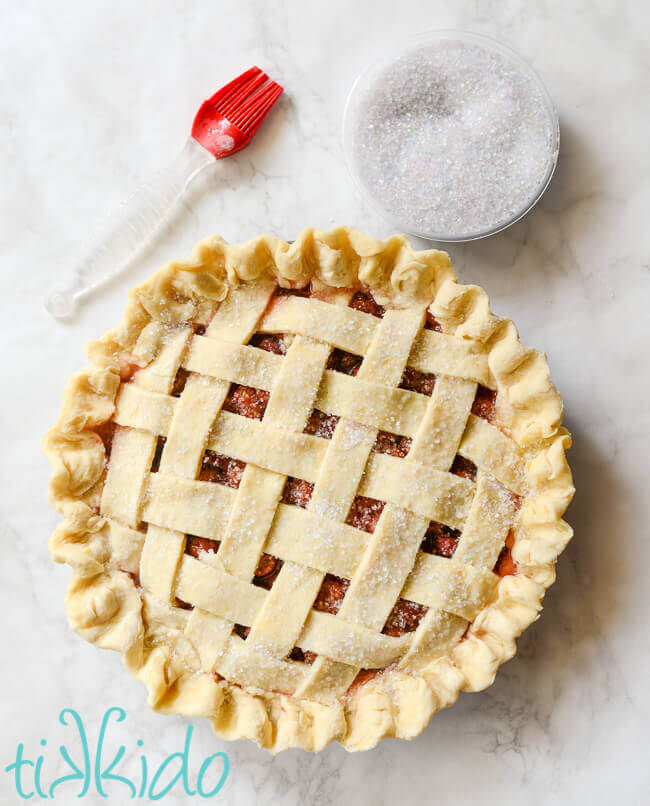 Brush the pie crust with a little water, and sprinkle with sugar crystals.  I like to use bigger sugar crystals used in cake decorating, because it gives a nice sparkle and crunch to the pie crust.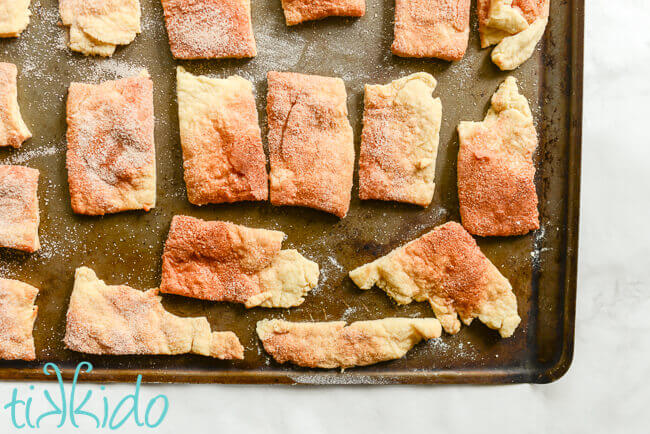 Don't throw away the extra pie crust!  Make cinnamon sugar pie crust cookies.  Yum.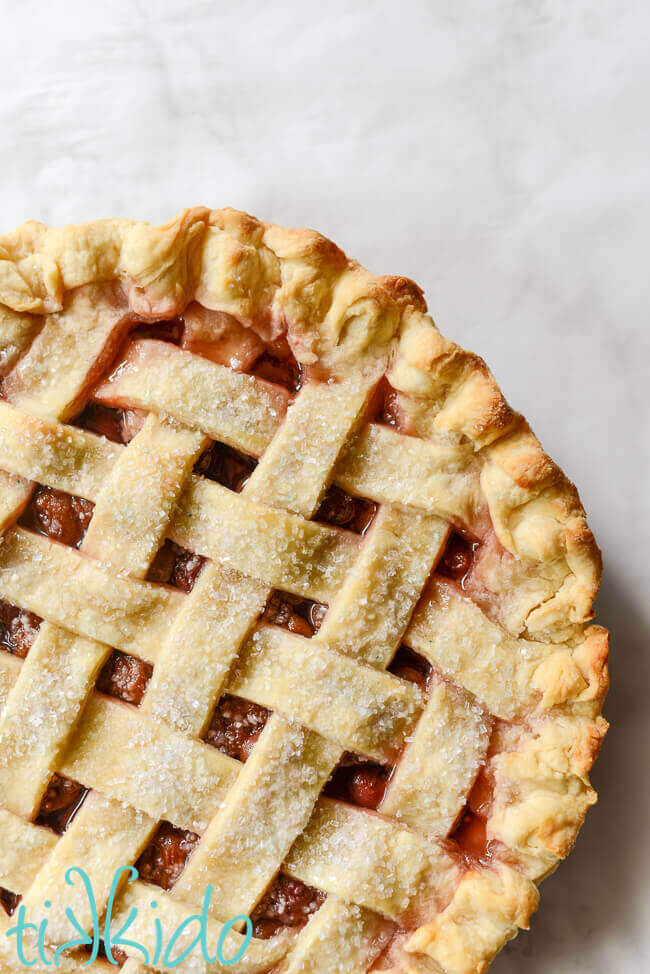 Bake the pie for about 30 minutes in a 375 degree oven.  Let it cool, and enjoy a slice of pure bliss!
Free, Printable, One Page Homemade Cherry Pie Recipe: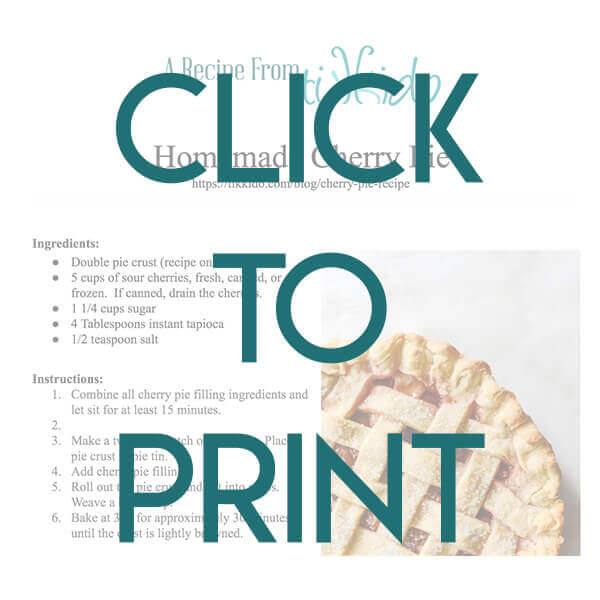 Be sure to check out the other amazing, delicious pie recipes from my friends in the Taste Creations Blog Hop!
An Italian in my Kitchen: Pumpkin Pie with Maple Whipped Cream
Our Good Life: Homemade Peach Pie
Mom Home Guide: Chocolate Pretzel Pie
Other Pie Recipes You Might Like:
Other Cherry Recipes You Might Like: