Printer-friendly version
Sugar cookies decorated with chocolate instead of royal icing are faster to make, and can be absolutely gorgeous, too.  Using melted chocolates and chocolate transfers, you can make absolutely gorgeous sugar cookies.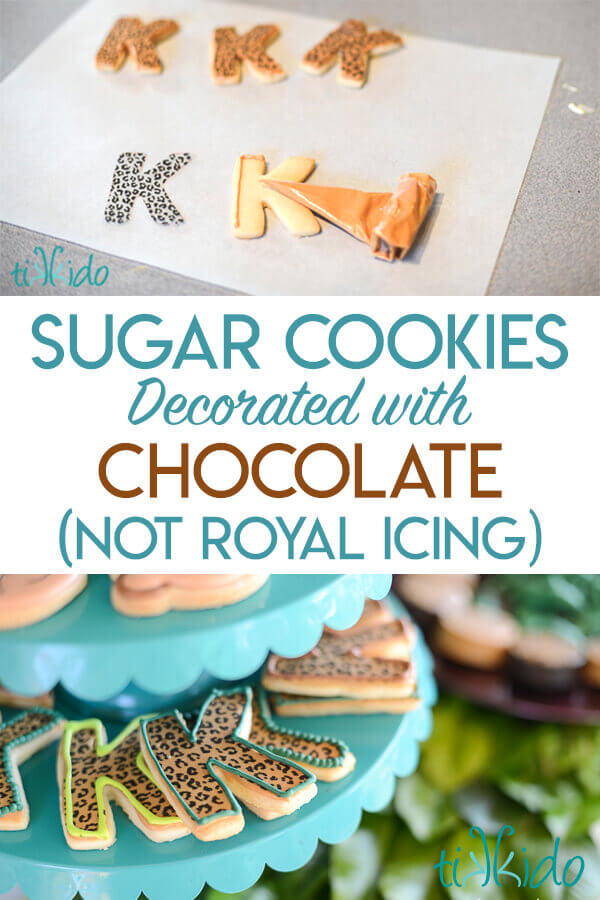 For Kathryn's Jungle Jam birthday party, I had a lot of fun making various sugar cookies for the guests.  Kathryn isn't a fan of icing herself, but thought that other kids might enjoy some classic sugar cookies iced with royal icing (what a thoughtful little hostess!).  
As I was making the chocolate covered Oreos embellished with chocolate transfers (tutorial here), I wondered if I could use the same technique on sugar cookies.
Decorating Cookies with Chocolate:
The answer, happily, was "yes, I can!"  It worked fabulously!  And today I'm going to show you how I did it.
Start by whipping up a batch of your favorite sugar cookies (this is my favorite recipe).  Bake the cookies and let cool completely.
Take the same cookie cutter used to make the cookies, and trace around the cookie cutter directly on the chocolate transfer sheet.  Don't get all worried about food safety and the Sharpie.  Chocolate transfer sheets have two sides.  One side, with the design that gets transferred to the chocolate, is slightly bumpy.  The other side is the slick, smooth plastic that gets peeled off and thrown away.  We're writing on the side that gets thrown away.
Cut the traced shape out of the chocolate transfer sheet, so you end up with the perfect size and shape, all ready to go.
Melt chocolate melts (in whatever color you choose), and put in a piping bag.  This will give you good control for decorating the cookie, though it's not strictly necessary.  Outline the cookie shape, then flood it with the warm, melty chocolate.  Just like you would for making royal icing cookies.  While the chocolate is still warm and wet, gently place the chocolate transfer shape you've cut out on top of the cookie.
Now let it cool and harden COMPLETELY.  This goes very quickly if you pop it in the fridge for a few minutes.  Once the chocolate is completely solid, carefully peel off the top plastic layer from the chocolate transfer sheet, and the beautiful, edible design will be left behind on the cookie.  
I absolutely love how they turned out for so many reasons!  Intricate design with very little work!  Super fast drying time (compared to royal icing cookies)!  Alternative to icing for kids who don't really like it!  (There are a few out there.)  I'm so excited by the possibilities with this technique.  How would you use it?  A pretty floral pattern on a teacup cookie?  Stars and stripes for the 4th of July?  So many chocolate transfer designs, so many possibilities!