Printer-friendly version
Strawberry bread is a delicious quick bread--easy and fast to make (no yeast!), and perfect for breakfast or a snack.  This strawberry bread recipe is one that my grandmother used to make, and has been a family favorite for decades.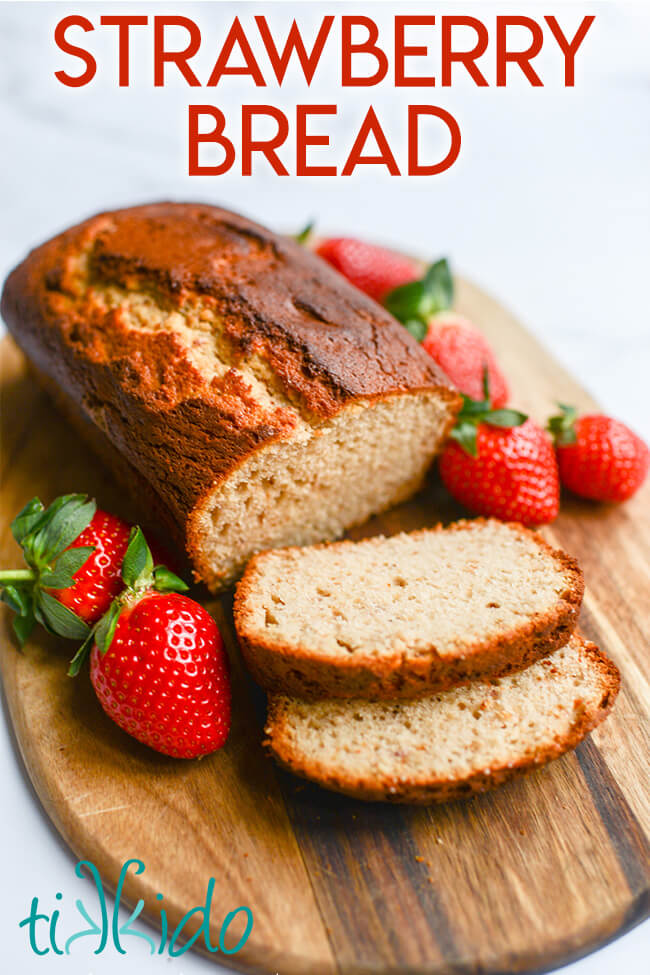 This month for the Taste Creations Blog Hop, our theme was pink food for Valentine's day.  I remembered my grandmother's delicious, flavorful strawberry bread recipe that I used to love eating every time we visited.  It was pink and sweet and absolutely perfect for our theme!  I pulled out her old recipe card and faithfully made her strawberry bread recipe, exactly as written.  And it was just as delicious as I remembered it being.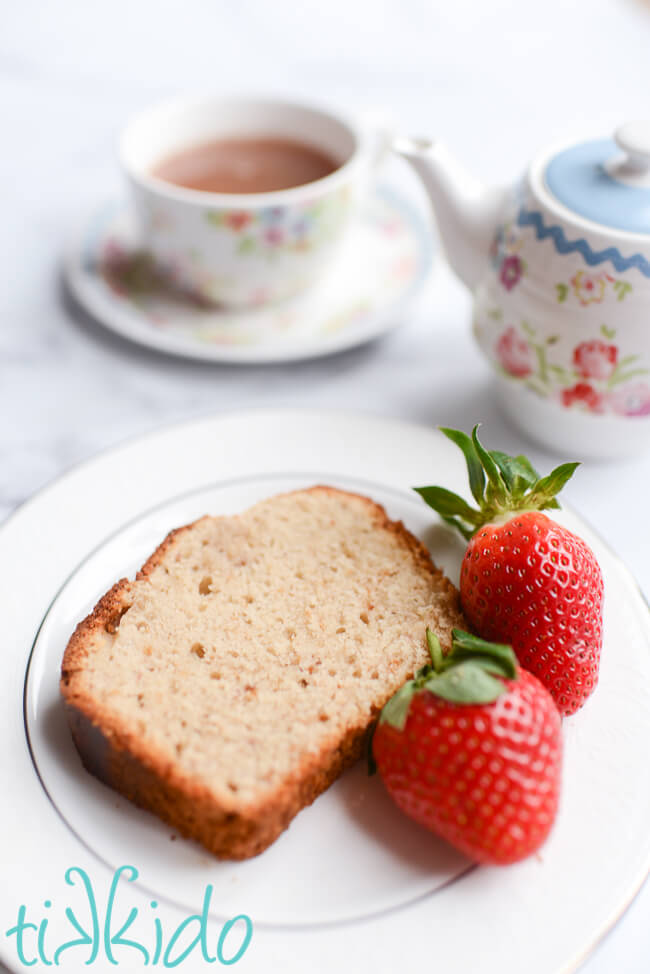 But it wasn't really pink!  Clearly, my grandmother added some pink food coloring to her strawberry bread to get it to be the pretty pink color I remember this bread being.  But even though this strawberry bread didn't end up being quite as colorful as I remember it being, it is still absolutely delicious, and easy to make.
What is Strawberry Bread?
Strawberry bread is a quick bread--just like the more common banana bread, but made with strawberries instead.  Quick breads use baking soda or baking powder for leavening, so there's no yeast involved, and no rising times.  You just mix the batter and bake the bread.  This could also be called a strawberry jam bread recipe, since all the fruit flavor comes from the inclusion of strawberry jam rather than fresh fruit.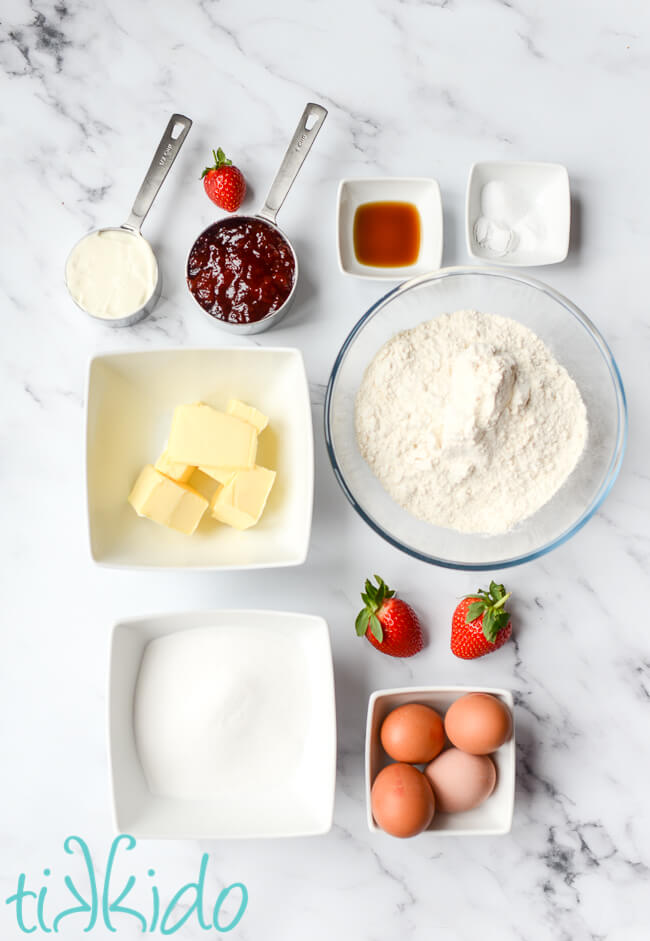 Strawberry Bread Ingredients:
1 cup butter, softened
1 1/2 cups sugar
1 teaspoon vanilla
1/4 teaspoon lemon extract
4 eggs
3 cups flour
1/2 teaspoon baking soda
1 teaspoon salt
1 teaspoon cream of tartar
1 cup strawberry jam
1/2 cup sour cream
1 cup chopped walnuts (optional)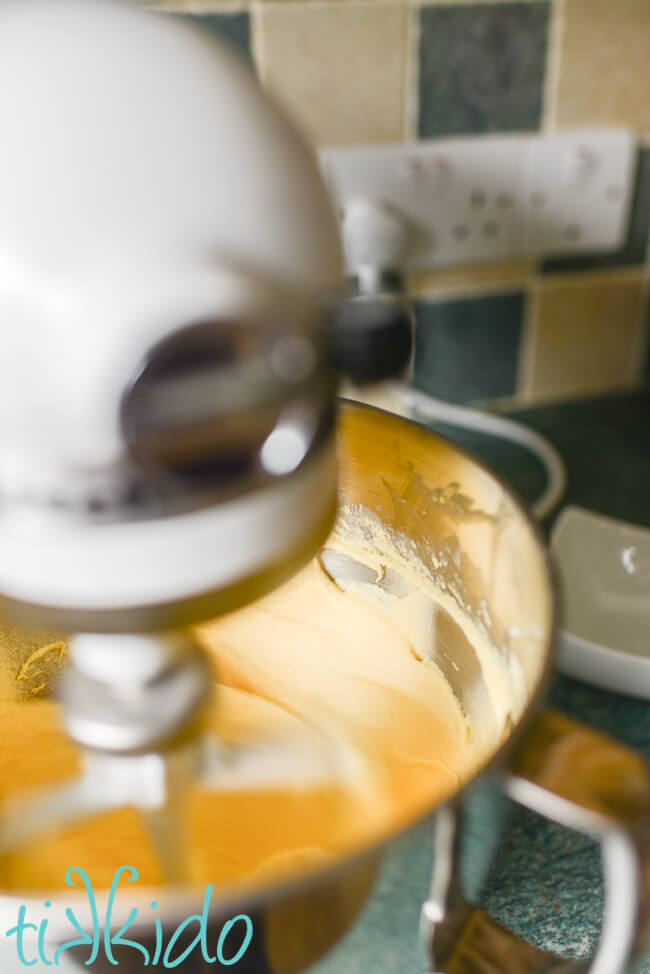 How to Make Strawberry Bread:
Cream together the softened butter and sugar.  Add the eggs, one at a time, beating well after each addition.
Add vanilla and lemon extract and mix.  
Add salt, baking soda, and cream of tartar and mix well to combine.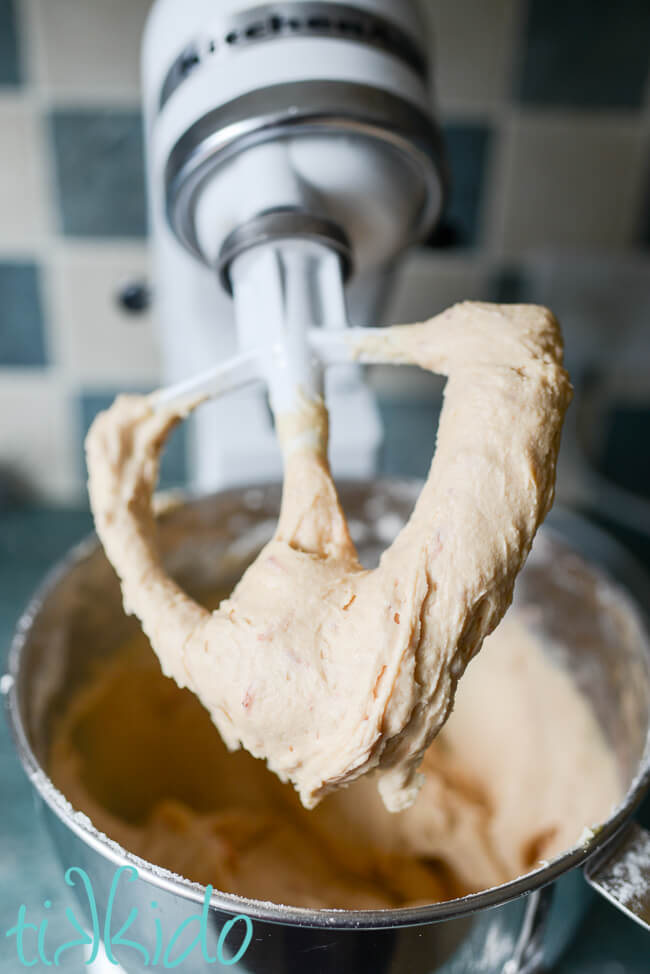 Add half the flour to the mixture first, and mix to combine.  Then add the jam and sour cream and mix to combine.  Finally, add the last of the flour, and mix one more time, just until all the ingredients come together to form an even batter.
(This is when I suspected that my grandmother added food coloring to her strawberry bread, but I'd already decided that I was going to follow the recipe faithfully.)
If you'd like to add nuts to your strawberry bread, fold in the chopped nuts at this point.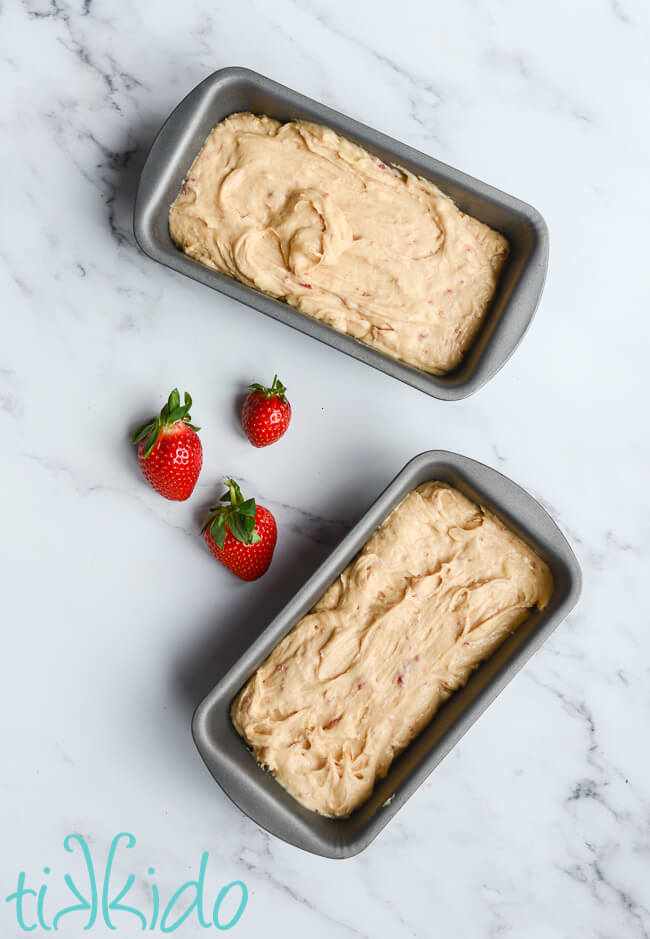 Divide batter between two bread loaf pans.  My loaf pans have a very good non-stick coating, but this bread recipe does tend to stick a bit, so if in doubt, cut a rectangle of parchment paper to sit in the bottom of the pan, or butter and flour the bread loaf pans before adding the strawberry bread batter.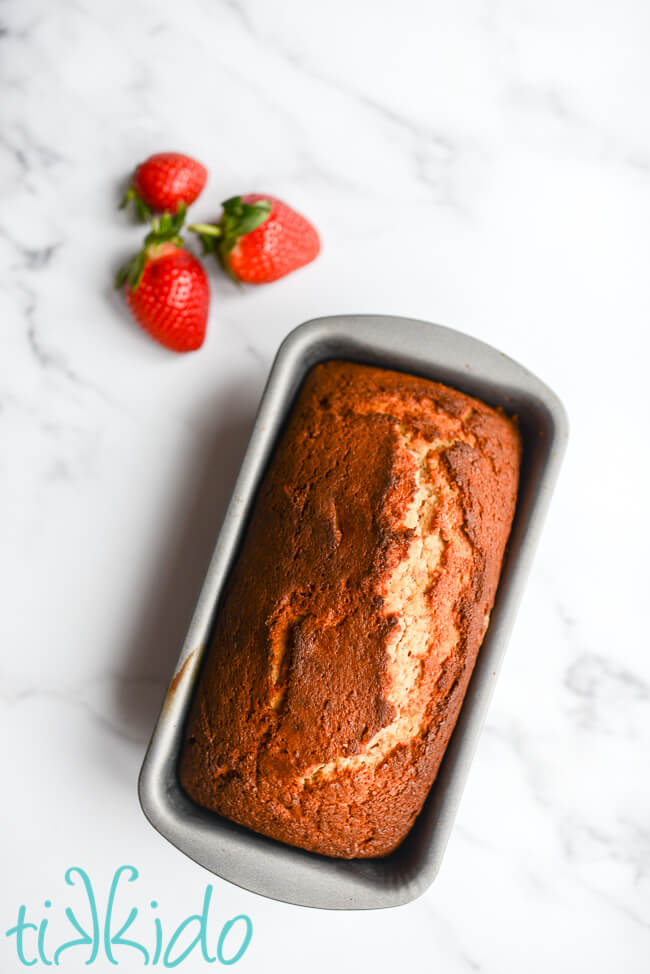 Bake at 325 degrees Fahrenheit for 50-55 minutes, until a test skewer comes cleanly out of the loaf.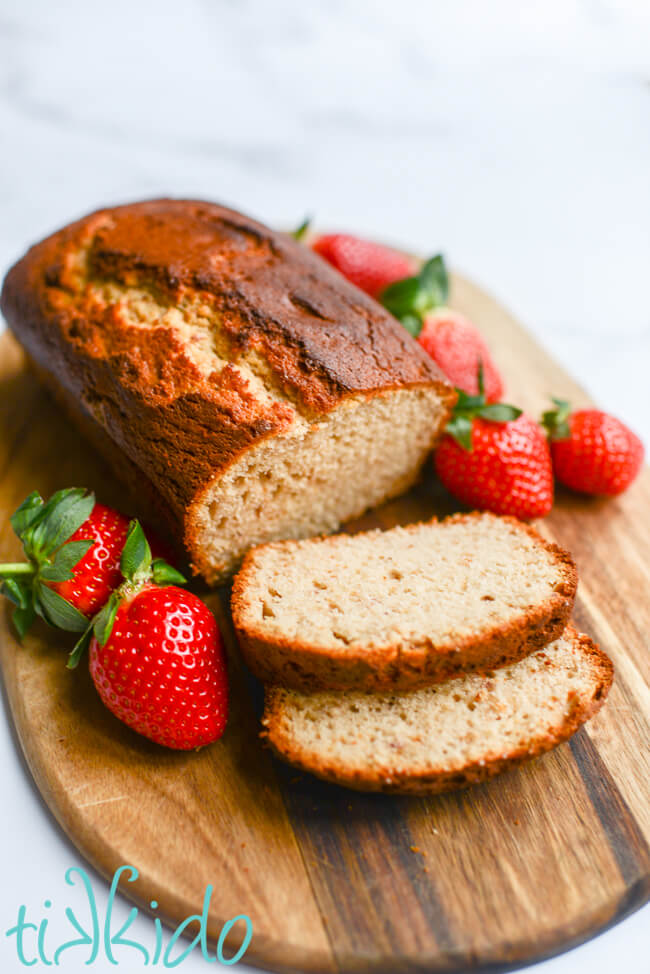 Let the loaves of strawberry bread cool completely before slicing.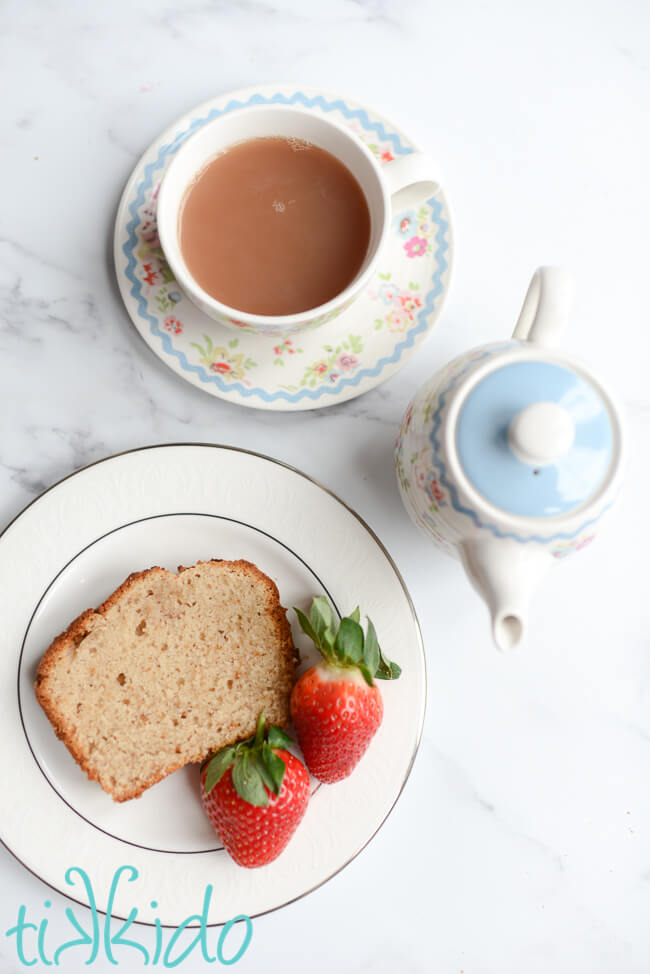 A slice of the strawberry bread was just perfect with a cup of tea for an afternoon treat!
Printable Strawberry Bread Recipe:
Want a one page, printable version of this strawberry bread recipe?  Just click on the image below to print or download the PDF.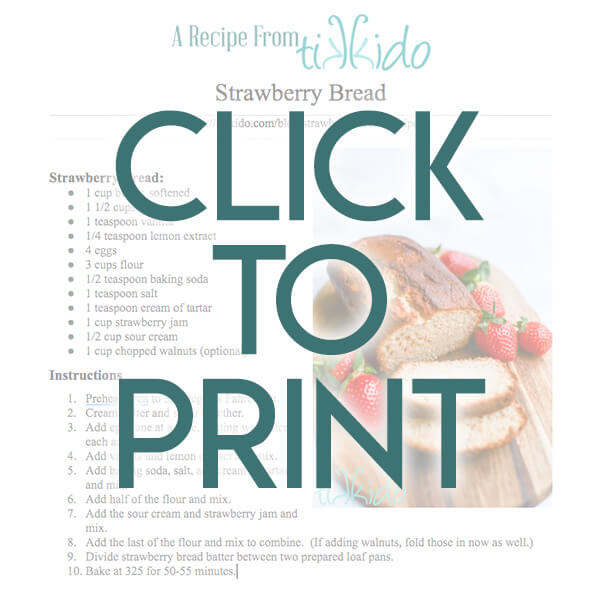 Other Delicious Pink Recipes to Make for Valentine's Day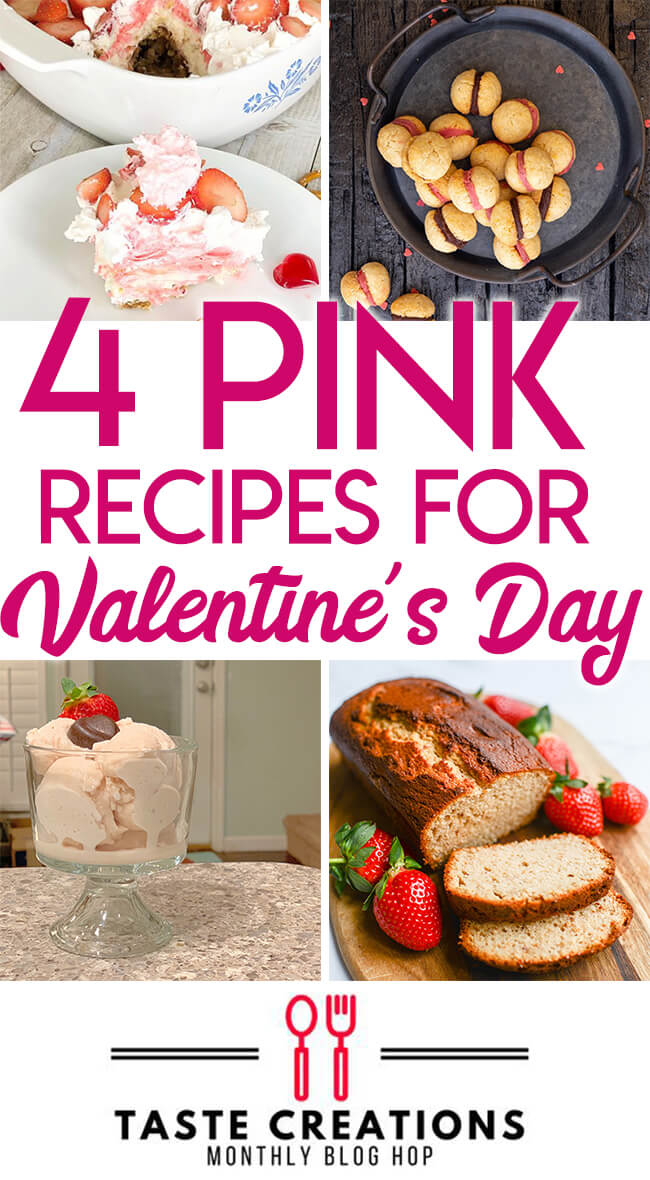 Check out the other delicious pink pink recipes my fellow bloggers from the Taste Creations Blog Hop have made for Valentine's Day:
Our Good Life: Small Batch Pink Strawberry Ice Cream
Mom Home Guide: Pink Strawberry Cheesecake Pie
An Italian in my Kitchen: Baci di Dama - Lady Kisses
Other Quick Bread Recipes You Might Like: