Printer-friendly version
Apple Butter Pie is an amazing fall pie recipe!   It's creamy and deliciously spiced with cinnamon and nutmeg, but with the bright, tart flavor of autumn apples, too.  The fabulous apple flavor comes from using apple butter, an intense, highly spiced, reduced fruit spread as the key ingredient--but unlike regular apple pies, this has the creamy texture of pumpkin pie.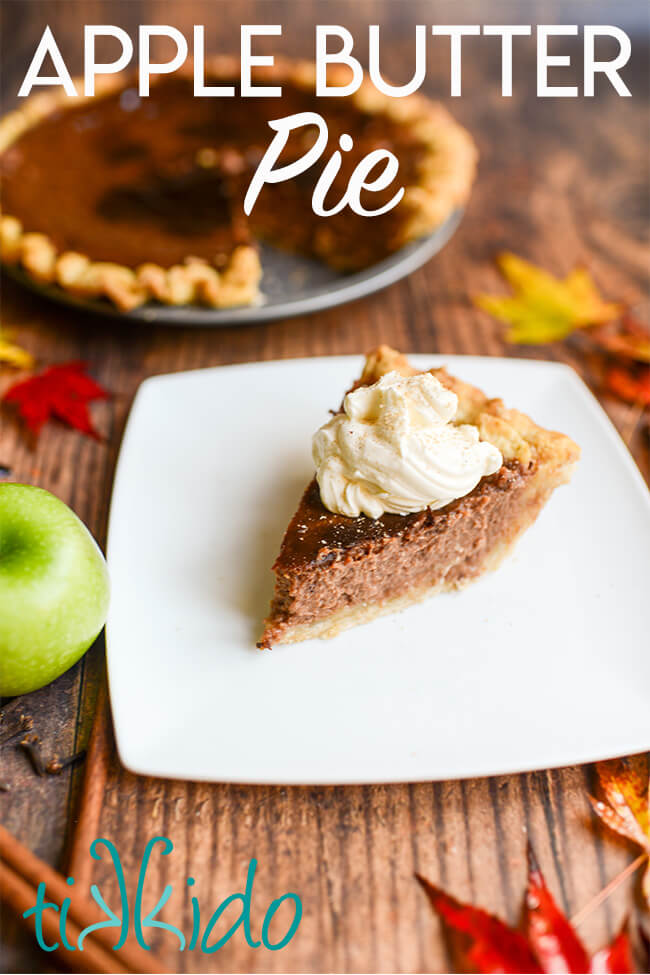 What is Apple Butter Pie?
If you've ever made a traditional pumpkin pie, you already know how to make this amazing pastry.    It's basically the same as a pumpkin pie, but made with apple butter instead of pumpkin puree.  It's a custard pie--a pie made with a mixture of eggs and dairy whisked together with flavorings that gets baked in a single pie crust to thicken.  Like all custard pies, this easy apple butter pie recipe is made by filling a flaky pie crust with a mixture of dairy and eggs, and then adds flavorful apple butter (which gives this old-fashioned pie its incredible taste).
Other Custard Pie Recipes You Might Like: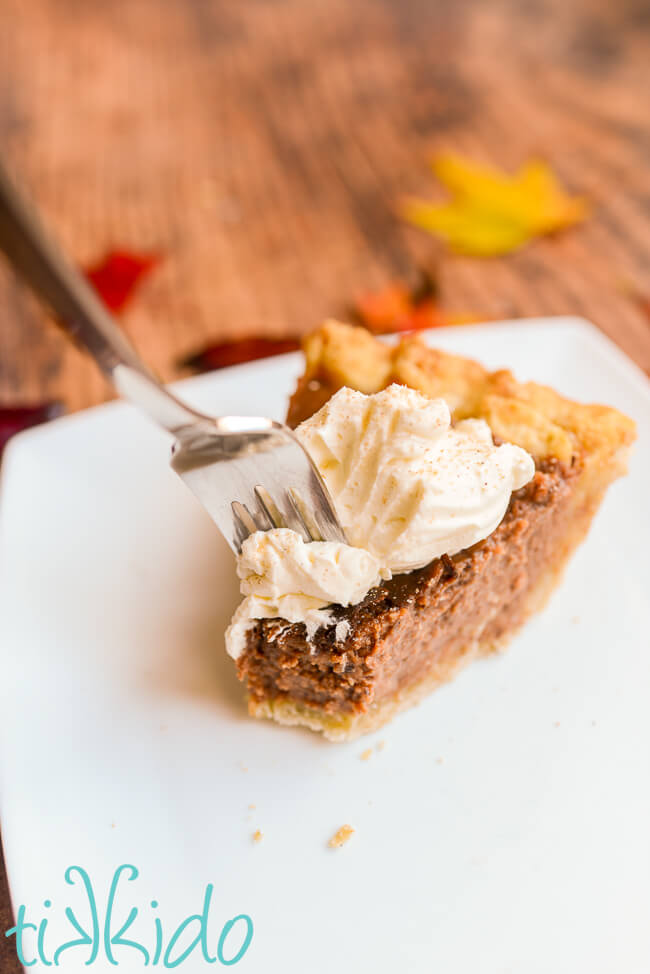 It's the first monday of the month, time for the Taste Creations Blog Hop.  And this month, our theme is PIE!  I love pie SO much.  It's my favorite dessert.  Especially fruit pies.   My daughters love the flavor of fruit pies, but dislike the texture of cooked fruit.  But we can all agree on apple butter pie!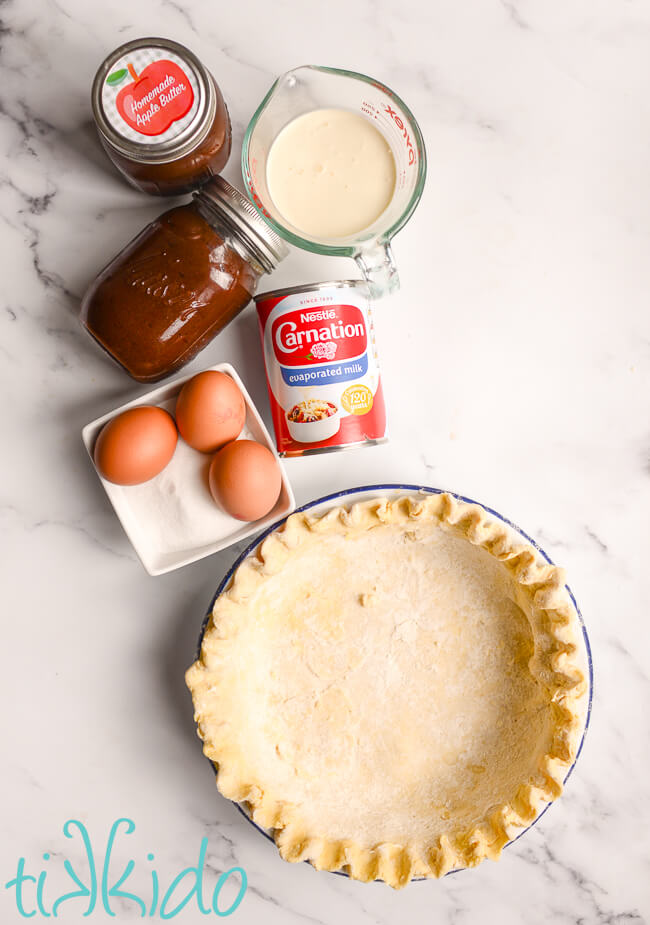 Apple Butter Pie Ingredients:
one unbaked, single pie crust
three eggs, beaten
2/3 cup sugar
2 cups (16 ounces) apple butter
1/2 cup heavy cream
1/2 cup evaporated milk
Note: you can use either one cup of heavy whipping cream or one cup of evaporated milk in this recipe instead of a half-cup of each.  All variations work well.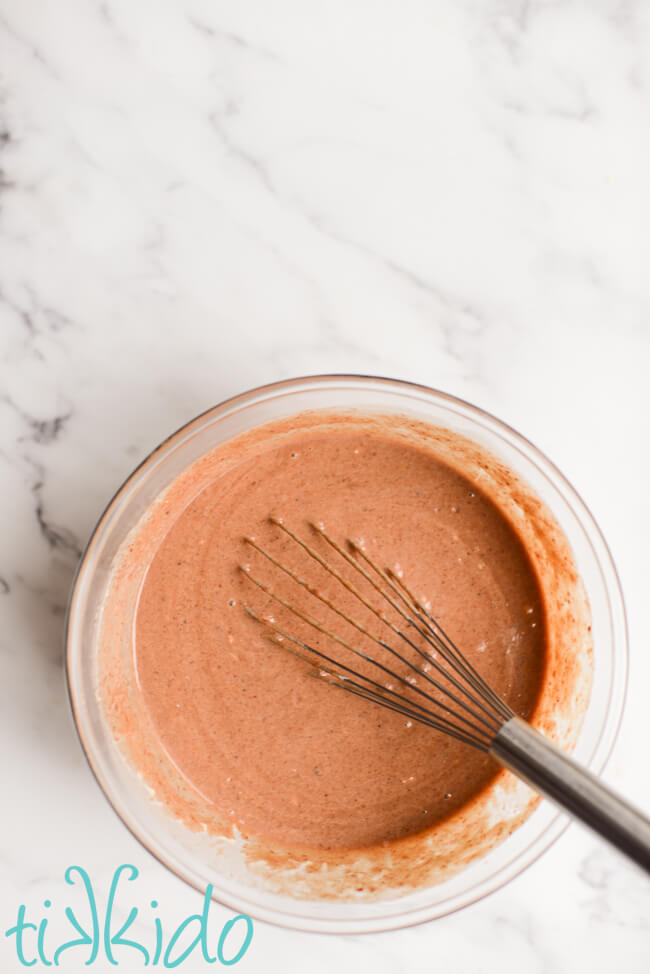 The process is just like making a pumpkin pie.  Make (or buy) a single pie crust and place the pie dough in a standard (not deep-dish) pie plate.   Seriously, a store-bought pie crust is just fine (I know National Pastry Chef Champions who happily use store-bought crust!).  If you want to make your own, I recommend my favorite homemade pie crust recipe, which uses vodka as the secret (science-based) ingredient.
No need for an electric mixer for this recipe!  You just need a whisk and a large bowl to make the pie filling. Beat the eggs, mix in the sugar, milk, and cream, and then whisk in the apple butter.  The apple butter already has all the spices you need for this pie.  You can add a bit more if you want, or add some vanilla extract, but I think it's perfect as-is.
What Kind of Apple Butter to Use in Apple Butter Pie
You can use store-bought apple butter or homemade apple butter in this recipe.  
For store bought, the Trader Joe's brand apple butter is excellent.  Musselman's apple butter is also lovely. 
For homemade, I used my own apple butter: Instant-pot homemade apple butter recipe.  The using a pressure cooker really is a game changer for making fruit butters.  You can also make slow-cooker apple butter!  You can also make apple butter the traditional way, on the stovetop.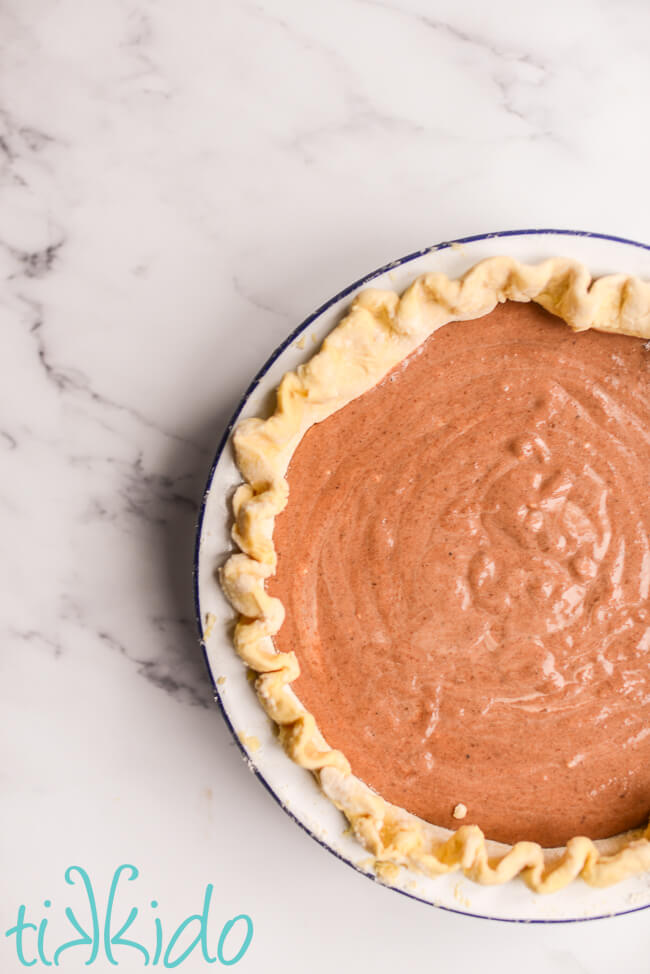 Fill a standard pie tin with the custard mixture.  Bake at 425 for 15 minutes, then drop the temperature to 350 and bake for a further 40-50 minutes, until a knife in the center of the pie comes out clean.  
A pie shield will help keep the crust from burning before the custard filling sets.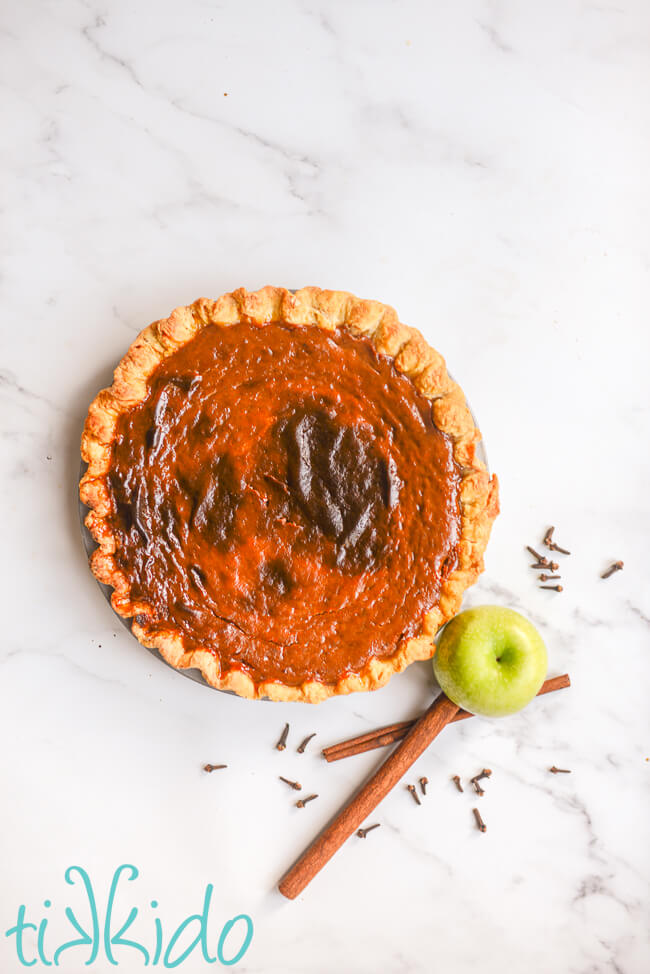 It will still be jiggly when you take the pie out of the oven, so let it cool for at least two hours before serving.   If you're making this pie the day before, store the pie in the refrigerator until ready to serve.  Store leftovers in the fridge as well.  The pie is delicious both at room temperature and straight from the fridge.
If you prefer a warm pie, still let the apple butter pie cool completely (ideally overnight) to allow the smooth filling to firm up before reheating the entire pie in the oven for a few minutes before serving.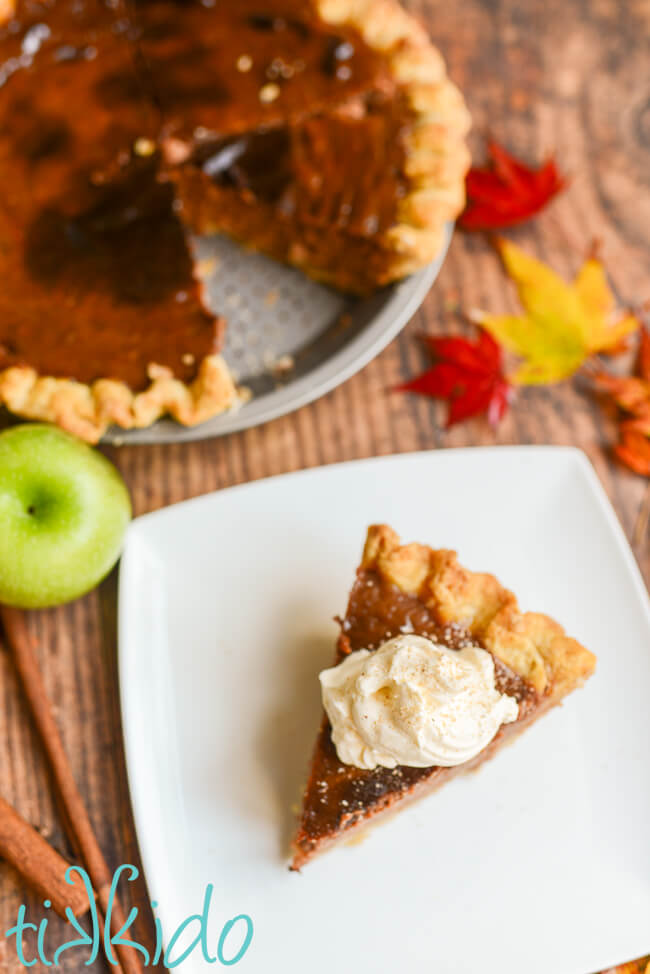 Top with a little whipped cream and some freshly grated nutmeg--magical!  Apple butter pie is a great alternative to classic pumpkin pies or apple pies.  I love those fall pies--don't get me wrong--but it's fun to try new recipes for Thanksgiving, too. The intense fruit flavor of the apple butter combines with the rich, creamy custard filling to make the most amazing pie.  This is a wonderful recipe.
A note on the photo just below: I learned the hard way to use a regular sized pie pan, not a deep-dish pie tin for this recipe.  My first attempt wasn't pretty, but it is delicious, and is frozen and ready to put out on our thanksgiving table in a few weeks!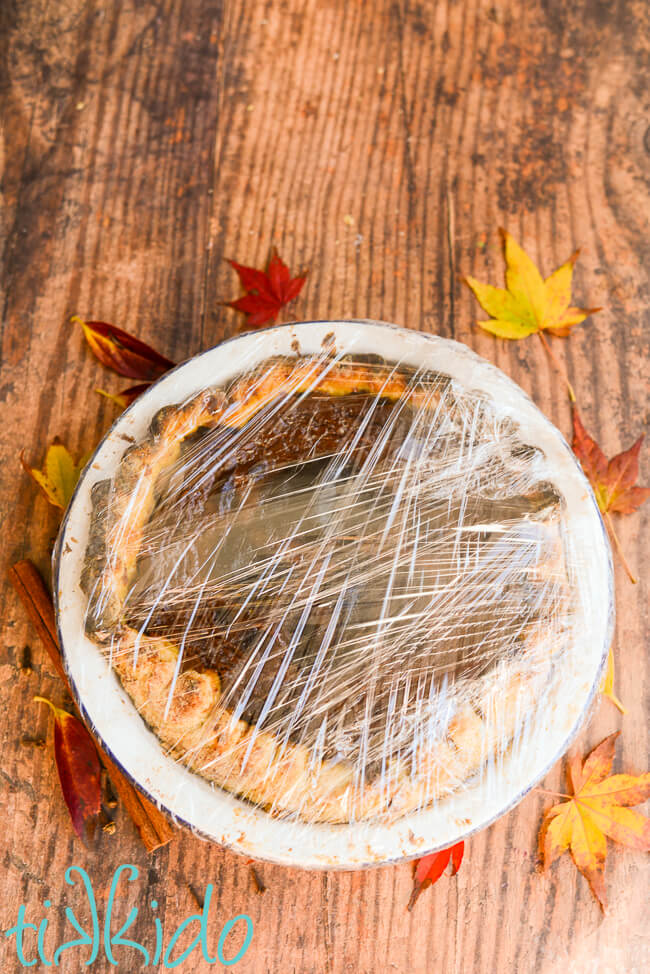 Can you Freeze Apple Butter Pie?
Yes, absolutely!  Bake the pie, let it cool COMPLETELY, then wrap well with cling film and freeze.  For best results freezing, I like to use commercial size plastic wrap.  It's wider than the kind you can buy in grocery stores, clings really well, and the slider-style cutter is SO much nicer to use than ripping off the saran wrap on one of those metal-toothed box edges.
If you'd like advice on freezing other types of pie (and how to reheat and bake them), check out my guide to freezing pies for the holidays.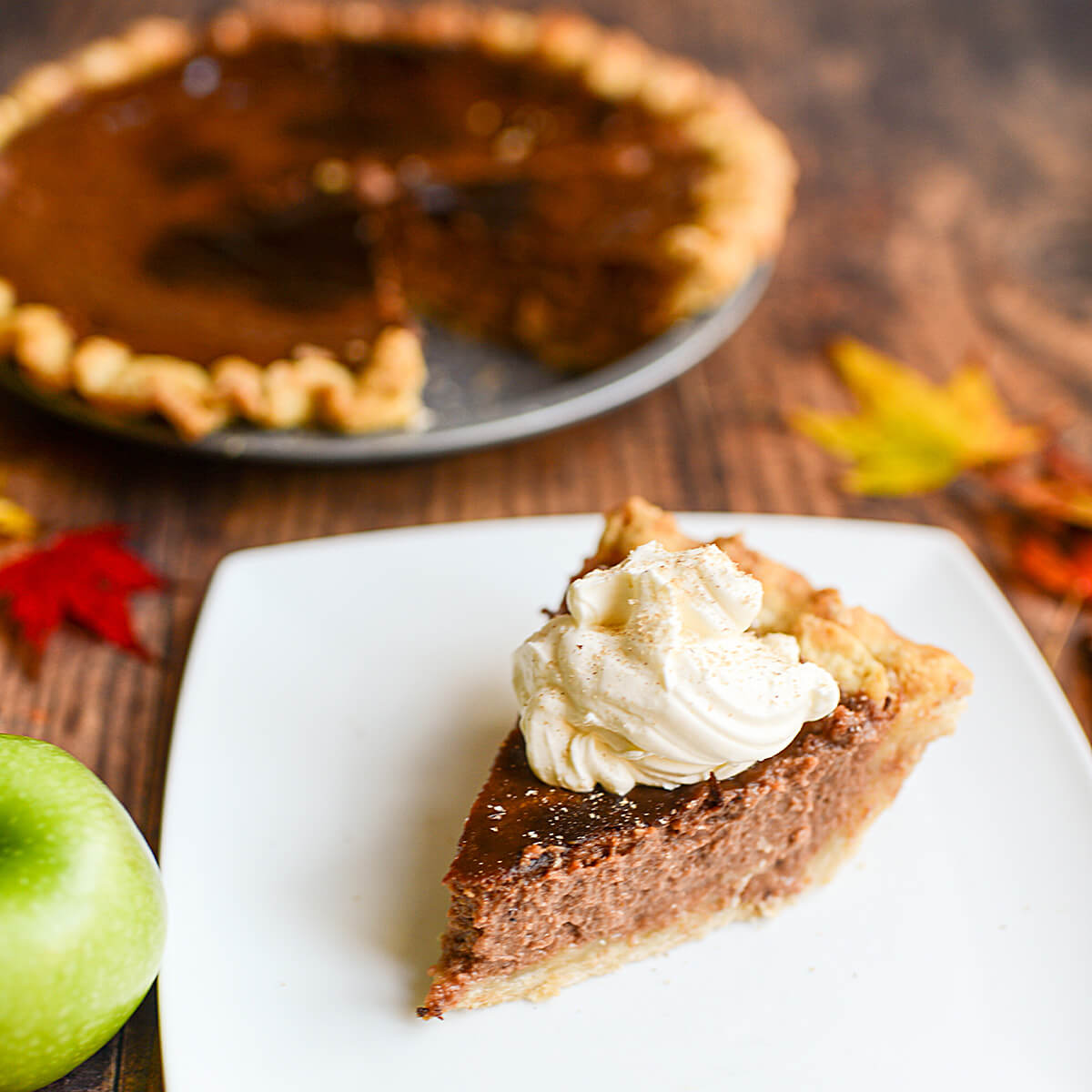 Printable Apple Butter Pie Recipe
Want a one page, printable, PDF version of this apple butter pie recipe?  Click the image below to print the recipe directly or download the PDF to your device.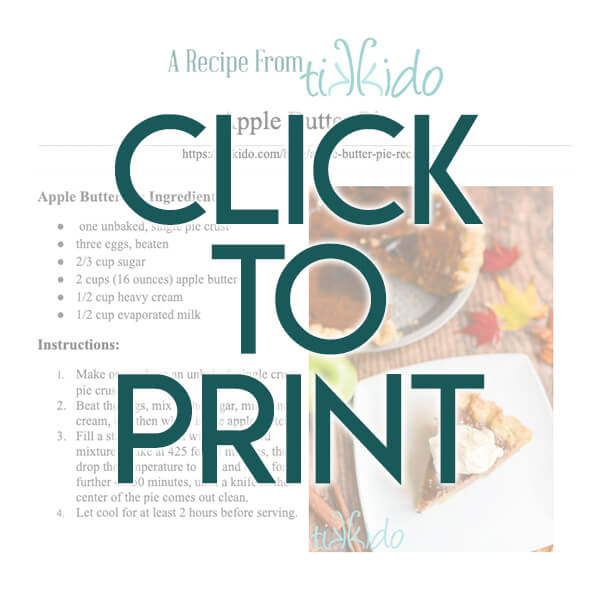 More Pie Recipes from the Taste Creations Blog Hop: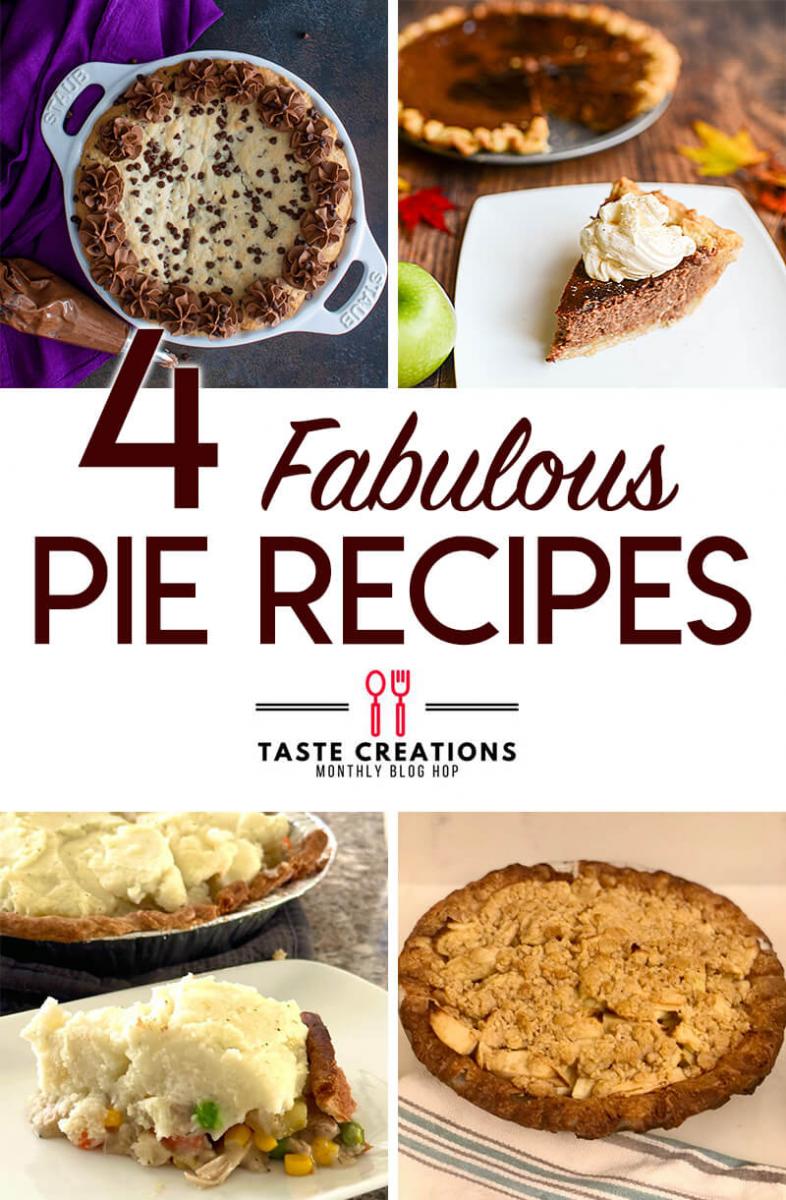 Be sure to check out the other amazing pie recipes from my fellow bloggers:
Mom Home Guide: Dutch Apple Pie
Breads and Sweets:  Cookie Pie
Our Good Life: Chicken Shepherd's Pie
Other Pie Recipes You Might Like: