Printer-friendly version
The watermelon-themed summer party was full of fresh foods (not sweet) and a few savory snacks, too.  I originally was going to do watercolor painting on the white snack cups I'd bought, but that did not turn out well.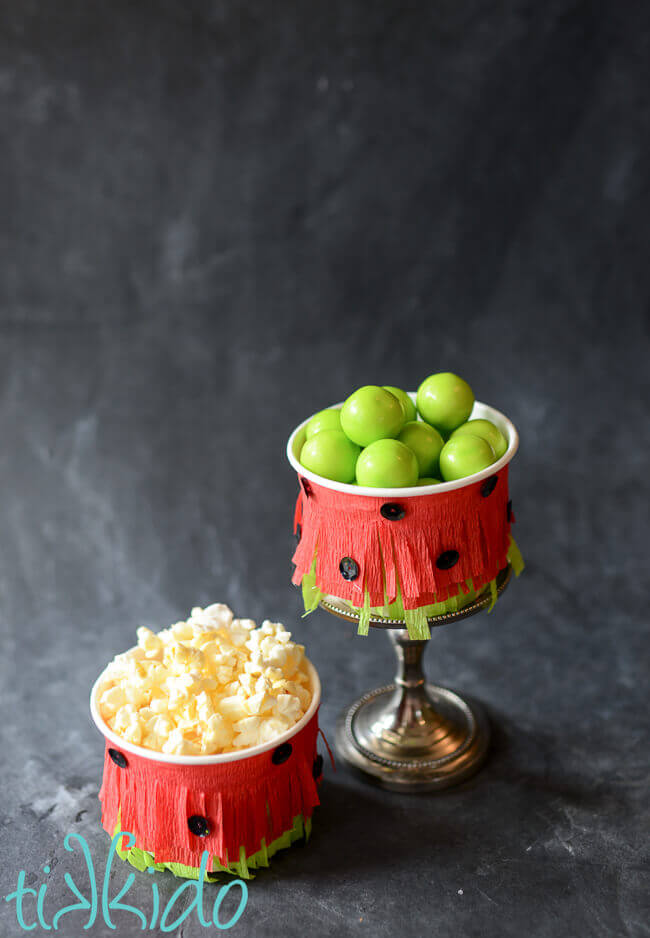 It was a drippy, pale mess.  The surface of the snack cups was just too slick for painting with watercolors.  I had to come up with a different idea.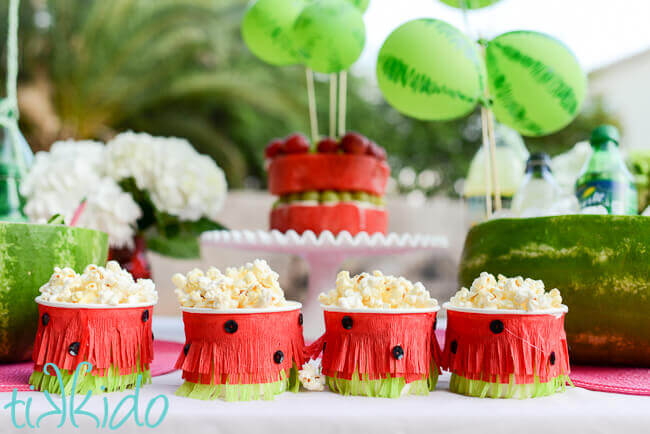 I had some crepe paper streamers (honestly, I don't remember why I bought those in the first place), and some black sequins.  I took inspiration from pinatas and made these watermelon themed, fringed, and fabulous snack cups instead of whatever I had originally planned.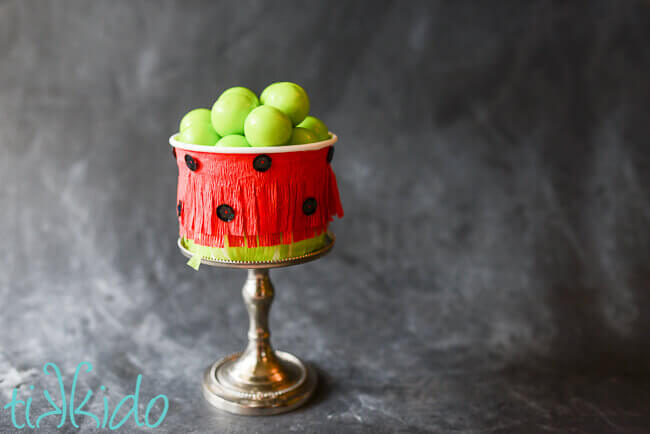 Sometimes it's a good thing that my original idea fails in spectacular fashion!  I love how these snack cups turned out.
Ready for the full tutorial and all the details?  head to Page Two.
[pagebreak]
Fringed Watermelon Crepe Paper Snack Cups Tutorial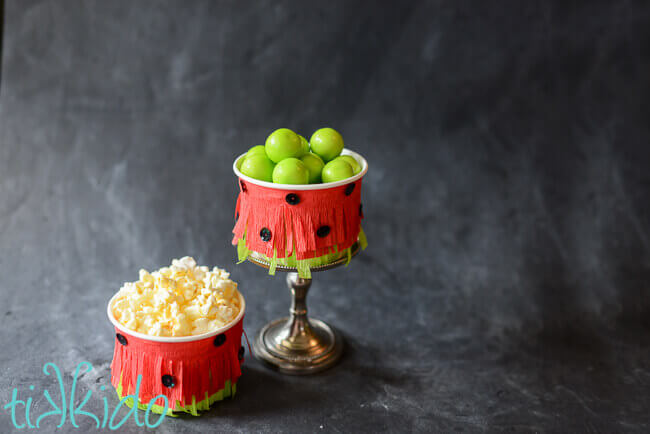 These watermelon snack cups could be used for all sorts of snacks.  I filled them with plain popcorn at the party, but wouldn't they be even better with watermelon flavored candied popcorn (this is a great recipe)?  Or fresh green grapes, if you're looking for a healthier option?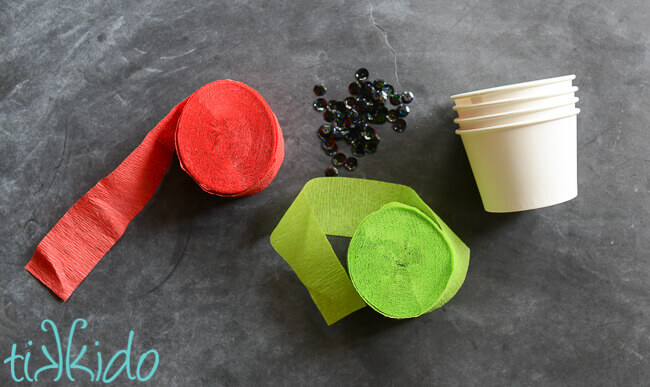 Materials for Watermelon Snack Cups Craft: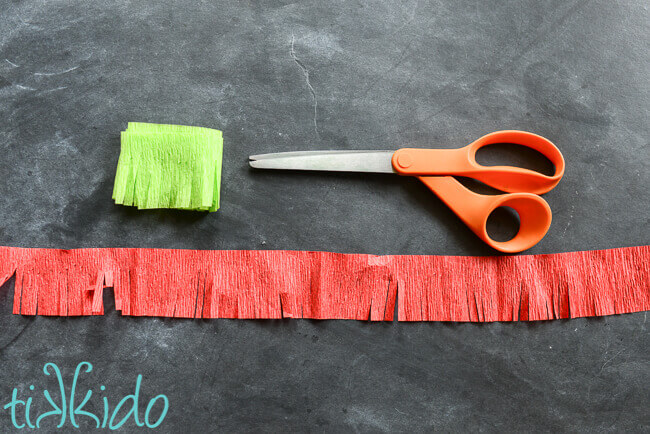 Cut a length of crepe paper streamer (approximately 18", but it really doesn't matter exactly how long).  Fold over until approximately two inches long.  Cut into fringe with a pair of scissors.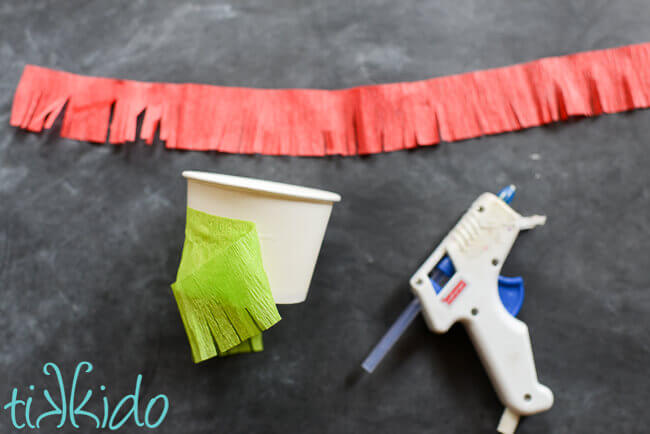 Glue the green fringe to the snack cup first.  The bottom of the fringe should be about level with the bottom of the snack cup.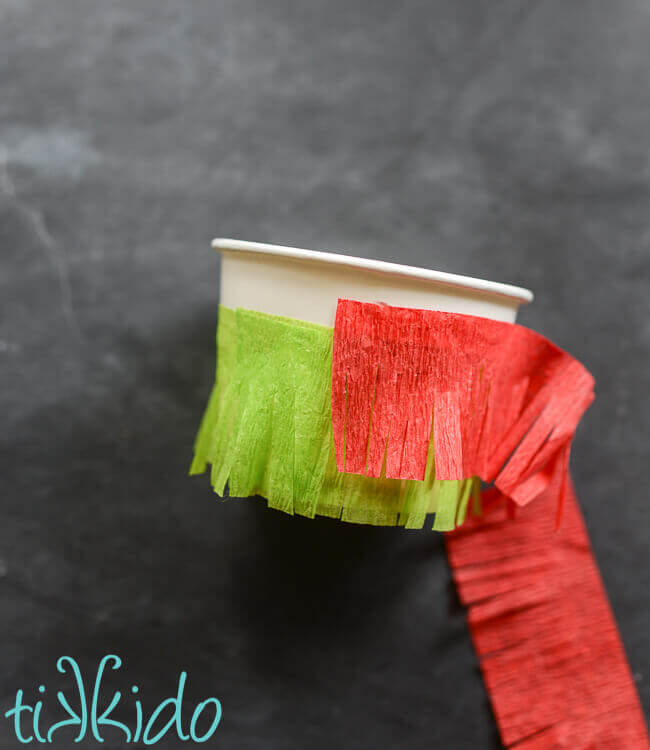 Glue on two layers of the red fringe, one slightly above the first green layer, and the second right under the lip of the snack cup.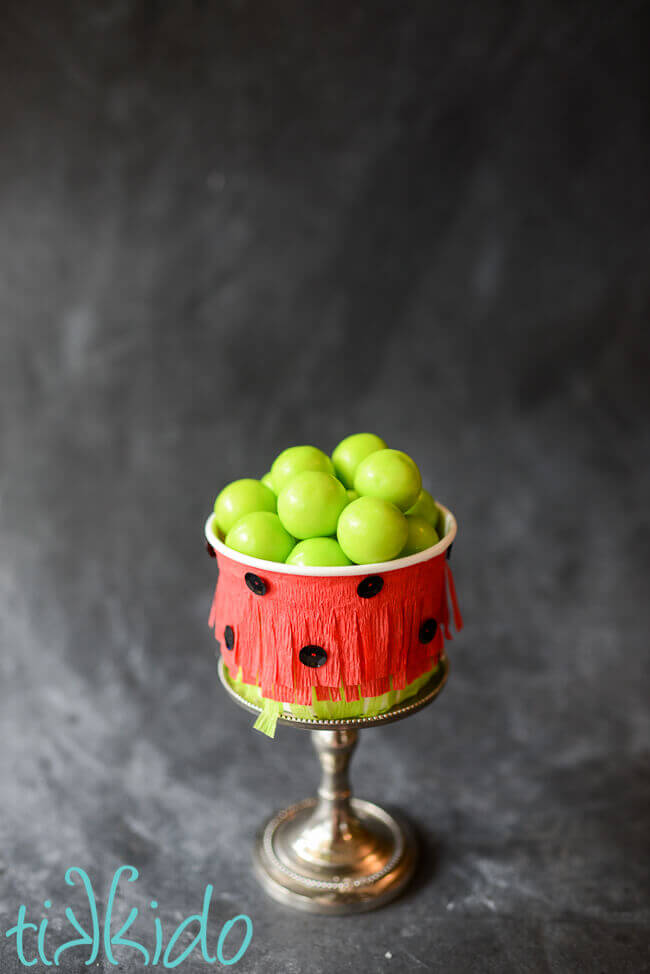 Add a few black sequins as watermelon seeds, and fill.  This would make charming favor packaging, too.  Maybe not with loose gumballs, like in this picture.  That was just because it looked pretty.  But a baggie of gumballs--that could work.  They even make gumballs that look like itty bitty watermelons!  I wish I'd seen those before the party.