Printer-friendly version
Homemade hot chocolate mix is incredibly easy to make, and so much more delicious than the store bought stuff.  This hot chocolate mix recipe makes a HUGE batch, which makes it perfect for both homemade Christmas gifts and enjoying hot cocoa all winter long.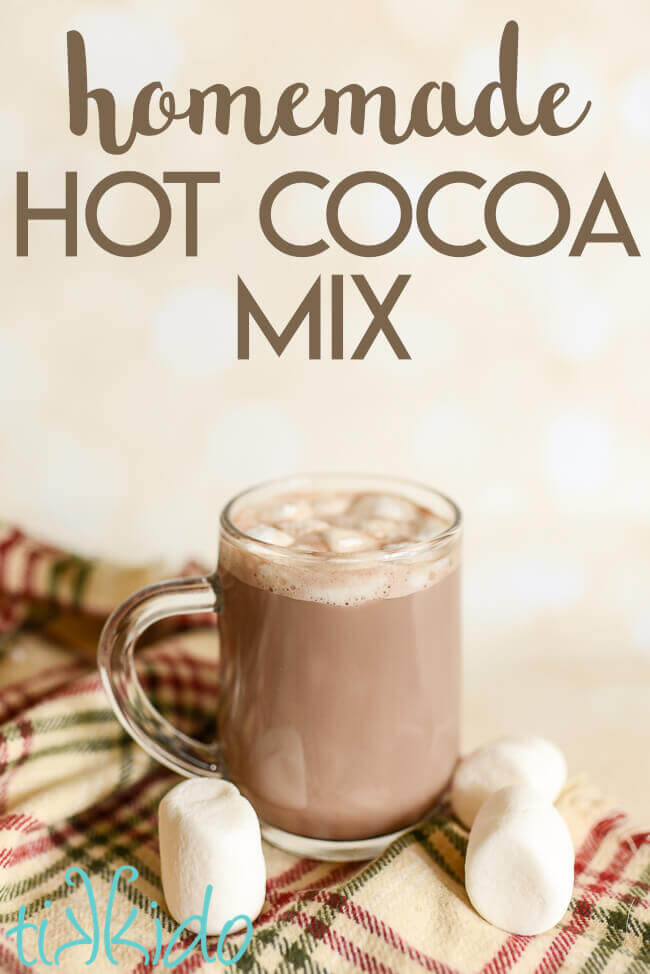 Snuggling up with a cup of my favorite homemade hot cocoa is one of my favorite wintertime treats, but I just realized that I've never shared my recipe for my hot cocoa mix!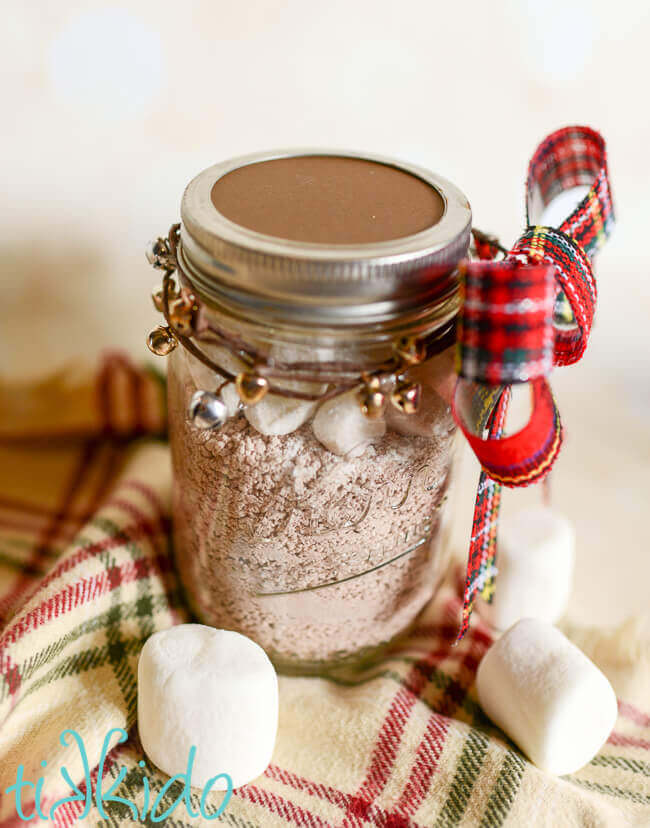 I love this rich, creamy hot cocoa.  It's so much tastier than any store bought version I've ever tried, and makes a huge batch, which makes it perfect for gift-giving.  Neighbor gifts, anyone?  
When I was in college, my mom sent me a big container full of our homemade cocoa mix.  That first winter, my friends quickly discovered that my homemade cocoa mix was much more delicious than the grocery store packets they'd bought.  Luckily, like I said, it was a BIG container of cocoa mix, and I had more than enough to share with all my friends!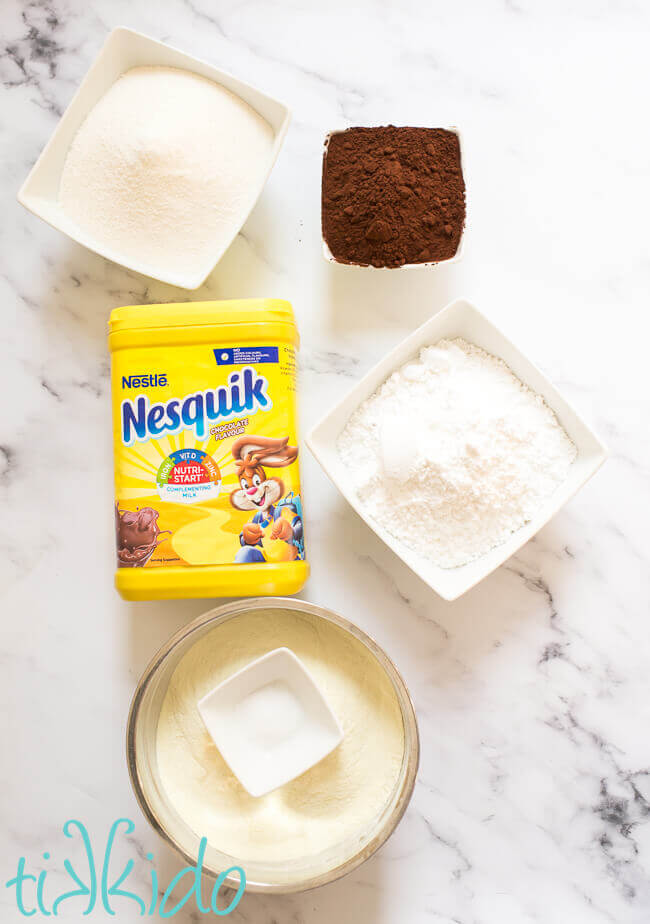 Homemade Hot Chocolate Mix Recipe
one large (22oz these days) package of Nestle Quick powder
one box powdered milk (25.6oz size)
one container powdered coffee creamer (15oz size)
one pound powdered sugar
1/2 cups unsweetened cocoa powder
1 teaspoon salt
Instructions?  Dump it all in a really, really, really big bowl and mix.  Kids love getting to help make the cocoa mix, and there's really no way to mess it up.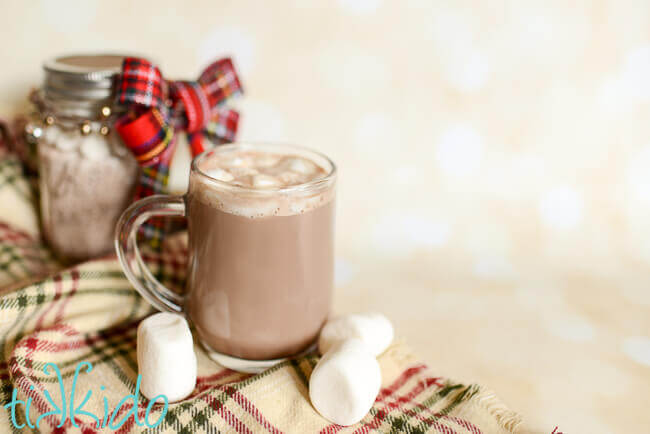 To serve, fill a mug about 1/3 full of the hot cocoa mix powder.  Fill the mug with hot water.  Stir.  Enjoy.
Gourmet Hot Chocolate Mix Recipe Variations
You can have a lot of fun with this recipe, and make all sorts of amazing, fabulous gourmet hot chocolate mix flavors.  Try some of these ideas:
Use a flavored creamer instead of plain.  Brands like Coffee-Mate make all sorts of delicious flavors, like caramel, french vanilla, even pumpkin spice.  Using a flavored powdered creamer is an easy way to make all sorts of gourmet hot chocolate mix flavors.
Add powdered peanut butter to the mix.  I absolutely LOVE hot cocoa with PB2 mixed in.  It is rich and creamy and flavorful and fabulous beyond all expectations.  The PB2 really dissolves and blends in nicely with the liquid.
Make Mexican hot chocolate mix by adding cinnamon and chili powder to the mix.
Make Mint Chocolate cocoa mix by adding some mint extract to the recipe.    I'd add the mint extract to the powdered milk and mix that REALLY WELL, and then mix it in with the rest of the ingredients to get the best distribution of mint flavor.
Marshmallows in Homemade Hot Chocolate Mix
Are you a fan of those crunchy little marshmallows found in cereals and commercial cocoa mixes (and really, who isn't?), you can buy those now, too!  Throw those into your mix or layer them in a bag or jar for a beautiful Christmas gift for teachers and neighbors.   If you use regular marshmallows in your homemade hot chocolate mix, they'll dry out and get rubbery, but not in a delicious way like the freeze dried marshmallows.  If you want marshmallows IN the hot chocolate mix, you need to purchase the freeze dried marshmallows.
If you're up for a baking adventure, try making your own homemade marshmallows.   You can't put these in the actual mix, but homemade marshmallows given alongside a container of homemade hot chocolate mix is an absolutely amazing DIY gift that everyone will absolutely love.