Printer-friendly version
Make and freeze homemade lemonade concentrate in the winter, when lemons are in season, and save it for those sweltering summer months.  It's easy to make frozen lemonade concentrate and enjoy homemade lemonade all year long.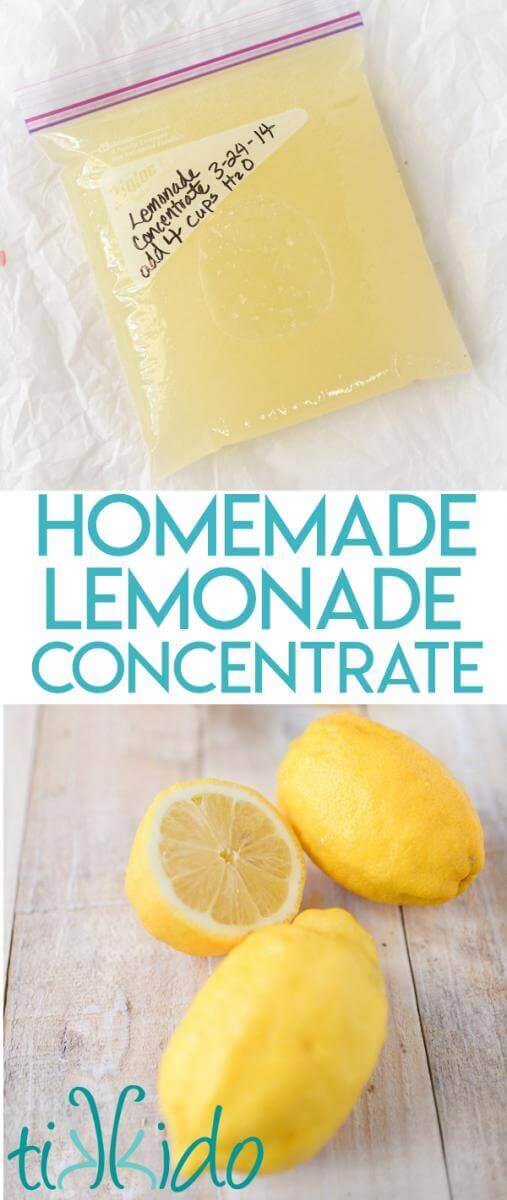 Dd you know that lemons are ripe and ready on the tree from January to early May?  Not exactly classic lemonade season.  
I needed a lot of lemon zest recently for a project I'm working on, and I hate to waste a bunch of fabulous organic lemons from our tree, so I decided to try making homemade lemonade concentrate, so I could freeze that fabulous summery flavor and actually have it during the hot weather.  
Lemonade Concentrate Recipe:
2 cups of fresh lemon juice
2 cups water
2 cups sugar
Juice lemons until you have two cups of fresh lemon juice. Strain out any seeds and pulp (to taste).
Combine 2 cups of water and 2 cups of sugar in a small saucepan, and heat until the sugar crystals have dissolved.  You're making a simple syrup, and, like it's name implies, it's very quick and easy to do.
Mix the lemon juice and simple syrup together, and freeze in a quart size freezer bag.    To make lemonade in the months ahead, simply defrost the concentrate, and mix it with four cups of water.  It makes a perfect pitcher of lemonade every time.
Now I'm ready for summer!  (Just kidding.  I'm never ready for summer in Phoenix.)
Other Lemon Recipes You Might Like: