Printer-friendly version
Frozen lemonade is the perfect summer treat--easy to make, refreshing, and delicious.  Freeze lemonade when lemons are in season to make frozen lemonade all year long.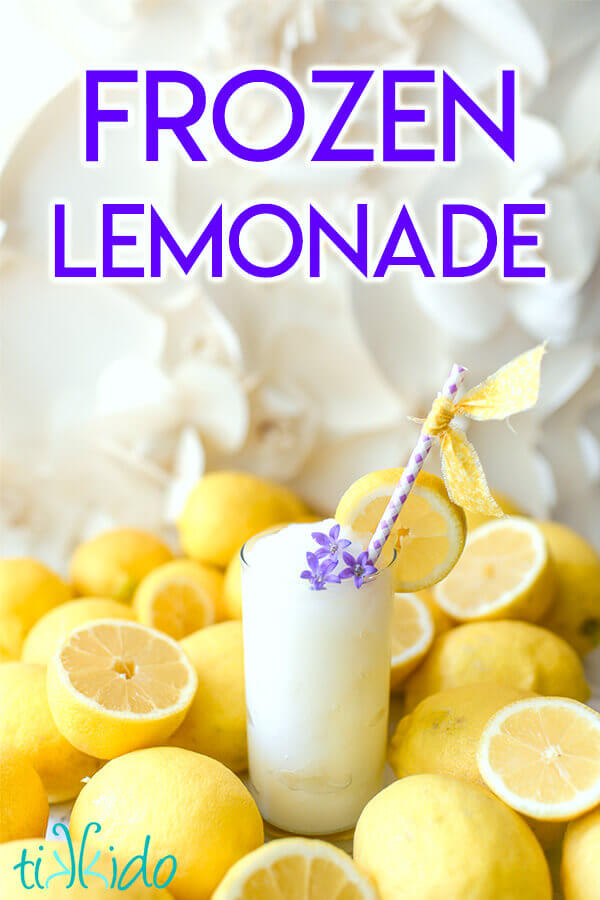 The weather is warming up, but fresh lemon season is winding down.  Time to juice hundreds of lemons and freeze my bounty for those hot summer days.  Lemonade always tastes better on a hot day.  And now that I've figured out how to make amazing frozen lemonade, our summers will be even more amazing.
I've always loved getting frozen lemonade when I've gone to fairs and theme parks.  Now that I'm adult, and can taste the artificial flavors (I still kind of love it, though), and I wondered if I could come up with an easy method for making my own frozen lemonade at home.  An even better frozen lemonade.
Can You Freeze Lemonade?
Yes!  The sugar content isn't high enough in lemonade to prevent it from freezing.  You'll need to make or buy lemonade and freeze it solid to make frozen lemonade.

Of course, to make frozen lemonade, you'll need to know how to make amazing homemade lemonade, first!
Recipe for Homemade Lemonade (To Freeze for Frozen Lemonade!)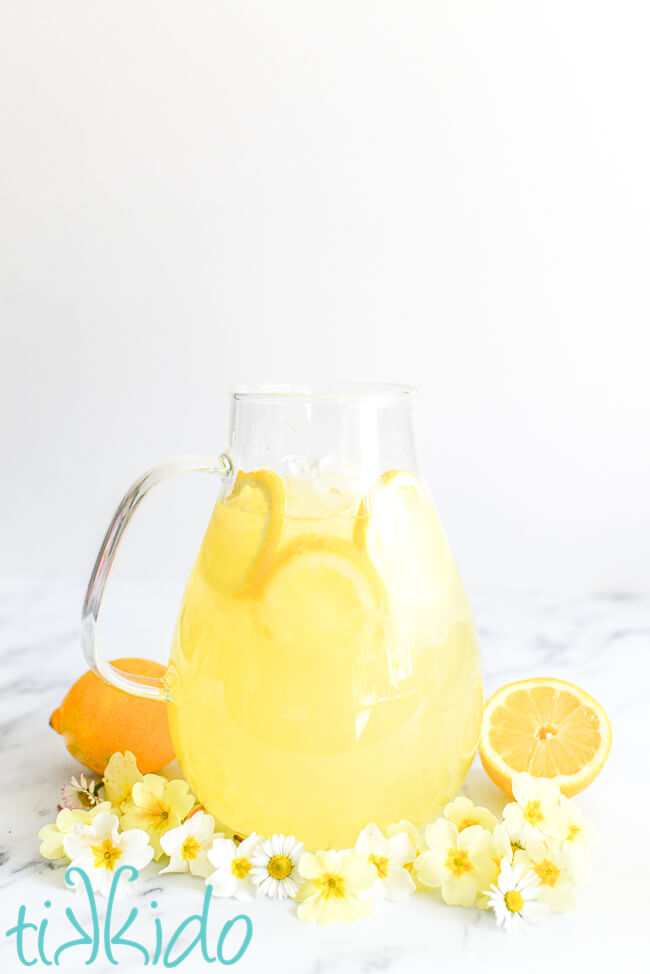 I have the homemade lemonade recipe, including a video tutorial, a printable, one page version of the recipe, and all the details on the blog here.  Whip up a batch, freeze it, and let's make some frozen lemonade!
Frozen Lemonade Recipe:
2 cups lemonade, frozen.
1/2 cup lemonade, liquid
These are just a few of the lemons from our lemon tree.  I'm still picking the literal low hanging fruit, and you can't even tell I took any off the tree.  I have a LOT of lemons.  We've been enjoying fresh lemons since January, and they'll last into the beginning of May, but it's definitely time to start freezing and saving the fabulous fresh juice.  
(Can I take a moment to say how much I still LOVE my farmhouse sink?  Best kitchen renovation decision I made.)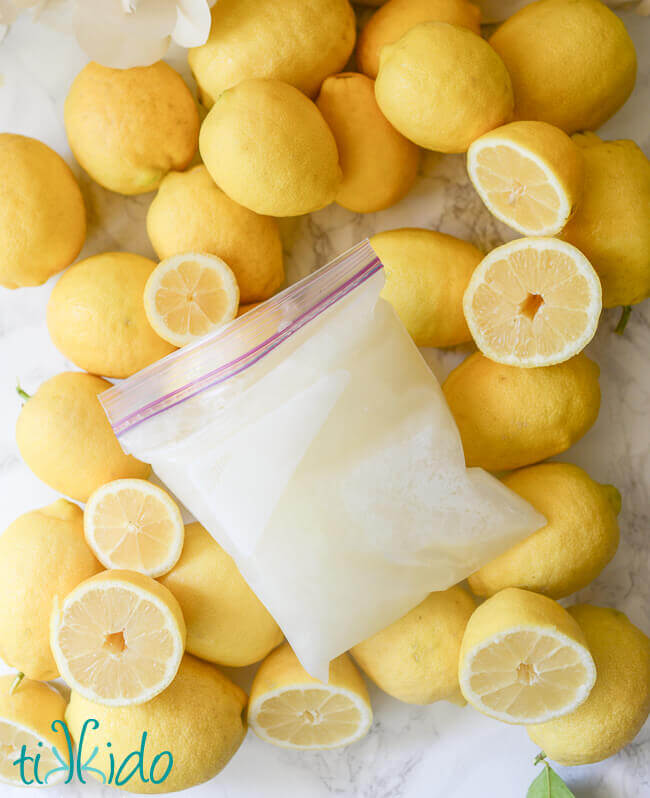 I juiced 70 lemons and came away with 25 cups of fresh lemon juice yesterday.  I made several pitchers of lemonade, too.  But in preparation for today's experiment, I also froze about four cups of my homemade lemonade in a quart sized freezer bag.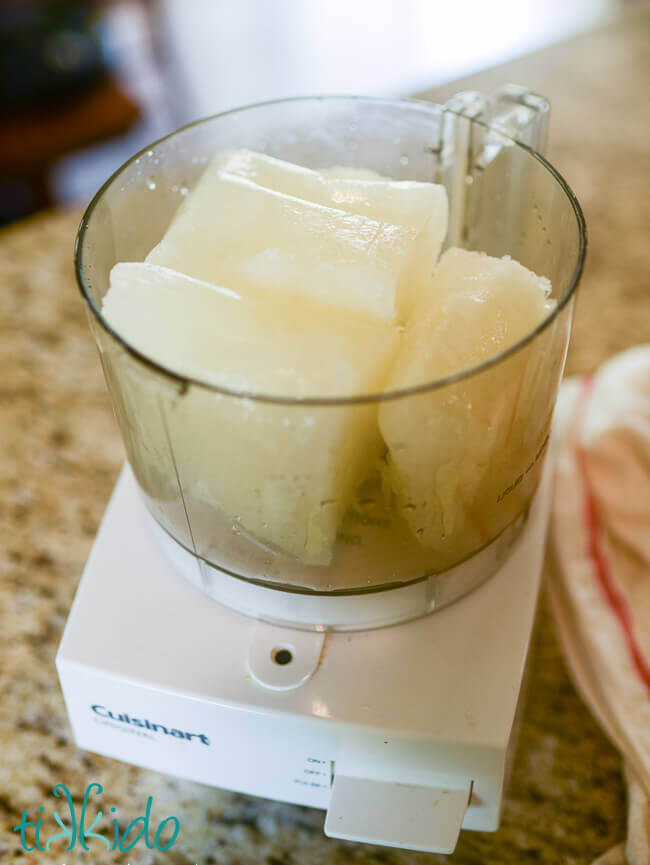 I chunked up the frozen lemonade and popped it in the Cuisinart (and discovered that the food processor works better when I took about half of it back out and did it in batches; do as I say, not as I photograph) .
Add about 1/2 a cup of liquid lemonade for each two cups of frozen lemonade, and blend until the mixture is smooth, even, and fluffy.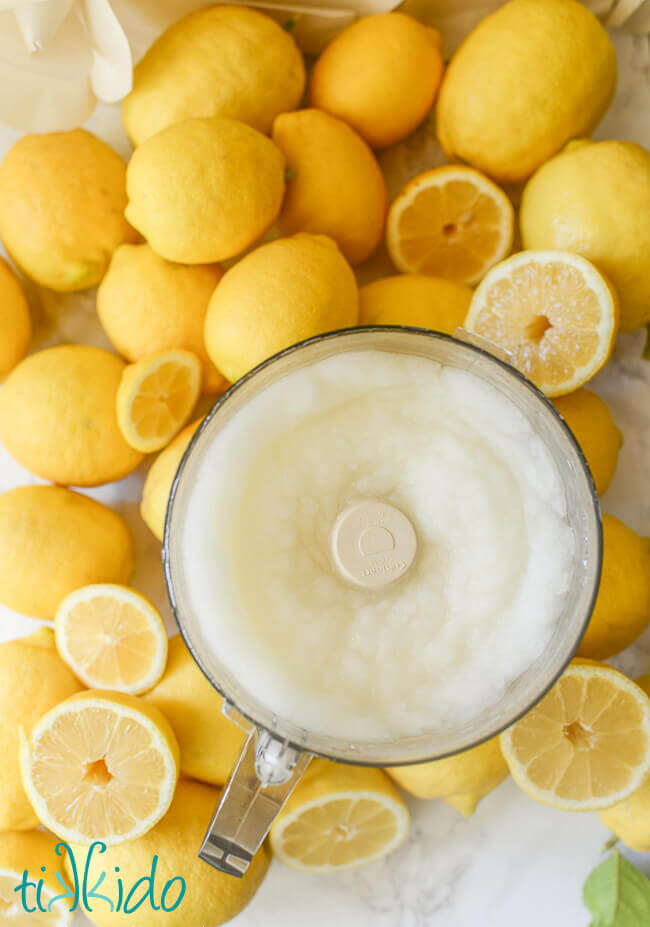 Look how smooth and perfect it is!  I'll bet you could do this in a blender, too, especially if you have a nice blender like a Blendtec.  I don't have one of those yet, so I opted for my food processor.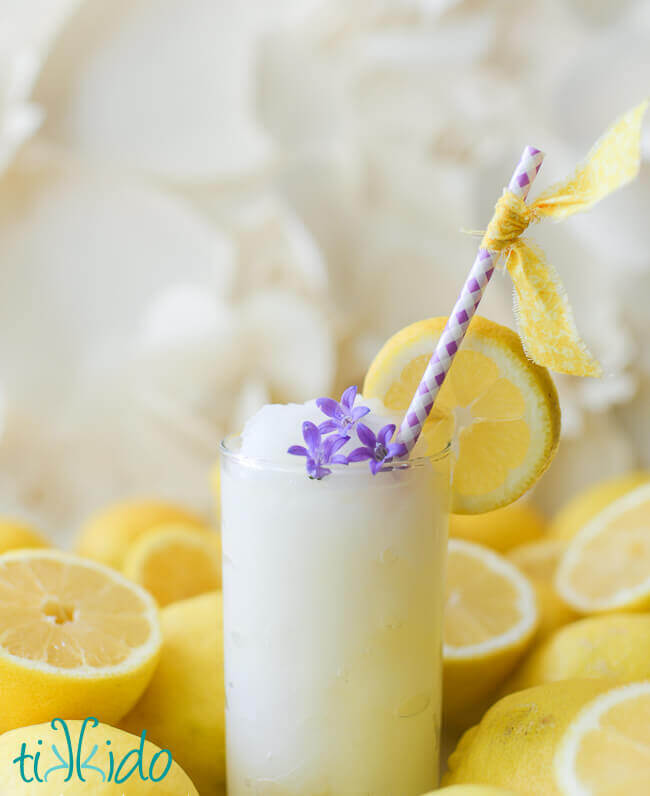 This frozen lemonade is so delicious it doesn't need to be dolled up, but everything is better with a pretty straw and edible flowers, right?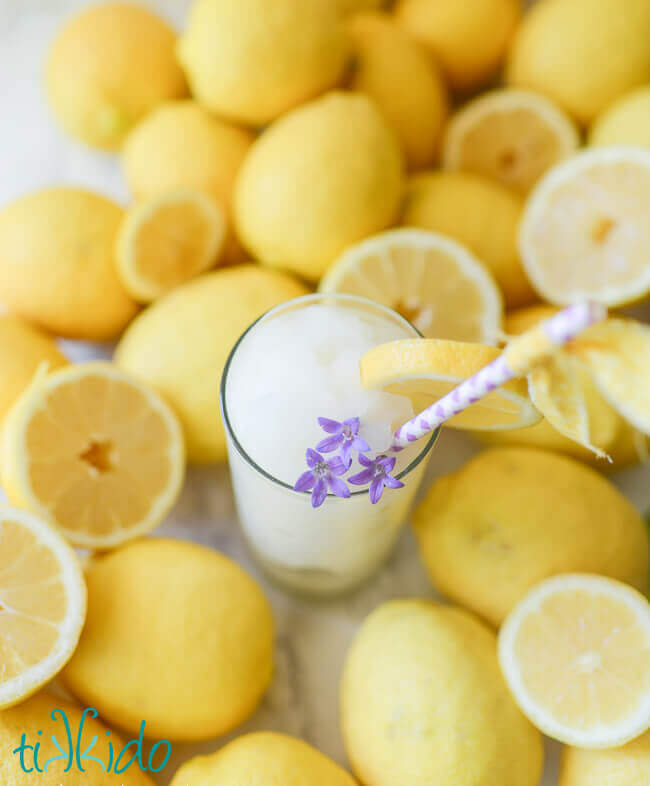 Eat it with a spoon, drink it with a straw...either way it's amazing!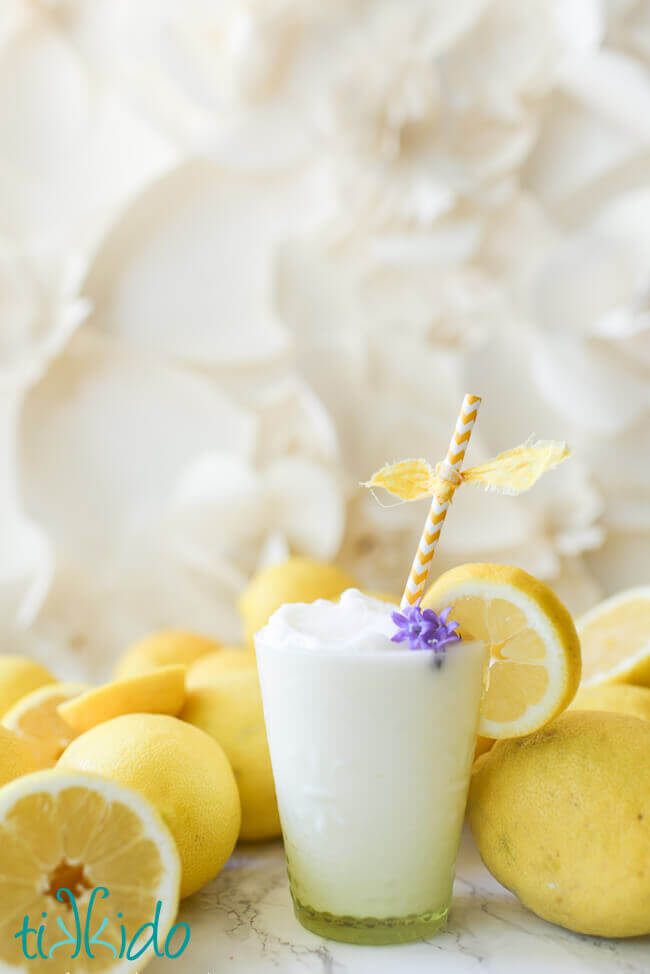 I used to absolutely love orange creamsicle flavors when I was a kid, so I made a second batch, but with a creamy twist.
Creamy Frozen Lemonade:
2 cups lemonade, frozen solid
1/2 cup heavy whipping cream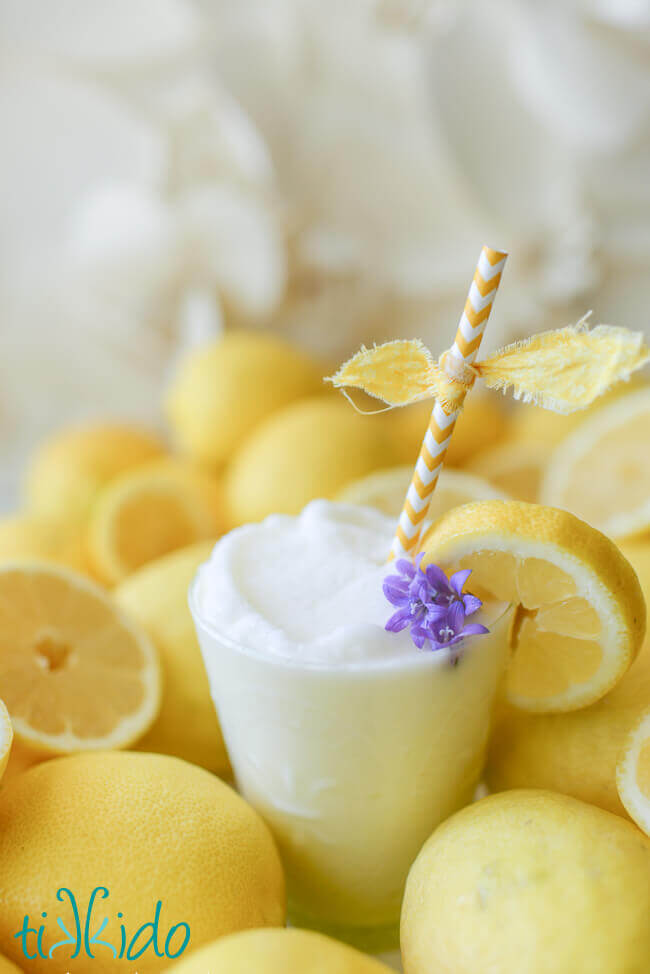 And, oh man, it's even more magically delicious.  So smooth and creamy, but with a lightness and vibrant lemon flavor you don't get from ice cream.  I'm in frozen lemonade heaven.
If you have a lot of lemons to use from a backyard tree, or if you just love lemon, follow my Citrus board on Pinterest.  I'm gathering all sorts of delicious citrus treats and ideas there!
Other Lemon Recipes and Posts You Might Like