Printer-friendly version
Vanilla cake can be amazing.  Really and truly.  And I happen to have the BEST from scratch vanilla cake recipe around.  It's a yellow cake (it gets its yellow color from the eggs and butter), with a moist crumb and amazing vanilla flavor.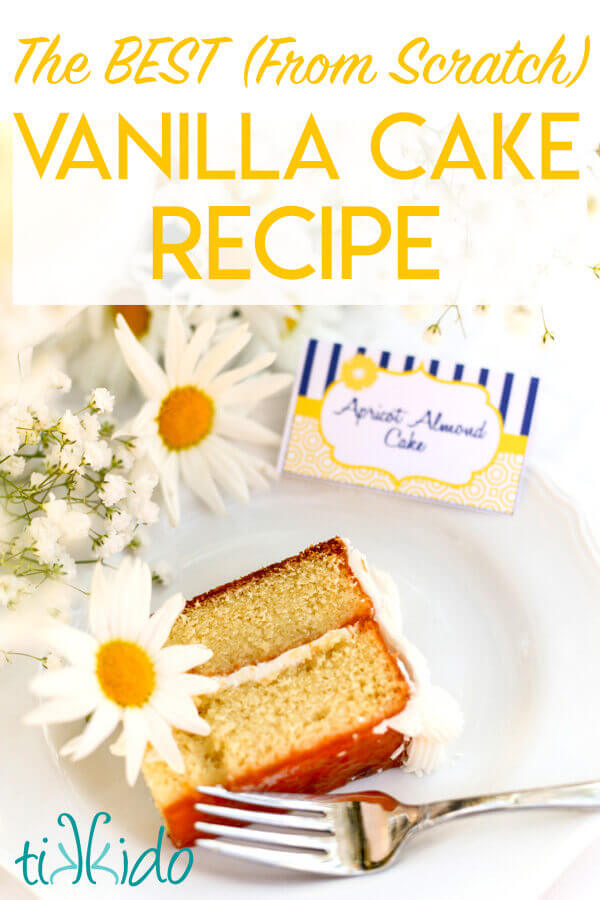 We tested a lot of different vanilla butter cake recipes, and this one was the unanimous winner of the vanilla cake edition of The Hungry Games.  In The Hungry Games, we bake different, highly recommended versions of the same basic item, and taste test and rank them, to come up with one ultimate winner.  This week, it's all about making a classic, versatile, vanilla cake from scratch.  This homemade vanilla cake makes a fabulous birthday cake or wedding cake, a sheet cake, or vanilla cupcakes.  
This is a made from scratch vanilla cake, but don't worry, it's not complicated.  This is a vanilla cake recipe without buttermilk, though the milk and vinegar mixture called for in this recipe works in the same way.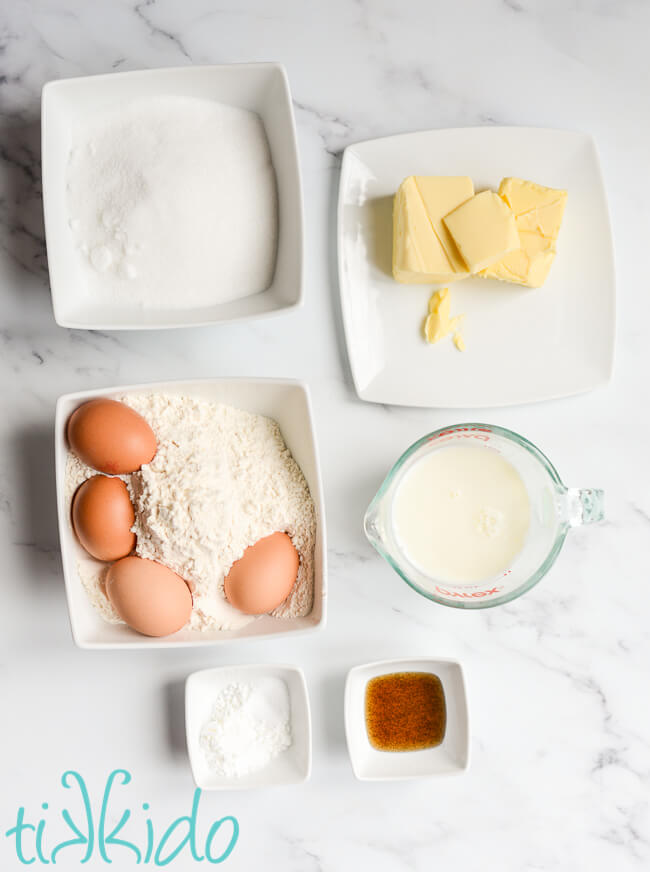 The Best Basic Vanilla Cake Recipe
From the Mermaid Bakery
1 cup unsalted butter, softened
2 cups sugar
4 large eggs
1 Tablespoon white vinegar PLUS enough milk (whole milk, 2%, and skim are all great--use whatever your regular milk is) to bring the total volume to 1 cup
1 teaspoon vanilla extract (I like using vanilla bean paste)
2 3/4 cups all purpose flour
2 1/4 teaspoon baking powder
3/4 teaspoon salt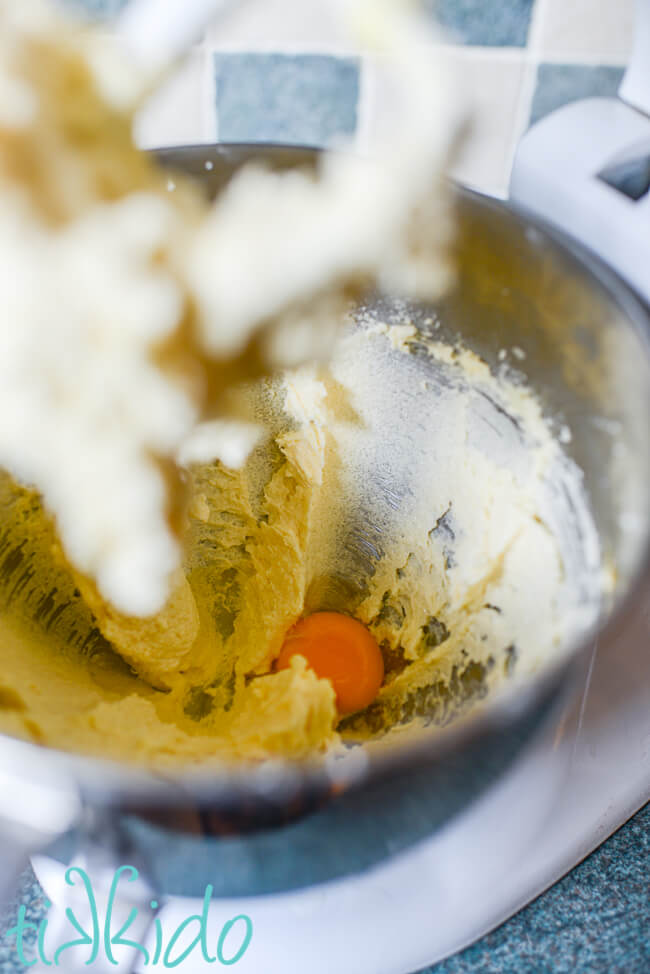 How To Make a Classic Vanilla Cake Recipe
Preheat oven to 350 degrees Fahrenheit.
Either grease and flour your cake pans, or line the bottom with a circle of waxed paper or parchment paper (my method of choice for easily getting cakes out of pans--just remember to peel it off after baking!).  There's no need to line the sides of the round cake pans with parchment or waxed paper--you can easily loosen the cake from the sides of the pan by running a small serrated knife between the cake and the side of the pan.
Use a paddle attachment to cream butter and sugar together until fluffy in the bowl of a stand mixer, then add whole eggs, ONE AT A TIME, to the butter mixture and beat well on high speed after each egg has been added.  This recipe calls for unsalted butter, but I've used salted butter and it's just as delicious.  Just reduce the salt in the recipe by 1/4 teaspoon if using salted butter.
Mix the dry ingredients (flour, salt, baking powder) together in a second bowl.  
Place one Tablespoon of vinegar in a measuring cup, then add enough milk so that the entire volume equals one cup of liquid. Add the vanilla to your cup of milk and vinegar, so all the wet stuff is together, too.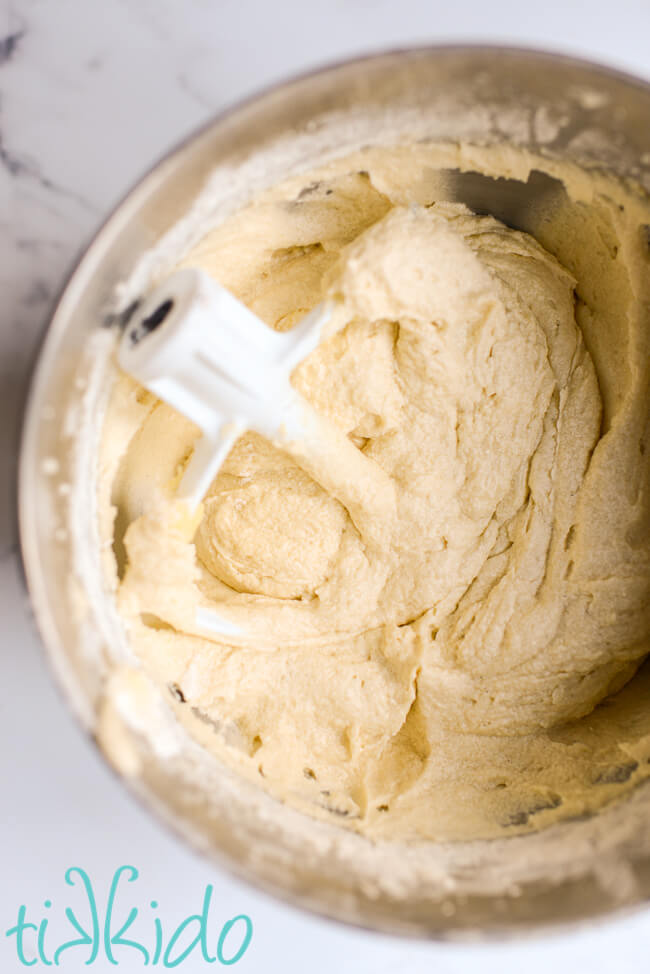 Add half of the dry ingredients to the butter and eggs in the mixer and combine.  Then add half of the wet ingredients and mix.  Then the remaining dry ingredients (mix again) and remaining wet ingredients (mix a final time).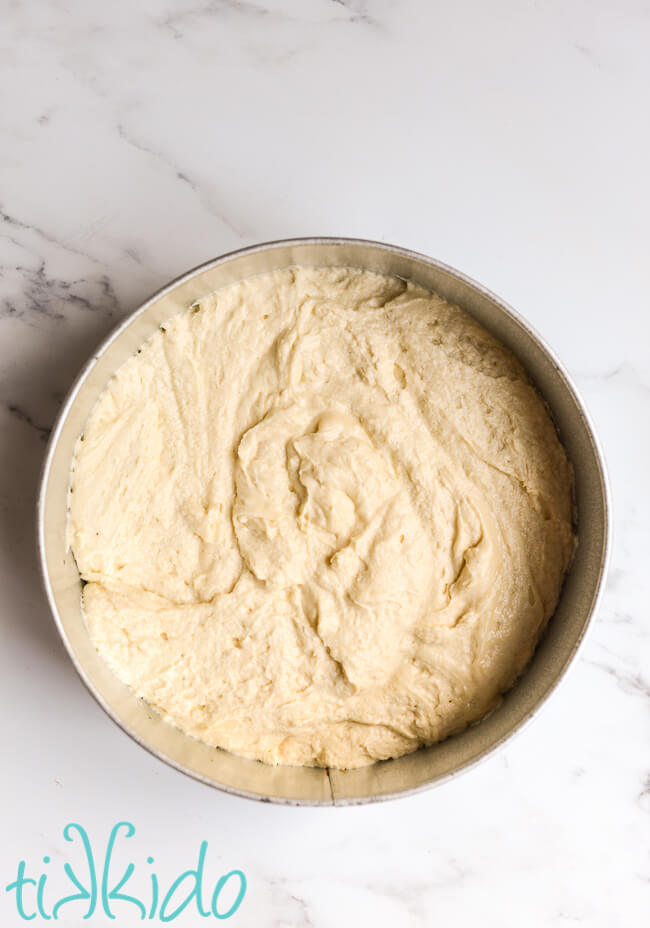 Place the vanilla cake batter in the prepared cake pan.
How Long to Bake Vanilla Butter Cake
Bake time will depend on your oven and the size of the pan you're using.
For cupcakes, divide batter into two cupcake tins (24 cupcakes total), and test at 18 minutes.
For two 6" cake pans, bake at least 30 minutes.  Test for doneness at that point--bake until a cake tester inserted into the middle of the cake comes out clean.  If your test skewer comes out with some batter, add time in 5 minute increments until it comes out clean to figure out what is best for your oven.
For two 8 inch pans, the batter will not be quite as deep as if you divided it into the 6" pans, so I start checking to see if the cake is done at 25 minutes.
For a single 12" cake pan, check to see if the cake is done at 55 minutes.  A single 9x13 pan takes a similar amount of time.
 Let cool in pans for 10 minutes, then remove from pans (peel off the parchment if you used that technique), and let cool completely on a wire rack.
If you're making a layer cake, wait until the cake is completely cool before torting the into cake layers.
This easy vanilla cake recipe is fabulous just as it is.  Sturdy enough for carving, and so wonderfully flavorful. 
Frostings that Taste Great with Vanilla Butter Cake
Pretty much any frosting pairs well with a good vanilla cake!  Here are some of my favorite combinations and recipes: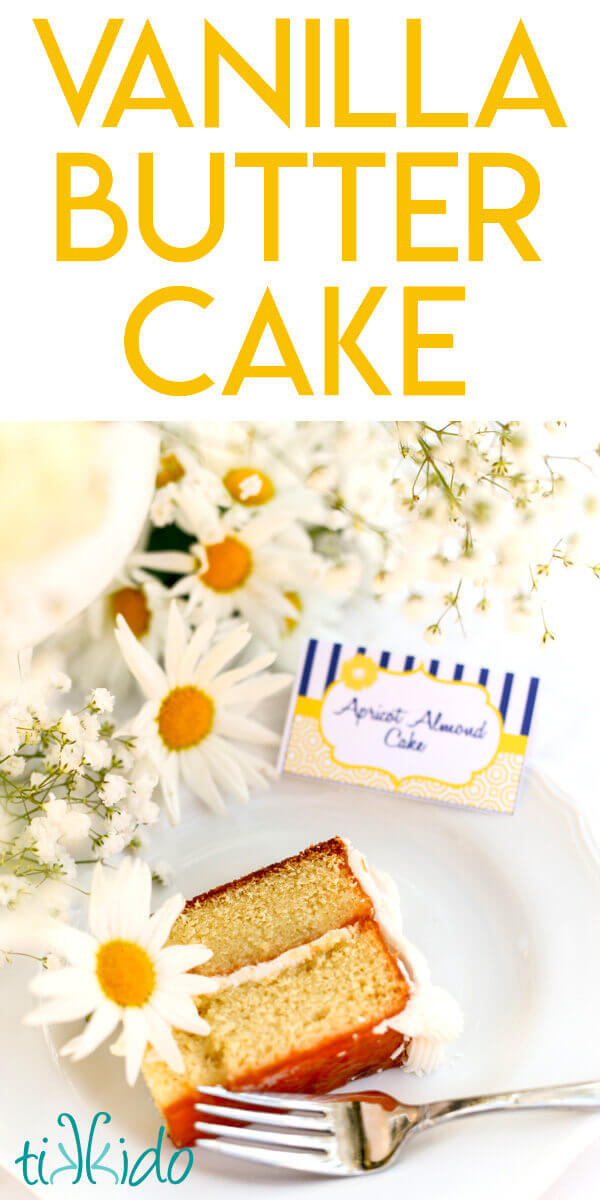 How to Add Even More Flavor to a Frosted Cake
Flavor comes from the cake itself, and the frosting you use, but this vanilla cake is the perfect base for so many more complex flavor variations if you add a flavor soak.
I always like to add a soak to add extra flavor and moisture--a secret taught to me by my pastry-chef mother.  First, create a simple syrup:  combine equal parts water and sugar, and heat on the stove until the sugar has dissolved completely.  I usually make my soak with 50% simple syrup, 50% yummy flavor.
For my parents' 40th anniversary party, I wanted an apricot-almond flavor profile.  So I used 50% simple syrup, 50% amaretto liqueur.   I put the mixture in a squeeze bottle like this one for easy application.  when I go to torte the cake and add the filling, I squeeze a bunch of the liquid on the cake before adding the filling or frosting.  A BUNCH.  Cake can handle way more soak than you'd guess.  Hmm.  Idea for my next video tutorial!  The amaretto soak tasted amazing with the apricot glaze. 
Another favorite (more kid friendly) is 50% simple syrup, 50% freshly squeezed lemon juice.  (Use leftovers as homemade lemonade concentrate!)  I usually pair this with a raspberry filling, a slight variation on my favorite raspberry fool recipe.  I just add a little more instant clearjel to make it more sturdy.  Lemon raspberry butter cake.  YUM.
Printable, One Page BEST Vanilla Cake Recipe:
Want a one page, printable version of this perfect vanilla cake recipe?  Click on the image below to print the PDF directly or download it to your device.
Other Cake Recipes You Might Like: