Printer-friendly version
Homemade lemon jam is packed with bright citrus flavor but none of the bitterness or texture of marmalade.  And lemon jam only has two ingredients and is easy to make!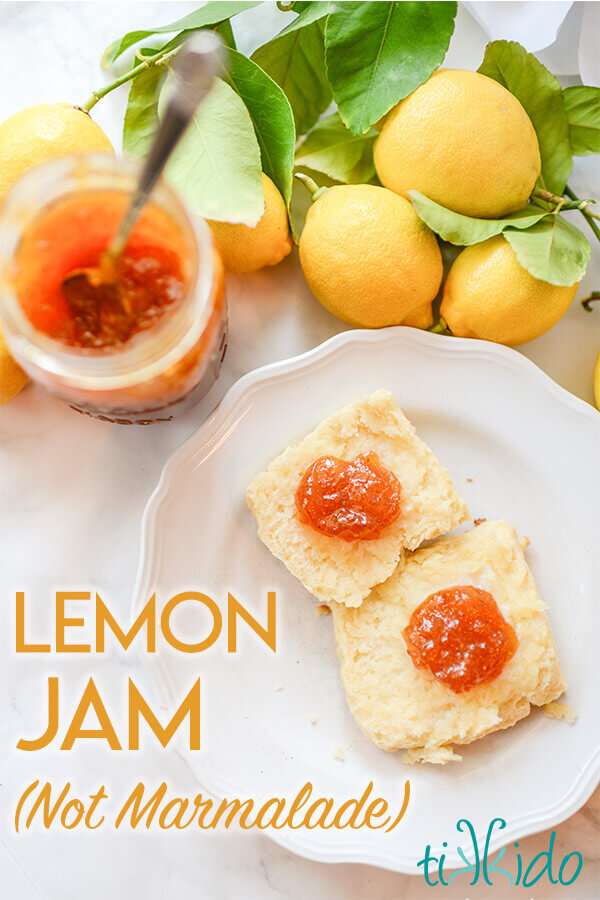 That's right, you don't even need pectin to make lemon jam!  There's enough pectin in the fruit of the lemons, even without including the skin and pith.
If you're looking for a lemon curd recipe or homemade marmalade recipe, I those, too.  But this lemon jam recipe is all about the lemon juice and the stuff inside, not the whole fruit like a lemon marmalade recipe.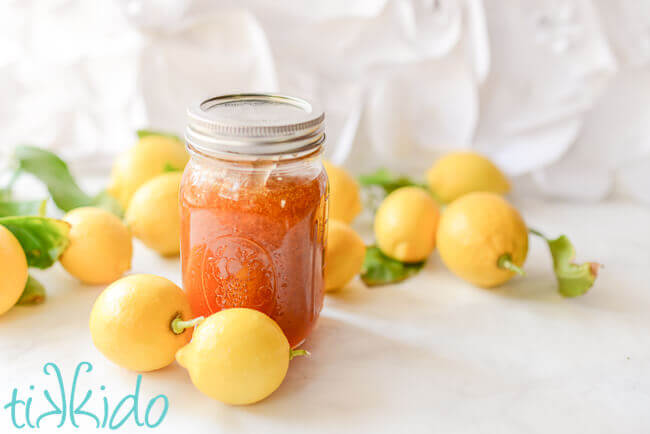 The lemon jam turns more of an orange color when it cooks to the right temperature, but it's all lemon.  I was inspired to make lemon jam by this recipe for clementine jam, so I know you can use other citrus fruits with this basic technique.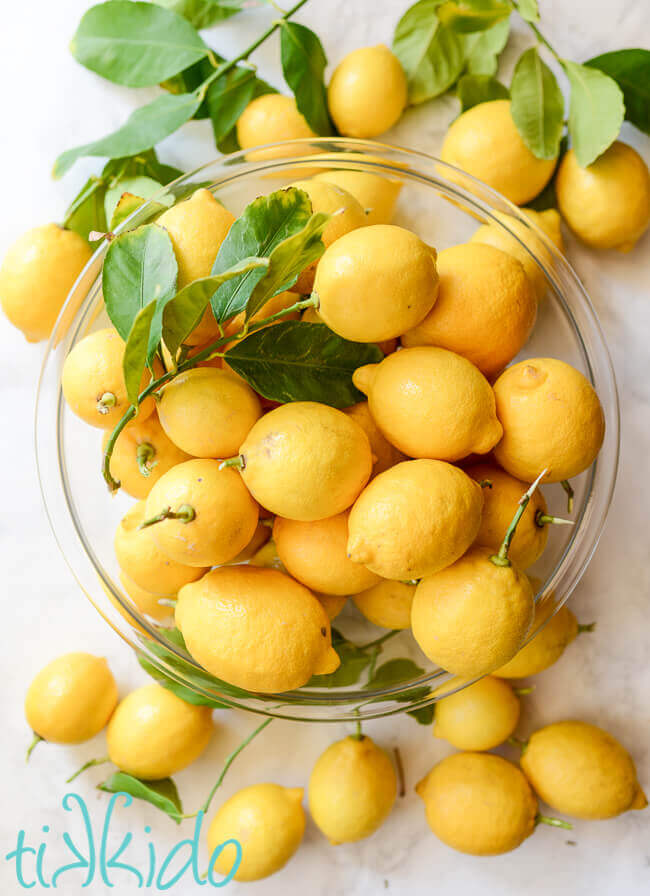 I have a lemon tree in my backyard, so I'm always looking for good ways to use and preserve this delicious bounty for the parts of the year when I can't just go out to my tree and pick whatever lemons I need.  This lemon jam is my new favorite!
What Type of Lemons to Use for Lemon Jam?
Just regular lemons!  Any lemons!  Meyer lemons?  Sure!  Lisbon Eureka lemons (often the varieties found in grocery stores)?  Absolutely!  They're all good.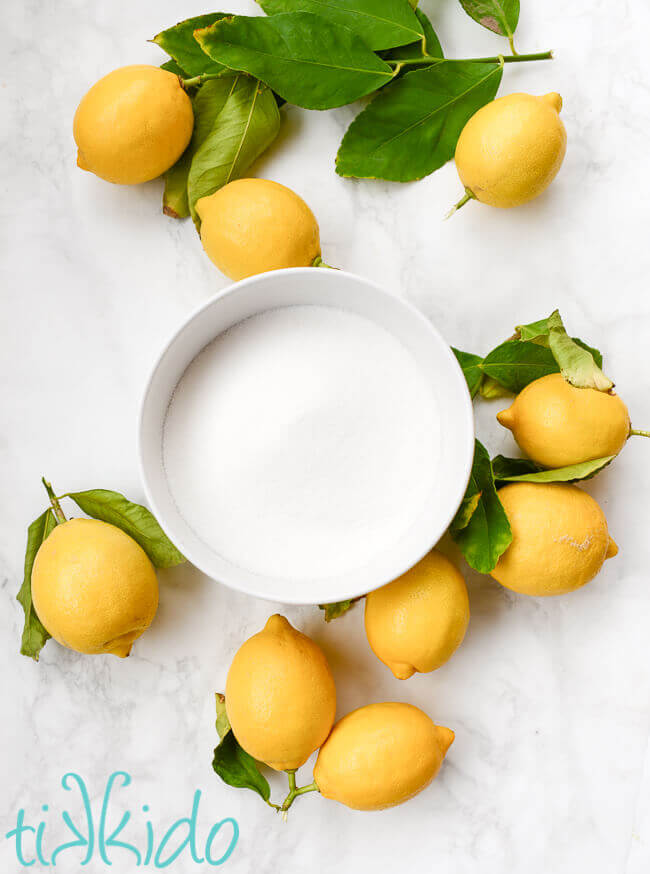 Lemon Jam Ingredients:
2 cups lemon puree (just the fruit part, not the skin or pith)
2 cups sugar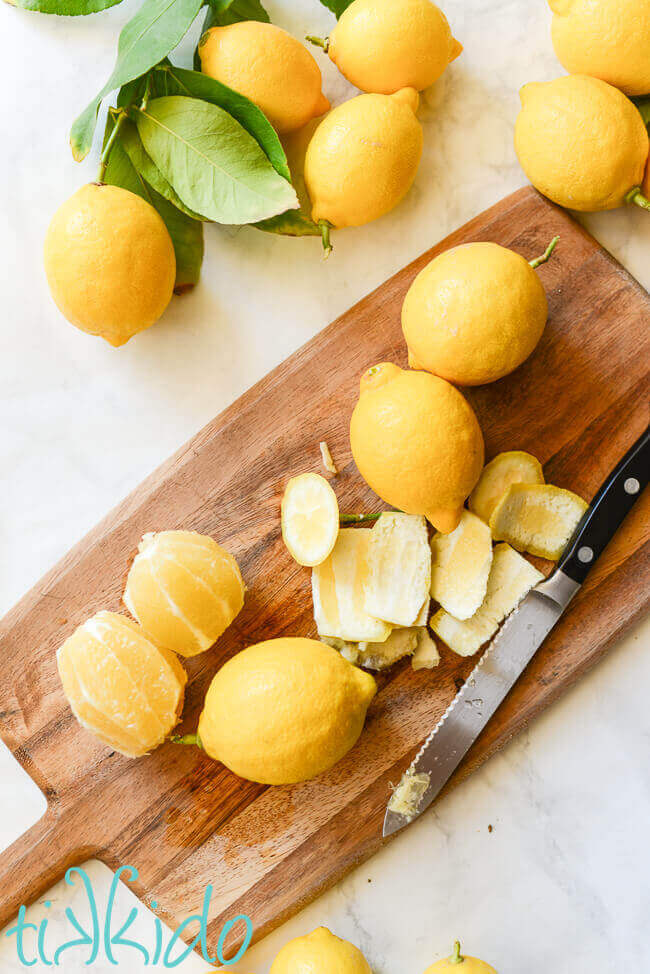 This is such a simple recipe!  Only two ingredients:  lemons and sugar.  I gave specific measurements for the batch I used, but you can use the same formula for any size batch.  Just measure your fruit puree, and add an equal amount of sugar.
Use a sharp knife to remove the skin and white pith from the lemons.  This is lemon jam, not marmalade.  Traditional jam uses only the flesh of the citrus fruit, not the whole lemon.  No citrus peel in this recipe.
Of course, if you don't want to waste all that lovely lemon peel, you can always use it to make homemade limoncello.  If you decide to make limoncello, remove the lemon peel with a vegetable peeler before you remove the fruit from the lemon, because you don't want to use the pith in limncello, either.  And it would be a HUGE pain to remove the lemon peel from the pith after it had been removed from the fruit.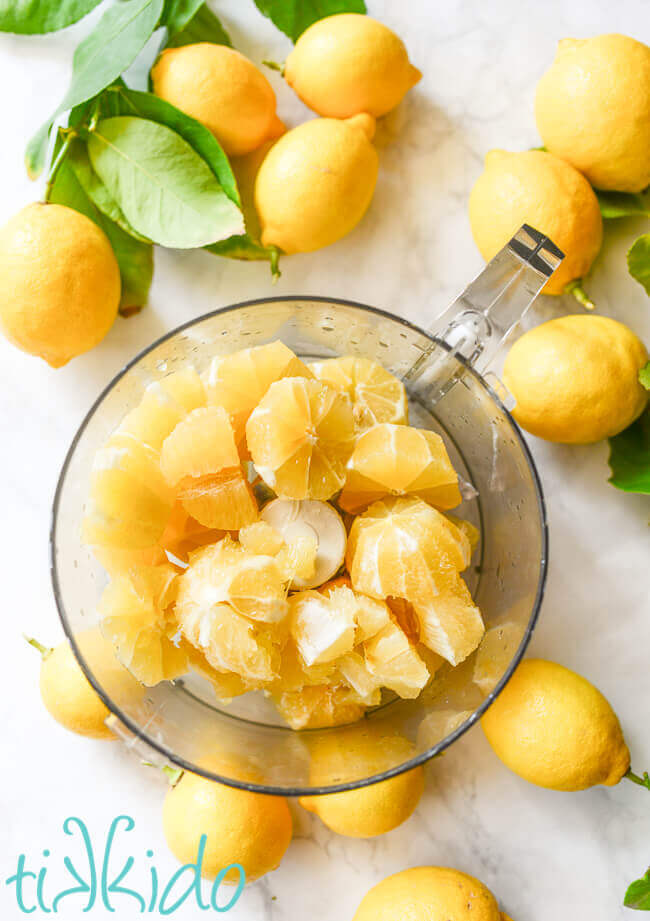 Remove seeds from the lemon pieces and puree.  I first tried pureeing the fruit in my food processor, and I made a juicy, sticky mess.  I clearly tried to do too much at once.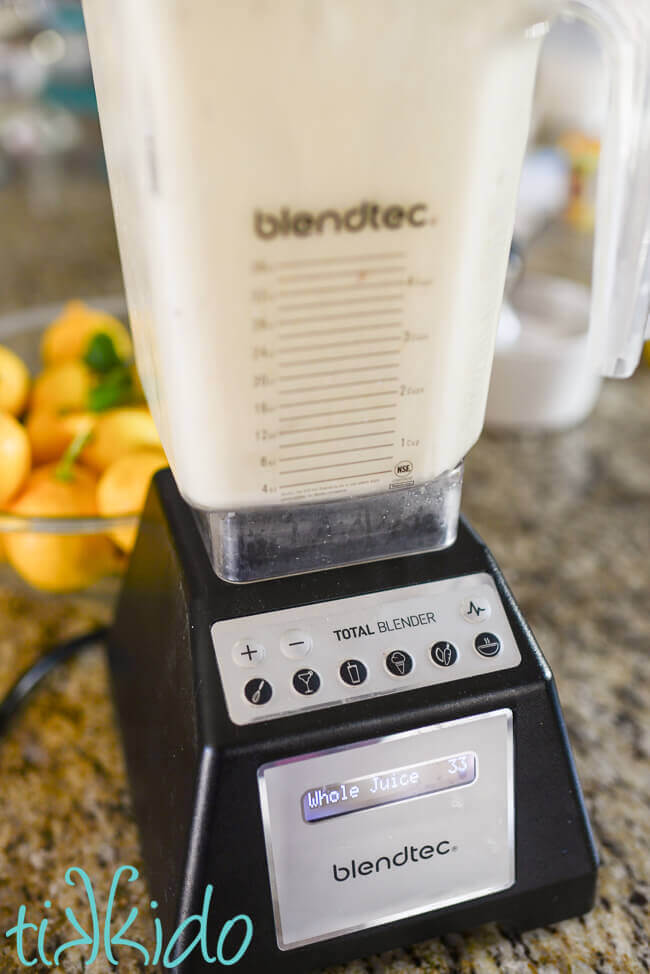 I decided to switch to my blendtec blender instead.  And not only could I puree all the fruit at one time without making a huge, sticky mess, but the blender also did a much better job pureeing the fruit.  Man, I LOVE this blender!  You could also use a food mill to make the lemon puree.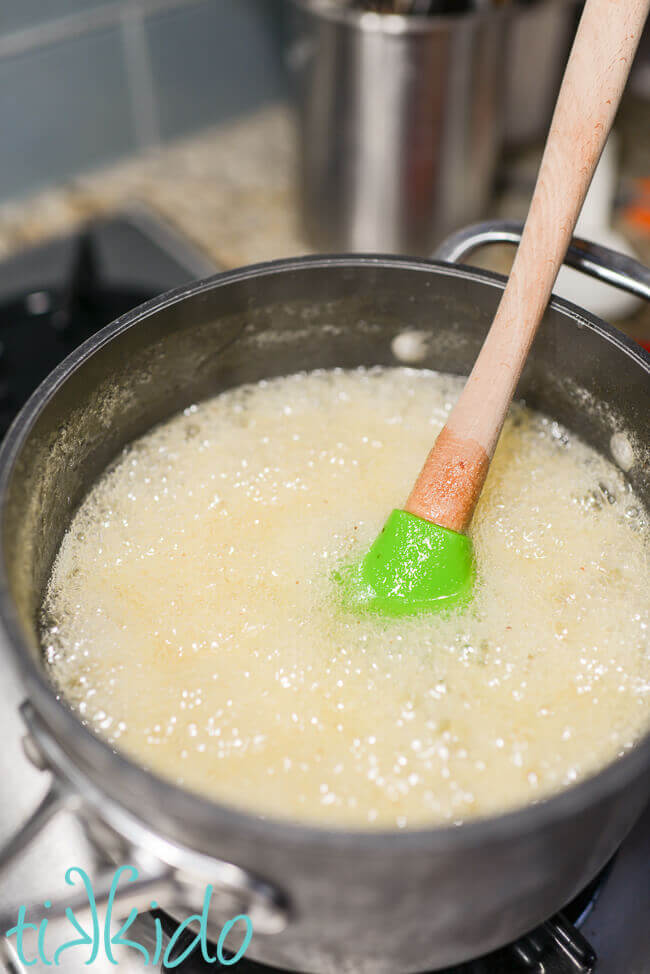 Cook the sugar and pureed lemon together in a large saucepan over medium heat.  If there's too much foam, you can skim it off with a fine mesh strainer.
Cook, stirring frequently, until the mixture reaches 222 degrees Fahrenheit.  I use an instant-read thermometer to check the temperature as I'm cooking.  You could also use a candy thermometer.
There's so much pectin already in the lemons that there's no need to add more in this easy recipe.  It cooks up to the perfect jam texture just by cooking to the right temperature.
Cook it to a lower temperature, and the jam will still be delicious, but more runny.  Cook it to a higher temperature, and it will be thicker.  Play around with the temperature and recipe and decide what you like.  I found 222 to be the perfect Goldilocks, not-too-thin-not-too-thick texture for me.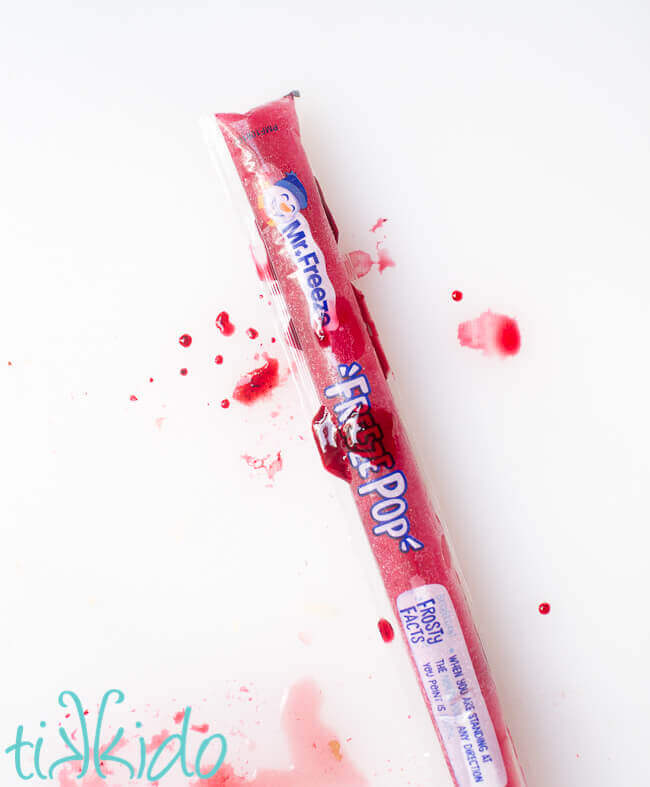 If you don't have a thermometer, you can use the classic cold plate test or wrinkle test.  Traditionally, you put a plate in the freezer, and put a small amount of the hot mixture as it's cooking on the cold plate to cool quickly.  If the jam wrinkles when you push it with your finger, it's done.  I have a clever variation on this technique, though--a jam making hack.  The plate never cools the jam quickly enough for my taste, even straight from the freezer, and I typically have to do the test multiple times before the jam is ready.  But one time, as I was putting the plate back in the freezer, I saw my daughters' Otter Pops (you know, the ice pops in the plastic tube that you buy at room temperature and then freeze).
The jam cools much more quickly on the freeze pops than the chilled plate, allowing for quicker analysis of the jam.  Just rinse off the popsicle and pop it back in the freezer when you're done.
The picture above is from my seedless blackberry jam recipe, so the color is different, but the technique is just too good not to show you, even if the picture is a little confusing!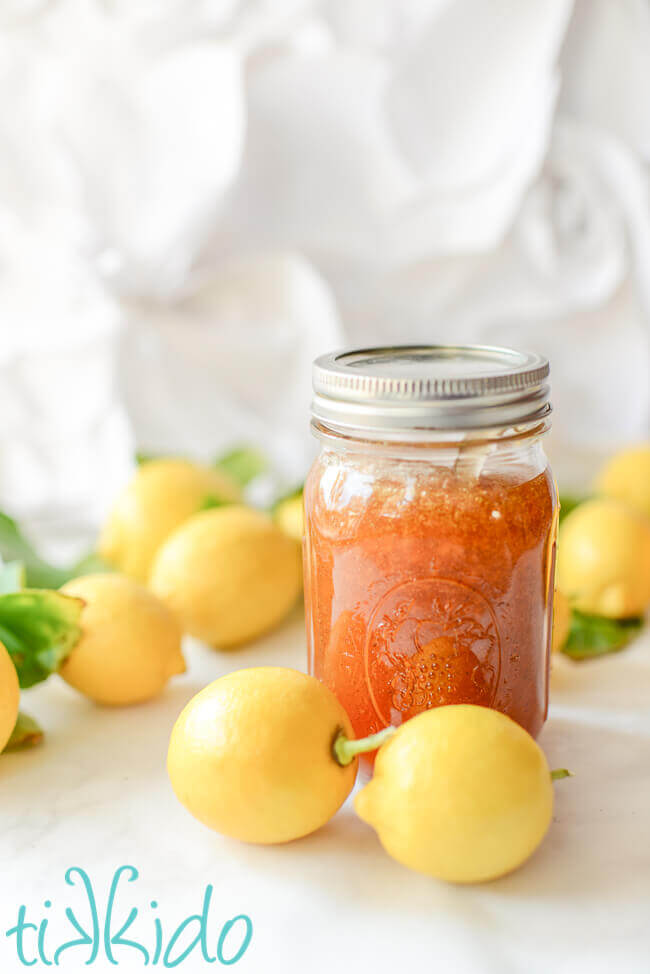 Follow proper canning procedures if you want to keep this jam stored on a shelf.  I just made a single jar, so kept mine in the fridge to use.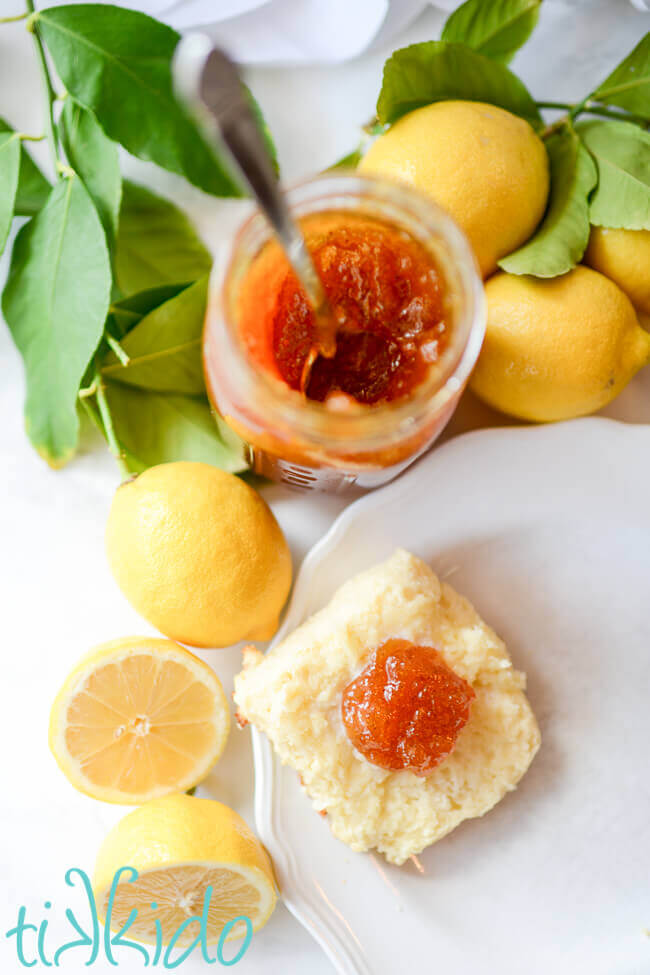 I made some fresh biscuits as soon as I finished this jam so I'd have something truly worthy of it.  But it would make just about anything taste delicious!  What a perfect way to use some of my (many, many) lemons. 
What are your favorite jams?
Printable Lemon Jam Recipe
Want a one page, printable version of this lemon jam recipe?  Click the image below to download or print a PDF.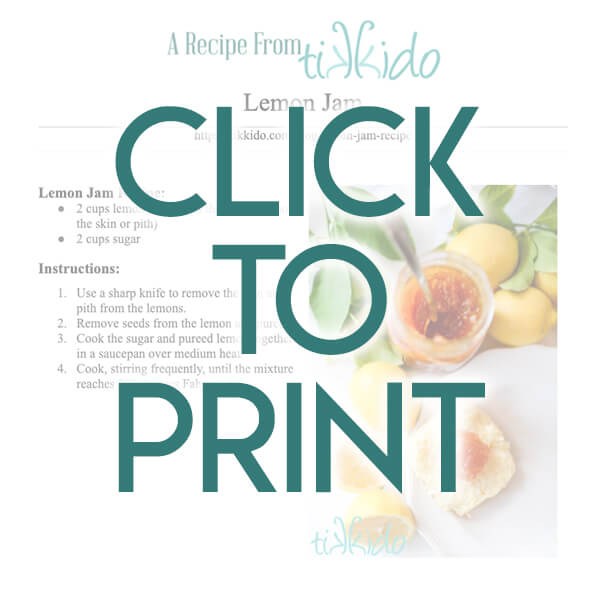 Other Lemon Recipes You Might Like: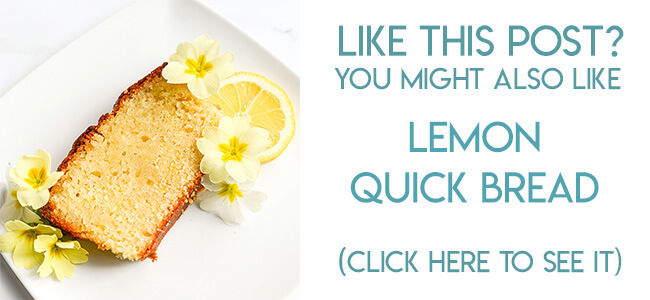 Other Jam Recipes You Might Like: