Printer-friendly version
If you love lemon like I do, you've probably been dissapointed with lemon desserts before.  You know the ones, that look great, but don't actually taste like lemons, just kind of smell like them.  These lemon slice cookies are the opposite of those disappointments.  These will blow you away with their lemon awesomeness.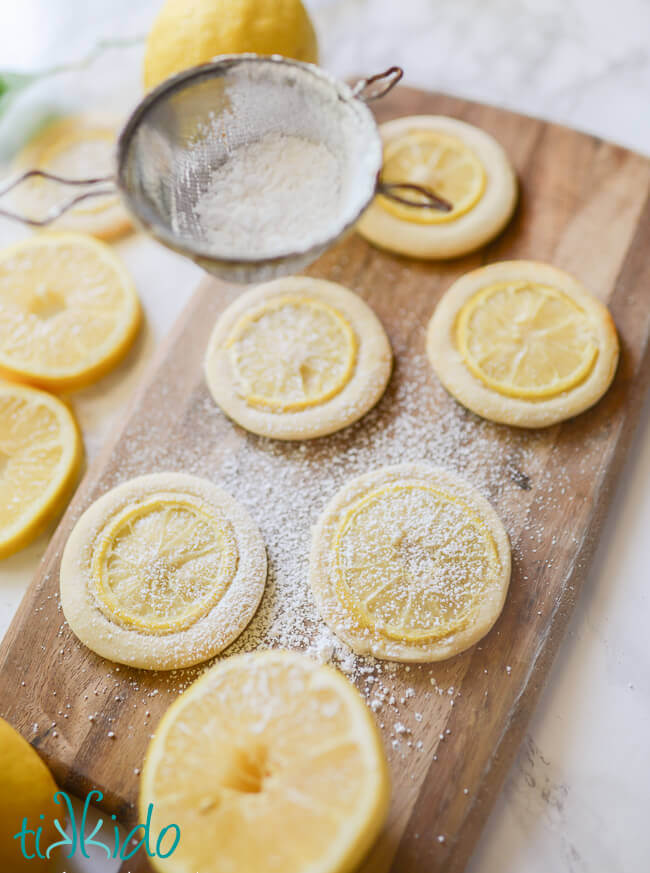 Because they use--gasp--real lemons!  They're gorgeous too, right?  No decorating skill necessary to make these lemon cookie beauties.
Start with my favorite basic sugar cookie recipe.
No Fail Sugar Cookie Recipe and Ingredients:
6 cups flour
1 teaspoon baking powder
2 cups (4 sticks) butter, softened
2 cups sugar
2 eggs
2 teaspoons vanilla
1 teaspoon salt
See the basic sugar cookie recipe post for my tips and tricks for rolling out and cutting the dough.
And add to that list:
lemons, sliced thinly
powdered sugar for dusting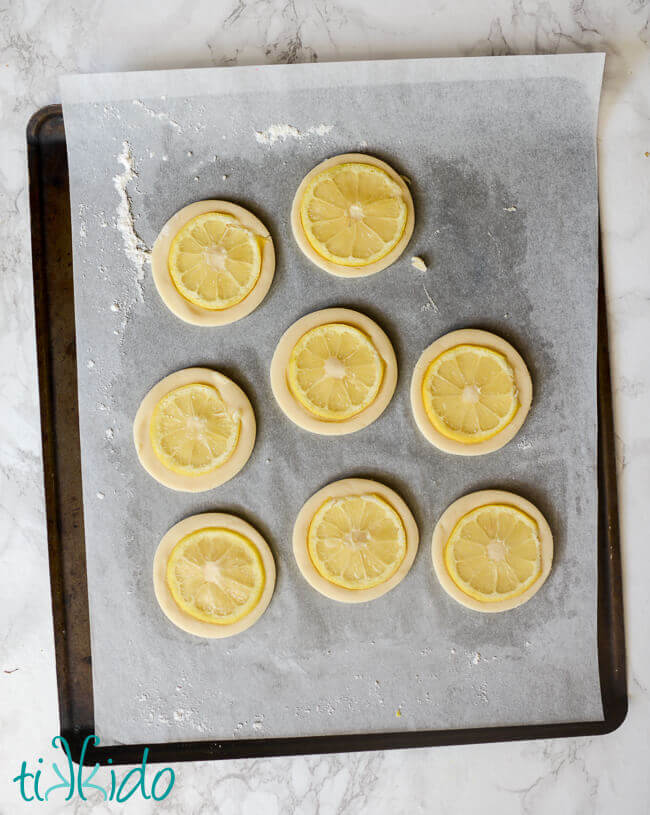 Cut very thin slices of lemons.  VERY THIN.  The only way I could get them thin enough and even enough was with a mandolin.  I don't have a fancy one, just a really basic one, and it's a nice tool to have in the kitchen.  It doesn't get used all that often, but hey, at least it's flat and easy to store.  Be very careful when using a mandolin--they're extremely sharp!  I find a pair of cut resistant gloves far more useful than that pokey stabby fruit and vegetable holder thing that comes with some mandolins.  
Press the thin slices of lemon into the cookie dough.  The cookies can be frozen at this point, so you can do the fussy work several weeks in advance of any event.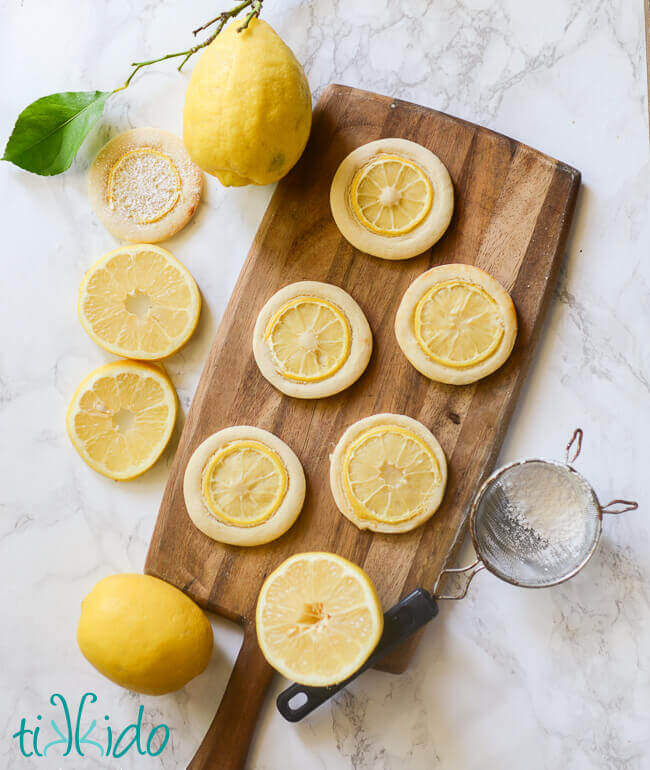 Bake at 350 degrees Fahrenheit for 15-20 minutes.  This is longer than I bake my plain sugar cookies.  They just needed more time with the lemon slices.  Basically, you want the cookies to just start to turn golden at the edges.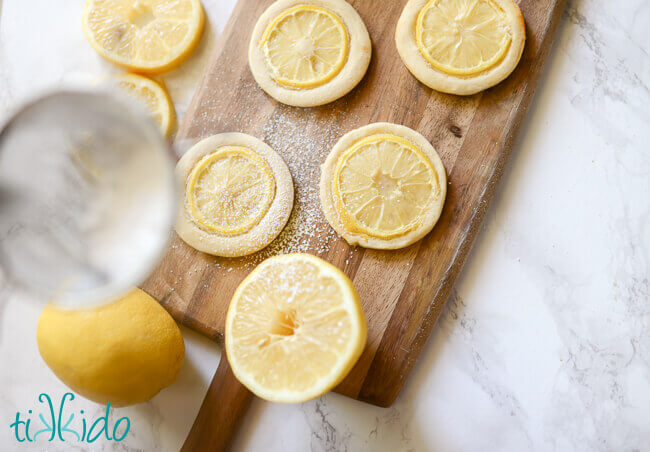 Let the cookies cool, and then sprinkle with powdered sugar.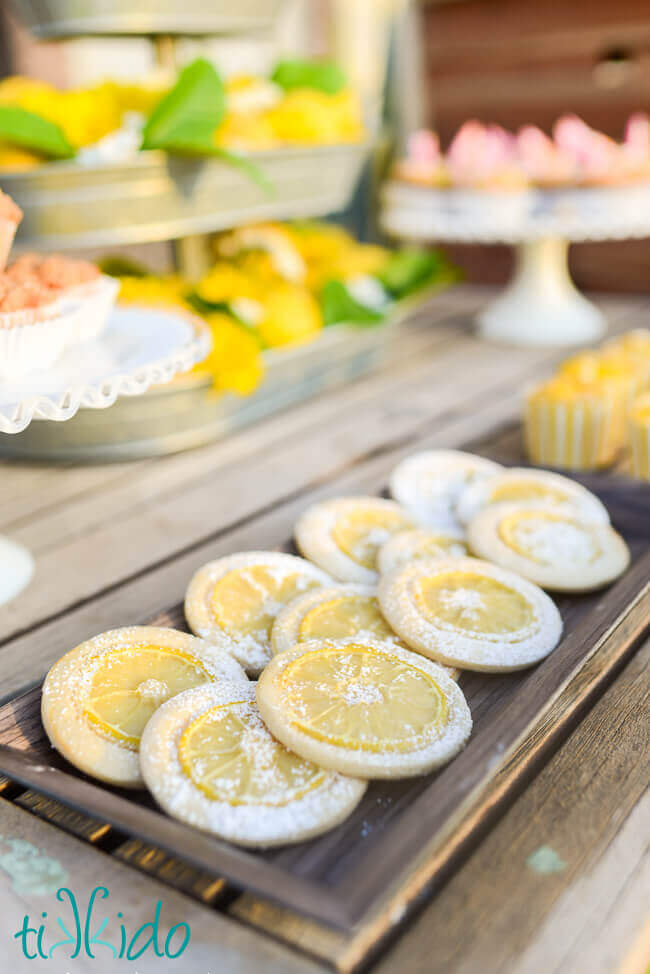 Aren't they pretty?  I just love how they look.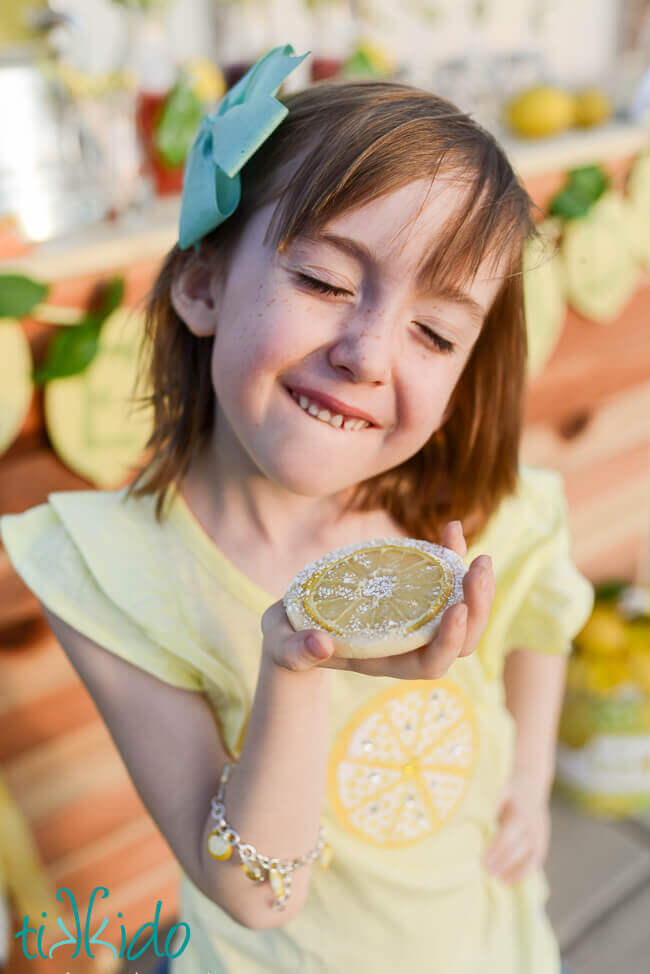 And how they taste?  Pure heaven for a lemon lover like me!  It's like having my own tiny lemon tart.  An adequately tart lemon tart.  Even with the longer bake time, the moisture from the lemon slice keeps the cookie moist and tender.  
Love lemon and other citrus flavors?  I have a whole board dedicated to citrus on Pinterest!  Follow me, and send me any great citrus recipes you find!
Other Lemon Recipes You Might Like: