Printer-friendly version
Do you love peanut butter?  You're going to go NUTS for this amazing peanut butter caramel ice cream topping.  If you want a one page, printable version of the Peanut Butter Ice Cream Sauce recipe, scroll to the bottom of the post.
Yesterday, I shared my favorite homemade hot fudge sauce recipe for topping ice cream sundaes.  But sometimes a person isn't in the mood for chocolate.  (It happens!  I swear!)
To your rescue, an amazing hot peanut butter ice cream sauce.  I started with this recipe from Taste of Home Magazine, but made a few small changes to suit my tastes.  No canned milk products for me. 
Peanut Butter Ice Cream Topping Recipe:
1 cup brown sugar, packed
1/2 cup light corn syrup
1 cup peanut butter
1/2 cup heavy cream
4 Tablespoons butter (half a stick)
1 teaspoon vanilla extract
pinch salt
Start by placing the brown sugar, butter, corn syrup, and salt in a small saucepan.  Cook over medium heat and stir just until incorporated.  Then sit back and wait for the mixture to come to a boil (no stirring!).  We're essentially making a caramel sauce here, which gives the finished peanut butter sauce and amazing depth of flavor and texture.
When the mixture comes to a nice, frothy boil, turn the heat to low and add in the peanut butter.  Stir to incorporate the peanut butter completely in the caramel mixture.
Finally, add the heavy cream and vanilla, and stir it all together, until it turns into a warm, gooey, salty-sweet pot of heaven.
Spoon over vanilla ice cream, sprinkle with a few salted peanuts, and let your tastebuds rejoice.
And if you really want something special, combine it with the homemade hot fudge sauce.  
Peanut Buster Parfait?  Dairy Queen, you have nothing on me.  THIS is the good stuff, worth every calorie.
Printable Peanut Butter Caramel Ice Cream Topping Recipe:
Looking for the one page, printable version of the Peanut Butter Ice Cream Sauce recipe? Click on the image below to print a PDF version of this recipe or save it directly to your device.
Other Ice Cream Topping Recipes You Might Like: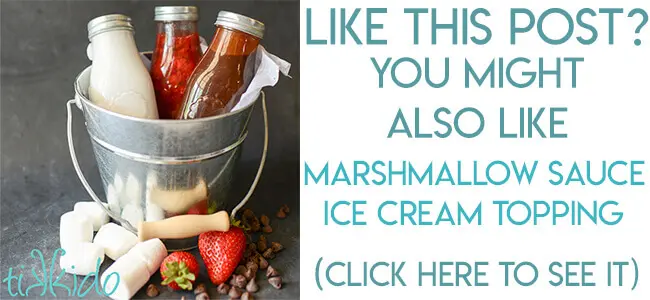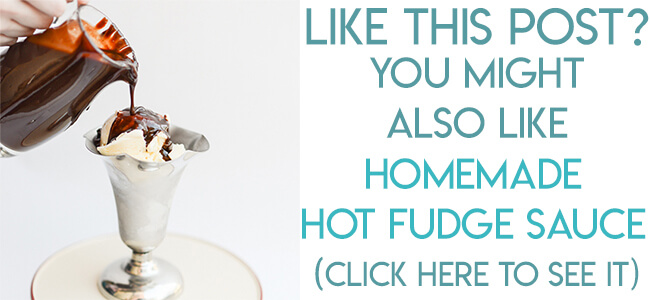 Other Ice Cream Recipes You Might Like:
Other Peanut Butter Recipes You Might Like: