Printer-friendly version
Peppermint white chocolate-covered pretzels are an amazingly delicious, incredibly easy, no bake Christmas candy recipe.  These chocolate covered pretzels are the perfect addition to any holiday cookie tray.
It's the first Monday of the month, and that means it's time for the Taste Creations Blog Hop!  Our theme this month is Christmas candies, so I'm sharing one of my favorite Christmas treats, white chocolate peppermint pretzels. 
I fell in love with this flavor combination when I bought some of Trader Joe's Peppermint Pretzel Slims. I don't usually choose white chocolate treats, but I'm so glad I did that time, because it was the perfect combination of flavors.  I've been hooked ever since. 
I absolutely love chocolate covered pretzels of any variety.  That salty and sweet combination is just magical!  And the holiday season just wouldn't be the same without these homemade treats.  The finished product is so pretty that it makes a great gift, too.
How to Make Peppermint White Chocolate Covered Pretzels
Peppermint White Chocolate Pretzel Ingredients
To make these easy, no bake, peppermint white chocolate pretzels, you'll need:
This recipe is very versatile and customizable, so feel free to experiment.  Add more peppermint extract.  Throw on some sprinkles. Use milk chocolate or dark chocolate.  Drizzle with red and green chocolate.  Have fun!
And of course, you don't have to be limited to mini pretzel twist shapes!  You can certainly use large pretzels, pretzel rods, or pretzel crips.
Place unwrapped peppermint candies (like candy canes or Starlight mints) in a plastic bag, and crush the candies into candy sprinkles.  I used a rolling pin to crush my candies, but anything heavy and sturdy would do--like a wine bottle or a hammer.  The sharp bits of broken candy do tend to tear holes in the plastic bag, so it's nice to use a Ziploc freezer bag, which is thicker than the standard bags, but that's not strictly necessary.  
Melt the white chocolate.  I typically use Ghirardelli white chocolate melts because they taste great, are easy to use, and don't require tempering.  You can usually find it at Christmas time in major grocery stores and places like Costco and Sam's Club, too.  You can also use almond bark if you prefer.  I don't recommend using white chocolate chips, because those are formulated to keep their shape during baking, and we want the white chocolate to melt into a smooth candy coating.  Candy melts are much easier to work with for a project like this.
The classic way to melt chocolate is with a double boiler, but I find it easier to melt the chocolate in the microwave, especially if you're using chocolate melting disks designed for dipping.  Place the white chocolate in a microwave safe bowl (like a glass bowl), and microwave on high in 10-15 second intervals, checking and stirring after each burst. 
Stop microwaving when the chocolate disks look shiny, and some (but not all) are melted.  Stir and use the residual heat to melt the remaining chunks of chocolate.
When all of the hard bits of chocolate have melted, stir in the peppermint extract.  Then we're ready to dip the salty pretzels into the melted chocolate and make the magic happen! You don't have to use the peppermint extract, but it does really help create the perfect balance of flavors in this recipe.  I highly recommend it.
What to Do if Your White Chocolate is Too Thick to Dip Pretzels
Some brands of white chocolate and chocolate melts are more fussy to work with than others and don't like to melt into a smooth mixture to coat the pretzels.  If you run into this problem, try adding a little shortening or vegetable oil to the chocolate.  
Dip the pretzel twists into the melted white chocolate, and shake to remove excess chocolate.  Set the sweet treat on a wax paper or parchment paper lined baking sheet.  Before the white chocolate has a chance to harden, sprinkle the pretzels with the crushed peppermint candy.
I like to dip one half of the pretzel, because it's less messy, I like the ratio of sweet white chocolate to crunchy pretzels, and I think it looks pretty, too.  But if you prefer, you can certainly use a chocolate dipping tool or a fork to cover the entire pretzel.
Let the chocolate-dipped pretzels cool and harden.  You can let that happen at room temperature, or put the tray in the fridge to hurry things along.
I'm always left with some chocolate in the bowl that I don't want to waste, so I throw in any broken pretzel pieces and extra crushed peppermint and just mix it up.  It's not as pretty, but oh my goodness, is it delicious!  
Store these holiday treats in an airtight container for 2-3 weeks.  
Other Christmas Candy Recipes from the Taste Creations Blog Hop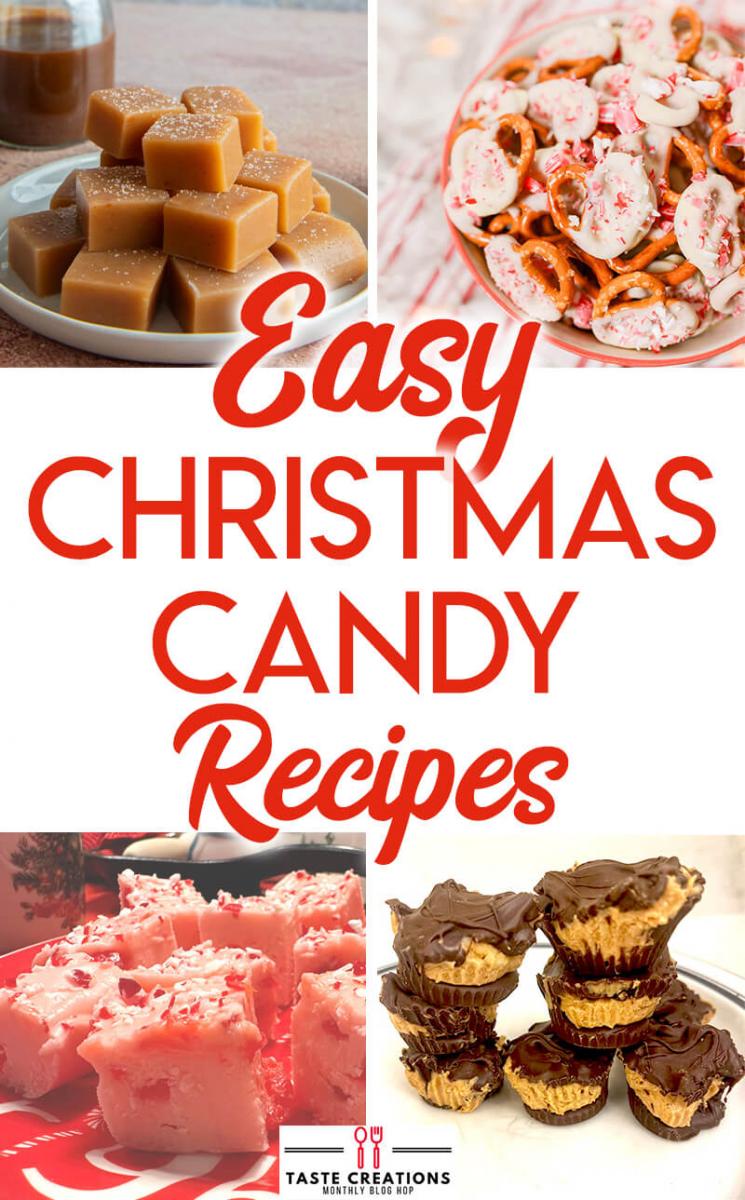 Be sure to check out the other amazing, easy Christmas candy recipes from my fellow bloggers in the Taste Creations Blog Hop this month:
Breads and Sweets:  Easy Homemade Caramels
Our Good Life: Maraschino Cherry and Peppermint Fudge
Mom Home Guide: Homemade Peanut Butter Cups
Other White Chocolate Recipes You Might Like: