Printer-friendly version
This Piña Colada cake is the perfect summery, easy, cool and sweet summer dessert.   It's kind of like a cross between a classic jello poke cake and a tres leches cake, but with fabulous piña colada pineapple and coconut flavors.  Served chilled, tender and moist, and oh-so-flavorful, this pina colada poke cake will become a summer favorite.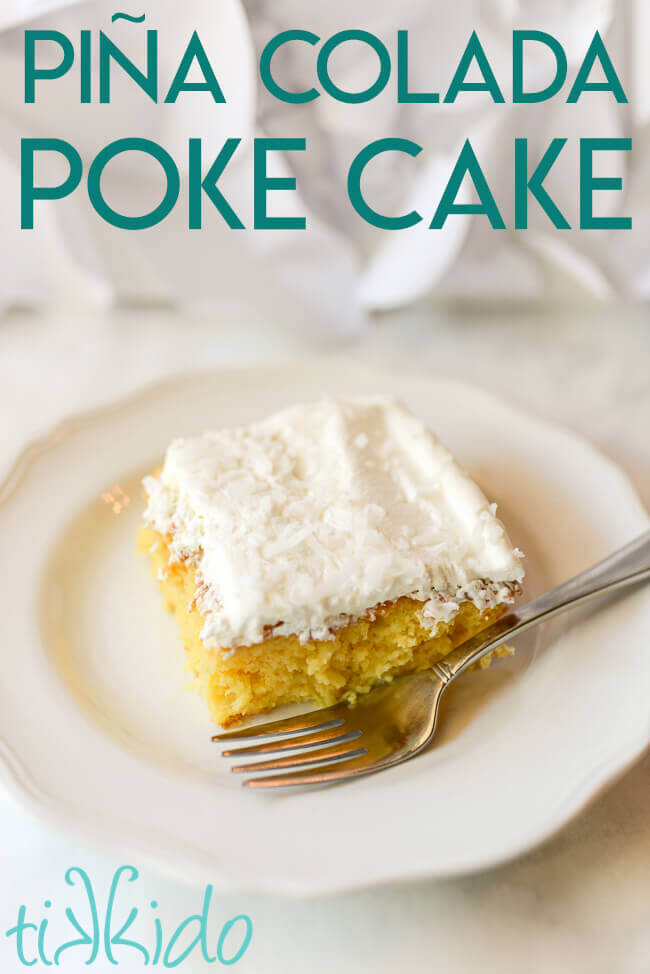 It's also the Taste Creations Blog Hop, and our theme this month is CAKE!  Be sure to check out the other amazing cake recipes from my blogger friends at the end of this post.
I'm usually a die-hard, from-scratch baker, but sometimes a classic box-mix recipe is exactly what I crave.  No shame, no judgment.  If it's good, it's good!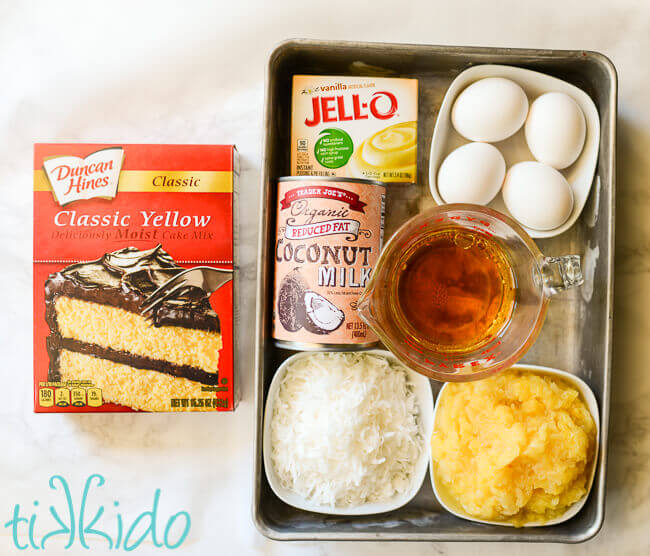 This Piña Colada cake recipe is like that.  My scribbled notes in my recipe folder indicate that I originally found this recipe on Allrecipes.com, but have made my own modifications to it through the years.
Pina Colada Poke Cake Ingredients:
One Box Yellow Cake Mix
1 small box vanilla pudding mix
4 eggs
1 cup coconut milk, divided
1/2 cup spiced rum (or water and 1 teaspoon rum flavoring, optional)
1 can of crushed pineapple, drained (reserve the juice)
1 cup shredded coconut (optional)
Cool Whip or whipped cream to top the cake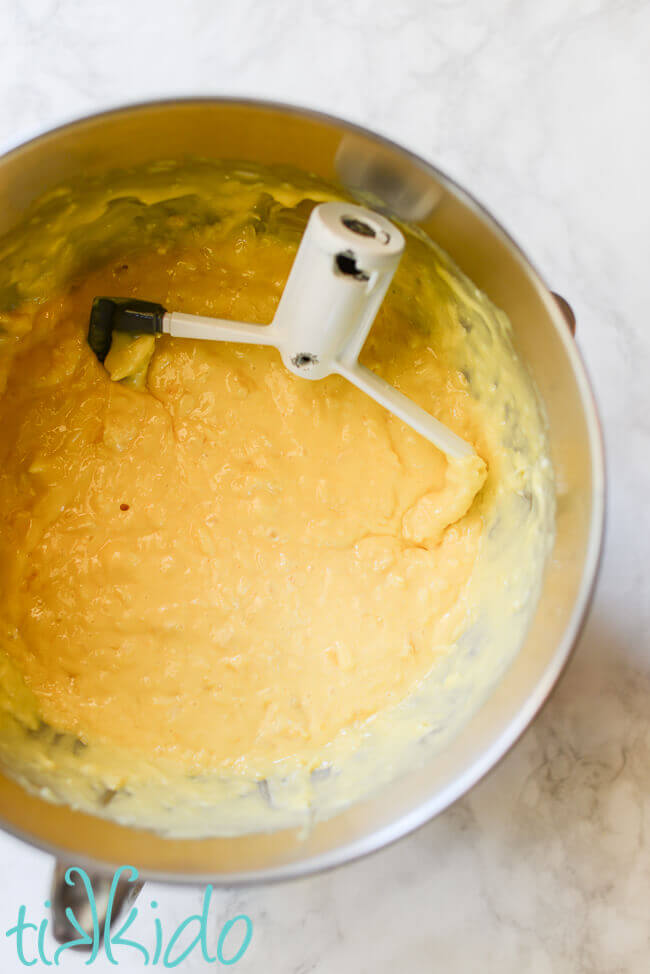 Combine cake mix, pudding mix, rum, 1/2 cup of the coconut milk, eggs, pineapple, and coconut (if desired) and beat until well combined into a cake batter.  
Considerations for Using Coconut in a Cake:
Adding shredded coconut to the cake batter is an entirely optional step.
The coconut adds extra coconut flavor (obviously), but also adds texture.
If you don't like that coconut texture, definitely omit this ingredient!  Just go with the coconut milk.  You'll get wonderful flavor, without the texture issues.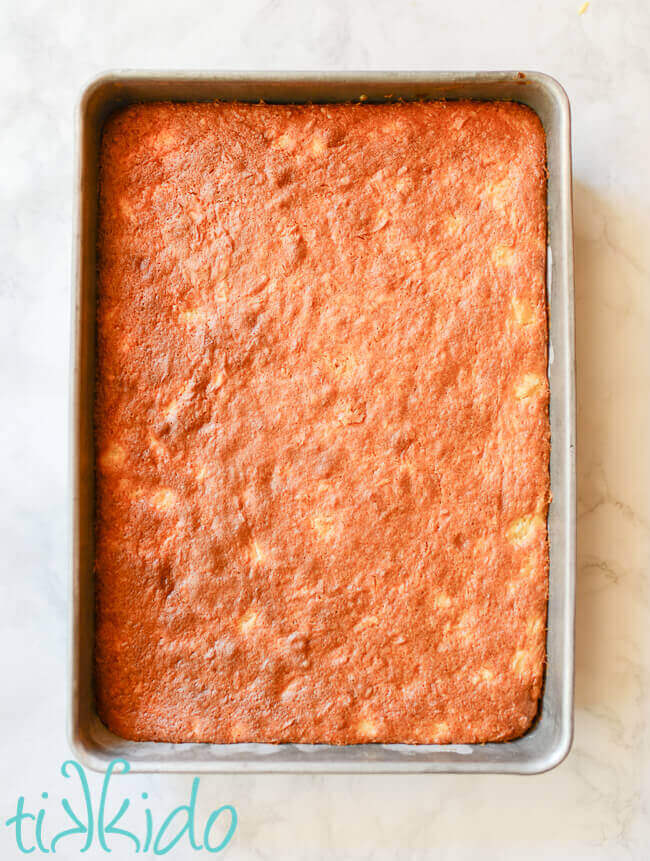 Pour the batter into a 9x13 cake pan and bake for 55 minutes to an hour, until a test skewer comes out clean.  After baked, let cool slightly for about 10 minutes before proceeding to the next step.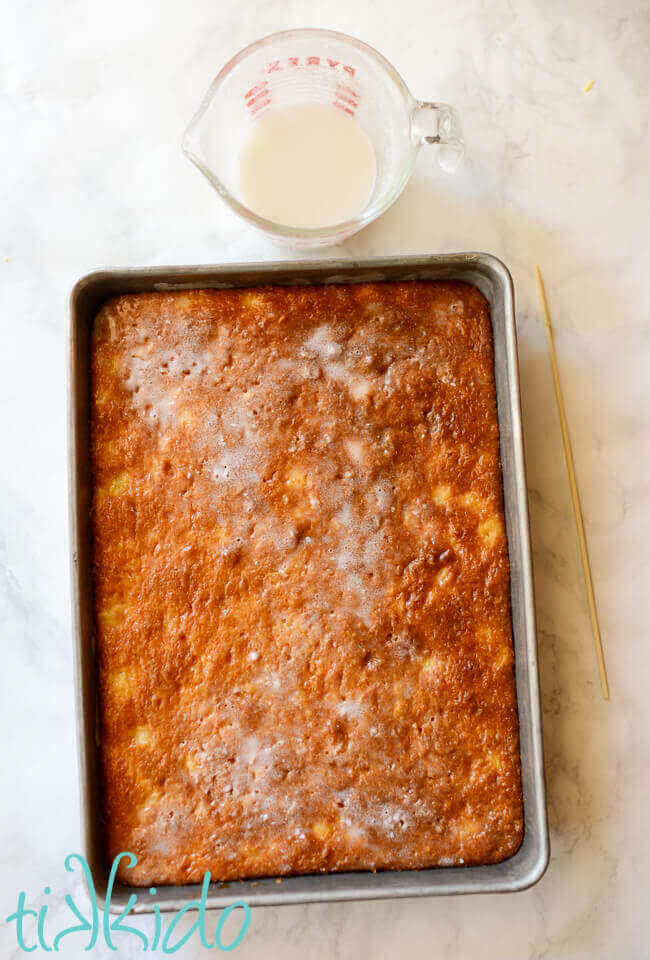 Take remaining 1/2 cup of coconut milk, add about 2 Tablespoons of the saved pineapple juice from draining the pineapple (totally optional, but tasty), and whisk together.  Use a skewer to poke holes all over the cake.  Pour the liquid mixture over the cake and allow the coconut milk mixture to soak into the cake.
This is very reminiscent of making a Tres Leches cake (here's an AMAZING, authentic recipe if you want to check it out), but instead of the three (tres) milks (leches) used in that recipe, the technique is adapted to use coconut milk and pineapple juice.  The flavors are different, but the end result is the same:  moist, flavorful, transformative.
Chill in the refrigerator.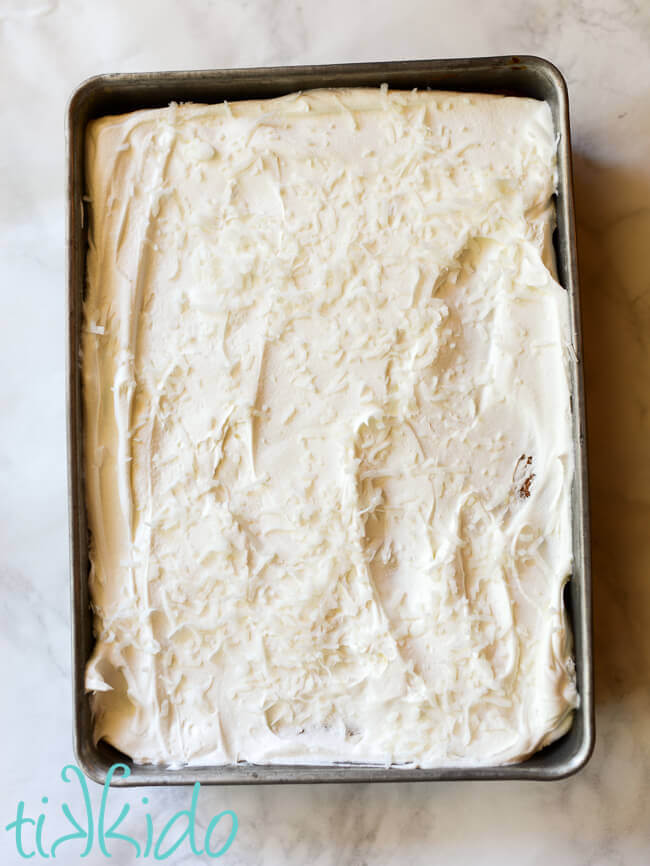 Once the cake has completely cooled, top with stabilized whipped cream or Cool Whip.  I know, Cool Whip.  But there is something so right about the flavor of Cool Whip with a poke cake.
Would I use Cool Whip with strawberry shortcake?  Heaven forfend!  But on a poke cake?  Honestly, nothing else tastes quite right. Just what I grew up with, I guess.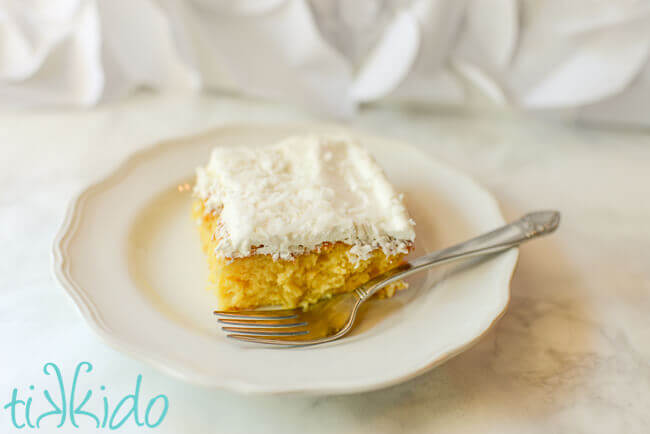 Serve this summery delight chilled.  It's refreshing, and tropical, and everything you'd want from a summer dessert.  I even had my friend request that I make her wedding cake at her wedding in Kauai with this recipe!  It's good, my friends.  Good.
One page, Printable version of the Piña Colada Poke Cake Recipe:
Be sure to check out the other fabulous cake recipes from my blogger friends in the Taste Creations Blog Hop this month:
An Italian in my Kitchen: Mascarpone Cake with Raspberry Cream
Our Good Life: Rustic Keto Vanilla Cake
Mom Home Guide: Chocolate Chip Cookie Cake