Printer-friendly version
No bake s'mores bars taste just like the classic campfire treat, but you make a whole pan at once!  All that chocolate and graham cracker and toasted marshmallow goodness in one no bake bar cookie recipe.  Make these s'mores bar cookies just once and you'll be hooked.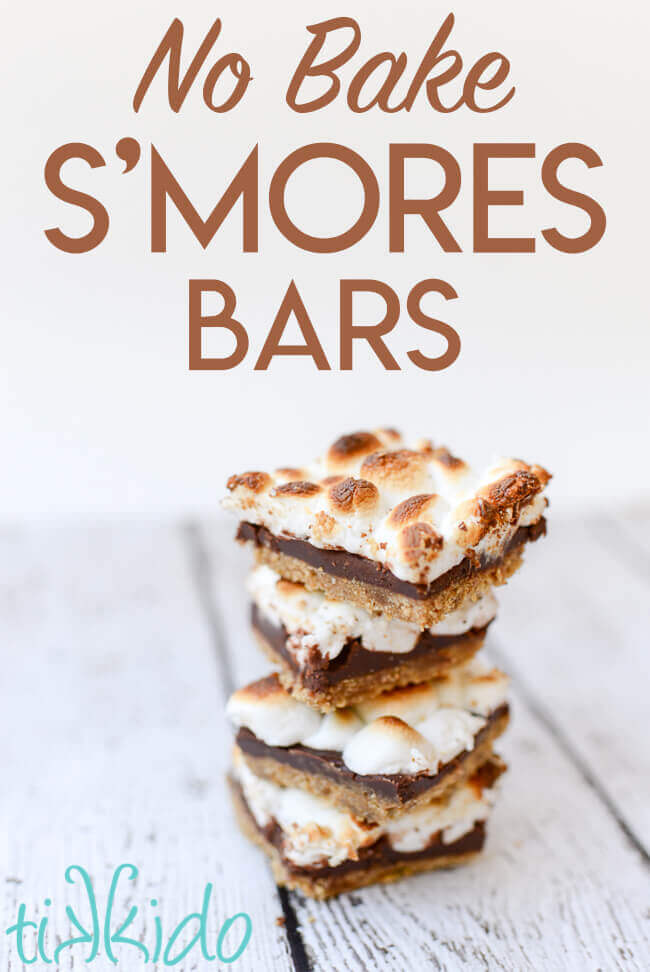 These really are no-bake smores bar cookies.  Ok, I did broil the tops of the marshmallows for less than a minute.  But that doesn't count as baking, right?  You could totally use a kitchen torch instead, if you didn't want to turn on the oven at all. 
There are great baked S'mores bar dessert recipes, too--don't let me stop you from baking up a batch!  But if you're looking for a no-bake version, this recipe is for you.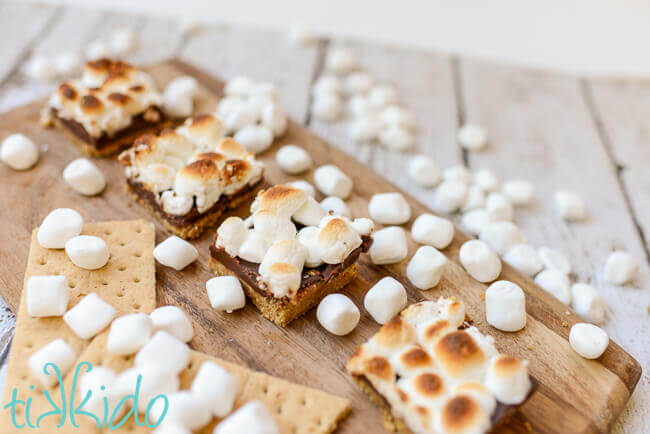 Otherwise, these delicious smores cookies are made with just a bit of microwaving, a bit of mixing, and a bit of chilling in the fridge.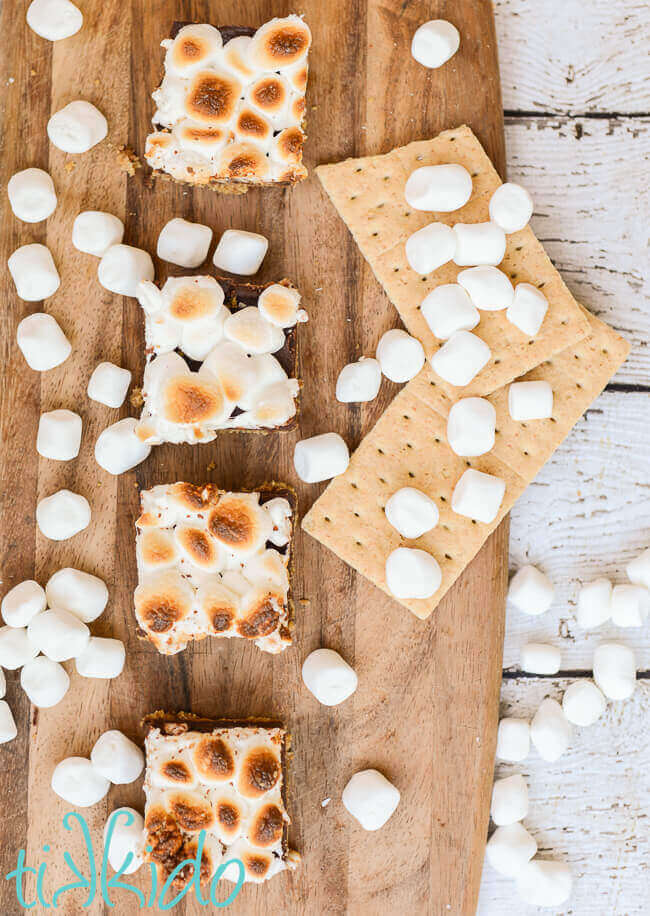 I was inspired to make a summertime s'mores version of my family's favorite no-bake Creme de Menthe bars.  Those are always a hit at Christmastime, and these have quickly assumed the same lofty status in our family for the warmer months.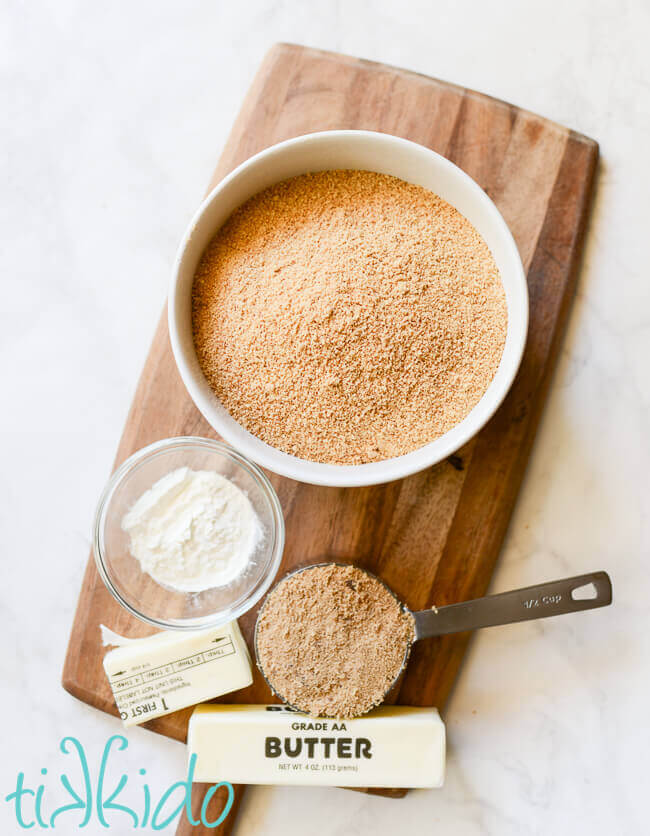 No Bake S'Mores Bars Layer One Ingredients (Graham Cracker Crust Ingredients):
3 cups graham cracker crumbs
1 Tablespoon meringue powder (optional)
1 1/2 sticks (12 Tablespoons) butter, melted
1/2 cup brown sugar, packed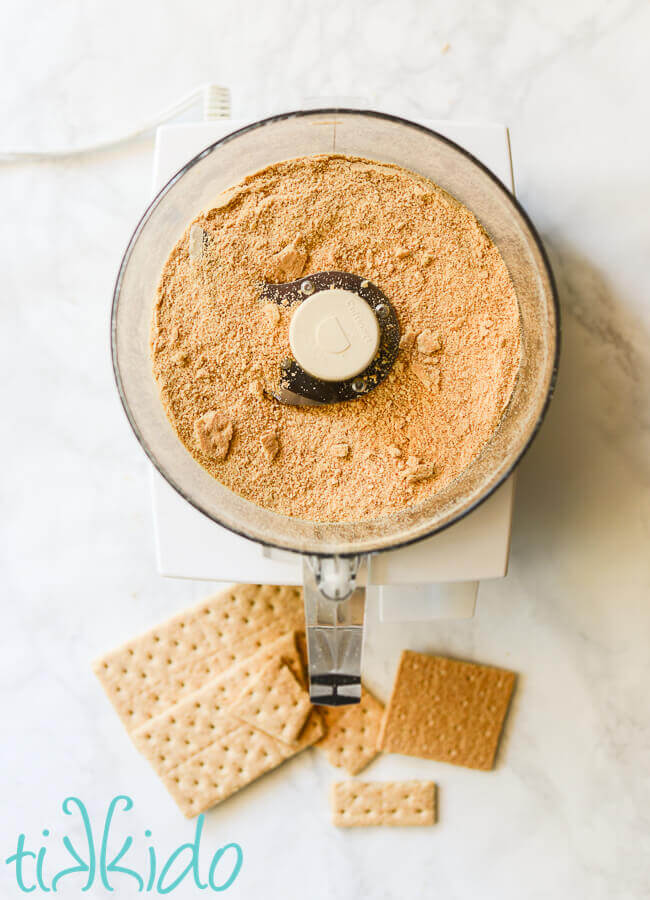 Start by crusthing graham crackers into fine crumbs.  You can use a mallet and a Ziploc bag to crush the graham crackers, or a food processor like I did, or you can buy the crumbs in a box from the grocery store.
Combine graham cracker crust ingredients and mix until evenly combined.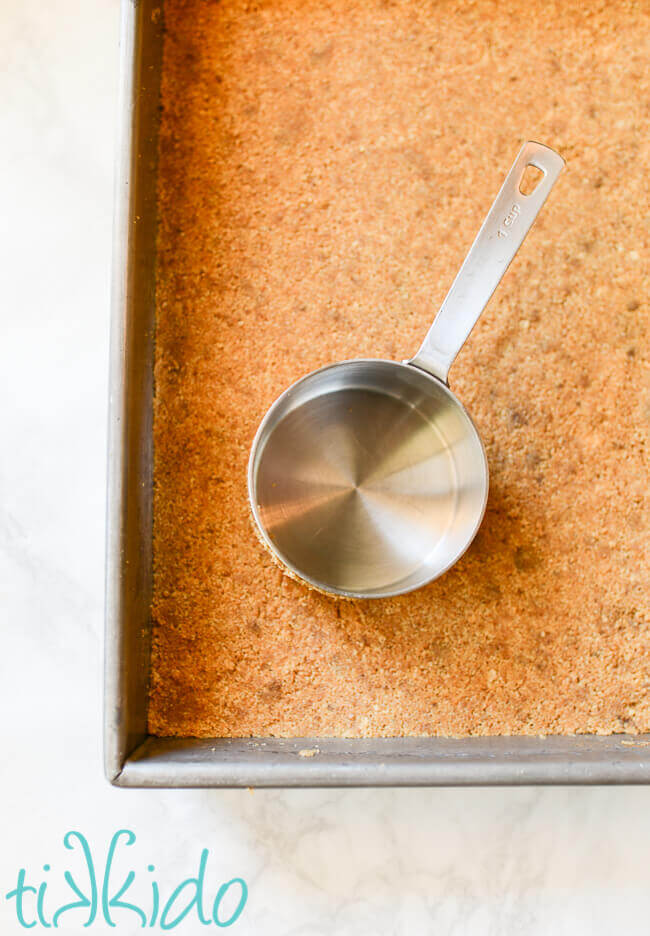 Press the graham cracker crust into a 9x13 pan.
Graham Cracker Crust Tips:
Use the backside of a measuring cup to press the crumb mixture into the pan.  The flat bottom of the cup helps apply even pressure, resulting in a well-packed, even crust.  It is important to have a very well packed crust for this recipe!
The meringue powder is completely optional.  The crust will still work and be delicious, it will just be slightly more crumbly than if you include the meringue powder (which helps to bind everything together).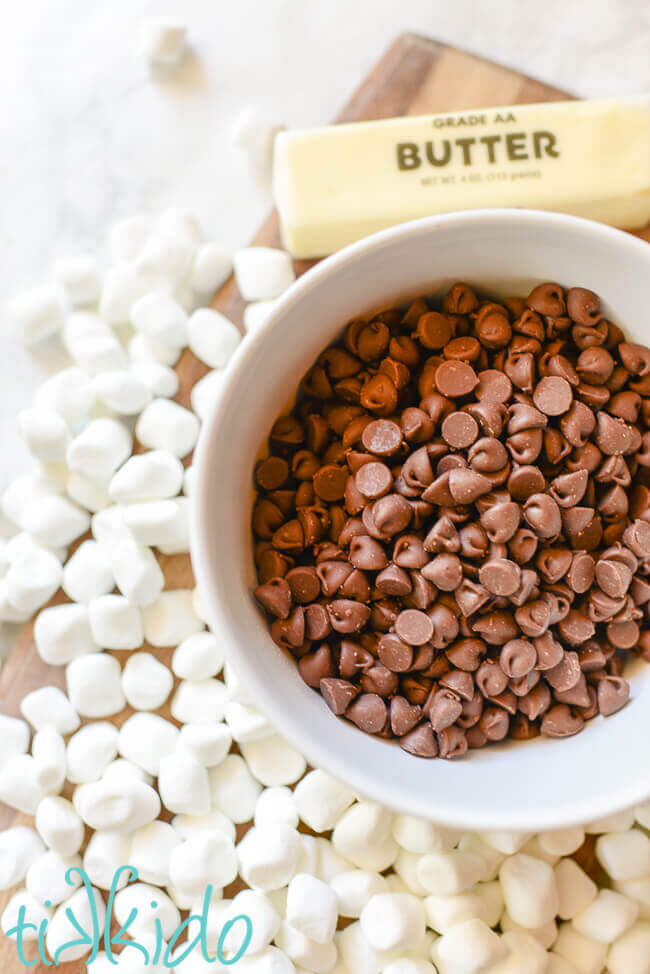 No Bake S'Mores Bars Layer Two Ingredients:
one stick butter
2 cups chocolate chips (I used milk chocolate)
Mini marshmallows to cover surface (approximately three cups)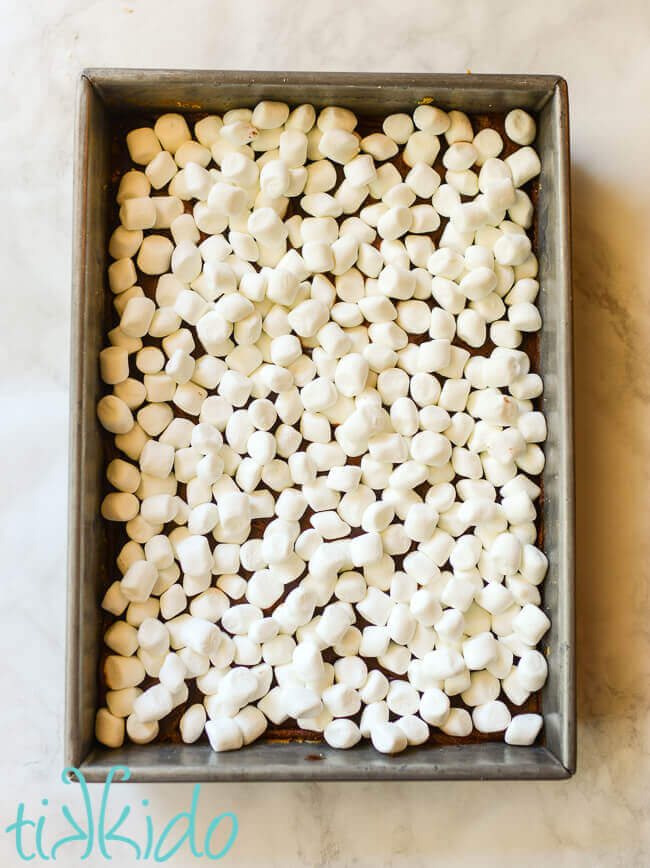 Melt the chocolate and butter together, and stir to combine.  Spread over the graham cracker crust layer.
Add a layer of mini marshmallows on top of the still-soft chocolate layer.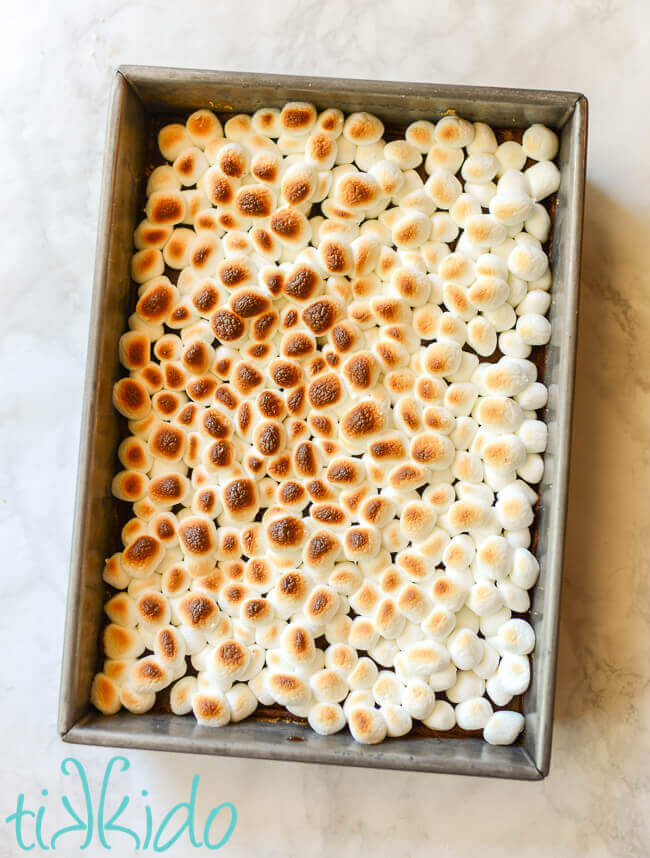 Pop under the broiler briefly to toast the marshmallows.  Watch carefully!  They go from toasted to on fire very quickly!  This step took me less than a minute.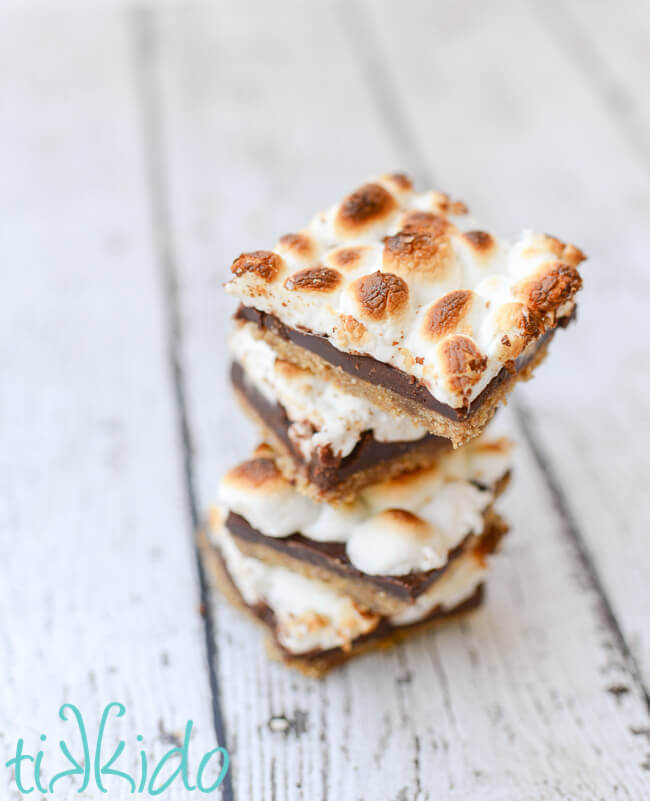 Chill in the refrigerator for at least an hour, then cut into slices.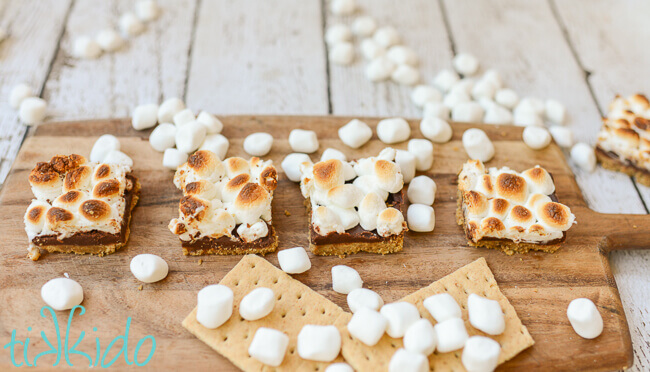 Everyone went nuts for these s'mores bars!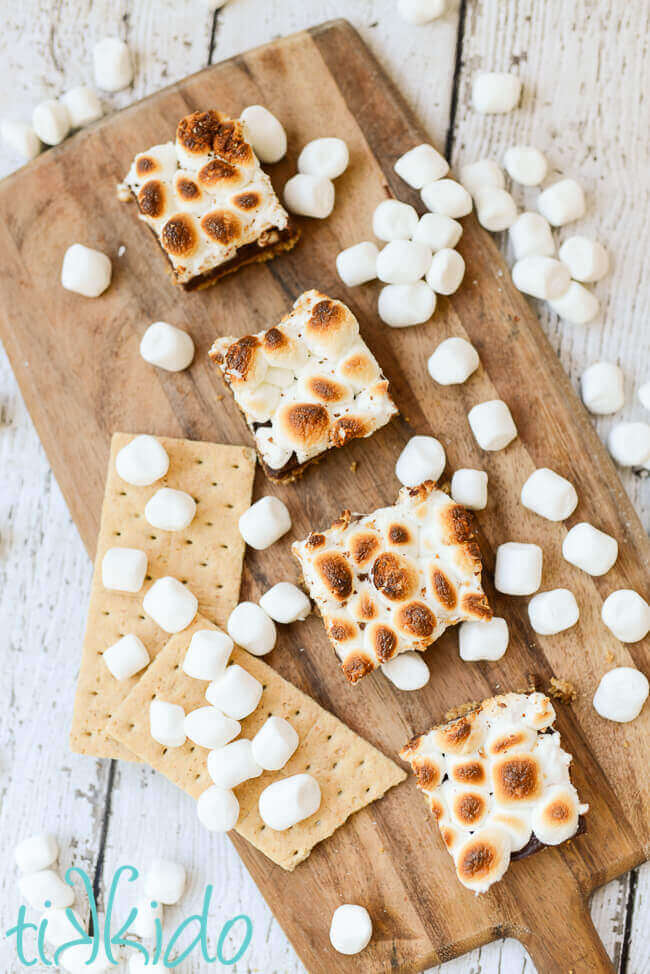 Do you love s'mores, too?  Even better, do you have a great s'mores recipe?  Share it below, I want to try all the s'mores treats this summer!
Free Printable, One Page No Bake S'Mores Bar Cookies Recipe:
Other Marshmallow Recipes You Might Like: