Printer-friendly version
This pinecone napkin ring tutorial uses tiny REAL pine cones, crystals, and floral wire to make incredibly elegant DIY Christmas napkin rings.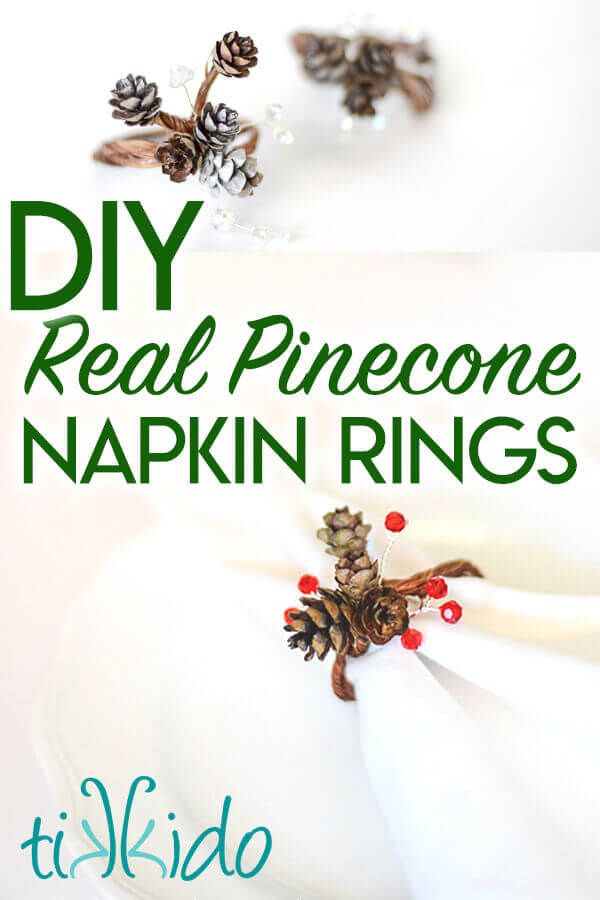 Pretty much the only time I ever even think to use napkin rings (or cloth napkins, for that matter) is at Christmastime.  Funny, because I actually really love napkin rings!  You'd think I'd pull them out more.   During the winter season, my rustic crystal and real pine cone napkin rings are my favorites to use.
I love how the red crystals look like sparkling winter berries, and the real pine cones add that perfect rustic touch.
I also love them made with clear crystals, and pine cones lightly frosted with silver spray paint.
How to Make Real Pine Cone Napkin Rings for Christmas
craft wire (I like 26 gage for this craft)
crystal beads
hot glue gun
miniature pine cones
The actual basic napkin ring is made with this incredibly handy, versatile wire that looks like grape vine.  I love using this stuff.  It's perfect for making napkin rings (like my felt acorn napkin rings), because it's sturdy, easy to use, and has a beautiful natural look.
To make the basic napkin ring shape, cut a 16" length of the grapevine wire.  Form a circle the size you want your napkin ring to be, then start winding the excess wire around the first circle of wire, so it looks like a circle of twisted vines.
Next, it's time to add the sparkle.  I used to be a complete Swarovski crystal snob, and never used anything else.  That's because nothing used to approach the quality of Swarovski.  These days, however, the Chinese crystal beads are exceptional.  They have really figured out how to make a gorgeous, sparkling, high quality product, and it's significantly less expensive than Swarovski.  
Cut a length of craft wire approximately 12" long.  Create three branches of crystal sprigs, using however many crystals, in whatever shapes and sizes you like best.
If making the three branches of crystals looks more complicated than you'd like, you can certainly make three separate crystal sprays.  It'll just use a little extra wire.
Attach the crystal sprigs to the basic napkin ring by winding the extra wire around the grapevine wire.  Needle nose pliers are very handy to help pull the wire nice and tight, and make everything secure.  Wind the wire around the grapevine napkin ring several times (at least two, I prefer three or four for stability), and clip away any excess wire.
All that's left to do is to attach the pine cones!  I buy my miniature pine cones from Etsy and Ebay.  Look for hemlock or dwarf spruce tree pine cones to get the perfect size for napkin rings and other tiny crafts.
Attach the tiny pine cones with a hot glue gun.  I always use a low temp hot glue gun, because I always end up gluing my fingers, and I've had enough high temp glue gun burns in my lifetime, thank you.
I love making these to give as gifts to neighbors and friends.  
The perfect handmade gift!  Of course, if you don't feel like making them yourself, there's still enough time to order a set from my Etsy store!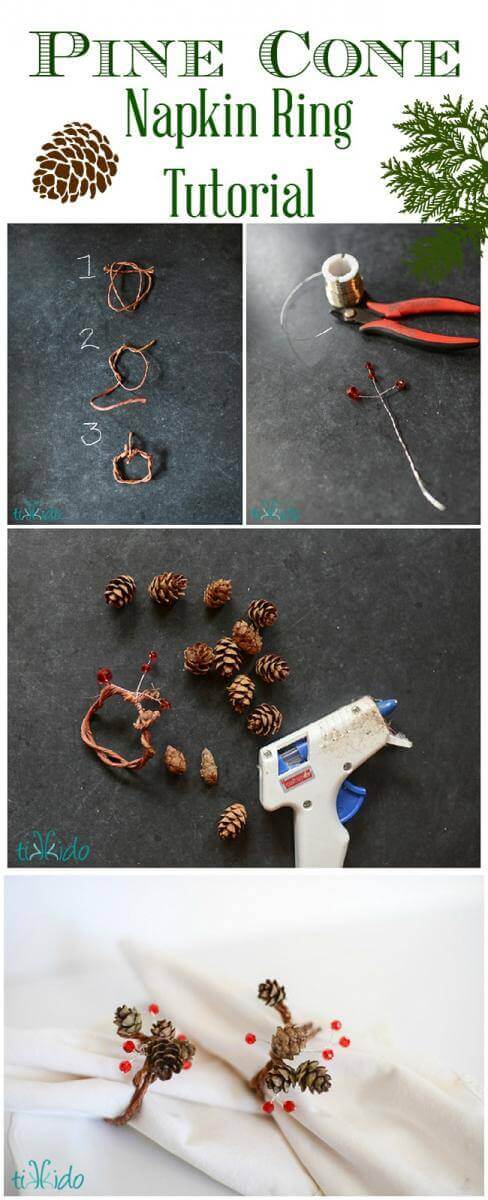 Other Napkin Ring Tutorials You Might Like: